My, isn't this predictable? One wonders what goodies Libby has in his safety-deposit box, eh?
President Bush spared former White House aide I. Lewis "Scooter" Libby from a 2 1/2-year prison term in the CIA leak case Monday, stepping into a criminal case with heavy political overtones on grounds that the sentence was just too harsh.
Bush's move came hours after a federal appeals panel ruled Libby could not delay his prison term in the CIA leak case. That meant Libby was likely to have to report to prison soon and put new pressure on the president, who had been sidestepping calls by Libby's allies to pardon the former chief of staff to Vice President Dick Cheney.
"I respect the jury's verdict," Bush said in a statement. "But I have concluded that the prison sentence given to Mr. Libby is excessive. Therefore, I am commuting the portion of Mr. Libby's sentence that required him to spend thirty months in prison." Bush left intact a $250,000 fine and two years probation for Libby, and Bush said his action still "leaves in place a harsh punishment for Mr. Libby."
Sigh, sigh and sigh.
Previous Comments
ID

113328

Comment

No surprise. I wouldn't be surprised if Libby's paroled just before Bush leaves office in 2009.

Author

Ex

Date

2007-07-02T18:15:55-06:00
ID

113329

Comment

Let's see if Bush will get Genarlow Wilson out of jail since he's in a pardoning mood and all.

Author

LatashaWillis

Date

2007-07-02T18:50:24-06:00
ID

113330

Comment

Let's see...you out a CIA agent whose job it was to seek out those who want to do harm against the US and then lie about it and you get off almost scot-free. Like John Cougar Mellencamp once said, "Ain't that America". Except, this time, no little pink houses for you and me.

Author

golden eagle

Date

2007-07-02T20:08:23-06:00
ID

113331

Comment

Author

Ex

Date

2007-07-03T11:42:17-06:00
ID

113332

Comment

Let's stop pretending that Bush is the only one that would do something like this.... Seriously.. have ya'll even attempted to look at all Clinton's pardons? Or perhaps Jimmy Carters? Look at some of the offenses.

Author

LawClerk

Date

2007-07-03T12:14:15-06:00
ID

113333

Comment

No, Bush isn't the only one, but to consider pardoning someone in his administration who was involved in outing a CIA operative-- I consider it to be reprehensible, and I voted for the man in 2000. Since you mentioned it, here is a list of people who President Clinton pardoned.

Author

Ex

Date

2007-07-03T12:46:26-06:00
ID

113334

Comment

I know. Click my "Let's stop pretending" link... guess my link text wasn't clever enough! :D And, by the way, IF Bush does NOT pardon the border patrol agents in jail, or the Marines that were convicted and put in jail... well, I will forever dismiss him as the 3rd or 4th worst President ever.

Author

LawClerk

Date

2007-07-03T12:54:29-06:00
ID

113335

Comment

Clinton = 450 Pardons and Commutations Reagan = 406 Carter (in 4 years) = 566 Bush 41 = 77 Ford = 409 (in two years and a bit) Bush 43 = ? There are more to come. That is guaranteed.

Author

LawClerk

Date

2007-07-03T12:57:56-06:00
ID

113336

Comment

Heh. I didn't even bother to move my mouse over your link. I was just looking at the commentary.

Author

Ex

Date

2007-07-03T13:12:58-06:00
ID

113337

Comment

Interesting that there are no more comments on this thread......

Author

LawClerk

Date

2007-07-06T09:35:14-06:00
ID

113338

Comment

"One adult American in five thinks the Sun revolves around the Earth, an idea science had abandoned by the 17th century." - NYTimes No... That's not a joke statistic. Unfortunately, I think it's directly related to why this is not a big deal in America except for the talking heads and people that actually give a sh!t about our present and future.

Author

kaust

Date

2007-07-06T09:43:16-06:00
ID

113339

Comment

How did this thread end up about Clinton? All the Clinton fans here raise your hand. (I'm sitting on mine now.) The old divert-an-idiot-Republican-move-by-referring-to-Democratic-idiots-moves doesn't work here. And it's rather silly to try. Back to the topic—this was a horrifying pardon, considering that it was the only conviction that's been eked out over the OUTING. OF. A. CIA. AGENT. I can only imagine that Republicans would be demanding the death penalty for Democrats who did such a thing, and they would be close to right. (Although I don't beleive in the death penalty. But if we're going to have it ....)

Author

DonnaLadd

Date

2007-07-06T21:17:08-06:00
ID

113340

Comment

Ladd, Seriously. If you are going to complain about one commutation, let's be LIVID about 400 of them. I listed 5 President's numbers. Don't just think that I'm picking on Clinton. Did you see my question about Carter? Reagan? Bush 41?

Author

LawClerk

Date

2007-07-06T21:24:57-06:00
ID

113341

Comment

LawClerk, actually, I'm going to be livid about this one now (and I have been mad about others in the past since you're so concerned about that. And I really despise Clinton, so that doesn't help you here. Let's stipulate that he's an a$$ and move on). Really, why don't we talk about this case, being that Bush is, er, president RIGHT NOW, and his minions are getting away with really awful stuff. Why are you trying to change the subject? I wouldn't have expected that from you on this. This "what about Clinton" thing is so thin, especially on a site that rips his lying butt to shreds every chance we get. Seriously.

Author

DonnaLadd

Date

2007-07-06T21:36:46-06:00
ID

113342

Comment

Also, if you're aware of any commutations in the past of people convicted for helping put the lives of U.S. agents or soldiers in danger due to political vendettas, please share. I'll be happy to express just as much outrage over that here, as well, considering that it would certainly be on point.

Author

DonnaLadd

Date

2007-07-06T21:38:36-06:00
ID

113343

Comment

Hahaha.... Yeah, I'll agree that there is no love lost on Clinton, which is why I can't see another 4 years of Clinton. We've had enough! Ok, enough about that. While you are most likely correct that Pres. Clinton didn't pardon anyone that "helped out US Agents," but.... And it's a big one. You ready for it? He pardoned a few (16) FALN terrorists in order to help his wife secure favor with New York Puerto Ricans in her bid for Senate. Click here to read about our terrorist pardoning previous President As far as the Libby debacle goes.... I think he was more of a scapegoat. I'm not even sure he *knew* what was even going on. Someone needed heads to roll, and well, LOOK! Scooter Libby! ATTACK! It's stupid. This whole Val Plamegate is a waste of time. From how I understand it, it was common knowledge around his and her circle of friends that she was "undercover." That doesn't sound that undercover to me. I suspect if I were to be ever undercover, NO ONE would know. Anyways. I look forward to 2009. Not to see who is elected, but for the reason that there is no chance that Bush can make a 3rd term.

Author

LawClerk

Date

2007-07-07T07:35:50-06:00
ID

113344

Comment

Like I said, I'm already sold on the weaknesses of Clinton. And I sure agree about giving thanks for no Bush on deck. Otherwise, I'm surprised at how much you downplay the outing of a CIA agent, however. Not with you there, and I don't give a damn what party, or royal family, does it.

Author

DonnaLadd

Date

2007-07-07T09:06:43-06:00
ID

113345

Comment

Ladd, I'm not downplaying an outing of an actual covert CIA operative. My doubts are to her actual covertness. When people say that they knew who she was, it doesn't strike me that she was trying to keep it a secret. As far as other CIA agents... they aren't all undercover.

Author

LawClerk

Date

2007-07-07T09:37:08-06:00
ID

113346

Comment

I realize that, Clerk. One of my best friends is a (non-covert) CIA agent. Really. ;-) Otherwise, it seems that you have a direct connection to the inner circle of Plame. I can't say that for myself; I would just be speculating, or relying on other sources, should I try to repeat who knew and who didn't. Whether or not you can back it up credibly, however, your point is irrelevant. There is a huge difference between outing a covert agent to the media in order to get it published worldwide and someone's close circle of friends knowing it. And the ethics and legality and heinousness of the administration doing it for political reasons wouldn't change one iota if some of Wilson and Plame's personal friends knew she was an agent.

Author

DonnaLadd

Date

2007-07-07T09:54:26-06:00
More like this story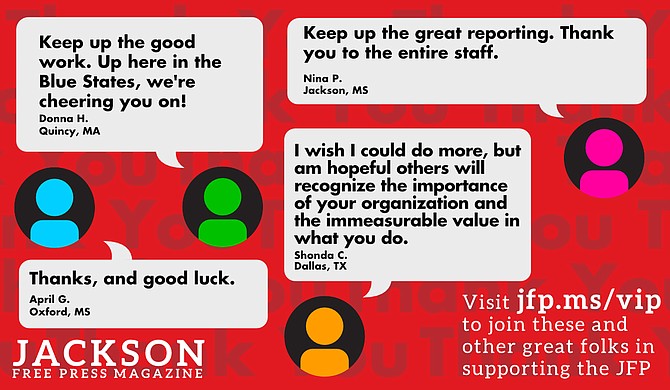 Thanks to all our new JFP VIPs!
COVID-19 has closed down the main sources of the JFP's revenue -- concerts, festivals, fundraisers, restaurants and bars. If everyone reading this article gives $5 or more, we should be able to continue publishing through the crisis. Please pay what you can to keep us reporting and publishing.