It's odd how so much of the media want to quickly proclaim the Dee-Moore case the "last" of the "cold cases" from the 1960s likely to be prosecuted. I'm hearing this over and over again, even in some of the more intelligent commentary on outlets like NPR. Why is this? There are many cold cases, and if the evidence is there, or can be found, they should be prosecuted as well.
The same happened with the Killen case, with journalists and others simply proclaiming that it was the "last." The chapter was closed and all that. Hogwash. It takes extreme arrogance to make such a statement.
Earl Ofari Hutchinson makes this point in his column this week. And he also points out that, back in the 1990s, he wrote in a book about the Dee-Moore case and Seale, and even about the fact that the crime occurred on federal property (an idea other media would take credit for lately. I haven't read his book, yet, but if this is true, this would make Hutchinson one of the earliest, if not the earliest, writer/journalist to call for their prosecution. Cheers to him. (And I want that book.)
Previous Comments
ID

110057

Comment

Well, cheer up, Donna: It's obviously only a matter of time before the media proclaims the 1.1 millionth black male inmate to be the "last" to be targeted under racial profiling and disparities in counsel, right? Or is this "last" business only applicable towards whites? What an...interesting media we have in this country. *sigh* Oh, and it so doesn't surprise me if Earl Ofari Hutchinson was the first to bring this up. The man is a national treasure, and we need him right now more than ever. Cheers, TH

Author

Tom Head

Date

2007-01-26T13:59:41-06:00
ID

110058

Comment

Geez, Killen wasn't even the *last* person who could be indicted in *Neshoba* County for the Goodman, Chaney, Schwerner murders. The real mystery about it is why the state did not go after the rest of them. Too bad we couldn't get Dunn Lampton on that case. AG Hood can dance around the issue all he wants, but I can't believe he couldn't have pursued the rest of the living defendents and used the same sort of material that he used in Killen's trial. It's not like he came up with anything new there, either. Tom, I really like Hutchinson, too. He's been telling the plain truth for a long time now.

Author

C.W.

Date

2007-01-26T14:51:48-06:00
ID

110059

Comment

Hood is a grandstander.

Author

Kingfish

Date

2007-01-26T14:55:16-06:00
ID

110060

Comment

Maybe so, but I don't care how much he grandstands as long as he does what's right and just while he's at it. Looks as though this would be a chance for him to get some major grandstanding in, so, why doesn't he? In fact, since the Governor was so interested in obtaining justice in this case, why doesn't he put a little pressure on the AG? I thought that was one of his favorite pastimes; here's his chance to give Hood some more grief. I bet the mainstream media would jump on it like a duck on a junebug if he came out and publicly criticized Hood for not pursuing the rest of the miscreants. Come on politicians, do your usual backstabbing, but do it for the right thing this time.

Author

C.W.

Date

2007-01-26T15:13:47-06:00
ID

110061

Comment

" ... occurred on federal property ... " I fail to understand why this matters one bit. The pair were disposed of in Palmyra Lake. No way to get to Palmyra Lake without going into Louisiana, which makes this an interstate affair.

Author

tonygunter

Date

2007-01-27T16:35:10-06:00
ID

110062

Comment

Tony, it may be that the evidence, at least in the past, was stronger on the front end (Mississippi/federal property) than on the other end (La.). But your point is a good one.

Author

DonnaLadd

Date

2007-01-27T20:22:07-06:00
ID

110063

Comment

I want to second CW's comment about the Neshoba murders. The MSM has dropped the case as over and done with. And the Grand Jury has met at least three times since Killen's indictment. Hood needs to feel some pressure.

Author

Ben G.

Date

2007-01-30T08:55:05-06:00
ID

110064

Comment

This is the oddest story I've seen, yet, on the civil rights "cold cases." Here, The Clarion-Ledger is basically saying again that it isn't likely that justice is brought in any other cases: Despite high-profile convictions over the past two decades, the haunting truth is most killers from the civil rights era likely will go unpunished. That's what they said about Dee-Moore after they reported Seale dead and stopped looking at the case! The problem with this logic is that the cases that get media attention are the ones most likely to be re-opened. And how do they know how much evidence exists until folks go look for it!?! I really hate this frame of the Ledger thinking it's supposed to decide when it's the "end of the line." Just because they've done some good work in years past on "cold cases" doesn't mean they get to make self-fulfilling proclamations like this. It's just not good enough for present-day Mississippi. The bottom line is that we need to pursue these cases, and more importantly the details of the stories so that Mississippians can really know our own history. It's not just about prosecutions, Ledger. It's about knowledge and understanding and Mississippians' need to tell our own stories, whether or not our corporate newspaper from Virginia gives us clearance or not. We must reject this defeatist thinking, even if the CL doesn't want to pursue justice in other cases. As we can see from the Dee-Moore case, they don't have to in order for something to get done. (Comment also posted on main Dee-Moore story.)

Author

DonnaLadd

Date

2007-02-05T11:31:49-06:00
More like this story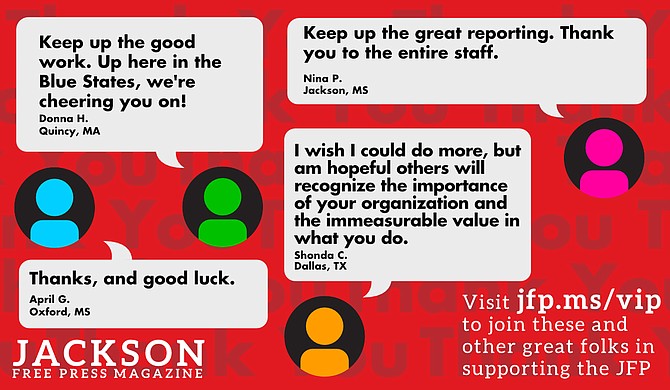 Thanks to all our new JFP VIPs!
COVID-19 has closed down the main sources of the JFP's revenue -- concerts, festivals, fundraisers, restaurants and bars. If everyone reading this article gives $5 or more, we should be able to continue publishing through the crisis. Please pay what you can to keep us reporting and publishing.