The Associated Press is reporting: In a blunt warning to the White House, congressional Democrats said Monday they may seek to deny funds for the type of short-term troop buildup that President Bush is expected to announce for Iraq Wednesday night. As Democrats began their first full week in the congressional majority, Senate Majority Leader Harry Reid said he would "look at everything" to wind down the war effort, short of cutting off support for troops already deployed.
He said Bush's expected call for an additional $100 billion for the war would receive close scrutiny.
"We have a platform we didn't have before, Leader Pelosi and I, and we're going to ... focus attention on this war in many different ways," said Reid, D-Nevada. Speaker Nancy Pelosi, D-Calif., suggested over the weekend using Congress' power of the purse to restrain any troop buildup.
More than 3,000 U.S. troops have lost their lives in Iraq in a war nearing the end of its fourth year, and many Democrats attribute their success in last fall's elections to public opposition to the conflict.
The election results, combined with an assessment by the bipartisan Iraq Study Group that the situation in Iraq was "grave and deteriorating," coincided with Bush's effort to begin work on a revised policy.
He is expected to make a nationwide televised address on the issue on Wednesday. Several officials have said one leading option for Bush is a so-called "surge" in troop strength, in which about 20,000 troops would be added to the force already in place, in hopes that sectarian violence can be quelled.
Previous Comments
ID

90715

Comment

they may? they may? hold their feet to the damn fire, it's now or never. Pelosi, Reid, step up the the damn plate now. if they don't , god save the queen. well, god save the emperor, which is what will be. it's the last chance, I don't pray much , even here in Ms! but if these Dems can't do it now, if they can't stop the carnage, the senselessness, well, well, can I be a penguin? ok, can I be - 'layne'

Author

layne

Date

2007-01-08T19:21:36-06:00
ID

90716

Comment

Is it just me, or is Bush looking a helluva lot like LBJ these days? Fatally obsessed with his failed war. Set on pouring more troops into a deteriorating situation. Insular and suspicious. Of course, the difference is that LBJ committed more than half a million troops, and lost about 25,000. On the other hand, he at least tried to do something for the poor.

Author

Brian C Johnson

Date

2007-01-08T20:24:40-06:00
ID

90717

Comment

A New York Times editorial today calls for Bush to "get real": We've been down this road before. This time, it has to be different. There have been too many times that President Bush has promised a new strategy on Iraq, only to repeat the same old set of failed approaches and unachievable objectives. Americans need to hear Mr. Bush offer something truly new — not more glossy statements about ultimate victory, condescending platitudes about what hard work war is, or aimless vows to remain "until the job is done." If the voters sent one clear message to Mr. Bush last November, it was that it is time to start winding down America's involvement in this going-nowhere war. What they need is for the president to acknowledge how bad things have gotten in Iraq (not just that it is not going as well as he planned) and to be honest about how limited the remaining options truly are. The country wants to know how Mr. Bush plans to end its involvement in a way that preserves as much of the nation's remaining honor and influence as possible, limits the suffering of the Iraqi people and the harm to Iraq's neighbors, and gives Iraqi leaders a chance — should they finally decide to take it — to rescue their country from an even worse disaster once the Americans are gone. The reality that Mr. Bush needs to acknowledge when he speaks to the nation tomorrow night is that the Iraqi government of Prime Minister Nuri Kamal al-Maliki is feeding rather than restraining Iraq's brutal civil war. The Iraqi Army cannot be relied on to impose order even in Baghdad, while the Iraqi police forces — dominated by sectarian militias — are inciting the mayhem. Mr. Bush must acknowledge that there is no military solution for Iraq. Whatever plan he offers needs to start with a tough set of political benchmarks for national reconciliation that the Iraqi government is finally expected to meet. It needs to concentrate enough forces in Baghdad to bring some security to streets and neighborhoods, giving Iraq's leaders one last opportunity to try to bargain their way out of civil war. His plan needs to lay out tight timetables in which the Iraqis must take major steps to solve fundamental issues, including equitably dividing their oil wealth and disarming vengeful militias. There must also be a clear and rapid timetable for achieving enough stability in Baghdad to hand back significant military responsibilities to the Iraqis. Click above link to read the whole thing.

Author

DonnaLadd

Date

2007-01-09T13:08:03-06:00
ID

90718

Comment

and will they deny funds for bombing Somalia? good grief, is this the wild west or what. well, the Horn of Africa, ok, it's very important. and, those Islamists, they're tricky. so,, I was just listening to a reporter on Democracy Now! so I'm a little upset, but we all should be. this is craziness, whom will be bomb next? just because there might be some 'alqueda' . and Brian, yes LBJ did try to do a lot of things domestically, give him that.

Author

layne

Date

2007-01-09T14:05:00-06:00
ID

90719

Comment

ok, I am no longer 'layne.' but I did like that name. .. just so y'all know. it was a confusion of passwords and forgotten userid's. but someone set me right - how could I forget . sunshine let's go to that rally thursday.

Author

sunshine

Date

2007-01-09T15:37:48-06:00
ID

90720

Comment

Stop the funds or provide the funds then send only supporters of the war as the added troops. How about sending the legislators, their children or other close relatives thereof to deliver the funds and to fight until the war is won? I'm down with that.

Author

Ray Carter

Date

2007-01-10T14:30:02-06:00
More like this story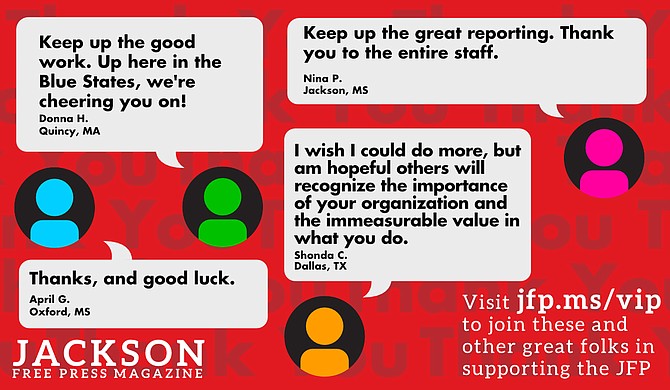 Thanks to all our new JFP VIPs!
COVID-19 has closed down the main sources of the JFP's revenue -- concerts, festivals, fundraisers, restaurants and bars. If everyone reading this article gives $5 or more, we should be able to continue publishing through the crisis. Please pay what you can to keep us reporting and publishing.