Februry 21, 2007
It's Tuesday, and I'm sitting cross-legged on the floor in Baltimore's Southwest terminal after spending several days in Washington at an alternative-newspaper training conference. I love these gatherings: I teach, I learn, I build relationships—especially with the younger editors and writers who are the future of the news industry. Those guys seldom ask "why?!?" in a discussion about how to best use the Internet to communicate and interact with readers; they ask "how!?!"—big difference.
While I'm here, there's something special going on in Jackson. My staff is putting out the paper. Without me. I don't even know what's in this music issue. It'll be a surprise when I see the stories and art on the page.
This might not seem odd for editors-in-chief at big papers, including the larger alts, where folks in my position spend most of their time in long meetings and being "visionary." But to us at the JFP, it's a milestone. And I couldn't be happier about it. It means I can go on more reporting trips to do the kinds of stories I love and that have been neglected for so long in Mississippi. I can go teach around the country and fulfill my duties as a board member of the Association of Alternative Newsweeklies. (I'm focusing much of my effort on diversity in papers like ours.)
It also means I might be able to take a full week's vacation sometime soon. Whoa.
I feel especially invigorated because I know the team back in Jackson (and up in Portland, being that former assistant editor Casey Parks edited this music issue from afar) are up to it. And I'm really proud that most of those guys back there—save our reporting superstar Adam Lynch who had news jobs, if not the JFP kind—had little journalism experience when they started with our paper. They came eager and passionate and ready to work their tails off to learn the ropes. They didn't show up just for a paycheck. The focus is on the work, and being the best. That drive for excellence is showing, and helping improve the Jackson Free Press every single week.
Heading the team is Brian Johnson. Brian started with the JFP about a year and a half ago as a part-time copy editor and freelance writer. When Casey left for grad school, I promoted him to assistant editor, and from there he really started his journey of being the quintessential newspaper editor. He's funny, and everyone loves him—and he's tough as a Cylon. Like any good editor, he knows that his attitude sets the tone for the newsroom, and he knows that we editors have to fill in wherever we're needed. He's a rock star.
Brian also is devoted to open government. Since he started his Public Eye column and posting original documents online about a year ago, the other local media have followed, and I believe strongly that we have raised the accountability bar in the city. (Now we're working on the state—keep an eye out for the outcome of our request for all the videos of a police officer pulling his gun on an unarmed student at Greenwood High School.)
Assistant editor Natalie Collier has really come into her own this past year—and earned a promotion from my personal assistant to assistant editor. Natalie, already an excellent writer, is learning to mentor other young journalists, and to help them make their own stories sparkle on the page. This past year, she went to writer/editor workshops in both San Francisco and at the Poynter Institute in Florida to hone her skills. It shows.
We also couldn't be happier with our editorial art director and cartoonist, Darren Schwindaman, who moved home from New Orleans. He showed up shortly after Katrina and said: "Put me to work. Whatever you need." It's hard to imagine someone more willing to do what it takes to build an impressive career than Darren—while he does his part to make the world a better place.
Also on the design/illustration front, our advertising art director Jakob Clark's star is glowing as well. (Just see this issue's music cover for evidence.) His illustrations are unique, hip and artistic. He's an old-timer by now, considering we've only been here for a little over four years—but Jakob's work gets more impressive all the time.
Ronni Mott showed up several months back, fresh off a corporate marketing career and ready to use the creative skills she'd allowed to lie dormant for too many years. We created the position of "chief executive intern" especially for her to learn everything there is to know about this business. A big resolution for this year is figuring out how to keep her, and her energy and passion for a better world, with us.
More recently, we've welcomed a new events editor and arts writer, Nientara Anderson, an artist who moved to Jackson from up north somewhere. She brings a fine eye, excellent writing skills and impressive educational credentials. (Go see her first show hanging now at Cups Madison.) Nientara has ratcheted our arts coverage to a new, more critical level.
Then there's Matt Saldaña, a visiting reporter from Boston who is already making a name for himself a month in. I met Matt when I taught at the 10-week journalism training last summer at Northwestern University's Medill j-school in Chicago. The purpose of the program is to increase diversity in the alternative media. Thus, when Matt—a Spanish-speaking Latin American studies graduate—e-mailed me later and told me he badly wanted to train here at the JFP with our team of passionate journalists, I said: "Come on down. We'll make it work." I knew he could learn from our guys, and they from him.
So he's here, covering the heck out of the county and running around doing long-form investigative narratives (remember last issue's cover story on Greenwood student James Marshall?). He is also about to start coordinating our music coverage, as Herman Snell focuses on our music calendars, his column and directing the Crossroads Film Festival. (Pitch music stories to: [e-mail missing].)
Matt is waiting tables at Hal & Mal's on the side and driving my car until he can afford his own. Why? Because, like our entire news-gathering crew here, he is ambitious, hard-working and knows that there is no better time than the present to learn your craft, to really learn your craft, by any means necessary.
Congratulate these guys the next time you see them out and about for understanding that being the best isn't easy. It takes hard work and guts. And we dig that around here.
Previous Comments
ID

74627

Comment

Congrats y'all. Love ya! You do kick ass and stuff.

Author

emilyb

Date

2007-02-21T20:41:12-06:00
ID

74628

Comment

Great article Donna, even if it is an "edior's note". Sure you'll fix that soon. :-) Anyway, I think you have a top-notch staff, and I'm sure you are thankful for the additional help. Take that vacation soon!

Author

LatashaWillis

Date

2007-02-21T21:25:37-06:00
ID

74629

Comment

Thanks, L.W. I'm just seeing it. I really *must* get our Web guy to check his work more carefully. Will fix.

Author

DonnaLadd

Date

2007-02-22T10:56:49-06:00
ID

74630

Comment

I thought it was "Eeyore's Note" and got excited! Then I saw Ladd wrote it... ;-)

Author

pikersam

Date

2007-02-22T11:01:21-06:00
ID

74631

Comment

Screw you, Pike. (Kiddin')

Author

DonnaLadd

Date

2007-02-22T11:04:21-06:00
ID

74632

Comment

They are doing a great job! Congratulations to all! Pooh just is....

Author

pikersam

Date

2007-02-22T11:10:19-06:00
More like this story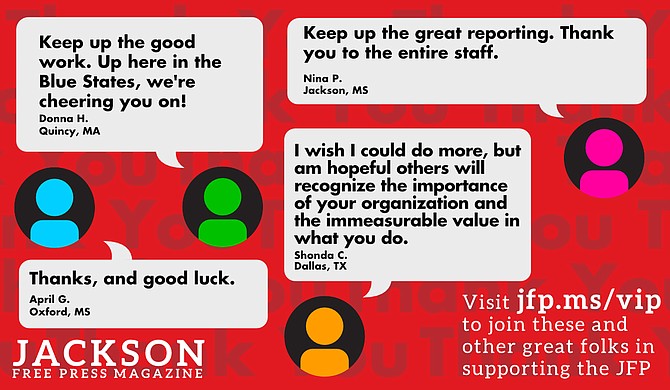 Thanks to all our new JFP VIPs!
COVID-19 has closed down the main sources of the JFP's revenue -- concerts, festivals, fundraisers, restaurants and bars. If everyone reading this article gives $5 or more, we should be able to continue publishing through the crisis. Please pay what you can to keep us reporting and publishing.