Love is a funny thing. It too often earns its status as a four-letter word. It bites us in the ass. It keeps us awake and alive. It motivates us.
Like many looking for love (in all the wrong places), I used to define love more narrowly than I do now. It was all about romance, finding a soulmate, getting flowers, having a warm, loving body next to mine every night.
It's still about those things for me. But being in a long-term, supportive relationship frees you up to explore the wider definitions of love—the hinterlands of passion, the wider possibilities of caring deeply about something, the need to apply love in a way that matters.
I'm fortunate that I'm in a loving relationship in which we share a passion for something greater than ourselves—this state and city. I imagine such ardor might actually be necessary in any relationship grounded in real love.
I think back on my sudden urge—no, need—to move back to Mississippi after I got my mid-career master's degree in New York. For various reasons, which had more than a little to do with the state flag vote that had just shocked my sensibility, I suddenly wanted to come home after 18 years of avoiding doing my work—applying my passion—in the place that mattered the most to me. I suddenly wanted to report and write in the place that tugged hardest on my heart: Mississippi.
When I was at Columbia, and heard too many people disparage my state based on unanswered stereotypes, which they were too quick to apply even to me, an ex-patriate, the love I had buried for my state rushed to the surface. I was defensive. I was hurt. I was mad.
I was like a lover defending my man.
Yet that didn't mean that I thought my state was perfect. Hell, I had left in the first place because I didn't think the state I sprang from wanted me. You couldn't be creative, open-minded, devoted to diversity and progress in Mississippi, I thought. When I left, I was like a lover scorned, like so many young Mississippians who don't have voices. I didn't know how to express my love—or that the best way to express it was through challenging my state to be the best she could be.
Now I know, though. Like other expats who have left their beloved home—the just-deceased truth-speaker Molly Ivins comes to mind—I had to leave to know what I had left behind. And I then had to come back—with that supportive partner by my side—to do my part, to challenge, to tell the stories to help us face our shared problems and humanity.
But one thing I brought back with me was the understanding that window dressing and surface public relations—like the well-meaning Mississippi Believe It! campaign—is not enough, and can make perception about us worse. No one in or out of the state will be convinced that my state has healed her wounds if we don't actually go heal the damn things. Taking out an ad, avoiding the truth of our past (or present), or proclaiming that seeking justice in old murders is "dredging up" the past only makes us look ignorant and in denial—both to outsiders and, worse, to ourselves and fellow Mississippians.
If there is anything that real love demands, it is gut-wrenching honesty.
We won't love our state off the bottom of the economic barrel with denials, or proclamations that we shouldn't have to apologize for things we didn't do personally. Frankly, I'll apologize for anything my state did if it will help us progress. More importantly, I will take part in public, uncomfortable discussions to help reveal the lingering effects of our past in order to help inspire and effect the changes we need to make now. My commitment to Mississippi demands such honesty from me.
My love for Mississippi also makes it imperative that I use the gifts given me to tell stories to enlighten and to challenge our state's citizens. It means that I must post petitions calling for overdue civil-rights prosecutions on my Web site, point out deficiencies and corruption in current politicians, and go chasing after the truth in stories that might make a positive difference in the state. It means that I saw the Edgar Ray Killen case in Neshoba County as a new start for our state—a chance to continue outing our demons and cleaning our old wounds so they will heal. To me, it was nothing near "closure" or "the end."
Since we started the Jackson Free Press more than four years ago, I've gotten three or four angry letters from fellow Mississippians who accuse me of making the state "look bad" because I'm willing to discuss both our current problems and the state's historical abuse of many of our citizens. Last week, we published one from a woman who seemed so angry at me personally that I could almost see her hands shaking as she typed the letter.
"You claim that you want Mississippians to be the best, but you state nothing good about the state," she wrote. "You only point out weaknesses: racism, under-funded education, crime sensationalism and infant mortality."
Beyond the sheer absurdity of such a statement—my paper can be accused of state and city boosterism as much as it can be called hard-hitting and investigative—I felt like I was reading the words of a woman in pain about our past. I have compassion for her view—that we should just stop talking about the negatives and get on with it. Many want us to ignore the past and pretend it didn't happen. That everything is equal now. It's a new Mississippi.
Except that it is not—not completely. My love for the state means that I cannot ignore the pain of people hurt here over the years in order to make sure this woman is not made uncomfortable by my words. That would be enabling, and we all know that we should not enable those we love to continue hurting us or themselves. I learned that lesson from loving two alcoholic fathers dearly.
We do not show our love for Mississippi by talking only about the positives or by excoriating our neighbors who are willing to apply a bit of tough love when necessary to help us move forward. The biggest irony, of course, is that when we bury the past, and only present a defensive front, our younger generations cannot even know how far we've come as a state.
We Mississippians had the farthest to come. There is no shame in admitting that—and there is pride in realizing how far along the road we are. But true love for our state means that we cannot stop now or buy that simplistic PR campaigns will do the job.
Love isn't supposed to be easy. Believe it.
Previous Comments
ID

74479

Comment

FANTASTIC. I was about to give the Pulitzer to Natalie, but I give it to you instead for this column. I don't see how anyone can disagree with what you wrote here. "Love is a many splendered things" or something like that. And I can hear Marvin Gaye singing his prophetic line in What's Going On - "Only love can conquer hate." All of the columns I've read so far in this issue are quite interesting and provoking. I'm keeping this volume for my grandkids to read when they age.

Author

Ray Carter

Date

2007-02-07T16:28:14-06:00
More like this story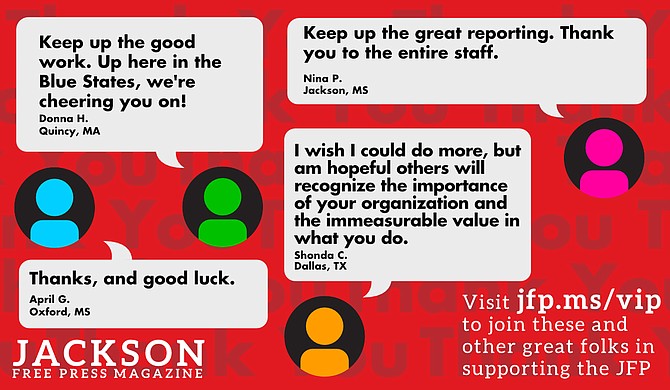 Thanks to all our new JFP VIPs!
COVID-19 has closed down the main sources of the JFP's revenue -- concerts, festivals, fundraisers, restaurants and bars. If everyone reading this article gives $5 or more, we should be able to continue publishing through the crisis. Please pay what you can to keep us reporting and publishing.