Read/hear interviews with the D.A. candidates
Tonight, The Clarion-Ledger finally had a story about the Hinds County district attorney's race, after virtually ignoring it for weeks and then failing to endorse a candidate without an explanation, even though it endorsed in the Rankin/Madison D.A.'s race and the Hinds County sheriff's race. A story posted Wednesday at first stated that as of Tuesday night, incumbent Faye Peterson and challenger Robert Smith were "neck and neck" and likely headed to a runoff, although the race was decided many hours before. The story, written by Jimmie Gates, then states that Peterson and now-eliminated challenger Michele Purvis were "friends."
In fact, Purvis was an employee of Peterson's, and neither indicates that they were friends, then or since Purvis left the county to go to work for City Attorney Sarah O'Reilly-Evans in the Melton administration.
The story then states the following, verbatim including repeated sentences:
Smith, 35, a criminal defense attorney, said his primary reason for entering the race was that crime is out of control in the capital city that is his home and where his business is located.
"I believe we can do better," he said.
With no Republican or independent entered in the race, the winner of the Aug. 28 Democratic runoff will assume the four-year post in January.
The story then paraphrases Peterson saying that she is the only person in the race with experience prosecuting homicide cases, including 13 capital murder cases. It does not state the fact, however, that challenger Smith has never prosecuted a single felony case.
Also tonight on WAPT, Smith said of Peterson, "She is not involved in trying cases," which is not factual.
Peterson led Smith 39 to 34 percent when all the ballots were in, and the two will face each other in a runoff on Aug. 28.
Click here for full interviews with Peterson and Smith.
Previous Comments
ID

94503

Comment

I hate runoffs. It should be highest votes wins.

Author

LambdaRisen

Date

2007-08-08T19:28:00-06:00
ID

94504

Comment

If completeness had been among the goals of the Clarion-Ledger in that article, it might have included language like this: "Peterson's record is clear, and it should be convincing: Under her leadership, case dispositions have sky-rocketed and the 'backlog' of cases created during her predecessor's administration has been drastically reduced because she and her lawyers are in the courtrooms trying cases every time they get a chance; she has created a pre-trial intervention program for first-time non-violent offenders which has been in effect since 2003, as has the utilization of a court facilitator, which has helped move felony cases faster through the system and reduced the jail population; her worthless check unit has returned millions of dollars to Hinds County citizens, and her office has assisted countless other victims in receiving millions more in state victim's compensation funds; they've convicted over 8,000 felons in her six years and seen them sentenced to countless years of incarceration so that they would not be available to perpetrate more crime on our streets; she's unflinchingly taken on the hardest cases (including not only prosecution of the then-popular mayor himself, but all those cases such as "Grayhead," "Batman," "Wood Street," etc., which he took to her when he was MBN director and insisted must be prosecuted and then publicly criticized while they were being tried) and done the right thing by letting trial juries decide their fates; her prosecutors obtained the first death penalty in Hinds County in about fifteen years; and, perhaps most importantly, she has personally tried dozens of major felonies, including many murder and capital murder cases, with an overwhelming success rate, as a prosecutor. "Mr. Smith has never had a burden of proof in a felony criminal trial because defendants, his only clients, never have a burden of proof of any kind. All they ever have to do is show up, which is also true of their lawyers. Therein lies a huge difference in the experience levels of the candidates. Instead of making a career choice to learn how to prosecute felonies, he has chosen to engage in the lucrative practice of criminal defense -- not necessarily a dishonorable profession, but one which does precious little to prepare one for the rigors of either representing the public (against whom all of his clients have been pitted) or sustaining the heavy burden of proving one's case beyond a reasonable doubt." But, of course, that was not the intent of the article.

Author

PSW

Date

2007-08-09T06:14:09-06:00
ID

94505

Comment

PSW, I don't know what your professional background is but, I would hire you today to manage my campaign and for sure as a fact-finder and speech writer. The CL is good for this type of behavior: Sit back, watch the show and then run to the front of the line as if they were there all the time. I don't get it. What do they fear? I know that they must make money to operate the business but, news is news and they should focus more on reporting it rather than twisting it. Faye Peterson is a hard worker. She takes her position seriously and the idea of "pulling off the gloves" is late. She has been throwing and landing her punches since being elected. Faye has my vote and my support. Smith, Peters, Melton and that whole little clique is a dangerous connection and will only bring more problems for this City.

Author

justjess

Date

2007-08-09T09:59:52-06:00
ID

94506

Comment

Justjess, PSW has publicly identified himself in previous posts as a career prosecutor. The Clarion-Ledger has never reported accurately about Faye Peterson. I have a feeling they are now realizing it, and that is why they're trying to hide at the back of the room.

Author

DonnaLadd

Date

2007-08-09T10:14:37-06:00
ID

94507

Comment

They have three weeks. They should use their vast resources to look at the truth of Ed Peters' office, then at the changes under Peterson, and then make an intelligent endorsement. They won't, though. They're afraid a car dealer or a suburban developer might get mad at them.

Author

DonnaLadd

Date

2007-08-09T10:15:39-06:00
ID

94508

Comment

The main problem with the Hinds DA office is not the person holding the position; rather it is the lack of resources and the overburdened prison system. I hope that one day there will be a DA with enough moral courage to decline to prosecute minor drug crimes and foolish misdemeanors in favor of shifting resources to violent crimes. That would have the effect of de-facto changing police priorities. Not all laws are equal, and some offenses are truly worse than others. Until the legislature revisits the treavesty of mandatory minimums for minor drug possession, etc. the prisons will remain full and continue to be the universities of crime.

Author

Willezurmacht

Date

2007-08-09T10:24:33-06:00
ID

94509

Comment

Smith has never had the burden of proof in a felong criminal trial. However, he hasn't had the advantage of the police force or sheriff department doing his investigation or on his side either. Nor the judge or the attorney general on his side. Nor the opportunity to do two closing arguments. Nor getting to recieve the discovery first without the other side receiving it simultaneously. I could say a whole lot more, but won't since I'm not on either side. I'm amazed that prosecutors believe they have a disadvantage in criminal cases. Good commetary otherwise, PSW.

Author

Ray Carter

Date

2007-08-09T10:24:39-06:00
ID

94510

Comment

In other words, PSW, I like both equally, and will be pleased that either won. The one I didn't want is out of the race.

Author

Ray Carter

Date

2007-08-09T10:34:14-06:00
ID

94511

Comment

It sounds like the last D.A. didn't prosecute a lot of drug cases—they were a humongous part Peters' backlog, as I understand it. Not sure about minor, though. A lot of people say that he really cherrypicked his cases for ones easy to win, and that's why the "conviction rate" seemed as high as it was reported. There just happened to also be 4,000 cases backlogged when he left. Has The Clarion-Ledger reported on Peters' backlog? Peterson talks openly about having to prosecute violate criminal cases over property crimes and such. She doesn't apologize for that, nor should she. I like the honesty about the resource issue. I'd much rather hear that, than be promised the moon. Another thing that is too often ignored is that she seems to be one of the few elected officials around here who can actually find resources and make budgets work. Contrast that to the mess of the Melton administration, which is about to have to tap into the city's reserves and screw up our bond rating.

Author

DonnaLadd

Date

2007-08-09T10:36:23-06:00
ID

94512

Comment

I like Robert, too, Ray. But I see no evidence that he is ready for this position—or to deal with the inevitable pressure that Melton's crowd is going to rain down upon him. After talking to him, I just don't think he understands what all that is going to mean. He didn't even seem to understand why questions about Peters' support was important. The best thing to say is that he is well meaning, but naive about this administration.

Author

DonnaLadd

Date

2007-08-09T10:40:48-06:00
ID

94513

Comment

I don't know how I missed the post that PSW was identified as a "career prosecutor." Thanks Ladd. I'm sure that the CL doesn't want those folks to be mad at them. LOL!

Author

justjess

Date

2007-08-09T10:42:00-06:00
ID

94514

Comment

PSW has identified himself by name, justjust, as Philip Weinberg. He knows a thing or two about the office.

Author

DonnaLadd

Date

2007-08-09T10:48:52-06:00
ID

94515

Comment

I know him, and knew who he was all along. We shared a hung jury on a murder trial once. I remember when he was a prosecutor in the Delta also.

Author

Ray Carter

Date

2007-08-09T10:52:13-06:00
ID

94516

Comment

I know *you* do, Ray. ;-)

Author

DonnaLadd

Date

2007-08-09T10:53:21-06:00
ID

94517

Comment

Thanks for your comments, Ray. I've enjoyed some of your previous remarks as well. Just a little clarification: The judge is not on our side. He/she is always neutral and, in fact, tries very hard not to commit reversible error. That usually favors the defendant. We do not see the attorney general in the ordinary case until appeals after trial, which that office handles as provided by law. Defense lawyers receive discovery pretty much as soon as they ask for it, but they do not generally reciprocate in a timely fashion, usually waiting until the week or less before the actual trial to even give prosecutors the names and addresses of their witnesses, if at all, which gives them a huge advantage and violates the discovery rules. In referring to the burden of proof, I did not imply -- and would not want anyone to infer -- that we consider it a disadvantage. The consequences of a felony conviction are serious enough that the burden should be as it is. My point was simply that Mr. Smith has never had to assume that heavy burden in a felony case.

Author

PSW

Date

2007-08-09T11:01:46-06:00
ID

94518

Comment

I understand, PSW. Judges are usually neutral. I've have had many to lose or forget their neutrality when I started doing a little better than anticipated, expected or desired. Like the case we had when the judge refused to let the eye-witness testify. It was claimed I disclosed him to you too late or very late. I might have been guilty on that occasion. Afterall, the road is not supposed to be paved for y'all without some obstructions, challenges or surprises. It backfired that time on me but fortunately the jury was hung. In many capital cases, I have had judges, who were ex-prosecutors, try to limit my efforts of imagination, creativity and inventiveness based on law and prior rulings unknown to me. Because I'm supposedly crazy, I ask them to show me the rulings or law, which insults them gravely, and tempts them to sanction me. So far I have missed jail altogether and been fined only once.

Author

Ray Carter

Date

2007-08-09T11:37:44-06:00
ID

94519

Comment

Does Ray Carter think that prosecuting a case is such rocket science that an experienced criminal defense attorney couldn't switch sides of the aisle? Come on Ray . . . take the bait!

Author

Leroy

Date

2007-08-09T13:39:53-06:00
ID

94520

Comment

I have already said on a different column that a good or experienced attorney could do either jobs well. I have no doubt Robert could do this job successfully.

Author

Ray Carter

Date

2007-08-09T13:46:25-06:00
ID

94521

Comment

Thank you. I tender the expert.

Author

Leroy

Date

2007-08-09T13:52:17-06:00
ID

94522

Comment

I want claim any such label (expert). Just my opinion.

Author

Ray Carter

Date

2007-08-09T13:57:10-06:00
ID

94523

Comment

Ray, have you always been on the defense side? I realize I don't know your legal history before your current job.

Author

DonnaLadd

Date

2007-08-09T13:58:55-06:00
ID

94524

Comment

Always on the defense side. I'll have talked to countless prosecutors about the problems of doing that job. It is challenging to present a case successfully as a prosecutor with skilled defense attorneys berating, tricking, goading and trapping your witnesses, who are often just regular or lay persons trying to tell the truth, like they stole their child's last bottle of milk. It's rather easy to just attack the memories, perceptions, vision, vantage point, et al of the state's witnesses. It's not a happy experience for most witnesses. The prosecutors have to take them as they come, fallible, abused, weak, baggage-ridden, et al. Sometime I feel sorry for prosecutors, but not often. However, lawyers switch sides all the time. Many lawyers have been very successful while on both sides, which I why I know a good lawyer can do either job. I have to be honest and say Faye is more ready right now because she has the job already.

Author

Ray Carter

Date

2007-08-09T14:26:12-06:00
ID

94525

Comment

My apology for all the errors. I'm rushing because I'm busy.

Author

Ray Carter

Date

2007-08-09T14:55:09-06:00
ID

94526

Comment

Not to change the subject, but, did anyone read Ronnie'Agnew's article in the CL entitled "I've got to vote, but I don't like the mud." He was so busy slinging mud that I'm sure his eyes were distorted from seeing anything clearly. As I read his article, I kept thinking: Man, you should read the JFP. There is a difference between mud slinging and reporting the facts. It will be interesting watching the CL in the DA's run-off election. They have 3 weeks to clear out the mud in their computers.

Author

justjess

Date

2007-08-10T08:23:16-06:00
ID

94527

Comment

Has anyone read the CL's crime story in the paper today? The CL is investigating individuals that have been arrested and released many times. They asked Smith for a comment and of course he placed the burden on Peterson. Later in the story I was surprised that one of the busiest of offenders, Linda Mangum, was represented by Smith and prosecuted by Ed Peters' office. Mangum was charged with house burglary which carries a maximum sentence of 25 years. Smith's client, a repeat offender, received a plea offer from Peters' office of less than a year to serve. It's good to see that Ed Peters and Robert Smith have been working together for quite some time.

Author

thetruth

Date

2007-08-12T10:44:21-06:00
ID

94528

Comment

Well, the Ledge ignored the whole Municipal Court part of the equation where many of the offenders are put before a Judge (appointed by Melton) to decide their initial fate. Like Ali Shamsiddeen and M Taylor. Ali is his attorney, and he is a Melton appointed Municipal Judge. D.A. Peterson told the JFP that she did not believe Taylor had posted his $250,000 bond as of July 10. [color=red]The carjacking is still a municipal matter, and the municipal court logbook shows no record of Taylor paying a bond since his November arrest.[/color] Municipal Court Judge Ali Shamsiddeen, who represented Taylor in the 2005 alleged armed robbery, did not return calls. Melton appointed Shamsiddeen as a municipal judge earlier this year. More happens in that court that allows these guys to get out of jail quicker or be bonded out before they even become a blip on the County screen. MySpace - Gun In Your Face Michael Taylor! He's Real! I rest my case.

Author

pikersam

Date

2007-08-12T11:05:04-06:00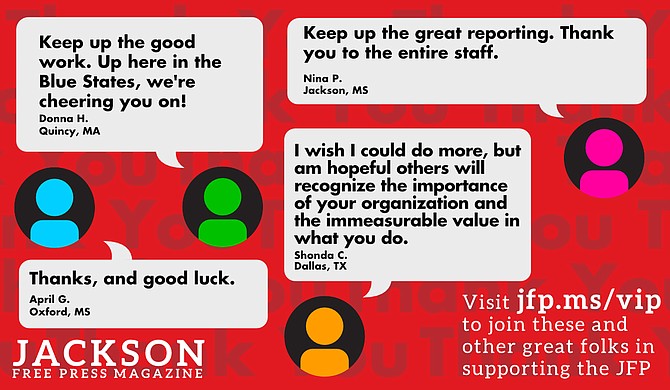 Thanks to all our new JFP VIPs!
COVID-19 has closed down the main sources of the JFP's revenue -- concerts, festivals, fundraisers, restaurants and bars. If everyone reading this article gives $5 or more, we should be able to continue publishing through the crisis. Please pay what you can to keep us reporting and publishing.