... or a single woman, for that matter. The Ledger edit-boyz surprised us today by not enthusiastically endorsing one of the challengers of Hinds County District Attorney Faye Peterson in the race that is, arguably, the hottest contested and most closely watched in the city where they're located. They did, however, endorse candidates for Madison County district attorney.
Four years ago, The Clarion-Ledger endorsed Wilson Carroll to replace Peterson although he had never tried a single criminal case. And this campaign season, the only story the Ledger did about the Hinds DA race focused on "Melton's shadow loom(ing) over the DA's race" (and appeared the week after the JFP quoted McMillin saying that Melton had put up candidates against both him and the D.A.)
The Ledger has reported nothing substantive on the race to date—or bothered to analyze campaign claims—so perhaps they had no clue who to pick. In that case, we applaud them for abstaining rather than again endorsing a wholly unqualified candidate.
Previous Comments
ID

113700

Comment

OK, here's my theory: The Clarion-Ledger has been forced to eat so much crow over their endorsement of Melton that they have decided just to stay out of this one because they don't want to be wrong again. Other theories?

Author

DonnaLadd

Date

2007-08-06T12:41:22-06:00
ID

113701

Comment

Donna, your theory sounds like a good one. Seems weird that they wouldn't endorse a Hinds DA candidate since their office is in Hinds County.

Author

LatashaWillis

Date

2007-08-06T12:50:41-06:00
ID

113702

Comment

i encourage the JFP to post the contribrution reports for purvis and smith so that your readers will see that the old white money ain't with faye.alternatively these reports can be obtained by going to the sec of state web page.the ledger doesnt go to far afield of what that bunch does.

Author

chimneyville

Date

2007-08-06T12:59:53-06:00
ID

113703

Comment

Yeah, it's one thing to decline because you don't know enough about a race. But, come on—admitting that in this race is something else. Then there was Agnew's column Sunday complaining about the candidates not talking about substantive issues. So why do they talk to US about substantive issues? Could it have something to do with not being ASKED? They do this every election—provide surface horse-race coverage, and then whine about the (a) voters or (b) the candidates not doing their jobs. Their type of coverage is what leads to a climate of mud-slinging—if the media doesn't care about substance, you resort to crap-hurling—but I guess Agnew does not realize that. Sad.

Author

DonnaLadd

Date

2007-08-06T13:01:36-06:00
ID

113704

Comment

Funny, chimney, I just asked Maggie to get them. With Adam out of pocket, we're a bit slammed, but I agree that those are important.

Author

DonnaLadd

Date

2007-08-06T13:02:45-06:00
ID

113705

Comment

I read the article, and I found it to be discouraging. A reader could decide not to vote after seeing that.

Author

LatashaWillis

Date

2007-08-06T13:30:47-06:00
ID

113706

Comment

Heres a theory Donna, maybe the Ledge just didn't want to endorse someone just to endorse someone. This is taken from the thread regarding the JFP endorsements when you responded to me questioning you for not making an endorsement: "And we don't endorse just to endorse; on another thread you attack the idea of voting just to be voting. Anyone who believes that certainly should not logically then say that a paper should endorse a candidate they do not believe deserve the citizens' votes." Maybe the Ledge doesn't feel anyone in the Hinds County DA's race deserves an endorsement. Here is a headline for you: "Hypocrisy Runs Amok at the JFP."

Author

Trust

Date

2007-08-06T16:01:37-06:00
ID

113707

Comment

Also, Donna, by you stating that the Ledge failed to endorse a woman for any position, injects the idea that the Ledge is sexist. That is an unfair assesment. Just because the Ledge did not feel the need to endorse a woman does not mean they are sexist.

Author

Trust

Date

2007-08-06T16:11:19-06:00
ID

113708

Comment

Actually, this has nothing to do with hypocrisy; that is not an excuse for The Clarion-Ledger on the Hinds County District Attorney's race. If they did not believe any of the candidates deserved an endorsement, they should have explained why as we did with the GOP secretary of state and lt. governor on why they weren't endorsing in a major primary battle that will be decided tomorrow. And with their resources and home base in Hinds County, not to mention all the (often-faulty) coverage they've done on the D.A.'s office over the years, they have no viable argument about they should not have enough information to endorse. They are not a weekly newspaper with one full-time reporter. Their lack of an endorsement speaks volumes. I mean, they could find time to blame the DA for losing Melton's gun trial, although she wasn't part of the case last fall. But they can't figure out anything to say about this race??? It says so much about that newspaper and its relevance in this city and county.

Author

DonnaLadd

Date

2007-08-06T16:11:48-06:00
ID

113709

Comment

And I think The Clarion-Ledger is sexist, at least when it comes to people who write and opine on serious topics. Unless it happened in the last few days, they have not had a woman on their editorial board for months now. That's why I call them the "edit-boyz." Beyond that, they don't have one serious local female columnist on their staff. They can do better than that—but they don't seem to care to. There is nothing "unfair" about that.

Author

DonnaLadd

Date

2007-08-06T16:13:48-06:00
ID

113710

Comment

They are not a weekly newspaper with one full-time reporter. Their lack of an endorsement speaks volumes. ladd Zing! David and Goliath indeed!

Author

pikersam

Date

2007-08-06T16:34:35-06:00
ID

113711

Comment

Here's my theory: I think The Clarion-Ledger has been shaken awake to many facts about the current and past D.A. that they had ignored thus far. Now they're in a corner: In order to endorse the best candidate, they would have to admit they were wrong (and, worse, incompetent on the reporting front). And we're all still waiting for that apology for their unethical Melton endorsement (made while they were wrapped up in a lawsuit in Meridian with him, with him lying about not giving them a faulty memo about MBN agents). They'd rather not endorse than have to admit they were wrong. And they probably have realized that either of the other two candidates *could* blow up in their faces, as Melton did. Not saying they will, of course. So, they're scared to endorse. In a way, it's a very amusing thing to see. And it's not like their endorsement mattered a whole lot in this race last time. It's just terribly interesting to watch them retreat.

Author

DonnaLadd

Date

2007-08-06T17:12:59-06:00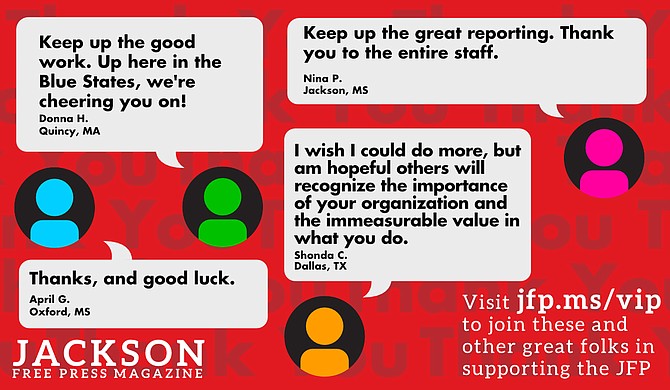 Thanks to all our new JFP VIPs!
COVID-19 has closed down the main sources of the JFP's revenue -- concerts, festivals, fundraisers, restaurants and bars. If everyone reading this article gives $5 or more, we should be able to continue publishing through the crisis. Please pay what you can to keep us reporting and publishing.