(The following appears on page 2 of the Sept. 21, 2006, issue of the Jackson Free Press.)
Dear Mr. Newhouse:
We are writing in response to your "OPEN LETTER FROM THE PUBLISHER" dated September 17, 2006, printed as a full page advertisement in the business section of the Sunday Clarion-Ledger. We are dismayed, Mr. Newhouse, at the accusations you appear to have made against members of our organization, the Mississippi Independent Publishers' Alliance (MIPA). Pursuant to Mississippi law, we call upon you to publish a full and fair correction, apology and retraction in the same section and in as conspicuous a place and type as your original "open letter."
To begin, we'd like to take this opportunity to clarify your misunderstanding of MIPA's mission. As an organization, we seek an equitable solution to the issue of free publication "clutter" that you've said your TDN plan seeks to address. We, however, seek solutions that work well for both independent publishers and retailers, and we reject the notion that the only solution is for independent publishers to pay The Clarion-Ledger for display privileges.
All of us have made the business decision not to distribute in the TDN boxes, as we've found them to be a less-than-satisfactory solution for our distribution and display needs.
According to your "open letter," The Clarion-Ledger "made a business decision to work with publishers" six months ago. However, when Clarion-Ledger employees came to most of us in May—four months ago—to reveal the plan, it was clear that you had already largely implemented TDN without our knowledge or participation. This is not "working with" publishers. Many of us felt that our businesses were threatened by your plan and the terms under which it was presented.
So we gathered together, got to know one another and decided to implement our own group display strategy for our publications, one that would work well for both independent publishers and our retail partners.
The reasoning behind our decision is simple—we feel that we offer a high-quality product, in the form of the publications displayed, along with a better service to the retailer in the form of a non-exclusive partnership, which leaves the retailers in full control of their storefronts.
MIPA offers well-known, established publications that readers ask for by name—American Classifieds, The Apartment Guide, Gary Smith Realty, Homes and Land of Greater Jackson, Jackson Free Press, Metro Christian Living, Parents & Kids, The Real Estate Book and Showcase of Homes. Our product appeals to many store operators, because we represent publications their customers regularly request.
We went out into the community in teams of two and three and met with the owners and operators who we'd been told had signed TDN agreements. When it was made clear to them that MIPA publications would not be available via TDN, some of them decided to opt out of TDN by giving 60-days notice as required by the TDN contract. (A few who felt they'd been misled into signing, demanded—and received, we're told—immediate release from their TDN contract.) When those 60 days were up, we provided some of the owner/operators with multi-publication boxes, while others opted to allow us to return with our individual racks and boxes.
Mr. Newhouse, you wrote, "TDN opponents have rallied to spread false information to retailers and publishers with the intent of destroying our client base." This accusation is completely without merit. We note your use of the term "TDN opponents," and we're concerned that this is an attempt to insinuate a very serious charge without making it specific enough to be actionable. Please retract that statement.
In addition, we are all very troubled by the last part of your letter. You tell of property damage and a burglary that a manager on your staff has experienced, introducing that section by saying, "We can only hope the events are not endorsed by publishers opposing TDN."
We, the undersigned, have no knowledge of, nor do we "endorse," any criminal activity that may have been perpetrated against any employee of The Clarion-Ledger. We are willing to work with any legitimate authority to investigate the matter, although none of us has been contacted by such an authority, nor do any of us have a notion of what we could add to such an investigation.
However, we must also express our distress at your public suggestion that any of us would endorse vandalism or theft in the course of doing business. To imply such a thing is irresponsible and inappropriate, Mr. Newhouse, and we expect an apology.
We respectfully request the printed retraction and apology appear within six days of receipt of this letter, which is being printed in the Jackson Free Press, hand delivered and sent by certified mail to your attention at The Clarion-Ledger. A courtesy copy is being provided to the office of the Attorney General of the State of Mississippi.
Sincerely,
Todd Stauffer
Publisher, Jackson Free Press
Mike Rowell
Publisher, The Apartment Guide
Jimmy Kitchens
Publisher, Home and Land Magazine of Greater Jackson
Gretchen Cook
Publisher, Parents & Kids Magazine
Angie Cone
Operations Manager, The Real Estate Book
Beverly Smith
Publisher, American Classifieds
Julie Blake and Bob Blake
Owners, Showcase of Homes
Gary Smith
Gary Smith Realty
Marilyn Smith
Publisher, Metro Christian Living
Previous Comments
ID

170997

Comment

This letter kicks ass. Not sure what Newhouse was expecting with the TDN scheme, and then his "advertorial", but I'm pretty sure it was *not* something like this.

Author

kate

Date

2006-09-21T12:45:51-06:00
ID

170998

Comment

All, read the following threads for background on this issue. Also, note that Brian reports that David Hampton refused to give MIPA members letter-to-the-editor space to respond to Mr. Newhouse. http://www.jacksonfreepress.com/comments.php?id=10781_0_27_0_C http://www.jacksonfreepress.com/comments.php?id=10352_0_65_0_C http://www.jacksonfreepress.com/goliath.php http://www.jacksonfreepress.com/forums/threads.php?id=10771_0_16_0_C

Author

ladd

Date

2006-09-21T13:00:42-06:00
ID

170999

Comment

Bravo.

Author

E

Date

2006-09-21T14:49:49-06:00
ID

171000

Comment

This is amazing. Y'all rock! Cheers, TH

Author

Tom Head

Date

2006-09-21T18:15:26-06:00
ID

171001

Comment

They'll ignore it. Great letter, but why should they respond? There's no penalty if they don't. *sigh*

Author

Ironghost

Date

2006-09-21T19:45:55-06:00
ID

171002

Comment

Kudos, JFP and MIPA. All along, I could not believe Newhouse's audacity in publishing the letter, replete as it is with misstatements, lies, and innuendo. After reading yours, I'm sure he will begin to regret having sent his. Hang tough, guys...and keep on kicking that a$$!

Author

Kacy

Date

2006-09-21T20:56:56-06:00
ID

171003

Comment

Well, they may not have wanted to publish it, but at least part of it is now on their web site. I was afraid to copy the whole thing (don't want to violate any copywrite laws), but I did include a link back here. To comment about it on their site, please go here...

Author

Rico

Date

2006-09-21T21:19:42-06:00
ID

171004

Comment

There was another TDN house ad in The Clarion-Ledger Sunday. They again ran the picture of the green TDN box — containing eight Clarion-Ledger publications. They said they have 17 publications as part of the deal. OK, in addition to the eight in the TDN box, that would leave nine non-Ledger publications. Let's see: 1. The Gaming (gambling) magazine out of Kentucky - monthly, I think 2. Rize (music magazine out of Rankin County) - monthly? 3. Health magazine (start-up; quarterly, I think, but not sure) 4. Game Day Weekly—although I haven't seen more in a couple weeks 5. Jackson Christian Family (monthly) Anyone seen any other non-Ledger publications in the boxes, yet? Please update us if you do.

Author

ladd

Date

2006-09-25T13:25:50-06:00
ID

171005

Comment

Here's an idea. The Clarion-Ledger ought to fill one of their numerous empty slots with the Litter-Ledger and stop trashing people's yards with it? What y'all think?

Author

ladd

Date

2006-09-25T13:36:34-06:00
ID

171006

Comment

I see "The Original Penny Pincher" is now a part of the CL's TDN and will be out this week "in all TDN locations" according to the insert in an empty hole in the one at the SprintMart Shell on Springridge Rd in Clinton.

Author

Jo-D

Date

2006-10-09T11:13:58-06:00
More like this story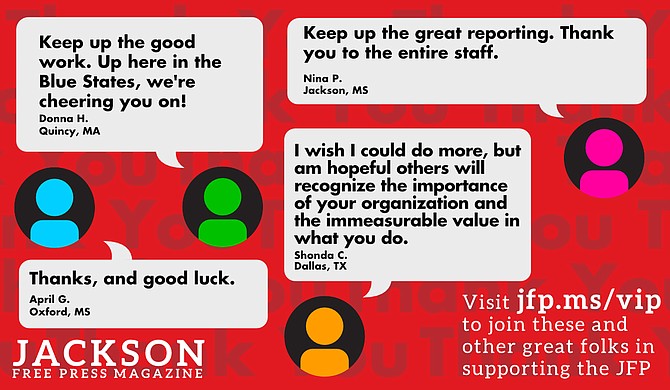 Thanks to all our new JFP VIPs!
COVID-19 has closed down the main sources of the JFP's revenue -- concerts, festivals, fundraisers, restaurants and bars. If everyone reading this article gives $5 or more, we should be able to continue publishing through the crisis. Please pay what you can to keep us reporting and publishing.