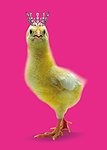 Announcing our brand-new Chick Blog, a fun and serious collection of writings and blogs by and about women. You won't just find stories about lip gloss here, but you'll find some of those, too. Enjoy, my chickadees, and the men who are obsessed with us. You're welcome in the Chick Chamber, too, as long as you're respectful of the grrls in charge.
Happy parade.
Previous Comments
ID

105278

Comment

Before bolting in search of a cocktail—sorry, Ray—I should add that the new Chick Blog is going to be a new archive of sorts for Ali and Emily's columns, along with any others deemed "chick" in nature. We have so friggin' solidly taken that word back, eh? Can I also mention that this chick-in-a-crown is one of my favorite covers ever (from Chick Issue, two years ago)? (I have a blow-up in my office, in fact.) And get this: Jimbo and James actually photographed a real chick—borrowed by Natalie Irby by Dixie Feed & Seed on Medgar Evers—modeling on Jimbo's desk at Article. Beat that. And I'm not going to tell you where we goto the tiny crown. (OK, it was Photoshopped, but that little chicken was real.)

Author

DonnaLadd

Date

2006-03-16T22:04:31-06:00
ID

105279

Comment

ROFL @ thr real chicken story. Love it.

Author

Heather

Date

2006-03-16T22:39:01-06:00
ID

105280

Comment

The world's tiniest model. While we had 'er, though, we shoulda turned 'er loose. I've felt guilty about that part for two years now.

Author

DonnaLadd

Date

2006-03-16T22:41:23-06:00
ID

105281

Comment

I've always wanted a small chicken. Damn you Donna. I went to Hal and Mals looking for you and I found Canadians and Shiner Bock. This is not a good thing. Jesus. That chicken is cute. And, I'm drunk.

Author

Lori G

Date

2006-03-17T01:31:05-06:00
ID

105282

Comment

This chick is tooooooo cute! She's absolutely a diva!!!!

Author

notme

Date

2006-03-17T09:00:42-06:00
ID

105283

Comment

When I first saw this chick photo, I thought it was about as perfect as it could get. Talk about striking a pose! I see attitude! (in a good way) Love the hot pink background too... Thanks for sharing the story of how it came to be. Makes this photo even more appealing. BKS

Author

BKS

Date

2006-03-17T09:08:22-06:00
ID

105284

Comment

It's the most wonderful time of the year! Screw Christmas! I still have that cover and that issue from before I wrote for JFP. I also have it on my wall :) It was the one that made me remember that since I was a little, bitty girl (yes, i was little bitty once!), all I wanted in the world was to be a writer. That issue and parade changed my life in so many ways! Great idea Donna! Love the new blog! AND I HAVE PARADE FEVER even after a week in Disney World!!!!!!!!!

Author

emilyb

Date

2006-03-17T10:20:14-06:00
ID

105285

Comment

yay for the Chick blog!!! hooray for March madness, womens and chicks and girls. hooray

Author

Izzy

Date

2006-03-17T10:29:30-06:00
ID

105286

Comment

Sorry, Ali, I arrived closer to midnight, fashionably late, of course. But I heard stories about you from one of the Canadians, if that makes you feel better.

Author

DonnaLadd

Date

2006-03-17T12:04:19-06:00
ID

105287

Comment

Per the chick -- my favorite part is the little devil's propped-up foot. Talk about diva.

Author

DonnaLadd

Date

2006-03-17T12:05:07-06:00
ID

105288

Comment

BTW, don't you love the new stripper poll in the Red Room? (Down, Frank, no one actually took their clothes off.) We've gone from cowboy chic to stripper chic in a few short weeks.

Author

DonnaLadd

Date

2006-03-17T12:16:59-06:00
ID

105289

Comment

I freaked out about that stripper pole all night. You wouldn't assume that the Red Room putting in a stripper pole would force thirtysomething suburban MALES to get on it, would you? Was it the Canadian wearing all the jewelry? ;) The whole night was a cultural experience.

Author

Lori G

Date

2006-03-17T12:48:00-06:00
ID

105290

Comment

Jewelry? I don't know, he was big. Yeah, there were men there who had some serious repressed issues, I think. One in particular, but he didn't do the pole -- but I'm off on a private joke now. So never mind. It's going to be that kind of day. Must. Control. Myself. >8-D

Author

DonnaLadd

Date

2006-03-17T12:50:59-06:00
ID

105291

Comment

I had a small chick when I was little. I found it in the field by our house in KY. We lived by a farm, I think (come on, I was, like, 3). Papaw said I could keep it amd mom got mad him. Anyhow, I think it died.

Author

Heather

Date

2006-03-17T16:36:51-06:00
ID

105292

Comment

I was already sad that I had to miss Parade/SPQ Weekend but then when I discovered there was a friggin stripper pole, I was devastated. But at any rate, I love the new blog. And next time I come to town, the pole better still be there :)

Author

Melissa

Date

2006-03-23T11:05:33-06:00
ID

105293

Comment

I definately pulled a muscle trying to slide down the pole with both feet over my head.

Author

Justin

Date

2006-03-23T11:28:21-06:00
More like this story
Support our reporting -- Become a JFP VIP.
The news business has changed dramatically in the past year, and we need your help more than ever to keep bringing you important stories about Jackson and the Metro. Become a JFP VIP with an annual membership or you can Sign up as a monthly supporter. Thanks for anything you can do to empower our journalism!