It's remarkable, really, to see how other journalists (or editors) work. Chris Joyner and I had a good talk about public records yesterday—and I made it clear to him repeatedly that I had *two* concerns about The Clarion-Ledger's settlement with Melton: 1. That because it was public-records law, which must apply to everyone, that that be taken into consideration when an agreement was reached with one publication. We talked about the problems with this in some details. 2. That Melton's private attorney, Danks, should not be in the role of "overseeing" the public-records process in any way. We also talked in some detail about the reason the city has so many public-records requests—because they do not have good public information folks and that they tell media outlets to file a public-records request over the silliest little thing -- then it becomes a big drama for them.
This, however, is what shows up in the story:
Donna Ladd, editor in chief for the Jackson Free Press, said she is concerned the city still might stonewall other media outlets.
"We want it made clear somehow that the city has not reached an agreement (solely) with The Clarion-Ledger. It has to treat all media the same way," she said. Attorneys for both sides said they believe the settlement will benefit all media outlets and that the public at large by reforming the city's public records process.
"The whole idea is to have a uniform process for all requests," Danks said.
What B.S. Lifted out of context as that quote is, it makes it sound like I don't understand that this settlement was between the two parties -- but that my concern, which I stated clearly for him, is that the city should not be settling a public-records request with one media outlet because, by the very nature of those laws, it could not then be apply unequally. The city should not be setttling the suit with one outlet; it should be following. the. law. The Clarion-Ledger should take this to court, not try to work some deal with Melton's private attorney who has all sorts of potential conflicts dealing with public records (like the requests about his contract that we have pending). It makes no sense that they're not.
To make this clear, at the end of our conversation, I clarified to Joyner that I had two problems with the settlement and to please report both in context.
And the other big problem they have, which Joyner and I talked about specifically, is that the city attorney's office opposes a settlement. They don't tell us that part in this puff piece on behalf of The Clarion-Ledger, now do they?
Sigh. At least he didn't try to interview me in e-mail.
Previous Comments
ID

106568

Comment

A letter-writer today in The Clarion-Ledger shares this quote to explain the lover's spat between the paper and the mayor: The Democratic governor of Montana was quoted as saying: You know, if you spend your whole day trying to catch the dog that bit you because all you want to do is kick him, you're not going to win many friends. He said he goes both ways. I tend to agree with him.

Author

DonnaLadd

Date

2006-06-21T08:46:08-06:00
ID

106569

Comment

The Clarion-Ledger just doesn't get it. Their editorial today: Melton signed the agreement Tuesday hammered out by Melton's attorney, former mayor Dale Danks, and the newspaper's attorney, Leonard Van Slyke. It holds Melton personally accountable for making sure city departments under his control abide by the state's Public Records Act. As part of the agreement, the mayor will put the issue on the agenda for the City Council's June 27 meeting. It should never have been a problem. Of course it shouldn't have been a problem. And they should have sued, and used their vast resources to get the city to obey the law. But they are being used here by Melton and Danks, and don't even seem able to see it. It's a game. If Melton/Danks really meant this, they would have already gotten all the requests by the Ledger, and other media, filled instead of dinkering around with a "settlement." The Ledger is being played here, although they think they are doing something smart. Had Mr. Joyner bothered to listen and report what I actually said to him, he would have reported me saying that there is *no need* for a settlement that is sure just to cause more lawsuits and such when the city refuses to keep up their end. This isn't a "settlement" type issue, especially with one media outlet, when the law has to be applied equally. What City Council should do is not ratify this settlement, but call for all open-records requests to be filled *by the City Attorney's office.* They should not be paying a contract attorney, who is the subject of open-requests requests, as yet unfilled, himself, to "oversee" the accountability process. There is *nothing* about that that makes sense, and I'm really disappointed in the Ledger's legal team for going along with such a thing. Maybe the Ledger wants to set the city up for failure, so it can keep looking like the hero when they keep having to sue them. I don't know. But what is needed here is a legal showdown and the city be ordered by a judge to comply with the law for all media and citizens. This settlement just delays that. City Council should do the responsible thing and reject it.

Author

DonnaLadd

Date

2006-06-22T09:04:49-06:00
ID

106570

Comment

Donna, are you surprised? Joyner is the reporter who's writing is so bad and then when emailed about it takes offense to it and says that is his writing style? Remember the story last Saturday on Melton we critiqued? That was Joyner. I'll email you our exchange. Made me lose all respect for him. He'll never be anything but a second rate reporter. Not a personal attack, just a judgement based on reading his work. He wouldn't last a day at the WSJ or NY Times or even Times Picayune. His samples would disqualify him from an interview.

Author

Kingfish

Date

2006-06-24T10:37:07-06:00
ID

106571

Comment

Well, I won't go that far. He did a decent interview. It was just remarkable to see that, after I spent all that time on the phone with him on press day, that he would use what he did, how he did. Also, I'm not above believing that editors over there are mucking up his stories. You can't always gauge the quality of a writer/reporter from what appears in the paper, but you can *always* judge the quality of editors based on what appears.

Author

DonnaLadd

Date

2006-06-24T16:24:46-06:00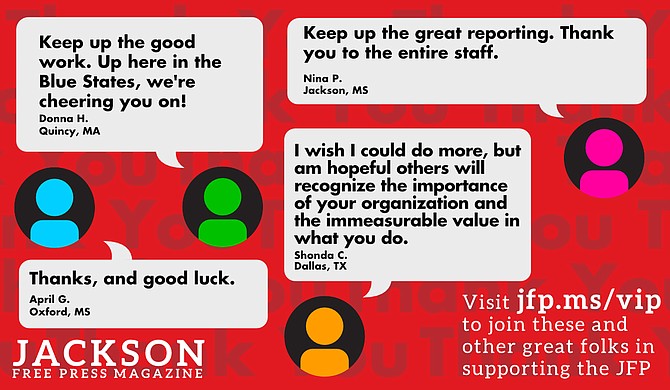 Thanks to all our new JFP VIPs!
COVID-19 has closed down the main sources of the JFP's revenue -- concerts, festivals, fundraisers, restaurants and bars. If everyone reading this article gives $5 or more, we should be able to continue publishing through the crisis. Please pay what you can to keep us reporting and publishing.