Or, as we love to call it in these parts, Vapid Jackson. It will be vapider than ever now. ;-)
Read this amazing bit of journalistic news here. Guess that explains why they're showing up in the TDN boxes. If you can't get the freebies to buy in, just buy 'em!
Previous Comments
ID

170828

Comment

why did they sell? Do they not understand Gannett will water down their product?

Author

Kingfish

Date

2006-07-03T10:51:45-06:00
ID

170829

Comment

"Water down"? ;-D Honestly, it's too bad. They were locally owned, and for sheer vapidity, they did a good job at featuring diverse events and people. They did a great spread of photos on the Friendship Ball, when the Northeast Ledger only seemed concerned with making sure I wasn't mentioned in it. (Derrick Johnson was mentioned twice as "among the honorees," when there were two total! Truthfully, we got a lot more publicity out of my not being mentioned, and it's become one of those legendary Ledge gaffes around town that make them look so bad.) What I find hilarious is that The Clarion-Ledger would buy such a thing. I guess they are really going to go after the Northside Sun's new party-pics mag (Sun), huh? And, of course, it is restricted under the new distribution policy as well. Even more interesting, this means that the Ledge has at least six free pubs by my count. If they put them all in every nine-window box, that would mean that only three non-Ledge pubs will fit. At $8 a pop a month, with 25 percent going to the business, that means that each business would only get $6 a month. Welcome to the world of diminishing returns. I truly can't believe they sit around a boardroom on Pearl Street and say, "You know what we need as a daily newspaper in Mississippi? To buy VIP Jackson." This is priceless.

Author

ladd

Date

2006-07-03T11:06:59-06:00
ID

170830

Comment

What does this mean? The owners, Leigh Reeves and Jeff Watson, started the publication 16 months ago and have built the magazine into a monthly publication with a circulation of 15,000 and 50,000 readers Is it 15,000 or 50,000?

Author

Rico

Date

2006-07-03T11:11:48-06:00
ID

170831

Comment

They are probably applying a multiplier that accounts for more than one "reader" (and we use that word loosely in this case) per issue ("flipper" would be more apt). But you raise an excellent point, though. It's hard to apply a higher multiplier to a free circulation than 2.6, which is pretty standard, unless you have evidence. That would make it 39,000. And considering that VIP Jackson was too small to be included in last year's Media Audit of all local media, they didn't have an official figure in that. So I don't know where they're getting this number. BTW, Media Audit showed last year that our multiplier is higher than that, but I'll have to look up those numbers before I post them.

Author

ladd

Date

2006-07-03T11:17:48-06:00
ID

170832

Comment

Also, what's left out of this statement in their little article about buying Vapid-J is very interesting: VIP Jackson Magazine joins The Clarion-Ledger's targeted nondaily publications — The Clinton News, Rankin Ledger, The Madison County Herald, Northeast Ledger, Hinds Ledger, Mississippi Kids and 50 Plus Lifestyles. What about the other publications they are putting in the big-ass green boxes? One guess is that they could be trying to sow confusion because people don't know the difference between their read-estate/classifieds pubs and the ones they're trying to run out of their distribution spots. Or, it could just be sloppy journalism. Here are the others: Career Builders Make and Model Mississippi Homes Oh, and they forgot the Weekend rag, too. Am I missing any?

Author

ladd

Date

2006-07-03T11:20:41-06:00
ID

170833

Comment

I don't if they circulate it separately from the paper, but there is the Celebrations publication they have, which spotlight weddings. I believe it's published once a month.

Author

golden eagle '97

Date

2006-07-03T11:26:31-06:00
ID

170834

Comment

I'll bet that the CL will attempt to turn the VIP Jackson magazine into a clone of JFP to compete head-to-head with y'all. What they don't understand, obviously, is that good, solid fact-based reporting is what makes JFP the premiere publication that it is. By the way, at Sunrise Convenience store on Highway 18 W, only 4 of the 9 cubicles in the big green monster were used. Please increase the number of issues you leave at Big Apple Inn (Big John's) near Triangle Mart. I went there Saturday night to get the JFP and some 'smokes' (smoked sausage sandwiches), but they had run out of buns. Noticing that the JFP papers were not on the counter as usual, I asked the clerk where they were. She replied, "They're all gone; they went faster than the smokes!" I did get a copy Sunday at Piggly-Wiggly-Meadowbrook, though there were only about 20-30 remaining in the rack.

Author

Kacy

Date

2006-07-03T12:16:39-06:00
ID

170835

Comment

Personally, I think they'll use it to go after the Northside Sun. They put the Weekend section out to compete with us. ;-) And thanks for the reporting comment; you're right. I wish the headline today would have been: "Clarion-Ledger Beefs Up Investigative Reporting Staff." But, no. Thanks for the distribution tips. I'll pass them along.

Author

ladd

Date

2006-07-03T12:31:36-06:00
ID

170836

Comment

Let's not kid ourselves, the "Jackson VIP" was mostly the "Madison VIP" anyway. ;-) I'm sure they will insert it in the paper with the Herald and try to cram it down our throats too. At least when it was and "indy" I had the choice to not pick it up. Now it will probably start showing up in my lawn!

Author

pikersam

Date

2006-07-03T13:03:50-06:00
ID

170837

Comment

Or, start tossing it in your yards. BTW, has anyone called the Ledge and asked how not to get their litter in our yards? We have a little orange pile of plastic accumulating by the curb. It truly is not my job to pick up that corporate trash.

Author

ladd

Date

2006-07-03T13:05:09-06:00
ID

170838

Comment

Oops, I said what you said, Pike. Sorry. I agree, though: There is a HUGE difference between "controlled" free circulation (readers choose whether to pick up) and "forced" circulation (throwing trash in your yards whether or not we want it, and then counting it toward distribution numbers). The latter is an act of desperation. Arguably, so is buying Vapid Jackson.

Author

ladd

Date

2006-07-03T13:06:43-06:00
ID

170839

Comment

One more thing: It's important to note that corporate media monsters also buy publications with the sole purpose of shutting them down to wipe out competition. So you never know.

Author

ladd

Date

2006-07-03T13:12:43-06:00
ID

170840

Comment

The broken-legged greedy dog saw his shadow in the turbulent water as he limped by, and it later drowned because it wanted that bone too.

Author

Ray Carter

Date

2006-07-03T13:22:12-06:00
ID

170841

Comment

Indeed, Donna. There was once a record company named STAXs who recorded Otis Redding, Isaac Hayes, Booker T and the MG's, The Staple Singers, Wilson Picket, Aretha Franklin, and many more. They didn't have any real money to compete with Atlantic, Capital or any other big record company, but they kept turning out hit records. The big boys got mad and enticed them into selling out to them with promises and dreams of becoming bigger. The goal of the big dog all along was to run them out of business. And STAXS record label soon died a quick and uneventual death. They didn't even know what happened to them until many years later.

Author

Ray Carter

Date

2006-07-03T13:28:55-06:00
ID

170842

Comment

Well hell, I'm jealous.. the big monster box at my frequent morning coffee stop is blue! It's at the Sprint Mart Shell on Springridge Rd in Clinton, just at the I-20 exit. Sad to see Morris Petroleum signed the contract. I'm somewhat on the fence with this one as I have to deal with The Clarion-Ledger in the course of my activism work - and I find that the "general" people, aka the reporters, are genuine. I've never had a problem with any of them twisting our stories yet. Only one I've ever took issue with was cartoonist Marshall Ramsey for a toon he did back when Ole Miss was in the big fiasco of getting rid of Colonel Reb and Marshall had Col. Reb dolled up in a pink ballerina dress and giving a line with femine body gesture - the gay stereotype. On the other hand, it pisses me off that suit and ties have to ruin it for the genuine people that work there and for others like JFP.

Author

Jo-D

Date

2006-07-03T13:44:42-06:00
ID

170843

Comment

STAX (not STAXS) also recoreded Carla and Rufus Thomas, Johnnie Taylor, Albert King, and Ike and Tina Turner, and many more. Selling or giving up control too early and without adequte understanding of the buyout agreement stopped the hits from coming. If y'all are ever in Memphis please drive down McLemore and visit what was Soulville/Stax Record. The bass player and guitarist in the original "Blues Brothers" movie are two of the actual studio musicians.

Author

Ray Carter

Date

2006-07-03T14:00:25-06:00
ID

170844

Comment

Well, the reporters aren't deciding to do this. And, frankly, the problem with the reporting there stops at the editors' desks.

Author

ladd

Date

2006-07-03T14:08:56-06:00
ID

170845

Comment

You know, my theory is that they bought VIP Jackson because the hard-hitting journalism was getting too close to the truth. Yeah, you've got to be careful about those intrepid VIP Jackson exposés. VIP Jackson journalists are a breed unto themselves: Days upon days of stakeouts, facing down the big bullies of the corporate and government worlds, reporting on the facts no one wants the general public to know. I think the last straw was their hard-hitting coverage of that suburban birthday party a while back, the pages upon pages of scrubbed pink cheeks and tortured cleavage a hellish phantasmagoria of lies and oppression. I knew when I read it that it was a gutsy piece, one that would inevitably bring the hammer of Big Media down on them. It was only a matter of time. Cheers, TH

Author

Tom Head

Date

2006-07-03T16:52:48-06:00
ID

170846

Comment

Yeah, I think you could have pretty much responded enthusiastically agreeing that the falafel plate at Aladdin's is to die for, and everyone would have just assumed that's what his posts were about. Good to see you the other night, as always! And congrats on the thing. :o) And to Mr. Jody Renaldo: While I've got you here, what do you think of this? Other than the fact that it needs to be updated, I mean. Cheers, TH

Author

Tom Head

Date

2006-07-03T21:59:36-06:00
ID

170847

Comment

Hey, I just had the falafel plate from Aladdin's!?! How did you know? From my contacts in the NSA, which closely monitors all consumption of Middle Eastern food. By the way, you've still got a little patchouli stuck in your teeth! (And it is excellent! I'm about due to go back to Aladdin's or, as my friends and I sometimes call it, Falafel House.) Cheers, TH

Author

Tom Head

Date

2006-07-03T22:53:58-06:00
ID

170848

Comment

In case anyone tuning in late on this doesn't know what we're talking about when we diss the "monster box," you can get up to speed here. Boo, hiss.

Author

ladd

Date

2006-07-04T00:25:31-06:00
ID

170849

Comment

TH, from my speed reading it looks quite the piece and accounts for every "backhand slap" I've made at the Wildmon clan (AFA), every "gays gonna burn in hell" letter to the C-Ledger writer - well you get the picture, to everyone I've had the debate with. I'll delve into it word for word later when time permits. May be something worthy of incorporating into the Equality Mississippi web site if you're willing - should we ever find time to get the web site back up and running. It's been under "remodelling, sorry!" for quite some time.

Author

Jo-D

Date

2006-07-04T08:08:54-06:00
ID

170850

Comment

oh ya, I changed my display name. haha I always get razzed for that "Mr." but I did that because Jody is often mistaken for the female species. falafel, bar tab, advertising... whatever you call it, i was in a good mood last night when i posted that. haha

Author

Jo-D

Date

2006-07-04T08:11:11-06:00
ID

170851

Comment

VIP Jackson. I really dont think it can compare to the JFP on a bad bad day even if Donna Ladd took a 10 year vacation in south america

Author

UrbanMogul

Date

2006-07-05T01:52:13-06:00
ID

170852

Comment

BTW, all, I deleted comments and responses above that contained falsehoods and ad hominem attacks. Due to the nature of the posts, I will not re-post them on the TrollBlog for everyone's amusement.

Author

ladd

Date

2006-07-05T11:14:41-06:00
ID

170853

Comment

Y'all see that The Clarion-Ledger's first VIP magazine is out? The masthead is hilarious with John Newhouse's name proudly display first as publisher; then the "non-dailies director" Leilani Pope right under his, then Leigh Reeves, who started the magazine and is still running it for now. (You know how long that tends to last when a corporation buys up a magazine.) This thing is remarkable to me. It makes sense that a group of people would get together and start such a 'zine, filled with poor-quality party photos and little else—sounds like a way to make a few bucks. But for a national newspaper corporation to buy it up as if it will improve their reach in the Fourth Estate is simply remarkable and reeks of desperation. Why desperation? Because many of the local advertisers in VIP (which only publishes about 70 or so pages in a whole month) don't or won't advertise in The Clarion-Ledger. I suspect they're going to learn, though, that you can't just buy up local businesses—no more than you can run local newspapers out of town with a half-baked scheme to be the "exclusive" distributor of free publications. Clarion-Ledger, learn to compete like the rest of us. We don't need exclusivity to exist and grow; why do you?

Author

ladd

Date

2006-08-04T18:56:43-06:00
More like this story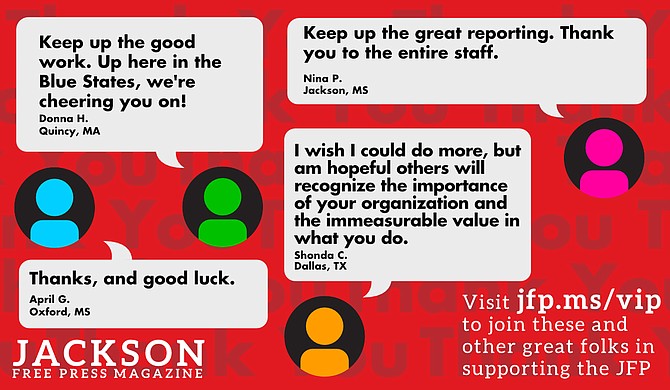 Thanks to all our new JFP VIPs!
COVID-19 has closed down the main sources of the JFP's revenue -- concerts, festivals, fundraisers, restaurants and bars. If everyone reading this article gives $5 or more, we should be able to continue publishing through the crisis. Please pay what you can to keep us reporting and publishing.