After four hours of deliberations, a jury has acquitted the five defendants accused of kidnapping and assaulting Michael Sanders to warn him away from talking to the police. Police say that Aundre Mason, 29, Darnell Turner, 28, Terrance Womack, 29, Elisha Moton, 26, and Corey Redd, 27—allegedly part of a "gang known as "Grayhead"—shot Sanders in the leg, duct taped his mouth and locked him in a car trunk for several hours on March 10, 2004. However, today the jury exonerated the five men of this crime.
Previous Comments
ID

121108

Comment

This loss must be tearing Melton up, considering how much he made of the "Grayhead" arrests during his campaign, huh? I wonder if he's going to hold a press conference or such to blast the decision? I listened to part of the trial; there seemed to be very little evidence to convict. I would have been surprised had one of them been found guilty.

Author

DonnaLadd

Date

2006-02-16T20:04:54-06:00
ID

121109

Comment

I bet something is said considering a few of the "Grayhead" turned themselves in to the mayor instead of the then chief Moore.

Author

suspended2

Date

2006-02-16T21:05:49-06:00
ID

121110

Comment

True. The mayor is on record knowing them for a long time, he says. This is from the Associated Press, May 28, 2004: Melton said he has known the men since they were young and spent the past week working to persuade them to turn themselves in. "Bonding takes place at a young age," Melton said. "Many of these young men don't have father figures. I treat them with respect and dignity. They trust me." I wonder if these were some of the "thugs" that Mr. Melton called out by name in his inaugural address last July. Maybe he'll make a big speech declaring that he's going to go after them like he did then.

Author

DonnaLadd

Date

2006-02-16T21:42:31-06:00
ID

121111

Comment

And, it is pretty crazy that the victim took the Fifth. You don't see that happen every day.

Author

DonnaLadd

Date

2006-02-16T21:43:57-06:00
ID

121112

Comment

I have one problem with the news coverage on this. WJTV says in its little five-second ad, "More on the Street Justice verdict tonight at ten." Street Justice verdict? Something about that doesn't sound right to me.

Author

LatashaWillis

Date

2006-02-16T23:03:21-06:00
ID

121113

Comment

Unfortunately- I don't think we'll ever get the real story on this one. If you ask around the neighborhood, you'll hear many different versions. This isn't really "gang" related. These guys grew up and hung out together. That doesn't make them a gang- but it sure makes Jackson sound like a scary place... I think when you have a victim who doesn't testify on his own behalf, well even I've watched enough episodes of Law and Order to make some educated guesses about the reasons. The part of the story that's being left out is, the next trial involving these guys, is connected to this one. Fadenso Jackson was murdered 2 years ago. And if my "unnamed" sources are correct, he was the close friend of the kidnapping victim, Sanders. 2 of the young men on trial for the kidnapping are going to be tried for Jackson's murder. I wonder how Sanders refusing to testify will effect the murder trial. A relative of the murder victim is VERY concerned that the mayor has a relationship to the accused men...

Author

urbangypsy

Date

2006-02-17T11:45:40-06:00
ID

121114

Comment

Well, Mr. Melton has said publicly many times that he knew them well. Beyond that, remember this isn't the place for speculation, L.W.

Author

DonnaLadd

Date

2006-02-17T11:50:48-06:00
ID

121115

Comment

Sorry if that came out wrong. My point was not one of speculation but a genuine concern voiced by a family member: because the mayor has spoken out publicly that he knew the defendants well, they may possibly be receiving preferential treatment- whether that's from the mayor, JPD, the media or the community-at-large. The young man who was killed deserves justice. I hope that he can get it here.

Author

urbangypsy

Date

2006-02-17T12:12:21-06:00
ID

121116

Comment

Understood, urbangypsy. I just wanted to make sure the speculative boundaries of the site are clear. However, you raise very good questions based on what has been reported already. Certainly, when you read the remarks from Mr. Melton about the "Wood Street Gang" and the "Grayhead Gang," the tenor is very different, considering that they are accused of similar crimes. However, it also deserves to be said that the media are so quick on the "gang" label that it is hard to know who is who and what is what. And I don't understood why the media Mr. Melton loves to talk to haven't interviewed him more in-depth about these young men individually, beyond meaningless sound bites about how respectful they've been to him.

Author

DonnaLadd

Date

2006-02-17T12:34:00-06:00
ID

121117

Comment

And sorry I called you L.W. Not enough coffee.

Author

DonnaLadd

Date

2006-02-17T12:34:20-06:00
ID

121118

Comment

No problem. I haven't had ANY TODAY. I always pick the wrong week to cut back on coffee.

Author

urbangypsy

Date

2006-02-17T12:36:34-06:00
ID

121119

Comment

Oy, gevalt. I've had to swear off caffeinated coffee since July 2005, and when a cup of friggin' Sanka boosted my pulse to 90 a couple of months ago, I had to swear off decaf, too. A peanut butter and banana sandwich and a tall glass of orange juice just aren't the same. As far as the "gang" business is concerned, the irony's so thick you could cut it with a spork. I remember my favorite Melton quote from The Bottom Line, which was something to the effect of: "And to white residents of south Jackson, I would like to say that the word 'gang' does not mean 'several young black men walking together.'" I always wondered what the hell was meant with all this "gang" business anyway. A small cadre of youngsters who work together to burgle stores are not, to my way of thinking, a "gang." Gang identity is supposed to be more like nationhood, with gang rivalries, colors, lingo, and all that. There's a cultural aspect to gangs. They also have to represent true organized crime, and not just, here again, a bunch of kids getting together to burgle stores or whatnot instead of (foolishly) doing it alone. It's sort of like calling a 14-year-old kid who has had a rougher life than most of the rest of Jackson a "thug" just because he has responded in a natural but socially unacceptable way to his life experiences. And I get mad as a wet hen when people think the solution is to be tougher on the families that produce "thugs," cutting social services so that the kids have even harder lives and are even more likely to respond by turning to crime. But that's another tangent not really relevant to this thread. All very sad. I'm not sure how much of this reflects poorly on Melton as an individual, but something was so obviously botched here. BTW- Loving your posts, urbangypsy. I'm so glad you came out of the woodwork. You always have something to say and it's almost always something that never crossed my mind before. Cheers, TH

Author

Tom Head

Date

2006-02-17T13:40:08-06:00
ID

121120

Comment

Thanks for the encouragement Tom. Too bad my thoughts aren't always fit for public reading! Your posts (as well as the majority of the folks on JFP blogs) are some of the most thought provoking I've come across. JFP bloggers don't always agree with each other. Imagine that- public discourse without flying into tirades and the word "un-American" thrown around. That always cracks me up. The freedom to discuss whatever the heck we want: death penalty, abortion, cheatin' men (and women) or kicking our coffee habits! That's one of the reasons I love the JFP! Don't ever try to get me to give up my TAB though. That goes against everything I believe in as a Gal from the South!

Author

urbangypsy

Date

2006-02-17T14:27:23-06:00
ID

121121

Comment

They still make TAB!?! Lordy, who knew? ;-D

Author

DonnaLadd

Date

2006-02-17T17:25:24-06:00
ID

121122

Comment

I've heard some speculation, but I don't think I can post it here. I'll say I'm not suprised, however.

Author

Ironghost

Date

2006-02-18T01:17:38-06:00
ID

121123

Comment

They still make TAB!?! Lordy, who knew? Yep. My godfather is addicted to the stuff. If they sold TAB by the keg, he would explode.

Author

LatashaWillis

Date

2006-02-18T01:29:37-06:00
ID

121124

Comment

Some states classify 2 or more persons united for an ongoing criminal purpose a gang, not a clue about MS. Whatever happened to FM's arch nemesis the Cohea St. Gang??

Author

JLYerg

Date

2006-02-19T01:57:22-06:00
ID

121125

Comment

Well, I'm or should I say was a loyal supporter of FM, but I smell something with comments made by the Honorable FM in ref: to his close relationship with the grayhaired "gang?". Futhermore, when comments are made suggesting the security at the "gang?" trial is overkill, and when the Wood Street "gang?" and/or Cohea Street "gang?" went to court there were several armed officers outside as well as inside. I really want to find if the "rumor?" that FM wanted to testify on the behalf of the "gang?" members in this trial. I think a good investigative reporter should look into this, becuase I smell a rat. There are too many close ties with "thugs", and I agree help people, but where do you draw the line.

Author

Lspd2

Date

2006-02-19T14:48:08-06:00
ID

121126

Comment

I had forgotten that we did this Truthwatch about Mr. Melton and the Greyhead Gang. I am still flabbergasted that he didn't have more of a negative response to this verdict, being that he arrested these guys. I figured he'd have the same kind of response he is now having to the Wood Street acquittals (Sullivan et. al). Very curious.

Author

DonnaLadd

Date

2006-02-25T19:47:15-06:00
ID

121127

Comment

It does make one wonder if the D.A. would have been better off had Melton stayed out of the way and let JPD handle these arrests? He was supposed to be making drug arrests, after all, which he didn't have experience doing, either -- but he sure wasn't qualified to be meddling in murder cases. Maybe those particular chickens are coming home to roost in these acquittals. Lot of good all those arrests did us -- although was able to ride them into the mayor's office. As we quoted Melton telling Bert Case last year that Truthwatch: Wood Street operated with impunity, for 15 years, I took'em down, Cohea street operated for 12 years with impunity. With the help of local law enforcement and providing proper leadership, I took them down. Greyhead Gang, I'm long gone from MBN, they look for them for six weeks, they can't find'em, with the help of local law enforcement I took Greyhead Gang down. The facts speak for themselves." He may have taken them all "down," but it sounds like these young men are getting back out on the street quickly. From where I sit, and read, it sounds like Peterson had her hands full trying to make cases stick based on his arrests.

Author

DonnaLadd

Date

2006-02-25T19:51:24-06:00
ID

121128

Comment

And don't forget his crime busting with MBN was under the able tutelidge of JPD's current chief. Then again maybe it's like sport fishing , catch and release.

Author

JLYerg

Date

2006-02-25T20:13:33-06:00
ID

121129

Comment

Well, if that's the case, "catch and release" might get you elected, but I'm not sure what else it does for the community. Also, remember that JPD was angry with him for taking in the Greyhead kids, and bypassing their department. (Remember that he pulled police officers off their beats to follow him to the Hinds County Detention Center?) Why do that? Could JPD's anger possibly have *something* to do with wanting to have someone involved who understands criminal procedure and wouldn't taint the evidence? And it's always been curious to me that someone who says publicly that he has known them a long time would be the one to take them in. After all, isn't that a vital time for getting confessions and the like? If Mr. Melton has handling them with kid gloves, as he's done in interviews, then he could easily have tainted the D.A.'s ability to prosecute them just based on not knowing what he was doing. The fact that so many people lets Mr. Melton do things "his way" may really be coming home to roost these days.

Author

DonnaLadd

Date

2006-02-25T20:30:39-06:00
ID

121130

Comment

This Truthwatch No. 2 from last year has some interesting background on these gang arrests, and some more interesting links.

Author

DonnaLadd

Date

2006-02-25T20:57:17-06:00
ID

121131

Comment

This is some fascinating stuff! Good research and posts...

Author

pikersam

Date

2006-02-26T00:27:08-06:00
ID

121132

Comment

As far as doing something for the comuunty goes, I am by no means a psychologist, but I really get the impression that most of what the Mayor does is for instant ego gratification. Maybe he is much wiser than I and I just can't grasp the long term plan. A case in point is the closing of Girls of Paradise. If the permit was already denied, why waste money setting up a sting op. when all that was needed was to deliver a letter to the club?? Good photo op and all but really what was the point? All I hear is negatives, tear this down, implode that, close this, arrest these people. As an out of state guest mentioned to me friday, "interesting little town you have here".

Author

JLYerg

Date

2006-02-26T00:51:05-06:00
ID

121133

Comment

BTW: I wouldn't doubt if some Melton supporters read this and think the JFP or the bloggers are gloating and happy that the Greyhead and Wood St. gangs are free. Just read this objectively and you will see this has some very serious "news worthy" implications for our town. I really hope Melton get's these guys - if that's what he wants - and puts them away right. But, this is not looking good at all!

Author

pikersam

Date

2006-02-26T00:52:57-06:00
ID

121134

Comment

Lord, I'm not happy any of them are free -- especially based on witnesses who recanted or got scared. Why would anyone read it that way!?! People are damn stupid if they see that in our posts about this (and there are some damn stupid people out there, I admit). Personally, I'm befuddled at Mr. Melton's actions and worried about what this is going to mean for our community's safety. Withholding evidence? Going easy on one "gang," and then calling a "manhunt" for the other? I'm also really worried that Mr. Melton's Wyatt Earp act is what is leading to criminals going free -- and that we will see that cycle continue. The city needs to talk about all this. Badly. Let's put it all there and have at it.

Author

DonnaLadd

Date

2006-02-26T00:59:33-06:00
ID

121135

Comment

It's hard to shake some of the irrational arguments many of his supporters and the NJAM set throw out there to justify much of his actions. That goes for the apologetic media too! I just figured they see anything written here as some kind of "vendetta" (there's that word...lol) against the administration because "our" politics don't always mix well when issues with City Hall arise. The fact that some believe this paper would be mute if it was another mayor doing this is crazy! News is news! In sports you can sell all the tickets to a game you want; but, if they stay home, and you don't have butts in seats - then you don't make any money on concessions and merchandise.

Author

pikersam

Date

2006-02-26T01:25:10-06:00
ID

121136

Comment

Oh, those guys. They'll say anything to keep from admitting they were wrong. Ignore them. (I love how my name for them has caught on, though.) People don't know me very well if they think that I pull punches because I endorsed or voted for someone. I don't care who is in office. They are accountable for their actions. Take that to the bank.

Author

DonnaLadd

Date

2006-02-26T01:31:07-06:00
ID

121137

Comment

Word on the street is that he is one of the grayheads through some long ago ties, ( when they were young and fartherless) and needed a "mentor".

Author

jada

Date

2006-02-27T00:53:39-06:00
ID

121138

Comment

We all hear the scuttlebutt, but let's not speculate here on connections we cannot prove. What is in the public record is that the young men know and trust Mr. Melton. That came from Mr. Melton. But what's odd is that all sorts of young men in different gangs and all in trouble for serious crimes have known him for a long time, but he seems to go easier on some than others. I find that worrisome because I don't want Mr. Melton playing favorites here in any form or fashion. His playing favorites could mean that the D.A. doesn't have enough evidence to get them convicted, or it could help intimidate those witnesses out of testifying. The truth is, it sounds like Mr. Melton ought to "recuse" himself, or stay way clear of, any case involving a young man he has ever had any involvement with, so that he doesn't hurt the case or bias anyone in any way or another. (Why can't the courts require that?) I suspect this possible tainting by bias (not to mention tainting of evidence and confessions) is part of what the former police chief was upset about ... but the media stories about it might as well have been written by Mr. Melton himself. I remember one, in particular, about Mr. Melton "bringing in" the Grayhead boys that never even asked a criminal-justice expert whether it made good sense for him to do that. It just made it seem unreasonable that the damn police chief didn't want Melton meddling with his cases! It's really remarkable how little scrutiny Mr. Melton's actions get, and I worry that criminals are now going free as a result, and will continue to.

Author

DonnaLadd

Date

2006-02-27T01:00:55-06:00
ID

121139

Comment

This column by Eric Stringfellow from 2004 just blows me away. He is lambasting (and patronizing) the former police chief because he was upset that a non-law enforcement officer "brought in" the Grayhead guys: The chief's lip is poked out because three officers assisted Frank Melton, former Mississippi Bureau of Narcotics director, in the surrender of two fugitives at the Hinds County Detention Center in Raymond. Moore has apparently started an internal investigation to determine whether department policy was violated, which is like asking John Ashcroft to examine the intent of a youngster who accidentally threw a baseball into a neighbor's window. It's a petty overreaction that borders on political harassment. Is that so, Mr. Stringfellow? Or, might-just-might it be true that, being that Mr. Melton could not mirandize those young men, anything they said to him was inadmissible? Do you really not comprehend the idea that evidence can be tainted by amateur sleuths and vigilantes?! Could this possibly have something to do with why these young men are getting off? Could Mr. Melton perhaps have a conflict of interest in "bringing in" young men he has helped and mentored in the past? He concludes this brilliant screed with: Melton, after leaving MBN, extended himself and his record of getting things done to Moore and Mayor Harvey Johnson. Those overtures were ignored, and now Melton plans to challenge Johnson. That's no reason to try and marginalize Melton and punish people perceived to be friendly with him. In doing so, Moore is marginalizing himself, which weakens his credibility and demoralizes his officers. Jackson's crime issue, while statistics say it is diminishing, is still too large for the chief to suggest he would rather thugs remain at large than have them turned in by a potential political rival. This is so absurd that it infuriates me. This is exactly why we are where we are -- this kind of bullsh!t coverage and excuse-making in the media that helped Mr. Melton turn himself into some kind of folk hero. I've said it before: The media are co-conspirators in this morass.

Author

DonnaLadd

Date

2006-03-12T01:40:22-06:00
ID

121140

Comment

which is like asking John Ashcroft to examine the intent of a youngster who accidentally threw a baseball into a neighbor's window. No, it's really not. Lord.

Author

DonnaLadd

Date

2006-03-12T01:43:36-06:00
ID

121141

Comment

There's a thin line between the love and hate of Frank and the WSP and the Greyhead guys. People on the street will give you a totally different opinion of Franks and these two groups. Melton plays with fire like he has on heat resistant gloves. Slowly but surely the gloves are wearing thin. It's like he is purposely painting himself into a corner. I believe that his "long range plan" is to see just how long he can play us before the bottom falls out and he is exposed for the person that he really is.

Author

lance

Date

2006-03-12T03:17:45-06:00
More like this story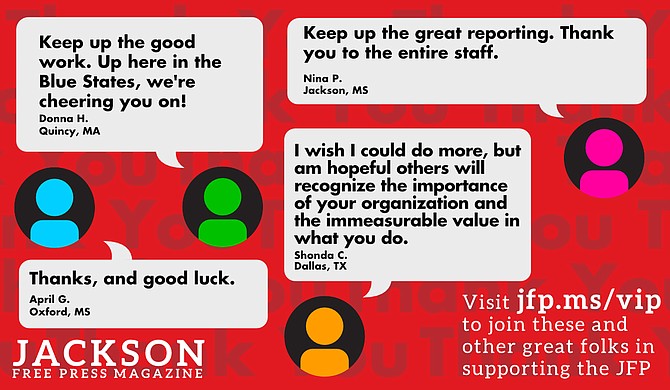 Thanks to all our new JFP VIPs!
COVID-19 has closed down the main sources of the JFP's revenue -- concerts, festivals, fundraisers, restaurants and bars. If everyone reading this article gives $5 or more, we should be able to continue publishing through the crisis. Please pay what you can to keep us reporting and publishing.