It was a strange stirring, a sense of dissatisfaction, a yearning that women suffered in the middle of the twentieth century in the United States.
— Betty Friedan, "The Feminine Mystique"
I first saw a photo of Coretta Scott King's beautiful face in the Neshoba County Library. It was in the 1970s, and the library was the place where I went to try to discover the larger world, including the parts that people around me didn't like to talk about much. This woman, the wife of a man still widely hated in my neck of the woods, even in death, was part of that larger, distant world.
At the time, she was merely the wife of Martin Luther King Jr. to me. But I remember marveling at her clear skin, her piercing eyes, her half-smile. I stared at her in a magazine, while sitting in the library, trying to learn more about a movement I was hungry to know. She was lovely, but I wanted to be more like Martin, but female—an outspoken activist for human rights, someone who could speak and be heard, a force to help mend the racial wounds left open all around me.
She was just his wife, I thought.
_____
We didn't have many books at home other than what I scrounged up; my mother was illiterate and couldn't choose books herself, although she had sent payments for many months to pay for a set of The Book of Knowledge—thick white books with dark blue trim that she was sure would teach me everything she didn't know.
She believed, and taught me, that everything worth knowing was in the books she could not read. So I went to the library, again and again. And my dear teachers at Neshoba Central, Ms. Hodges and Mrs. Salter, gave me even more books. The outside world kept getting larger, and my world there at home smaller. I talked often about how I wanted to get out and "see the world." Mama would nod, saying, "You will. You'll see it for both of us."
Other people would make fun of me, or tell me I thought I was "too good" for my hometown, but I just wanted to be educated. I wanted to read all those books my mama thought would change my life.
So I went to the library. I first learned the details of the murders of Chaney, Goodman and Schwerner there, after asking the elderly librarian for the microfilm of June, July and August of 1964. I saw the headline "Hoax!" across the screen. I checked "Witness in Philadelphia" out of the library and read Neshoba Countian Florence Mars' vivid tale of the murders in my hometown, the ones they never mentioned at Neshoba Central. The ones no one liked to talk about.
_____
Sometime in the 1970s, I started getting interested in the women's movement—another one I had missed, or so I thought. I had this restlessness deep inside me, a yearning, a stirring. Other girls were already talking about who they were going to marry and how many kids they were going to have. I liked boys, too, and curling my hair, but I didn't think much about marriage and diapers. I thought about learning, and traveling, and talking to smart people, and having a career. I wrote in my journal a lot, and thought constantly about making a difference.
One day, in the second or third row of the non-fiction stacks, I picked up a copy of "The Feminine Mystique" by Betty Friedan. I started thumbing through it, trembling with excitement. I sank down on the floor to read about women who wanted choices, women who wanted voices.
Suddenly, I announced in homeroom that I was a "feminist." I started buying Ms. magazine at the mall in Meridian, and even ordered a puke-yellow Ms. T-shirt. I was loud, and might have been the only strident supporter of the Equal Rights Amendment in my whole school. Under my senior yearbook photo of a made-up southern girl, I put the phrase, "A woman's place is in the House ... and in the Senate."
I told my mama, who was a single mother again by then after a second loving-but-alcoholic husband, that I was a feminist because I could make myself happy. She thought it was a nifty idea and decided that she would be a feminist, too.
_____
Twenty-two years after I graduated from Neshoba Central, I sat in the stacks in the huge Columbia University library, piles of books around me about my state's struggle over black freedom. My mother had been dead for more than a decade; I had never married, although I was in a long-term relationship with a man who considers himself a feminist, too, and who—bless his heart—loves strong women. His mother taught him that, he says.
At Columbia, I learned that Martin wasn't all there was, that Malcolm was more than a troublemaker, that Rosa was an activist who planned her day that would live in infamy. I discovered that four days after his murder, Coretta—the doting wife with the long, dark hair—led 50,000 people through the streets of Memphis to support the garbage strike that brought her husband there. Later that year, she led the Poor People's March to Washington.
Betty Friedan says in "The Feminine Mystique" that the "stirring in the minds of so many American women today is not a matter of loss of femininity or too much education, or the demands of domesticity." That stirring, she says, "may well be the key to our future as a nation and a culture."
"We can no longer ignore that voice within women that says: 'I want something more than my husband and my children and my home,'" Friedan declared.
Coretta Scott King was a wife, a mother—and an activist in her own right. She chose to use her life to make a difference, with or without a strong husband at her side. She heeded the stirring.
My life and my choices are better and richer due to both of these women. May their dear souls rest in peace.
Previous Comments
ID

71459

Comment

good one, chica. Last week was a grim week, when we saw the departure of two amazing women, and, at the same time, saw Alito confirmed to the Supreme Court. Ellen Goodman had a great piece on Friedan, as well.

Author

kate

Date

2006-02-15T18:15:42-06:00
ID

71460

Comment

I'm always impressed by the coming of age in any of us. Tougaloo opened my eyes in a similar way. I've said many times before that women could rule the world if they had the evil mind and drive to do so. But it seems your overall goodness and proclivity to nurture and save the rest and least of us trump any selfish motive to rule just for the sake of power. I thank the Lord y'all are not like us. Anything we can do women can probably do better. What kind of person would sacrifice themself, or voluntarily hide in the shadows, or happily diminish their own flame so that another barely shining one would appear brighter? Only a woman!

Author

Ray Carter

Date

2006-02-16T17:23:53-06:00
More like this story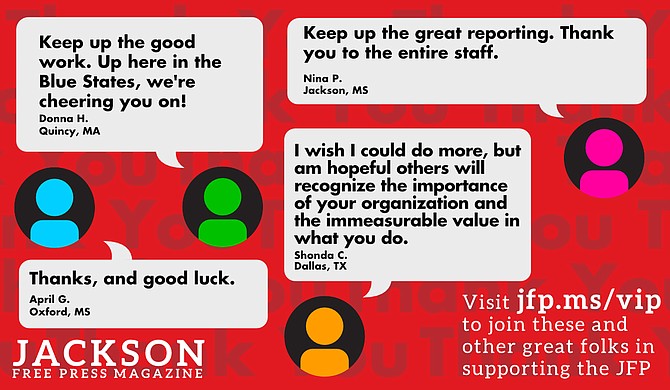 Thanks to all our new JFP VIPs!
COVID-19 has closed down the main sources of the JFP's revenue -- concerts, festivals, fundraisers, restaurants and bars. If everyone reading this article gives $5 or more, we should be able to continue publishing through the crisis. Please pay what you can to keep us reporting and publishing.