Interesting poop about the Gannett Co.'s plans for its daily newspapers. (Remember that Gannett owns The Clarion-Ledger.) It seems that they plan to shift their strategy from producing print newspapers and move more online into their "information centers." More interesting to me is their plans for their papers—shrink them and target older folks. (Isn't this happening already?)
More from The Poynter Institute:
When newspaper executives pitch their companies to investors and analysts at twice-yearly meetings in New York, there is always a buzzword or two in the air. Last week it was "transformation." Or, as a variant: "transformational." In other words, the industry may be stuck in the mud financially, but big changes are in progress. Operating results have been so bad for so long now -- two years -- that the "brighter future" theme was to be expected. What was surprising was that journalism, especially innovative online content, was prominent in many presentations. And the leader of the pack: Gannett.
The company devoted the first third of its presentation to a detailed description of the "information center" strategy that it unveiled earlier this fall and plans to implement in all its newsrooms. In short, CEO Craig Dubow said, effort "isn't focused so totally on producing daily newspapers."
Some highlights:
The concept was pre-tested at six sites and drove surges in audience and "stickiness" -- that is, the time users spent on the newspapers' Web sites.
Public service will remain a priority but some of that work will be done by citizen journalism "crowd sourcing," in which readers volunteer both information and expertise. The company provided a recent example from its paper in Fort Myers, Fla., The News-Press, which relied on extensive citizen assistance in an exposé of excessive charges for sewer hookups.
The company plans to train 362 print journalists as videographers by the end of January.
As an example of the new paradigm, the company showed a Web clip of a Palm Springs wildfire, splicing footage shot by a golf writer at the company's paper there along with footage provided by a citizen.
As the information-center program matures, the print paper will become smaller, and will be targeted at a 45-year-old-plus audience that is typically middle- and upper-income with post-high school education.
Desperate times call for desperate measures.
Previous Comments
ID

109270

Comment

What this doesn't say is that that print publication will probably be distributed for free—and perhaps tossed in your yard should you want it or not. Doh—The Ledger is already doing that with the Litter-Ledgers, eh? I forgot for a second. I read this, and I can't help wondering—how many "citizen journalists" are going to "volunteer" to help a very rich but pitiful daily corporate newspaper company do its job???

Author

DonnaLadd

Date

2006-12-11T17:43:46-06:00
ID

109271

Comment

I strongly urge the Jackson Free Press to expand its top-notch paper and website to accommodate this local market so desperate for responsible and community-based journalism rather than suffer the continued (and often white-washed) fodder that the 'Ledge pumps out. And now they're going to give us sound bites and video clips of their crappy journalism???? Have mercy!

Author

thabian

Date

2006-12-11T17:44:55-06:00
ID

109272

Comment

We will do everything in our power, thabian. ;-) I know. It rather tickles and amazes me that they can't do good basic shoeleather reporting, and they're loading reporters up with video cameras. If they'd bother to go back and ask themselves why they lost readership in the first place, they could solve this riddle. But they won't, and that's alright by me. (And if they did, the corporate noose wouldn't allow them to fix the problem.) The issue is local control—and that doesn't mean corporate sending in mediocre editors to toe the corporate line and not rock the boat. See the article I posted right below this one, too (from Governing magazine). We harp on this stuff so much because it's so important (look at the mess we have with Melton as a result of the public not getting the information it deserved from the corporate media). And as you can see, it's a problem all over the country—although I would be surprised if any other daily our size was as bad as ours.

Author

DonnaLadd

Date

2006-12-11T17:49:50-06:00
ID

109273

Comment

My personal peeve is how they have cut out op ed columns and think that the way to increase circulation is to increase participation by the readers. On the sports page for example, they used to have an opinion column every day. Litke. Lopresti, and the local guys. Not anymore. They also refused to run columns that were not written by Gannett writers. I don't like their restaurant reviews. I recently read one where the reviewer interviewed the owner. Whole thing was a puff piece. I read the reviews and I read about how much someone's kids or grandkids liked the place and what they ate. I never read anything about the wine list. I never read anything about the texture of an item, how spicy it is, what was great or bad about it. In short, true criticism. A reviewer should never be notifying the owner who he is. I bet she got great service when she did that. I've quit reading them and when I do, its for humor purposes. I also hate the way they think that making the readers participate more will increase the circulation. Thats not making a better newspaper, thats patronizing. The Perspective section was decent. They took out all the state columnists, spread them out during the week, and put letters in there. Just what I want. One more page of the abortion/gun control/Iraq debate. I'd rather read Bill Minor on Sunday even when I want to throw something at him discuss an particular topic at length than what my next door neighbor thinks about the crime or traffic in Jackson in less than 100 words. I've quit reading the perspective section for the most part since they've changed it. They think that if we have some sort of "ownership" in the content, we will read it more. Call me a snob. I call that lazy reporting and a lazy editorial policy. We won't even go into the bad English and poor editing at the CL. Sorry Miss Ladd, this area not my area of expertise but I pretty much agreed with all of your posts on this topic. By the way, I bet circulation of your print edition is increasing and its among young people. Hmmm......so much for thinking that print media is only for 45 year old people.

Author

Kingfish

Date

2006-12-11T18:11:30-06:00
ID

109274

Comment

"citizen journalism" to me means we are too cheap to pay for reporters and think that people are so narcissistic they won't read anything unless they create it themselves.

Author

Kingfish

Date

2006-12-11T18:13:37-06:00
ID

109275

Comment

Good Grief! If they shrink it anymore, I will just give up. Paying over $150.00/year now and throw away more than I read. Don't need the 'Little Ledger' that gets tucked into my paper. Don't need the housing suppliment, the automobile ads, the countless slick ads, the stick-on ads, the very irritating half-page attached to my Sunday comics, etc. that just causes weight in the garbage can that gets hauled to the street. I feel certain that Ramsey, the few comics I enjoy, and the puzzles can be found elsewhere or I can just substitute with something else. The real, really newsy-news I 've been getting on-line right here! The Jackson Free Press has triumphed over the big daily through diciplined, well-informed, savey reporting and investigation. People of all political leanings have learned to trust you and to quote you. This does not happen by accident. This occurs when a consistently accurate picture of current events is portrayed. JPF interviews reflect questions you may have asked yourself or perhaps probe where you would not dared to have asked. Your historical summaries are relevant to currently unfolding stories. Please know that we are proud of you and grateful for your faithful pursuit of the truth. The London Times used to have a slogan "An Eye For A Lie and A Tooth For The Truth". I don't believe they use it anymore; maybe you could!

Author

ChrisCavanaugh

Date

2006-12-11T18:14:47-06:00
ID

109276

Comment

What has impressed me has been the Times Picayune since Katrina. They have been aggressive, hard nosed, and been reporting stories with a vengeance. I've gotten to where I read it before I read CL in the mornings online. They have broken quite a few stories and forced Nagin and others to change their policies (such as the car towing scandal). No citizen journalism or other corporate models, just kicking azz and taking names and numbers.

Author

Kingfish

Date

2006-12-11T18:20:23-06:00
ID

109277

Comment

'Fish, they don't actually do restaurant reviews anymore, do they? Of course, when they did in the Weekend section, they sounded like they were written by a fourth-grader. Now, they run those "advertorials," which are paid for and approved by the advertiser instead. Way to build faith among the readers. Yes, our circulation is increasing—officially soon, but I won't say too much more about that. ;-) And you're absolutely right: People, including younger folks, still like to read good writing and honest journalism that's relevant to their communities. (There's a hint in that sentence somewhere if you look closely enough.) Why do you think they did TDN? They'd rather do away with the competition, than actually compete. It is fun to watch their corporate game unravel, though. Agreed on the Times-Picayune. I was over this this a.m. (albeit, reading Saints stories), and they are doing good stuff. Of course, they're not owned by Gannett. And, Chris, thank you for the kind words. You ain't see nothin', yet. We have some amazing plans for 2007 to give y'all more of what you want—but I really can't talk about that just, yet, with all those Ledge spies frequenting the site. (Hey, y'all.)

Author

DonnaLadd

Date

2006-12-11T18:27:59-06:00
ID

109278

Comment

Yeah, the stick-on ads are one of the dumbest things I've ever seen. And the ads on the front page go against everything I've been taught about good journalism. I will say one thing, Chris: Our whole staff gives a damn about the city, and we strive to show it not only every week, but every day. There's a hint in that sentence, too. (Oh, and most of them are well under 45, and hate being talked down to. Hint no. 3.)

Author

DonnaLadd

Date

2006-12-11T18:30:37-06:00
ID

109279

Comment

Kingfish, have you read "Breach of Faith"? I think you'd enjoy it.

Author

emilyb

Date

2006-12-11T18:34:12-06:00
ID

109280

Comment

If you like reading it, go to www.thedeadpelican.com Its set up like Drudge but they have a lists of the local columnists. Some good columnists on the TP are Jarvis DeBerry, Stephanie Grace, and James Gill. They are much sharper and hard nosed then most of the local ones you see in the CL. Anyway, its a good way to access them.

Author

Kingfish

Date

2006-12-11T18:37:48-06:00
ID

109281

Comment

Heard of this one. It was considered to be one of the better books about Katrina.

Author

Kingfish

Date

2006-12-11T18:41:20-06:00
ID

109282

Comment

Crowd Sourcing: Because we all know large groups of people get it right all the time. *sigh*

Author

Ironghost

Date

2006-12-11T21:38:28-06:00
ID

109283

Comment

I've got it, but it's signed so you can NOT borrow :P I'm OCD about those. Hey, can I load up all these papers the ledge has thrown in my cul-de-sac and go throw them on their business property?

Author

emilyb

Date

2006-12-11T21:44:02-06:00
ID

109284

Comment

lol Emily - that's exactly what I was thinking of doing! either that or stuffing seventeen or so of them into one of their distribution boxes --- for some reason, we haven't been getting the 'litter ledge' recently (great name for it!) - I sure am not about to call them to complain

Author

lucdix

Date

2006-12-11T22:41:47-06:00
ID

109285

Comment

I can't believe I am being victimized by selfish attitudes on this site.

Author

Kingfish

Date

2006-12-11T22:48:04-06:00
ID

109286

Comment

One of the Ledge's former employees said that Northeast Jackson neighborhoods aren't fond of the Litter-Ledgers in their yards, although some 'burb neighborhoods are cool with theirs. On my morning walks, I've noticed that the area of Belhaven near us doesn't seem to get them in their yards anymore, although some over closer to Fortification do. I don't know what's up with that. Of course, we were throwing ours back in the street. The last thing I'm going to do is clean up Gannett's corporate trash for them. Of course, they still mail one to us. And, Emily, I've heard a lot of talk about, er, citizens journalists getting together for a "Throw Your Ledge Back Day." It's truly remarkable to me that, instead of focusing on being a good newspaper, they think the answer is a bunch of insipid "non-daily" publications filled with wire copy and press-release-style writing. And they've stooped to a new low with VIP Jackson. Anyone else notice that the editor on the VIP masthead is also listed under advertising? This is such an ethical violation in our industry that it leaves me speechless that a daily newspaper company would admit such a thing in public. I get that some other little local pubs might not know any better, but these people know better. And if they think for one minute that shrinking their daily and making it just for older folks, and throwing a bunch of superficial crap on their Web site is going to solve this problem, they are facing a rude awakening. (Look how well "citizen journalism" going over there so far.) And I don't know a whole lot of 45-year-olds and over who want to read The Clarion-Ledger. It's their own fault: They cut resources and put out crappy newspapers; then they are all devastated because they're losing readership and profit margin. They try to cheat instead of compete; then when the marketplace responds, they cut and run from what they're supposed to be doing: putting out a good newspaper. I'm just astonished that they are admitting in public that they plan to bail on what is supposed to be their core competency. Remarkable. Oh, and just what we need: more corporate media people running around with video cameras. Sigh.

Author

DonnaLadd

Date

2006-12-11T22:55:29-06:00
ID

109287

Comment

Crowd Sourcing: Because we all know large groups of people get it right all the time. *sigh* Oh, yeah, Ironghost. The "crowd" was right on with the lionization of Melton. Sigh, indeed.

Author

DonnaLadd

Date

2006-12-11T22:56:53-06:00
ID

109288

Comment

Melton is one example. The people of Jackson have a bad habit of never questioning what the Ledge and their preachers tell them.

Author

Ironghost

Date

2006-12-12T09:36:59-06:00
ID

109289

Comment

dont know how citizen journalism will go with Gannett, but I don't think it's as bad as some people here are suggesting. In Missouri, there's a great citizen journalism paper that is really really popular, especially with the Hispanic community and also with older people. That citizen journalism venture doesn't do any editing at all, and I think people really do respond to that raw, personal voice they can find in citizen journalism ventures. Kind of makes me think of the new wave of 'zines really. Anyway, I think having lots of people contributing to the news is always a good thing. Yeah, it opens the door for mistakes, but I'd always rather have more voices. In fact, I think the JFP blogosphere is basically citizen journalism in its own right. IN other topics, I think Gannett has actually been successful with their new Web sites. I don't think it's only Gannett who is losing money on print versions. I love print, but I don't think it's too dumb of them to try something else. But I do hate that attitude of let's just cater to the old. I guess statistics are proving young people aren't reading papers (and maybe they won't. I know young people do love reading the newspaper, but yeah, I think a lot of us like to do it online and for free if possible). Granted, I still don't like them, but I wish better newspapers would be doing the video stuff, too. I personally get sucked into reading various NYTimes articles that I would NEVER read if not for the teaser video on the front page. Plus, I think videos are really just great augmenters to really good stories. And with YouTube busting up, I think people are really saying they like watching stuff.

Author

casey

Date

2006-12-13T00:34:42-06:00
ID

109290

Comment

This is a conversation I have a lot, since I run an About.com site and one of the questions people ask is why we need sites like that in the post-Wikipedia age. And I say it all boils down to editorial control. It's nice to have these sites--but even better to have someone who is held accountable who is responsible for making sure the content is accurate, and who has a consistent vision for organizing it, and a consistent style for presenting it. Citizen journalism also creates a quality control problem--turgid writing-by-committee in the case of Wikipedia (and it's next to impossible to make a Wikipedia entry read better--editors undo your changes almost instantly), and random raw primary source matter in the case of some other places. Which is not to say that I don't like citizen journalism--I read blogs, I post to my own blog here, I'm about to have an additional professional blog after the first of the year, I participate in citizen journalism in discussion fora, and I use Wikipedia, Urban Dictionary, etc. all the time. But I think there's definitely still a place, in the media world, for something resembling the old "fourth estate." I just don't think it'll have the monopoly over news and media that it once did. As is, many people get most of their news from their favorite blogs. I know I get most of my feminist news from Feministing, for example, and that's five twentysomething women in New York blogging in their spare time. Granted that they link to newspapers and nonprofits, but how many traditional newspapers will we really need if this picks up? Daily print circulation just isn't economical in the Internet age. And if the JFP can really capitalize on large amounts of ad revenue from traffic outside of the Jackson/metro area, it may very well be able to become a de facto daily paper without having to shell out anywhere near the usual budget. Cheers, TH

Author

Tom Head

Date

2006-12-13T03:37:06-06:00
ID

109291

Comment

I just ran across another reason to dislike unfiltered citizen journalism as a primary information source: Look at this Wikipedia talk page. Cheers, TH

Author

Tom Head

Date

2006-12-13T05:53:30-06:00
ID

109292

Comment

Honest question time. In story about Ridgeland murder, they printed the address of the teacher, Pittman. Is that a good idea? If something happened to Pittman based on someone using that info to track Pittman down, would the CL be somewhat responsible? What exactly did Pittman's address have to do with the story?

Author

Kingfish

Date

2006-12-13T07:56:27-06:00
ID

109293

Comment

I think that's a terrible idea. It used to be normal journalistic practice to go around printing addresses for identification purposes--the worst example was when one newspaper (I forget which, but it's one of the big, venerable ones) printed, in the thirties or forties, the names and addresses of SIX MAFIA WITNESSES it had just interviewed. If I run across that again, I'll remember to scribble down the citation. Crazy stuff. Cheers, TH

Author

Tom Head

Date

2006-12-13T08:21:02-06:00
ID

109294

Comment

I had a letter printed in the Baton Rouge Advocate one time. Until recently they published the address of the letter writer. Got a letter from an inmate at Angola who totally agreed with my letter and then it was obvious how kooky he was (took a letter I wrote criticizing La's search and seizure policy on cars to wanting to refight the American Revolution and then some). Then when I wrote another letter saying why Katrina was not the Lord's punishment on New Orleans and the Gulf Coast for their sins, some religious kook sent me a pamphlets that said otherwise and a pretty kooky letter calling me evil. Oh boy. Didn't bother me at all personally except I was living in BR at the time and it was my mother's house. that is all.

Author

Kingfish

Date

2006-12-13T08:27:49-06:00
ID

109295

Comment

Actually, I agree with Casey both about the usefulness of citizen journalism and the use of video and other tools online—if done well. The problem I have here, especially in this market, is that the attitude of Gannett corporate seems to be: Run from the core competency of a good newspaper and shift resources online. We've used "citizen journalism" here since before folks started talking about it; I think in essence they're trying to do what we knew we had to do. But the difference is that they seem to think that it replaces good journalism, whether in the print edition or online. And the idea that suddenly a daily newspaper is downplaying its newspaper side and calling itself an "information center" cannot possibly help their reader credibility. Also, I HATE the assumption, as Casey alludes to, that young people don't want to read newspapers. They just don't understand that they don't want to read the news in the superficial, fake objective, bland way they present it.

Author

DonnaLadd

Date

2006-12-13T10:34:16-06:00
ID

109296

Comment

Also, it tickles me to see one of the Ledger's remaining beat reporters carrying a video camera around instead of sitting in an archive room somewhere trying to help that paper's abysmal institutional memory on vital stories. They're missing the point.

Author

DonnaLadd

Date

2006-12-13T10:35:33-06:00
ID

109297

Comment

yeah I think certain people need to be hired as video people and certain people need to get the hell down to a public records office. At Mizzou, they now have a convergence major, so you could get a degree just in that. I think the video people should be good reporters, too, of course, but I dont think we need to abandon basic reporting while we're at it. more on citizen journalism later ....

Author

casey

Date

2006-12-13T13:12:22-06:00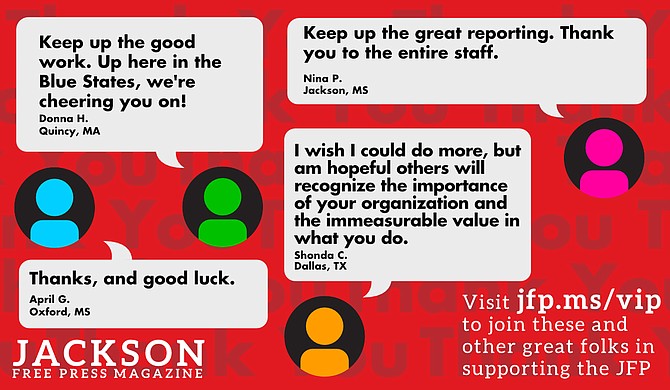 Thanks to all our new JFP VIPs!
COVID-19 has closed down the main sources of the JFP's revenue -- concerts, festivals, fundraisers, restaurants and bars. If everyone reading this article gives $5 or more, we should be able to continue publishing through the crisis. Please pay what you can to keep us reporting and publishing.