Last week saw a whirlwind of activity from Mayor Frank Melton surrounding the trial of three Wood Street Players—a group of alleged criminals that he calls his "obsession."
Melton started the week Monday, April 3, in Circuit Judge Bobby Delaughter's court with Christopher "Smiley" Walker sitting next to him, there to proffer Walker as a witness if District Attorney Faye Peterson followed through on her pledge to drop prosecution of three Wood Street men—Albert "Batman" Donelson, Terrell Donelson and James Benton—for the murder of Aaron Crockett in 2001. Peterson had decided to halt the case after defense attorneys filed evidence of Melton's financial enticements to Walker since the Mississippi Bureau of Narcotics arrested him and 11 other Players in 2003, but she decided to go ahead without Walker.
Throughout the week, Melton vowed to arrest Donelson for the murder of Harrison Hilliard in 1998 if he were acquitted. He called the Jackson Free Press Wednesday, beginning the conversation, "If Batman is found not guilty, I'm going to arrest him in the courtroom." He also took a shotgun and walked Wood Street on Wednesday and Thursday nights, as well as taking the weapon into nearby E&L Barbecue, to send a message to the Players, whom he says are threatening him. "Here I am," he declared.
The mayor ended the week Sunday night, again with shotgun in hand. He walked up onto the porch of Albert Donelson's mother on Wood Street, flanked by bodyguards with machine guns, to send his "here I am" message. "I won't be threatened," he told the JFP. He then went to arrest his star witness for conspiracy to a murder that he accuses Albert Donelson of ordering.
On Friday afternoon, the jury returned not-guilty verdicts against the three men after deliberating for about two hours. During the short trial, witnesses—not including Walker—had given conflicting testimony about the number of masked assailants, times and other details. The defense also argued that Terrell Donelson was actually in the Hinds County Jail in a drug charge on the day that his brother allegedly called him to order the hit. Thus, his attorney argued, he could not have taken the call and set into motion the plan to murder Aaron Crockett.
Defense attorneys did not have the chance to get at the testimony of Walker, or to ferret out the involvement of Melton in the days, months and years leading up to the trial, as they had pledged to do in pre-trial filings. The week before, Peterson had filed a motion to drop the effort to prosecute Albert Donelson, because the defense planned to present a number of witnesses who would testify that Melton and MBN agents working with him at the time had made promises and financial inducements—including an apartment in Ridgeland, a "Frank E. Melton" credit card and a car—to convince Walker to say that Albert Donelson had ordered the hit.
In the motion, Peterson stated that "the State has a reasonable basis to believe that Walker offered perjured testimony to the Grand Jury" in the case. A prosecutor cannot ethically call a witness who has offered perjured testimony. The attachments also included an affidavit by an MBN agent stating that Melton had allowed Walker to handle guns while on probation.
Melton was angry that Peterson did not put Walker on the stand, saying that he was key to the prosecution because he answered the phone call from Albert Donelson in prison and gave the phone to Terrell Donelson, who put the plan into motion to kill Crockett. Throughout the week, Melton downplayed the significance of the evidence of promises by him and other MBN agents. "I don't care what's in those documents," he told the JFP Thursday. "There's no way it could hurt the case. None of those boys were paid a dime to testify."
It is a felony under state law to offer a witness inducements to offer false testimony, which Melton says was not his intention. Legal sources tell the JFP that although Melton probably acted within the law in providing Walker money, such payments are then admissible in court, which may undermine a witness' credibility with the jury.
Melton admitted that he had helped Walker, but said it was because he was planning to testify against Donelson—not to get him to testify. "Dern right. I did rent him an apartment, gave him a credit card, and gave him money as recently as yesterday," he said Wednesday, adding that he had just given him $200 to help him buy food for his family, pay his probation officer and other personal business. "I owe him that, not because he gave testimony, but to protect him. ... I couldn't leave him out there to die," he said.
By Sunday, though, Melton told media that he had a warrant for the arrest of Walker for conspiracy in the Hilliard case, and asked cameras to follow him as he arrested him. He told the JFP that Walker had confessed to him earlier that day that he had driven the car during the Hilliard murder, and thus, Melton had to arrest him. Melton had also told the JFP the week before that Walker had driven the car, but did not mention arresting him. According to Donelson's attorney, Randy Harris, Walker had confessed to Melton that he drove the car way back in 2004.
Melton did not arrest Walker Sunday night, though, even though he took media to Walker's mother's apartment at Shady Oak and Oakland streets. He went inside the apartment, then said Walker was not there.
Monday night, Melton called the JFP to say that Walker had turned himself in and that Jefferson Davis County Sheriff Henry McCullum was holding him in Prentiss. He admitted that there was, in fact, no warrant and that he was being held for "protection." Days before, Walker's car windows had been broken, and he was fired at, Melton said.
McCullum said Tuesday that he only held Walker for one night and that JPD was moving him to an undisclosed location. "We took responsibility to assist in securing his safety for one night," he said. "What I was told is there had been some noise in the street, someone wanting to harm him in some way. ... It's nothing unordinary to move folks around for their safety."
WAPT, however, reported Tuesday that Walker called them Monday, saying that he was being held against his will. Walker did not return calls to his cell phone by press time.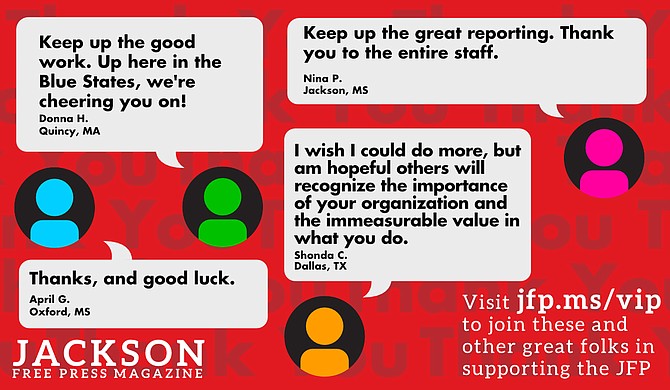 Thanks to all our new JFP VIPs!
COVID-19 has closed down the main sources of the JFP's revenue -- concerts, festivals, fundraisers, restaurants and bars. If everyone reading this article gives $5 or more, we should be able to continue publishing through the crisis. Please pay what you can to keep us reporting and publishing.