David Baria says he's one of the lucky ones. That's a bit hard to fathom. After evacuating from Bay St. Louis with his wife, three children and their pets to family in Pascagoula, he returned the morning after the storm to see what was left, working through the maze of roads, around debris and then walking down the railroad track to get to his home.
"It was eerily quiet and still," Baria said. "Nobody official was out doing anything. There was no National Guard, no FEMA, no law enforcement, no Red Cross." There were no sounds of chain saws, sirens, birds, crickets, nothing.
There was also no house. The historic two-story home on Beach Boulevard overlooking the ocean was gone, except for the slab, some beams and the front steps. The Barias' collection of art, books, antiques, a school award his son was very proud of, were all blown away.
Still, the Barias may fare better, financially at least, than families who climbed to their attics, or left town, and then re-emerged to find a water line around their walls. Unlike the Barias, those folks now have to convince their insurance companies that their damages resulted from wind, not water.
"Who's better off? I don't know. In some respects, it might be better to have your house blown away," Baria said.
The man navigating the rough waters between insurance companies and consumers they would rather not pay, if they can find a way not to, agrees with Baria that people with only a slab left to show may well be the lucky ones.
"That's correct; they are better off," said Mississippi Insurance Commissioner George Dale. It helps, he said, to only have a slab; that way the insurance company can't try to locate water damage.
The catch is that, in an area where many people did not believe their homes would flood—and aren't even listed in 500-year flood plans—many of them did not pay for expensive flood insurance, although most have insurance against damage from high winds associated with hurricanes. But because Katrina's winds caused such intense and high water surges, many homes ended up flooded, at least temporarily. And if the home has a water line, like that of Malcolm White (see main story), the insurance company may try to say that it was about water, not wind. And then not pay the claim.
"The consumer needs to show all evidence they can that all or part of their damage was caused by wind," Dale advised. "Like blown-out windows, missing shingles, things such as that. If there is still water in the house, there is a possibility that the insurance company would pay part of the claim under the wind loss (provision)."
Haggling over what consumers can prove and not prove after what the world knows was a massive hurricane, driven by record winds, frustrates homeowners no end. "This is causing a lot of concern for a lot of people," said Barbara Ambrose of Bay St. Louis. "You're not required to have flood insurance if you're not on the water. We're hoping they don't just say, 'sorry, we can't cover it.'"
Dale is trying to keep that from happening outright. He rankled the insurance industry—which could face pay-outs of up to $60 billion for Katrina damage—by issuing a directive that insurers must at least inspect the property and find evidence of flooding before deciding to deny coverage based on water, rather than wind. Some had immediately started rejecting claims outright. "In my directive to the insurance industry, I said that if you cannot prove water, then pay the claim."
That still might not be enough for homeowners who have that dreaded water line. Those consumers want it stipulated that Katrina was a hurricane—meaning that any water damage or flooding was caused by wind; in fact, word is that legislators are drafting a resolution asking Gov. Haley Barbour to rule that the flooding was caused by a wind surge; thus, all claims should be paid, they say.
Such a directive would come at a cost, Dale warned. "If you wave a magic wand and tell the companies they've got to pay every claim, even those excluded (due to water damage), we're going to have bankrupt insurance companies. Then people in Grenada and Holly Springs are not going to get their insurance claims paid," he said.
Rep. Bobby Moak, D-Bogue Chitto, was not satisfied with that answer. "I don't think we should arbitrarily not pay so-and-do so that somebody in Holly Springs won't lose their insurance because we have to pay somebody in South Mississippi. That's not standing up for me right now," he said. "I think that the position of the insurance commissioner should be one for the population that voted for the office."
Dale, he said, should use his role as "a prime pulpit and say, 'The hurricane came in, and wind took the property away. When insurance companies automatically say you were flooded and wind did not get your property, that cannot stand."
The commissioner said he knows that not everyone is going to be happy with his decisions, or that of the insurance companies. "I'm being criticized by the insurance industry for going too far and by the consumer for not going far enough. … The word is not 'criticism,' but we're not getting accolades from state (residents)." But, he added, "I appreciate how they feel."
Everyone interviewed, however, agreed on one thing: The federal government will need to step up and fill any gap left by the insurance companies so that the Coast, as we know it, can survive and residents can keep their property. "If not," Baria said, "it will create a huge vacuum into which the carpetbaggers will flood."
This story contains two corrections from the print version. The Barias' house is a two-story house, and the Barias did not own a Picasso painting. That detail came from a different interview. We apologize for the errors.
Previous Comments
ID

78912

Comment

BREAKING: Attorney General Jim Hood today filed a lawsuit seeking a temporary restraining order and permanent injunctive relief to prevent insurance companies from denying claims based on the water exclusions found in the hurricane policies currently in discussion on the Coast.

Author

DonnaLadd

Date

2005-09-15T14:34:23-06:00
ID

78913

Comment

i was watching something along these lines on Fox News last evening. It definitely makes you think. It makes those in business, especially those in management positions, to remember one thing: we are human. When do we stop looking at things from the standpoint of profit/losses margins and start looking at the fact that human lives have been affected in a way unlike any other time. Not an easy thing to do, i admit. But it has to be done, right? i just hope that in the end, just being "right" doesn't cause us to lose more in the end.

Author

blkconservative

Date

2005-09-18T19:13:58-06:00
ID

78914

Comment

this reminds me of the whole tort reform issue. i know someone who was affected by an accident where there was a cap on the amount they could receive in damages. At that time i found myself asking the same questions that i do with this tragedy we are all not dealing with.

Author

blkconservative

Date

2005-09-18T19:15:34-06:00
ID

78915

Comment

Clarion-Ledger praises Rep. Gene Taylor today for a compromise he is offering on the wind-vs.-water dilemma as detailed in the above story: Taylor plans to introduce a bill that would protect those Mississippians who found themselves not covered by giving them the option of paying 10 years of back premiums for the federally backed National Flood Insurance Program. They would be covered up to the amount of the damage or $250,000, whichever is less, and the amount of the back premiums would be subtracted from their settlement. This seems a workable compromise between letting people be wiped out by a disaster or an outright federal bailout of either storm victims or the insurance industry forced to pay coverage for a risk for which no premiums were paid.

Author

DonnaLadd

Date

2005-10-03T08:29:53-06:00
ID

78916

Comment

The wind-vs.-water disaster we warned about right after Katrina is truly coming to pass as President Bush balks at helping the people screwed by their insurance companies because of "flooding." The Clarion-Ledger editoralizes today: The 50,000 uninsured Coast homeowners who were told they were not in flood plains, did not have flood insurance and were wiped out by Katrina's storm surge have no recourse. Their private hurricane insurance, they are told, doesn't cover them, since it's deemed "flooding." Fourth District U.S. Rep. Gene Taylor and U.S. Sen. Trent Lott have introduced bills that would offer federal flood insurance to the victims retroactively. But President Bush has balked at spending the $4 billion, citing fiscal concerns and not wanting to set a precedent. Uh, Mr. Bush, it's time to repeal your tax cut for the rich and help southerners who have lost most everything, even if the 35 percent of Americans who still approve of you don't want you to.

Author

DonnaLadd

Date

2005-11-04T11:24:17-06:00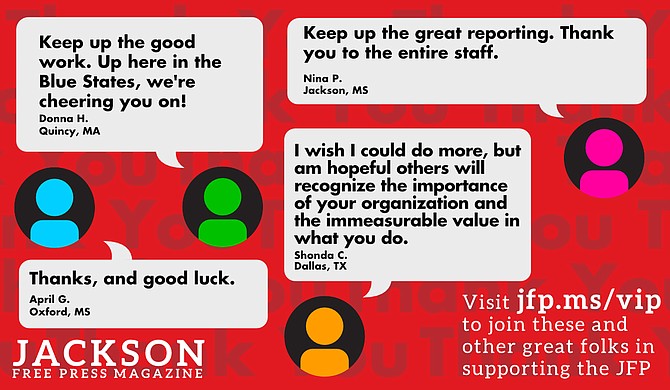 Thanks to all our new JFP VIPs!
COVID-19 has closed down the main sources of the JFP's revenue -- concerts, festivals, fundraisers, restaurants and bars. If everyone reading this article gives $5 or more, we should be able to continue publishing through the crisis. Please pay what you can to keep us reporting and publishing.