On the day that a high-level White House office was indicted for trying to cover up lies told to justify invading Iraq in the first place, three more American soldiers were killed there. Our prayers go out to their families. AP reports:
nsurgents used a land mine and a roadside bomb to kill three U.S. Army soldiers and wound four on Saturday in attacks that brought to eight the number of American service members who have died in the last three days.
In Baghdad, the campaign for Iraq's Dec. 15 parliamentary election effectively began as several of the 18 coalitions scheduled news conferences to unveil their tickets.
On Friday, the deadline for candidates to file, a Sunni Arab coalition submitted its list of names, signaling greater Sunni participation in a process Washington hopes will help speed the day when U.S. troops can go home.
New information also emerged Saturday about a triple suicide vehicle attack that occurred near the Palestine Hotel complex in Baghdad where many foreign journalists work. The well-coordinated attack killed 17 Iraqis on Monday and wounded several reporters.
Previous Comments
ID

87498

Comment

The Clarion-Ledgeróthe paper that endorsed Bush last fall so he could fix his mistakesóruns a good Knight-Ridder wire story about how Bush's presidency is in serious trouble. The prosecution's case against White House adviser I. Lewis "Scooter" Libby pulls back the curtain on the Bush administration's efforts to silence its critics and challenges its rationale for war with Iraq. The stain on President Bush's presidency starts with Libby, but it's not likely to end there, even with Libby's resignation Friday. The only bright spot for Bush in an otherwise dismal week was that presidential adviser Karl Rove wasn't indicted, for now. Rove, one of the president's closet confidants, remains under investigation. The five-count indictment raises new questions about whether Vice President Dick Cheney had any role in revealing the identity of undercover CIA officer Valerie Plame. A Libby trial almost certainly would delve into internal White House deliberations that could provide more embarrassment for Bush, who'd promised to bring a new ethical climate to Washington. The indictment came near the end of one of the worst weeks in Bush's presidency. His approval ratings are at the lowest point since he took office, the American death toll in Iraq topped 2,000 and Supreme Court nominee Harriet Miers withdrew under pressure. "Everything seems to be blowing up at the same time," said Charles Walcott, a political science professor at Virginia Polytechnic Institute and State University in Blacksburg, Va.

Author

DonnaLadd

Date

2005-10-29T09:23:11-06:00
ID

87499

Comment

Ledge editorial today: Now, the question is if Libby was as high as the possible involvement in the leak could go, or could it extend to Bush's political deputy Karl Rove or higher. Plame is married to former Ambassador Joseph C. Wilson, who credibly dismissed Bush's claim about weapons of mass destruction in Iraq. It was speculated that Plame was outed to punish Wilson for telling the truth about Iraq. Bush partisans may see this investigation as political. But to Democrats still seething over GOP insistence that Bill Clinton's fib about an affair was perjury, this is major payback. If a law is broken, the same standard applies, yes? Uh, why don't you tell us, Ledge? This is your president of choice, no? And lest your stellar editorial team tries to get us to forget now, we knew what the administration was trying to do to Wilson because he tried to tell the public the truth about the war and WMD BEFORE y'all endosed this president. Perhaps y'all your readership an apology for not being concerning about this administration's deception before last November, yes? You say now that Bush "credibly dismissed Bush's claim about weapons of mass destruction in Iraq"ódidn't you kids know that before you wrote that endorsement last fall!?!? If so, you hold some responsibility for helping return this president to office, no? The mainstream media are so culpable in the mess we're facing now, and I don't mean just The New York Times. We should ask our big media outlets this pertinent question: "What did YOU know, and when did YOU know it?" There are families right here in Mississippi mourning the loss of their children because the media didn't do a better job of exposing this administration's lies--WHEN they knew they were telling lies.

Author

DonnaLadd

Date

2005-10-29T09:33:49-06:00
ID

87500

Comment

Get your bumperstickers here! I saw one in Gainesville, FL, a couple of weeks ago, and I've ordered mine. http://www.nobodydied.com/

Author

Steph

Date

2005-10-31T10:14:56-06:00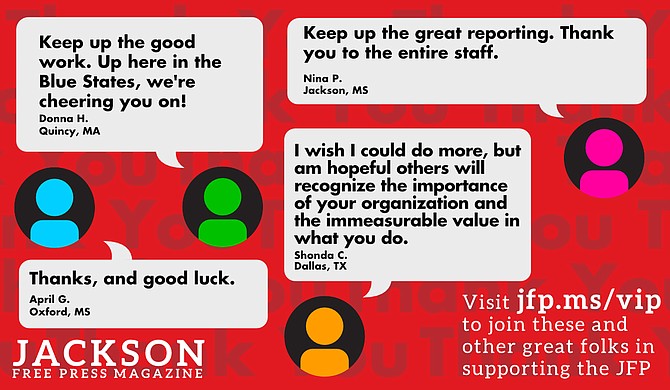 Thanks to all our new JFP VIPs!
COVID-19 has closed down the main sources of the JFP's revenue -- concerts, festivals, fundraisers, restaurants and bars. If everyone reading this article gives $5 or more, we should be able to continue publishing through the crisis. Please pay what you can to keep us reporting and publishing.