A couple weeks back, culture czar Bill Bennett said crime would go down if all black babies were aborted. A couple months back, a business publication editor in Brandon said that the inner city is breeding young criminals. A couple years back, a city councilman told a group of North Jackson adults that "young tigers" are roaming our streets, looking to hurt us.
TV and print media splash images of young people who have not been found guilty of anything before a public that wants to fear the young "thugs" in our midst. And recently, a mayor who promises to get all those young thugs off the streets was elected mayor of Jackson. Help is on the way.
Friends, it pays to hate young people, to disparage them, to ridicule them, to stereotype them, to profile them, to arrest them, to be rude to them, to condescend to them, to use them for votes, to lead the evening news with them. Young people, you see, are guilty until they are proven innocent. And most people—at least until their child is caught up in the wide net—do not even bother to think about this widespread demonization of young people in America, or they just don't care.
Sadly, the pool of young people considered "bad" unless they prove themselves "good" (by consenting to an offensive drug test; not leaving their home at night; never taking a sip of alcohol) is growing and spreading to all segments of our society. That is, draconian zero-tolerance policies initially instituted against certain kids—usually poor and of color—have in recent years actually been grabbing up more kids. That way, the people pushing the bad policies cannot be accused of being discriminatory against certain groups. They can say the policies apply to all kids, regardless of background or socio-economic status, or race.
That's how a 17-year-old like Leslie Berryhill ends up in jail without a call to her frantic parents for hours. A bad policy designed to allow police a legal way to round up black youth is then used against someone who doesn't, well, fit the profile. The policy already stunk, but no one noticed it until a "good" kid was caught up in it. Such policies circumvent young people's constitutional rights to be innocent until proven guilty.
Almost worse is what happens next. Parents like the Berryhills are belittled for thinking their daughter is "better" than other kids the policy is used against. Parents of young blacks used to such draconian policies might scoff at parents who aren't so used to their kids being treated in such a way, when in fact none of the kids should be caught up in policies that assume they are going to get in trouble.
Or as Council President Marshand Crisler told the JFP's Brian Johnson: "All a young person can do at night is get in trouble." Councilman, that is a downright offensive statement. And it assumes the worst about every single young person. It plays right into the Thug Myth. So does the city's curfew law, as well as zero-tolerance policies and Mayor Melton's recent pledge to institute expensive drug testing for all students in Jackson public schools, despite its unconstitutionality.
Furthermore, such policies are simply not research-based. They are public relations, pure and simple. Local governments, including our City Council, pass such policies to make it look to the public like they are doing something about crime by young people. However, elected officials often have not bothered to research the efficacy of such policies or, in the case of a curfew, even the times when most young people commit crimes. (Hint: not during curfew hours).
Worse, here in Jackson, the city has not figured out a way to communicate the rules of the curfew to the police officers who are actually out there stopping your children and, potentially, handcuffing them and hauling them off to jail.
They then argue that they followed the law, but that doesn't matter a whole lot if the law stinks in the first place. Of course, the overriding problem with these kinds of anti-youth policies is an over-zealous fear of young people, perpetuated by elected officials trying to get "tough on crime" votes and the mainstream media, forevermore trying to sell newspapers and up their ratings on the backs of young people.
Study after study has shown how severely out of whack coverage of youth violence is in the U.S. This media frenzy came to a head in the late 1990s after, first, the crack epidemic of the early part of the decade caused a severe spike in crime (by adults and youth) and then the suburban school shootings, including right here in Pearl, terrified Americans about the safety of our schools.
Throughout the 1990s, however, youth crime fell, and it fell dramatically. Young people were behaving better, but getting very little credit for it. An NBC/Wall Street Journal study found that there was less than a one in 2 million chance of a child being killed in a school in America in 1998-1999—the height of the school-shooting scare—yet 71 percent of Americans felt that a school shooting was likely in their community. Throughout the 1990s and through today, the safest place for a young person in America is at school; the far greatest risk of harm is in their own homes.
Studies also show that news coverage of youth violence increased sharply throughout the decade alongside the dramatic drops in youth crime. Making matters worse, as youth-crime expert Mike Males warns, the media often report violence against youth, which is actually committed by adults, as "youth violence."
This mindset about "bad" kids isn't limited to tough-on-crime conservatives, although they have perfected the art of attacking young people for personal gain. In a graduate school class at Columbia, where I did a study on demonization of youth, my fellow students—all educated and progressive-minded—first found it difficult to buy that it wasn't always "bad" kids hurt by such policies (as if "bad" kids don't have rights, too). However, by the end of that semester and after reading my findings, most of them understood that our society is infested with an irrational distrust of youth that isn't teaching them how to grow up and be good stewards of our Constitution.
It is our responsibility as adults, and as U.S. citizens, to reverse this trend of attacking young people without cause or thought to the effects of our actions and words.
They deserve better.
Previous Comments
ID

70882

Comment

I read the "curfew" story first and the Councilman's "all they can do..." statement stood out the most - if that is possible in such an alarming and informative story. It's like "Six Degrees of Kevin Bacon" on acid down at City Hall!! Thanks for addressing the Councilman here! He is the last person I would have thought would say that! Tisk, tisk... I guess watching Miami Vice on Fridays, and going to Krystal's for burgers and the chance to meet some girls constitutes trouble. Times they are a changin'! The one by Kroger stayed open all night at one time (tax revenue)! Tell me, how are the children who play football and basketball on various nights in Jackson home by 10am?????

Author

pikersam

Date

2005-10-12T17:33:12-06:00
ID

70883

Comment

Yeah. Donna, I'm doing that criminal justice book and this all reminds me of Blackboard Jungle, "Cape Man," etc. etc. etc. The general sense of juvenile delinquency everywhere. "Those young whippersnappers." In some ways we're having a rerun over the 50s in general--open displays of racism, suspicion of the young, hatred of anybody who stands outside of the mainstream, censorship, flagrant media bias, constant accusations of being "anti-American," paranoia directed at every other nation on Earth (freedom fries, anyone?), and the list goes on. I'm reading Sovereignty Commission documents right now, and it's amazing to me how much the language resembles that used by certain angry young men nearby. Plus c· change... It hurts me, and I'm white, straight, and not poor. I can't begin to imagine what it must be like for the majority of Jacksonians. Well, actually, I can. And it's pretty damn distressing.

Author

Tom Head

Date

2005-10-13T09:07:52-06:00
ID

70884

Comment

Yeah, and don't forget the boycotts by rich white guys of any media outlets that tried to talk about more than one side of an issue. Bless the Mississippi Free Press. And I'm proud that we can pick up where they left off, and that there are only a handful of idiots around town who would try to squelch, and belittle, and besmirch media outlets that are willing to talk about these issues and, thus, keep information from getting to the good people of our community. That is a major thing that has changed, and it is a welcome one. So, the key is: keep talking. This time, the community is listening, and in a wonderful way. Cheers to Jackson, and to Mississippi. There's no place like home. ;-D

Author

DonnaLadd

Date

2005-10-13T09:23:23-06:00
ID

70885

Comment

The Thug Myth? Haa Haa.

Author

Brad

Date

2005-10-14T10:15:00-06:00
ID

70886

Comment

I hate to perpetuate bias against worshippers of Kali (she's a perfectly acceptable ishta devata as far as I'm concerned), but the etymology of "Thug" may be relevant here. Cheers, TH

Author

Tom Head

Date

2005-10-14T11:17:15-06:00
ID

70887

Comment

Cool, Tom. Thanks! I just learned something. And you show us how truly ridiculous it is to use the word "thug" for young black kids who get in trouble. You so smart. ;-)

Author

DonnaLadd

Date

2005-10-14T11:33:20-06:00
ID

70888

Comment

*blush*

Author

Tom Head

Date

2005-10-14T13:32:38-06:00
ID

70889

Comment

gross

Author

skipp

Date

2005-10-18T11:51:06-06:00
ID

70890

Comment

Wait til you get a little older, skipp, and then you'll understand... Cheers, TH

Author

Tom Head

Date

2005-10-18T12:30:36-06:00
ID

70891

Comment

Sorry, dude--thought you were somebody else. We've gotten so many trollers over here over the past few weeks that it isn't even funny... Cheers, TH

Author

Tom Head

Date

2005-10-18T12:36:32-06:00
ID

70892

Comment

(For those wondering what the heck all that was about, the "until you're older" was vis-a-vis what I thought was last week's banned poster making an 10-year-old "Eww! Cooties!" comment--e.g., another two or three years and girls telling you you're smart is not such a bad thing. Skipp's post sounds less disturbing, and mine more disturbing, on a second reading--which kind of makes me wish I hadn't been posting in one window while researching death penalty statistics in another. Oh, well. I've got to put my foot in my mouth from time to time or I'll forget the flavor.)

Author

Tom Head

Date

2005-10-18T18:14:34-06:00
More like this story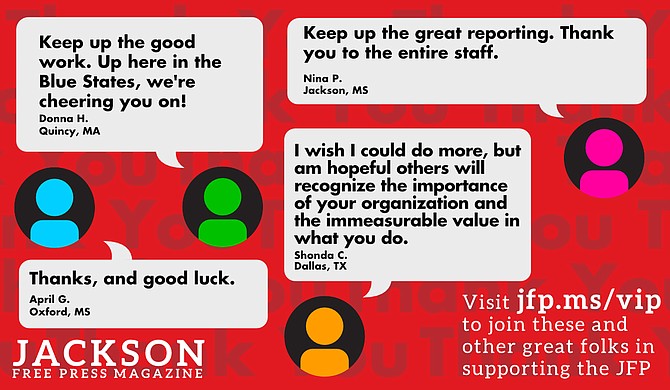 Thanks to all our new JFP VIPs!
COVID-19 has closed down the main sources of the JFP's revenue -- concerts, festivals, fundraisers, restaurants and bars. If everyone reading this article gives $5 or more, we should be able to continue publishing through the crisis. Please pay what you can to keep us reporting and publishing.