A new CBS News poll finds that the public is taking the White House's scheme to cover up the WMD lies very seriously—and more so than they did the Clinton-Lewinsky scandal:
One particular number in the new CBS poll released Wednesday has drawn most of the interest: President Bush's approval rating plunging to 35%, his worst standing ever and the lowest mark recorded in decades. But buried in the lengthy survey was an appraisal of the salience of the current Plame/CIA leak case scandal that is equally revealing. It shows that, contrary to some reports this week from leading conservative columnists, the public does take this issue seriously, indeed.
Some 51% said it is already of "great importance," with 35% choosing "some importance" and 12% "little or not importance." Here are comparable numbers for other notable scandals in recent years, along with the month and year the poll was taken:
—Clinton-Lewinsky (1/98)
Great importance - 41%
Some importance - 21%
Little/no importance - 37%
Previous Comments
ID

171959

Comment

You know, it really shows contempt for the American people's intelligenceónot to mention moralityóto say that they wouldn't care about a White House outing a covert CIA agent in order to shut up her husband from telling the truth about the administration's dies to get our young people into a poorly planned war. It takes some hubrus ó and, well, stupidity ó to even argue that people won't, or don't, care once they finally get the information that the lamestream media has kept from them for so long. Don't miss our editorial this week about The Clarion-Ledger's role in this media blackout.

Author

ladd

Date

2005-11-03T14:39:21-06:00
ID

171960

Comment

Yeah, I know. It really creeps me out how allegedly mainstream media personalities--not just FOX News--have been treating this like it's a nothing story, like it's a bunch of Democratic partisan hacks trying to snag the administration on a technicality. It just goes to show how many journalists read this president's talking points. My question is: Why? Most journalists are registered Democrats. It just makes no friggin' sense to me. Is it about corporate media consolidation--does this come from on high, as it does with Rupert Murdoch--or do folks figure that right-wing nuts just make more interesting, and ergo more ratings-friendly, presidents than saner figures? Cheers, TH

Author

Tom Head

Date

2005-11-03T14:43:30-06:00
ID

171961

Comment

By the way, I'd just love it if somebody who assembles media clips compared the somber, "Oh my God, the sky is falling" response journalists had to the Lewinsky scandal with the "Eh, who cares" response they originally had to Plamegate. Cheers, TH

Author

Tom Head

Date

2005-11-03T14:44:26-06:00
ID

171962

Comment

Wow, How many ways can we say "lied to"? Look at the WMD-gate revelations in this New York Times story today: fabricator months before the Bush administration began to use his statements as the foundation for its claims that Iraq trained Al Qaeda members to use biological and chemical weapons, according to newly declassified portions of a Defense Intelligence Agency document. The document, an intelligence report from February 2002, said it was probable that the prisoner, Ibn al-Shaykh al-Libi, ìwas intentionally misleading the debriefersíí in making claims about Iraqi support for Al Qaedaís work with illicit weapons. The document provides the earliest and strongest indication of doubts voiced by American intelligence agencies about Mr. Libiís credibility. Without mentioning him by name, President Bush, Vice President Dick Cheney, Colin L. Powell, then secretary of state, and other administration officials repeatedly cited Mr. Libiís information as ìcredibleíí evidence that Iraq was training Al 8Qaeda members in the use of explosives and illicit weapons. Among the first and most prominent assertions was one by Mr. Bush, who said in a major speech in Cincinnati in October 2002 that ìweíve learned that Iraq has trained Al Qaeda members in bomb making and poisons and gases.íí The newly declassified portions of the document were made available by Senator Carl Levin of Michigan, the top Democrat on the Senate Armed Services Committee. Mr. Levin said the new evidence of early doubts about Mr. Libiís statements dramatized what he called the Bush administrationís misuse of prewar intelligence to try to justify the war in Iraq. That is an issue that Mr. Levin and other Senate Democrats have been seeking to emphasize, in part by calling attention to the fact that the Republican-led Senate intelligence committee has yet to deliver a promised report, first sought more than two years ago, on the use of prewar intelligence.

Author

ladd

Date

2005-11-06T10:40:29-06:00
ID

171963

Comment

Who else feels like this thing is just beginning to blow wide open?

Author

Lori G

Date

2005-11-06T13:03:11-06:00
ID

171964

Comment

The big difference, I think, is that the lamestream media are now more willing to report the truth and let the chips fall where they may. The sad part is that they're following public opinion, when they should have given the public the information they needed a long time ago before we got saddled with another four years of Corporate Cronyism (you know, like the Ledge pointing out last weekend that Joseph Wilson had "credibly" shown that the administration lied about WMD to get us into war, and then endorsed the administration anyway.) Better late than ever, I guess. Harumph. Allow me to gloat for just a second. (Note the date.) The information was out there, people. The media could have kept us for going to this war, unprepared and for the wrong reasons. At least The New York Times has mea culpaed. Personally, I think every daily newspaper in the country, that de-emphasized the WMD lies and/or endorsed Bush last fall, considering they knew by then that American soldiers had died for a lie, should publish apologies to their readers. Sold-out sumb!tches.

Author

ladd

Date

2005-11-06T14:45:46-06:00
ID

171965

Comment

... and, by the way, apologies to the families who have lost loved ones in a war they lied to get us into. The soldiers are heroes; the liars are liars.

Author

ladd

Date

2005-11-06T14:46:45-06:00
ID

171966

Comment

I feel the same way about the whole thing being the "popular" thing to do as far as the media goes. I mean, how bad is it that we are only getting this information now because its the "cool" thing to do? Two years ago the "cool" thing to do was protect the Bush Administration at all costs. To me, it doesn't prove that the lamestream has had a sudden bout of conscience...it means they are following the same rules they were following two years ago when they didn't do it....just like you said. It shouldn't make us feel better, we should get pissed that we're only getting the information now because the climate of the country is more receptive to it...we should be getting this information ANYWAY. When I meet people that aren't irrationally angry about what is going on with our government and media...I know I'm talking to someone that is not informed. Mainly because we should all be very, very angry.

Author

Lori G

Date

2005-11-06T16:41:17-06:00
More like this story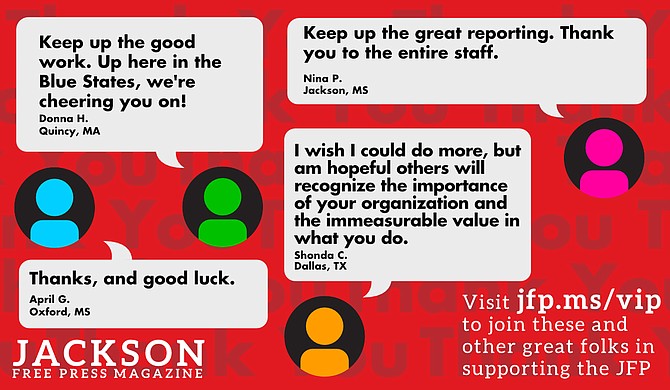 Thanks to all our new JFP VIPs!
COVID-19 has closed down the main sources of the JFP's revenue -- concerts, festivals, fundraisers, restaurants and bars. If everyone reading this article gives $5 or more, we should be able to continue publishing through the crisis. Please pay what you can to keep us reporting and publishing.