The Coalition for Children and Public Education writes: The Governor has called a special Legislative session to begin Wednesday, May 18 at 1:00 p.m. As part of the Coalition for Children and Public Education, we are gearing up to press for full funding of the Mississippi Adequate Education Program (MAEP).
Our campaign, "Education: Keep the Promise," is based on the fact that MAEP is signed into law and schools across the state accepted and committed to implementing the new Mississippi accountability system based on the promise that they would receive adequate funding. Schools have kept their end of the bargain. Schools are complying with the accountability requirements, implementing the statewide curriculum, and raising student performance. Now it is the responsibility of our legislators to keep their end of the bargain. Our immediate call to action...
1) Write a letter to your legislators today so that it will be on their desks when they arrive at the Capitol on Wednesday. According to Capitol staff, a letter addressed directly to a Legislator at the following address: P. O. Box 1018, Jackson, MS 39215-1018 and sent through the U. S. Post Office is delivered directly to his / her desk. Attached is a sample letter. Please send to ALL your legislators.
2) Phone your Senator(s) this weekend at home. Even if you have called during the regular session, we need them to know we are still watching and still pressing for full funding. Phone calls are critical and the most effective way of showing there is a strong constituent base in support of full funding. Attached is a sample phone script.
3) Spread the word to your family and friends and call them to action, particularly those who live in the Madison, Rankin, Clinton, Metro Jackson areas as well as Meridian, Newton County, Hattiesburg, Forrest County, Tupelo, DeSoto County, and the Gulf Coast. Attached are additional talking points.
This is not just about money. This is not about something the state cannot afford to do for our children. This is about the basic human and civil right of every child in Mississippi to receive an education that adequately prepares him or her to become a self-sustaining citizen who contributes to the broader society. Quite simply, we will never achieve the level of economic development we desire or solve health care or end cycles of poverty and crime if we do not adequately educate all our children. Many of our policy makers think they are doing enough but unless they are fully funding MAEP, they are not doing enough. Teacher pay raises and increased classroom supply money is not enough. In fact, it negates the benefits if the number of students in classrooms is increased due to lack of funds to support the current number of teachers in schools – and that is where we are headed. This is the message we have to help the Legislature and all Mississippians understand.
Special Session Campaign
Theme: "Education: Keep the Promise."
Message: Remind legislators, in no uncertain terms, that they made a commitment to fully fund education in Mississippi through the Mississippi Adequate Education Program if school districts implemented a tough, new system to hold teachers and students accountable for student achievement. Our schools kept their end of the bargain, but, now, those same lawmakers are breaking their promise.
Give us the resources and we'll meet the task. Don't break your promise to the children of Mississippi – a promise written in law.
Message Points: In addition to the primary message – "Education: Keep the Promise" – there are several other points, or sub-messages, that must be conveyed to legislators directly or through the media. They are:
• Mississippi's school districts implemented a nationally recognized accountability system for student achievement with the promise that education, through the MAEP, would be fully funded by the state. Now, lawmakers are going back on that promise.
• These lawmakers must remember that voters elected them to help ensure a quality education for their children – and that these same voters will remember whether their lawmakers supported this issue.
• Aside from state-required increases, in the last five years school district budgets have been slashed in areas such as textbooks, transportation, libraries and building repairs.
• Mississippi school students now rank in the top 10 nationally for improvement on test scores. Why would we want to reverse course now?
• Mississippi can do better than 47th in the nation in per-student expenditures.
• Since its creation in 1997, education through MAEP has never once been fully funded.
• Fully funding education through MAEP is about more than money – it's about children. You cannot claim to support Mississippi's children and not fully fund MAEP.
• Cutting education funding will mean fewer teachers and more students in each classroom, resulting in lower achievement, more discipline problems, and fewer gifted programs, art and music classes and sports programs.
Coalition for Children and Public Education
Script for calling Mississippi Senators:
My name is (_____). As a (parent of a public school student) (public school teacher)
(public school administrator) in Mississippi, I am calling to remind you of the promise
our state lawmakers made to fully fund education in Mississippi through the Mississippi
Adequate Education Program.
In return, our school districts promised to implement a new accountability system for
student achievement. That system is well in place, but now, some legislators seem
unwilling to keep their end of the bargain – as they were elected to do.
Please give us the financial resources and we will meet the task. Don't break your
promise to the school children of (name of your city or community) As you know, it is
a promise written in law.
Please do the right thing and keep your promise as an elected official.
Coalition for Children and Public Education
Special Session Letter to Legislators
Dear (Legislator):
As a staunch supporter of education in Mississippi, I would like to remind you of the
promise our state lawmakers made to fully fund the Mississippi Adequate Education
Program if our school districts implemented a tough, new accountability system for our
teachers and students. That system is well in place, but, sadly, some lawmakers now seem
unwilling to keep their end of the bargain – as they were elected to do.
Give us the resources and we will meet the task. Don't break your promise to the children
of Mississippi – a promise written in law.
Sincerely,
Your Name Here
Previous Comments
ID

137966

Comment

This rant may tie a couple current threads togetherópublic education, Babarís approval rating and future plans, $100 million from MCI into general fund, etc.óso I wasnít sure where to put it. Babar has repeatedly said that education is a priority but that there are many ìpriorities.î In his call for a special session we see what his real priorities are. The call does not deal with the 2006 budget and there is no mention at all about education funding! The budget issues in the call are only focused on deficits realized during the current (ending) fiscal yearís budget (2005). Sounds like he specifically is seeking transfers and use of the $100 million from the MCI settlement to cover the cost of the beef plant debacle. UhÖ If the idea of ìtelecommunicationî funds going to a child abuse center makes no rational connection (according to the Clarion-Ledger), what the heck is this? Guess this is one of those priorities he mentioned. As for funding education, Babar previously moved to increased his public education budget proposal by $110 million and continues to tout the claim that his in increasing education funds overall. Yeah. OK. Mm-hm. Babarís original budget proposal claimed to give a 4% increase over current levels. Current (FY2005) funding levels are actually below those of 2004 and well bellow necessary and basic Mississippi Adequate Education Program (MAEP) funding levels. Now he claims to want to add an additional $110 million. That still DOES NOT fully fund education as required by state law. K-12 education needs $183 million just to hold steady at 2005 education funding levels. Yes, just to tread water. Hereís why: 1. $95 million for pay raise this year (as promised) 2. $30 million Public Employees Retirement System increase (additional employer contribution that school districts must contribute) 3. $13 million MAEP growth 4. $45 million in shortfalls from FY2004-05 that local school districts are required to cover and which are recurring expenses Now what does this really mean? Even if the legislature came up with and Babar agreed to an additional $183 million above current funding levels, it still would not fully funding K-12 education. Babarís $110 addition to his previous proposal is actually equivalent to an education funding cut.

Author

GDIModerate

Date

2005-05-17T08:47:57-06:00
ID

137967

Comment

Babarís excuse for not placing budget issues on the agenda? [quote] It's a three-step process," Barbour spokesman Pete Smith said. "First you've got to put '05 to bed. Second, you've got to create a pool of money. We need to know how much money we're going to have to appropriate." In the third step, Smith said, lawmakers would address the 2006 budget. "Is he going to expand the call to deal with the second and third steps? Yes," Smith said. [/quote] ìPool of money?î Where will this pool come from? Taxes? Donít bet on it. Babar already staked his territory on that issue: no tax increasesóexcept in Pearl to support a ball team and stadium that will siphon off more Jackson resources. Now replay all those tobacco tax discussions from the past 5 months so I donít have to repeat them. Fee increases? Oh nooo. A fee is a tax, donít you knowóexcept when the nursing home industry needed a ìvalue enhancementî last year to make up for the tight Medicare and social security money in the face of rising costs. Windfalls? $100 million in MCI money to the beef plant. Tobacco money to the general fund for state agencies. Weíre still waiting on the rest of the MCI related tax settlement from the ongoing investigation into KPMG, WorldCom's accounting firm (potentially $900 million), but Iím sure Babar has other priorities for that when it comes in.

Author

GDIModerate

Date

2005-05-17T08:49:50-06:00
ID

137968

Comment

So no taxes, no fees, no windfalls. Strike three. The pool doesnít even look like a puddle. What do we do? Isnít it obvious? Cut the administrative fat in education, says Babar. OK. Exactly what fat? An American School Board Journal special report, ìEducation Vital Signs 2005î (February 2005, http://www.asbj.com/evs/), shows that Mississippiís per pupil administrative expenditures ($296) are far below the rest of the country. In fact, only three states spend less per pupil on administration: Tennessee ($295), Arizona ($290), and Utah ($281). In Mississippi less than 6% of per pupil expenditures (1999-2000, already one of the lowest) are spent on all administration costs (supplies and salaries). Or did he mean consolidate school districts? Granted there are some districts that are so small that anyone can see they are unnecessary. But that is an exception to the rule. While education research and even the federal government support the idea of smaller schools (necessarily increasing administrative support by increasing numbers of individual schools), Babar wants to swim against the tide. Babar wants to move school boards further from the parents and students by giving them oversight to larger and larger jurisdictions. Then there is the whole question of how and what to consolidate? And what costs will be seen in that consolidation effort? And in the midst of all this, the media continues its fascination with the idea of Babar ascending to national politics! Column from AP writer Emily Wagster Pettus in todayís Clarion-Ledger: [quote] Then there's the bigger question of whether Barbour has his eyes on the ultimate political prize ó the presidency of the United StatesÖ There's also been talk that Barbour could be considered as a running mate if, say, former New York Mayor Rudolph Giuliani were the GOP's presidential nomineeÖ [/quote] With still no mention of his low approval ratings. His actions on education should be tied to him like a tin can on a catís tail. The Clarion-Ledger is becoming Babarís ìFox News.î Rant over. As you were.

Author

GDIModerate

Date

2005-05-17T08:51:27-06:00
ID

137969

Comment

Here we go again. Babar has a new priority for the Special Session. Nope, it still isn't education or the state's budget. Babar wants the legislature to act on the newly written, knee-jerk reaction to Hood's latest, the "Open Lawyer Fees Act ." Unbelievable! This wasn't even an issue in the regular session but now it's a priority more important that budgetary matters? While I don't have a problem with the legislation as it's being described (the act would require the House and Senate judiciary committees to review proposed contracts when attorneys fees exceed $1 million) other than slowing down initial litigation, is it really worth being part of the special session while k-12 and higher education is waiting and waiting and waiting for some word on funding? Priorities, priorities, who's got the priorities?

Author

GDIModerate

Date

2005-05-18T07:46:11-06:00
ID

137970

Comment

Great letter to the editor in the C-L today showing the real percentage of state expenditures education -- 18% versus the governors propoganda of 62%. (i.e., General Fund vs. total expenditures)

Author

GDIModerate

Date

2005-05-19T07:22:25-06:00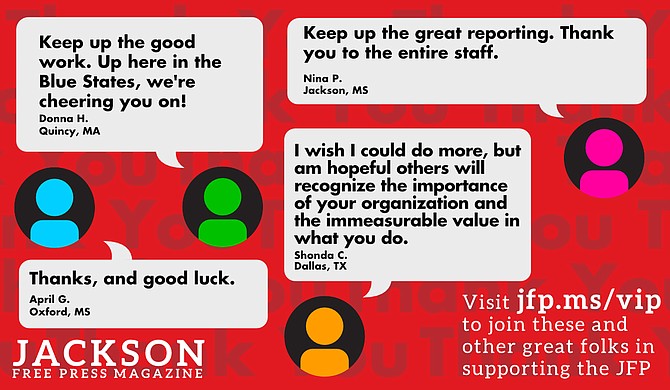 Thanks to all our new JFP VIPs!
COVID-19 has closed down the main sources of the JFP's revenue -- concerts, festivals, fundraisers, restaurants and bars. If everyone reading this article gives $5 or more, we should be able to continue publishing through the crisis. Please pay what you can to keep us reporting and publishing.