Charles Evers and I hit it off immediately the first time we met. We, after all, both have Neshoba County roots. My Daddy, it seems, used to drive him around in a taxi back when he did radio there. We have a common hero—his brother, Medgar. We both opposed the Iraqi War, as he wrote about in the JFP the week the war started. We both spent a fun evening at Jubilee! Jam chasing down Bob Dylan so he could thank him for a song he wrote for Medgar back in the '60s.
But, often, Mr. Evers and I disagree.
Sometimes I do his radio show, and we're chatting up a storm when he goes into a diatribe about the death penalty, or the "lock-'em-up" approach to crime that he believes in so strongly. I frown at him, and he usually changes the subject back to something we can agree about. He is a Republican, and I'm, well, not. But we respect each other's right to think differently.
This week, though, I think Mr. Evers is dramatically wrong. He, and other black Republicans including mayoral candidate Rick Whitlow, held a press conference at the capitol to call for DNC Chairman Howard Dean's resignation. As Casey Parks explains on page 12, Evers and the other Republicans chose a comment Dean made weeks ago that drew a standing ovation from members of the DNC's Black Caucus. He said: "You think the Republicans could get this many people of color in a single room? Only if they had the hotel staff in there."
I admit at first glance, the last part of that quip gave me pause, much in the same way that jokes in "Barber Shop" might. Race-tinged humor is tough, especially with our history. And I can't help but feel empathy for any of the black hotel staffers that might have heard Dean make that comment. I go to many upscale events where the well-heeded attendees, of whatever race, barely acknowledge the presence of the staff, of whatever race. And I've been the staff in the past. These days, I spend much of my time networking with the bartenders and waiters while the partygoers are off bidding on art I can't afford. And I know the staffers are my readers, too.
So, at first glance, I can see Mr. Evers' point about those words potentially being painful. But, as both Howard Dean and the president of the Jackson State Democrats told Casey this week, the truth can hurt. And sometimes it needs to.
Truth is, the current Republican Party does little to help the African American community in this country, and in this state in particular, achieve the economic parity and access to opportunity that it needs to overcome centuries of oppression and laws designed to keep them down. The truth is also that the Democratic Party, as we've known it of late, hasn't done a whole helluva lot for them, either. The Clinton administration, for instance—headed by a man many people call the country's "first black president"—kowtowed to the right and passed harmful welfare reform and other policies that disparately impact communities of color. New Democrats were too busy trying to be faux-Republicans to be in solidarity with the poor of any race. That's why I refuse to call myself a Democrat, either.
To win people like me, and a whole lot of other "independents" back, the Democratic Party (or GOP, for that matter) has to re-invent itself. It has to reject stupid "conventional wisdom" that states like Mississippi cannot be progressive—even as Republican ideologues like Haley Barbour try to rip apart every attempt at equality and equity and opportunity we've tried to put into place since 1970, when Jim Crow officially ended here with forced school integration. It has to reject the idea that young people here are going to vote "just like their parents" and not care about their own interests—whether in staying out of a stupid war or having access to student loans. It has to reject the belief that young blacks aren't going to vote anyway, so why bother trying to talk to them. It also has to take some chance and risk offending people whether they're pointing out tragic truths about the Republican Party's racial make-up or the fact that many guys who drive pick-up trucks and wave Confederate flags are not benefited by top-down, Republican "borrow and spend" policies.
Thus, I have hope for—if not absolute faith in—Howard Dean's leadership and willingness to get it wrong along the way to getting it right. At least he's trying. I wrote a national column defending him back when his Democratic presidential opponents from Al Sharpton to John Edwards to John Kerry lambasted his effort to get past the conventional wisdom, and talk to both members of the NAACP and the NRA in the same breath. They said he was embracing "racially divisive symbols," and other sound-bite rhetoric.
No, what Dean was doing is what we all need to try to do—talk about the difficult barriers that stand between Americans like mute elephants in the room. Talking about race isn't easy, but it's necessary. And we may mess up along the way. We talk about race openly here at the JFP; sometimes someone says the wrong thing. But we try not to then toss that baby out with the bathwater; we try to then instead talk about why something was insensitive. Or why it wasn't meant to be. And we joke a lot along the way. Either you want straight talk, or you don't.
As you'll see in Casey's story, we're also dealing with a generational issue. With all due respect to my friend Charles Evers, many younger people are more willing to laugh at a ridiculous characterization of the truth; just witness the generation gap in response to the clever-but-unpleasant jokes in "Barber Shop." Many younger people believe that we must laugh along the way to reconciliation, and that blacks and whites and other races can chuckle together as long as the intentions are good.
I believe Howard Dean's intentions are good and deserve a chance. If he says something wrong every so often because he comes from a lily-white state, fine, tell him. But unlike former Rep. David Bowen, who said recently that blacks shouldn't even try to talk about hot-button issues like segregation and affirmative action, Dean is out there saying, "Bring it on." Good for him.
Previous Comments
ID

69729

Comment

before I go read Casey's column, let me be first to say - good words here! I too have hope if not absolute faith; Dean is a bit of a fiscal conservative etc, a few flaws.and yes he comes from a lily white state. not his fault, I am some may know come from Minnesota, equally lily. well, more shades there, can I say that?? see, it makes me nervous, we all are still working on this. Minnesota has lots of Asian, and Hispanic and blended.. back to Dean, so many young people responsed to him, and let's face it he's about all we've got. Well, Russ Feingold of WI and Pete , forget , of CA. and Cynthia,forget as well - these people are not even in the media! (remind me those names ..) (or I'll get back to y'all). hurray for Dean, we can work with him. I truly think so.

Author

sunshine

Date

2005-03-01T16:13:50-06:00
ID

69730

Comment

It's Cynthia McKinney. still need to find Pete...

Author

sunshine

Date

2005-03-01T16:22:15-06:00
ID

69731

Comment

fyi http://www.house.gov/mckinney/ Here's Cynthia M. 's website. she was the very brave one , as many know, against the WII (war in iraq) from the getgo. I think she lost an election and then won it back.

Author

sunshine

Date

2005-03-01T16:29:38-06:00
More like this story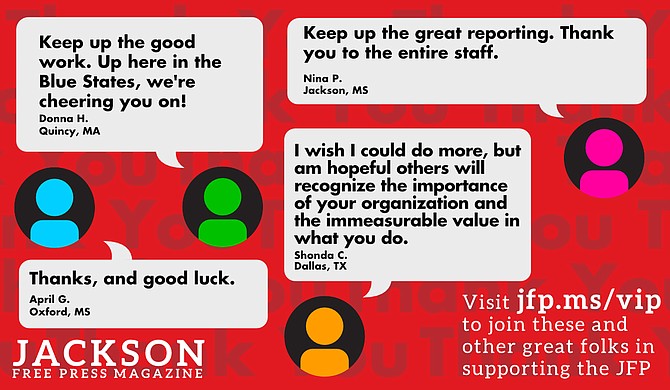 Thanks to all our new JFP VIPs!
COVID-19 has closed down the main sources of the JFP's revenue -- concerts, festivals, fundraisers, restaurants and bars. If everyone reading this article gives $5 or more, we should be able to continue publishing through the crisis. Please pay what you can to keep us reporting and publishing.