Please contact Natalie Collier (natalie at jacksonfreepress dotcom) if you're a female visual, musical or performance artist interested in donating performance or art to raise money to fight domestic violence during Chick Ball 2006. Details coming soon.
The 2005 JFP Chick Ball last night raised more than $3,000 for the Center for Violence Prevention. We will have a final total after all the art is paid for, and we will send the checks to the center early next week. Meantime, you can still donate in many ways; if you like to add a monetary donation to the JFP's envelope, make the check out to the Center for Violence Prevention and get to us by Tuesday (mail or drop off). Otherwise, the center suggests that you take items to be donated—such as clothing, lines, household items, etc.—to the Second Chance Thrift Store in Pearl (in the Bright Shopping Center, off North Bierdemann.) The proceeds benefit the center, and you can get a receipt there for your donation. Oh, and shop a bit while you're there!
[Original announcement starts here.] For only $5, you can see belly-dancing, buy art by women, hear girl rappers, take in some spoken word, check out fashion and listen to perhaps Jackson's youngest rockers at the first annual Jackson Free Press Chick Ball Thursday, June 9, from 6 p.m. To 1:30 a.m. in the Red Room at Hal & Mal's. Not only that, but the proceeds from the event will benefit the Center for Violence Prevention, a battered women's shelter in Pearl.For only $5, you can see belly-dancing, buy art by women, hear girl rappers, take in some spoken word, check out fashion and listen to perhaps Jackson's youngest rockers at the first annual Jackson Free Press Chick Ball Thursday, June 9, from 6 p.m. To 1:30 a.m. in the Red Room at Hal & Mal's. Not only that, but the proceeds from the event will benefit the Center for Violence Prevention, a battered women's shelter in Pearl.
The Chick Ball's early acts will be the laid-back music of Natalie Long and Pryor Graeber, leading to a much-anticipated performance by Laurel Isbister at 7:30 p.m., with Bet, 8, and Emma,6, McNeel sitting in on guitar and drums, respectively. Jazzwoman Rhonda Richmond will join Isbister for the second half of her performance. The night will culimnate with the raps and rhymes of emcee Rachel "The Black Pearl" James at 11 p.m. Then chick dance music will be by DJ Donna Ladd, who the JFP interns have dubbed The Donna, much to her chagrin.
Many local businesses are providing door prizes, as is Sweet Potato Queen Jill Conner Browne. Men and women over 18 are invited to attend and encouraged to dress however they think they should for a Chick Ballחeverything from Jimmy Choos to Birkenstocks, boas to are welcome!
Musical Line-up
6:00 Natalie Long
6:30 Pryor Graeber
7:15 E&M Fashion show
7:45 Laurel Isbister with Bet, 8, on guitar, and Emma McNeel, 6
8:15 Rhonda Richmond and Laurel Isbister
8:45 A Bellydance performance by Kristina & the MissiHippy
Dancers"
9:15 MC Soul
9:45 Wooden Finger
10:30 Teneia Sanders
11:00 Deja
11:30 MC Rachel James (The Black Pearl)
12:00 DJ Donna Ladd
In the Big Room all evening: art auction and a line-up of female spoken-word poets.
Spoken Word Line-Up (in Big Room with Art Auction)
7 p.m. - Ellie Williams
8 p.m. - Edwina Culley (Poetry July)
9 p.m. - Skyla Dawn Luckey
10 p.m. - Thabi Moyo
11 p.m. - Kenyatta Pratt (Ya Ya)
12 a.m. - Latori (Regal)
Visual artists donating for the auction include:
H.C. Porter
Cleta Ellington
Ginger Williams
Thabi Moyo
Ellen Langford
KC Williams
Rebekah Potter
Tina Brooks
Pryor Graeber
Lynette Hanson
Michelle Campbell
Kristina Rabarison
Lesley Silver
Holly Perkins
George Ann McCullough
Susan Margaret Barrett
Donna Ladd
Rose Casano (donated antique beaded purse)
Art Auction will cut off at 11 p.m.
Door Prizes are provided by the following:
House of Brews - $10 gift certificate
Video Cafe - gift certificates
Video Library - gift certificate
New Vibrations - large candle and inspiration photo
The Nail Gallery - 3 $20 gift certificates
Book: Life Coaching Sessions
Amerigo - $50 gift certificate
Broad Street - gift certificate
Cups - exotic teas
High Noon Cafe - gift certificates
Hal & Mals - Bible Belt buckle and Comeback dressing
Jackson Free Press - Free Marketplace/Classified ads
JoAnne Prichard Morris - Copy of Willie Morris' "Ghosts of Mississippi"
Rock 93.9 - "Velvet Revolver" CD, t-shirt
Z106 - Various prizes
Jill Conner Browne - Revirginator and Panty Remover Margarita Mix, copy of "God Save the Sweet Potato Queens"
Oh, and the dress, as any good chick would want to know. Girl, you can wear sequins or your tightest jeans, Birkenstocks or your spikiest heels, your boas or your bermudas. Do it up, girlfriends. This is your night. Oh, and guys can come, too.
Swetha Regunathan is the primary organizer, along with Casey Parks. E-mail them at [e-mail missing], or call them at 362.6121 ext. 2.
Thanks all! We'll see you at Jackson's first Chick Ball! You just can't miss this one.
Previous Comments
ID

141115

Comment

BTW, there will be $1.75 Miller Lite longnecks all night long!

Author

DonnaLadd

Date

2005-06-07T22:36:22-06:00
ID

141116

Comment

all i want to know is.... what time does dj donna ladd start? -dent

Author

patrick

Date

2005-06-08T19:53:01-06:00
ID

141117

Comment

Should anyone stick around for that part, I'm scheduled to start at midnight and go until 1:30. However, I may play a short set or two early if there are any gaps. I was just at the loft laying my hands on vinyl again, so maybe there's hope after all, although I make not a promise. And I pulled some of my old remixes out of storage tonight, so there will definitely be chick dance music. Just don't expect any music from the 21st century this time around. If it ain't vinyl, I don't touch it. Long-time rule. Come on out, Dent, and join us.

Author

DonnaLadd

Date

2005-06-08T22:21:10-06:00
ID

141118

Comment

I'll be looking forward to this.!! See you there. fp!

Author

Federica H-P

Date

2005-06-08T22:55:16-06:00
ID

141119

Comment

See you there, girl. Also, all you women out there, get yourself a group of folks together and come on out after work or anytime during the night. This is truly a girls-night out, with guys invited, too. So it works well both ways! There's a lot of energy over this event; you can't miss it. Please join us. And the door prizes are great, so donate the full $10 if you can, but no shame if you can't. Come out and support the cause and great woman artists. If you haven't figured it out, yet, we're determined to make the Jackson music scene as great for women artists as for male. Thursday night's a great start.

Author

DonnaLadd

Date

2005-06-08T23:01:16-06:00
ID

141120

Comment

Another perk of the Chick Ball: John Lawrence will be in the house selling $10 daily tickets to Jubilee! JAM.

Author

DonnaLadd

Date

2005-06-08T23:03:30-06:00
ID

141121

Comment

I'm very excited about this. At work we've pooled some of our resources together to donate various neccessities for the women's shelter. Needless to say this has spurred varied interest. Our girlfriend's Mommy group is coming to the benefit instead of their usual night out. thanks donna:)

Author

Federica H-P

Date

2005-06-08T23:06:28-06:00
ID

141122

Comment

No problem, Sweet Pea. We all do what we can do. And it sounds like y'all are doing great stuff. Can't wait to see you there. And I have to tell youóthere's some GREAT art for the auction. And really cool door prizes.

Author

DonnaLadd

Date

2005-06-08T23:17:59-06:00
ID

141123

Comment

Can't wait for tonight... what a great cause! Coming along with friends! Was waaay more excited b/f I knew men were coming though.... ;-)

Author

Jen

Date

2005-06-09T12:47:05-06:00
ID

141124

Comment

We like men, too. At least the good ones. ;-) Seriously, lots o' guys and chicks coming. The run-up is at a fevered pitch over here; art walking through the door, the phone ringing off the hook. It is really, really going to be a good time. How can it not? Bring it on, babe!

Author

DonnaLadd

Date

2005-06-09T12:55:01-06:00
ID

141125

Comment

OH, girl, it's done been brought-en. And yeah, yeah, we like the men folk too... just don't say it so loud... See ya tonight.

Author

Jen

Date

2005-06-09T13:08:14-06:00
ID

141126

Comment

What a GREAT event last night all! Thanks to everyone who made it such a succuss. We're still tallying the take, and I'll let y'all know what we raised shortly. Big fun, so much talent and (compassion), such a diverse turnout. Thank you, thank you, thank you. It's nights like last night that really remind me how much I love Jackson and its people. Y'all rock, Chick or not. Next issue, I plan to include a thank-you ad in the JFP listing all the people who donated prizes and helped in some way. They didn't all get included in the list or in the last ad because so many changes were happening up to the last minute. (We had people showing up and donating prizes last night!). One favor I ask: When you see the full list (and those above), please thank the people who participating and, if they're a local business, give them some business. These are the people that make Jackson the special, unique place that it is. Our most selfless people are always our local business owners, it seems, and our individual artists working so hard to both get their work recognized -- and to help people in need like last night. So please do not be shy--walk up to the business owner or the musician and just say, "Thank you for helping with the Chick Ball, and supporting such a vital cause." We also plan to post more info about how you can donate not only money, but items that the shelter needs. Keep an eye on the site for that as well. Again, cheers to you all. We're dazed and tired here, but it was so worth it. Also, allow me to thank our staff and interns here. If there is a harder-working, more dedicated group of young people to making our community a better place for everyone, I have never known them. They amaze me every single day. There is not a call to duty that they will not go beyond. Special props for last night go to Swetha, Casey, Jakob, Stephen, Thabi, Kit, Jessica, Walker, Skyla, Lynette, Catherine, Adam -- and Emily for that amazing Chick column this week that makes the domestic-violence issue so real. (Did I miss anyone? Ya'll rock.) And, as always, a huge shout-out to Charly, Marianne and Hal & Mal's for everything they do for the community and for letting us take over their joint and run them ragged whenever we want. Cheers. Finally, yes, the Chick Ball will return next year -- even bigger and better than this one, we hope! We already have new people voluntering to help. ;-D

Author

DonnaLadd

Date

2005-06-10T12:03:16-06:00
ID

141127

Comment

:) Those two little girls singing, "I don't want to get out of bed today" rock. That was a special moment for me to walk into...standing next to the table with the info on the Center for Violence Prevention, and then these two school-age girls just singing and playing like they want with no fear. That's the way little girls should live....without fear. And if I didn't love the belly dancers so much, I would be envious. GREAT idea, and I look forward to another one next year too.

Author

emilyb

Date

2005-06-12T06:42:24-06:00
ID

141128

Comment

You too can learn to move like a bellydancer.... Count the MissiHIPPY Dancers in for next year! We all had the best time! This event struck a chord for me as a bellydancer since so often what I do is misinterpreted. That's why I never perform without a bodyguard /chaperone present - just in case. Bellydance celebrates a womans power and her curves. THANKS JFP for a great event. Kristina director The MissiHIPPY Dancers

Author

Kristina

Date

2005-06-12T16:57:45-06:00
ID

141129

Comment

I loved the belly dancers! You were great! and the crowd agreed...

Author

Izzy

Date

2005-06-13T10:44:01-06:00
ID

141130

Comment

Will there be Photos posted in the Gallery soon for this event? (I hope)

Author

Kristina

Date

2005-06-13T12:10:32-06:00
ID

141131

Comment

hey you guys!!! i'm so sorry i was scheduled to perform(this is YaYa) but I honestly got the biggest headache at a performance at Santiago's beforehand and I went home. I've been hearing so much about it and I really hate that I missed it. Sorry Thabi I still love you anyway. I hope I am invited to next years Chic Ball!!! Love you guys at JFP. Keep doing what you're doing. You guys rock!

Author

yaya

Date

2005-06-17T01:16:25-06:00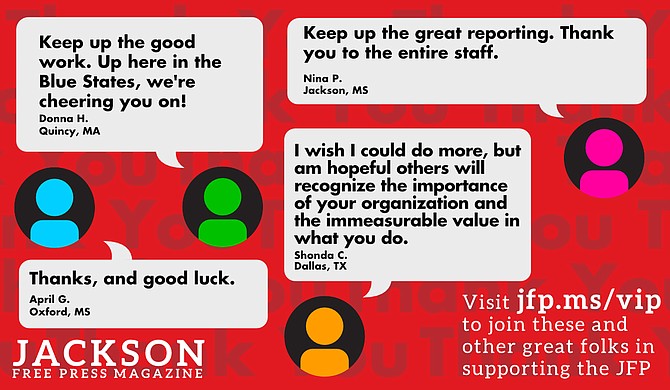 Thanks to all our new JFP VIPs!
COVID-19 has closed down the main sources of the JFP's revenue -- concerts, festivals, fundraisers, restaurants and bars. If everyone reading this article gives $5 or more, we should be able to continue publishing through the crisis. Please pay what you can to keep us reporting and publishing.