Remember that today is Election Day! You can vote from 7 a.m. to 7 p.m. in your usual polling places. For vital candidate and voting information about Jackson races, read the JFP's Election Blog. Also, the JFP's Truth Watch site will remain past the elections and take on an expanded role to factcheck statements made by public officials and media outlets. Bookmark it today!
Previous Comments
ID

119838

Comment

I know this is the Jackson Free Press, but since the metro area includes a wide group of towns and small cities, people who commute etc., can I just add - everyone everywhere vote! Vicksburg has an interesting mayoral race - four candidates. Also good candidates for the alderpersons. There's lots of concern in general about electronic voting but we do have PAPER BALLOTS in Vicksburg - I think that's a good thing. Voting seems almost archaic these days, with all the media influence, and money influence. But in the meantime, we just do have to show up.

Author

sunshine

Date

2005-06-07T14:25:33-06:00
ID

119839

Comment

p.s. oops, did I say "media influence?" well, this is media, so how can we re-phrase that? and " money influence" - some of us have contributed to ..various places. so, is it Big Media? Big Money? Is voting in Iraq these days the same thing as here? Showing up is all we can do for now.

Author

sunshine

Date

2005-06-07T14:52:07-06:00
ID

119840

Comment

seems the results so far are: Melton 89% Witlow 11%

Author

jp!

Date

2005-06-07T21:51:19-06:00
ID

119841

Comment

as for the low turnout, that always happens when the race is already over.

Author

jp!

Date

2005-06-07T22:21:00-06:00
ID

119842

Comment

Thanks, jp! As of 9:35 p.m., which is about when we got in and starting looking for returns, The Clarion-Ledger was reporting those percentages. Even more interesting were the actual turnout numbers: Frank Melton (DEM) 24594 88.685% Rick Whitlow (REP) 3138 11.315% Total 27732 (93 Of 94 Precincts Reporting) It sounds like the overriding question out of the primary and election is what are we going to do to get more people engaged in city elections? I don't quite buy the "conventional wisdom" of that it happens when the race is "already over." The real question, in this election, was why the turnout was so low in the primaryóbetter than tonight, but not considerably. Sure, you could argue, and many do, that neither candidate excited most Jacksonians with their ideas, but there is more that can be done. And it is our civic duty to figure out WHY they didn't excite them and work on ways to change that in the future. Good enough is never good enough. And, hopefully, the media are taking a long, hard look at their role in that. That Sunday Ledger story indicated that there is navel-gazing going on (as does all the obsession around town over the "alts"; we've had exactly the impact we'd hoped in that respectóto wake people up out of their stupor). Hopefully, the public will just get the defensive part from the media (like the Ledger) and some actual real discussion over the perils of "horse race" journalism will go on inside these newsrooms. The media should be part of the solution, not the problem as they have been so strongly here. We shall see. Interesting times ahead!

Author

DonnaLadd

Date

2005-06-07T22:29:00-06:00
ID

119843

Comment

When I voted in the primary, I was something like #400 at about 2:30pm; today, I was something like #250 at almost 4:00pm. So turnout was way down in the general, probably in large part because everyone assumed (correctly, as it turned out) that it would be a slam-dunk for Melton. I think before too much is made of low turnout, some comparisons need to be made with prior municipal elections. Or maybe they have been, but my vague impression is that the primary turnout was actually much higher than it was in 2001. And low turnout or no, 88-12 is a staggering landslide. Whitlow never had a chance. Which is a shame, because he was a really good candidate; over on the Other Blog, there's discussion that Melton is going to bring Whitlow into his administration in some capacity. Can't say I'd mind if he does. Why didn't more people turn out? Well, to be honest, it wasn't a very exciting election for those of us who hadn't been watching it like hawks. How I would have spiced things up... If I worked for the Johnson campaign: Start talking about crime even before Melton does. Campaign commercial profiles Chief Moore as some kind of crime-fighting savant, with statistics floating around the screen. Blinding success. Bring us back to take care of the rest of the bad guys. I still don't know why Johnson's commercial barely mentioned crime, while ranting about "the privileged and the powerful" wanting to take Jackson back. What was that supposed to accomplish? His second commercial, focusing on crime, was brilliant. If it had been his first commercial, we might be talking about Johnson's third term right now. If I worked for the Melton campaign: I have proven myself to be completely unqualified to judge the Melton campaign. I said it was lousy, and he won both the primary and general election by astonishing margins--and I even voted for him in the latter. That said, fewer hotheaded moments and more policy specifics would have been nice, as would a JFP interview. If I worked for the Whitlow campaign: He should have started campaigning earlier, rather than waiting for the primary to end. Because Melton was running as a Democrat, he could have positioned himself as the true reform candidate running against two Democrats, suggesting that they have divergent rhetoric but would actually have identical agendas. I've criticized the mainstream media, and let's face it: Their coverage was terrible. But the more I think about it, the more I find myself believing that the terrible coverage had less to do with any anti-Johnson bias than it had to do with a desire to produce entertaining stories rather than substantive ones. More entertaining campaigns would have translated into more detailed coverage, I have to believe. Low turnout can't just be the media's fault--it shows a widespread sense of boredom with city politics that might be more reflected in the media than created by it. Cheers, TH

Author

Tom Head

Date

2005-06-07T23:39:38-06:00
ID

119844

Comment

i bet you witlow would have doubled his numbers if he'd run in the primary instead of the general. he's actually a pretty nice guy, but whomever he's listening to in this race steered him wrong. i'd wager it's been over a century since this city had a high turnout, general election. no, of course, donna may mean turnout relative to populace compared to elections in our recent past, and i'd like to see the numbers there (she'd likely be right). HOWEVER, there's not a lot of motivation to vote in a general (never has been) when public sentiment is THAT lopsided.

Author

jp!

Date

2005-06-08T06:43:19-06:00
ID

119845

Comment

You have to wonder if the city beat reporters are actually trying to do a good job of investigative journalism, and that their editiors are telling them not to report "that" and report "this" instead? Or are they really that shallow to think we only need some surface information about an issue or person? Unless it is a crime story!

Author

tortoise

Date

2005-06-08T08:19:19-06:00
ID

119846

Comment

Their coverage was terrible. But the more I think about it, the more I find myself believing that the terrible coverage had less to do with any anti-Johnson bias than it had to do with a desire to produce entertaining stories rather than substantive ones. Tom, I think there was both anti-Johnson bias and pure sensationalization in the coverage. And bear in mind that "bias" results from sensationalistic spinóthus, the anti-Johnson bias as much as anything likely resulted from the poor coverage. Think about it: Non-substantive coverage benefits non-substantive candidates just by its very nature whether or not they set out to. This points to a huge problem with pretending to be "objective" (which is the best media can do on that front): Media then has to go to great lengths to "balance" two candidates for instanceóif one is weak on substance, then this model makes them both "equal" for media consumption. The model is under fire in media academe right now, especially since the current GOP (and Karl Rove and Haley Barbour) have used this strategy to such disturbing ends (WMD myth). Your "reflected by the media" point is the one that corporate media LOVE to use as an excuse. However, it's really only true to a point, and all the research is showing it. A big study showed that during the '90s, for instance, network coverage of crime and violence went up 700+ percent, even as crime dropped precipitously during good economic times. And there has never been a respected journalistic creed that says that media should cover just the info-tainment that the public salivates over the most. We don't get extra protections in the First Amendment to facilitate sensationalism. We're supposed to facilitate truth and knowledge-gathering. And we're certainly not there to rubberstamp sound bites on behalf of politicians, any politician. Of course, the corporates haven't gotten that memo; when your main priority is the profit margin, then you buy into crime hysteria even when the home office in Virginia has warned that overplaying crime "perception" is not good commuinity journalism. The question now, of course, is whether The Clarion-Ledger coverage is going to treat Mr. Melton as unfairly as it did Mr. Johnson. Or will they bend over backward to ensure that their coverage hasn't been skewed (and editorials wrong), as they have done with "perception-gate" and tort-reform hysteria. Only time will tell.

Author

DonnaLadd

Date

2005-06-08T08:19:21-06:00
ID

119847

Comment

This is from their editorial today: The first order of business for Melton should be, as he promised, to fight crime ó decisively. The city needs to dramatically change the perception and reality of crime and if Melton can do this, he will be a much-lauded leader. Success would do much to invite investment, broaden the tax base, promote more residential development, increase property values, help stem if not reverse flight, and return the city as the bustling hub of the state. The caution is that forceful slogans and even dynamic actions will not alone accomplish the aim of progress. Long-term deliberative planning, as Johnson epitomized, remains essential. And Melton should be routinely reminded that he promised after the primary: "We're going to piggyback off of where he (Johnson) left off." It seems that the shfit in tone has begun. Note that Johnson was guilt of "slow" decision-making before Election Day and today suddenly is "deliberative," which is now desired.

Author

DonnaLadd

Date

2005-06-08T08:19:37-06:00
ID

119848

Comment

I have a feeling the editors are involved in these decisions, especially on the Metro desk. Just a hunch.

Author

DonnaLadd

Date

2005-06-08T08:20:29-06:00
ID

119849

Comment

i have to wonder if the news media even CARES about this race the coverage was so bad locally. it is a lack of concern or competence issue--i fee--one of the two.

Author

jp!

Date

2005-06-08T08:41:42-06:00
ID

119850

Comment

The remarks about Johnson in todayís C-L editorial juxtaposed by recent attacks from the same paper/people clearly show the careless nature of their style and/or the paperís focus on a particular audience, Iím not sure which. Sometimes I feel like Iím reading the rantings of a schizophrenic rather than people who are supposed to be trained journalists. So now there is indeed a tangible ìperceptionî of crime that needs to be changed along with the reality? A little off the subject, but a burning question of mine: Who over at the C-L decides what is newsworthy and what is not? I would really like to know!

Author

thabian

Date

2005-06-08T10:11:49-06:00
ID

119851

Comment

So now there is indeed a tangible ìperceptionî of crime that needs to be changed along with the reality? They've been working toward changing this tune for a while if you follow Perception-Gate as closely as we have (not recommended ). After exploding the whole perception story in early 2003, they've little by little admitted that, well, maybe "perception" of crime is a problem, too. But the tactic has been recently to say: well, who can fix the perception the best? And you're rightóit's intriguing that the editorial the day after the mayoral election just comes out and says it. Ridiculously predictable timing. Of course, they don't admit their own role in building up the "perception" in the first place with sensationalistic coverage -- and they don't acknowledge that the media is usually the No. 1 culprit in overblown crime perception. Which, to take us full circle, is what the current administration has been trying to point out to them all along. And they were right, even if they bumbled the way they communicated it. But, to be fair to the administration, they were talking to a brick wall. There was no willingness, that I could see, for the lamestreams to pay any attention to the scholarship behind the "perception" issues. It's as if they don't even know how to Google for background. Truth is, a journalistic corporation as big as Gannett should (and do from their own Web site) know this, and should lead the broadcast media in balancing the coverage. But, oh, those profit margins, lest we forget.

Author

DonnaLadd

Date

2005-06-08T10:40:44-06:00
ID

119852

Comment

Well hopefully we can change all of that. Im running for mayor in 2009...if jackson lasts that long under Melton

Author

skipp

Date

2005-06-08T10:59:32-06:00
ID

119853

Comment

Hey, Skipp, glad you chimed in. I'd love to see you run for local office. Really. Think about something sooner than 2009. By the way, I saw the conversation between you and Mr. Melton about the recording studio on the tape of his M.A.P. appearance. You seemed skeptical then; how are you feeling about it since then?

Author

DonnaLadd

Date

2005-06-08T11:03:39-06:00
ID

119854

Comment

Even more so... too many questions need to be asked how and why? Is he inferring that rappers are criminals (i mean damn) then who runs the studio, who books time is this a personal or private enterprise do we have to bring our own engineers just too much going on i think the hiphop community sold the city for a studio

Author

skipp

Date

2005-06-08T12:38:56-06:00
ID

119855

Comment

Oh yeah your coverage and a conversation that i had with Whitlow was impressive I didnt (and dont) believe him but i think i can only disagree with his ideas and not his argument it makes perfect sense on paper

Author

skipp

Date

2005-06-08T12:40:33-06:00
ID

119856

Comment

BTW, all, has it been reported anywhere yet that Peyton Prospere will be the head of Melton's transition team?

Author

DonnaLadd

Date

2005-06-08T18:09:49-06:00
More like this story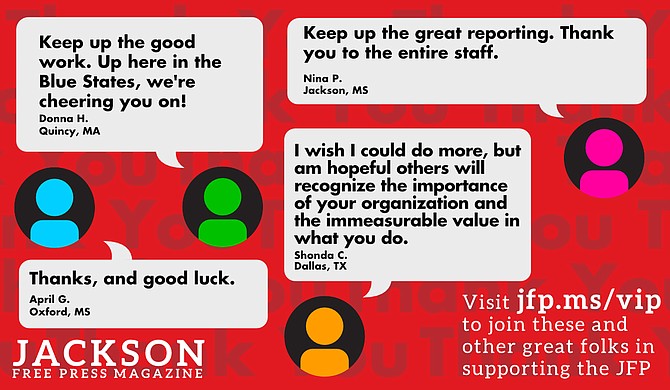 Thanks to all our new JFP VIPs!
COVID-19 has closed down the main sources of the JFP's revenue -- concerts, festivals, fundraisers, restaurants and bars. If everyone reading this article gives $5 or more, we should be able to continue publishing through the crisis. Please pay what you can to keep us reporting and publishing.