Thomas Moore got a dose of his home state that he could like last week. After the Jackson Free Press published a narrative of his visit back to Meadville and Jackson last week, his quest for justice for the Klan murders of his brother, Charles Moore, and friend Henry Dee, started gaining steam. JFP bloggers immediately began collecting money to buy new tombstones for both men's graves.
In addition, bloggers started volunteering to help with e-mail list servs, phone banks and other communication between Mississippians who want to band together to call for justice in the 41-year-old murder case.
"If Mississippians come out for prosecution for the deaths of these two black men, people will know Mississippi is changing," Thomas Moore said by phone from his home in Colorado Springs after reading the posts on the JFP Web site. Moore said he was honored that fellow Mississippi natives—of all races—were touched enough by his story to help memorialize his brother and to call for justice in the case.
Within days, the Associated Press had picked up the story (and JFP photographer Kate Medley's photos), meaning that by Sunday, at least 85 media outlets around the country—including The New York Times—were talking about Moore's journey for justice. Moore also got calls that Meadville residents were placing flowers by the sign he erected in he spot where the two men were last seen alive.
Moore was inspired by Edgar Ray Killen's conviction in Neshoba County. Moore and Dee's bodies were found during the search for the bodies of the three civil rights workers.
Thomas Moore drove with Canadian Broadcasting Corp. filmmaker David Ridgen from Colorado Springs and met up with a Jackson Free Press team on July 8 in the spot where Moore and Dee were last seen alive. CBC and the JFP then followed Moore throughout his visit to Mississippi, which included convincing U.S. Attorney Dunn Lampton—who was in Moore's Army infantry unit—to commit to forming a task force to re-investigate the case.
Moore grew up in a close-knit family consisting of his mother, Mazie, and brother, Charles. "I never thought about leaving (Mississippi)," Thomas said while standing in the Homochitto National Forest where his brother was beaten nearly to death with bean sticks, and then dumped into the Mississippi River. "Then I was drafted into Army, and then Charles Moore was killed."
The murder—and the fact that nothing was done about it—soured him on the state that he loved. "Then I knew I would never come back," he said, adding: "But I have a dream, a fantasy kind of dream, to retire, to move back to the old place (near Meadville), to raise me some peas. But there are too many bad memories. I have sweet memories of home, but bad memories about Charles Moore."
Moore has tried to recreate a slice of Mississippi in his Colorado Springs yard, despite a different climate, very dry air, a short growing season. He has four cabbage plants in his yard, and has tried to grow okra and even transplanted a small Magnolia tree back there once. It didn't make it.
But he has managed to create at least a feel of the old place with relics of the South: "I have a wagon wheel we used to ride to town on and wash pots mama used to boil water to wash clothes in." He also has an old red Western Flyer bicycle that Mazie bought him and Charles in 1958. "I have that bike hanging in my garage," Moore says.
Now, Moore is staying in touch with new supporters in Mississippi, hoping it will pay off with long-overdue prosecutions. He's not ready to move back just yet, though. "The death of Charles Eddie Moore changed me," he said. "What did it change me to be? I don't know. It didn't create hate for Caucasians, whites, Mississippi," he said. "I just want justice brought to the people who killed Charles Moore."
Read the narrative and donate to the memorial fund at jacksonfreepress.com.
Previous Comments
ID

64629

Comment

Thanks for this follow-up article. I love the idea of that red Western Flyer hanging up in his garage and the wagon wheel and wash pots. It's not the things so much as the memories they represent to the person who knows what was attached to them.

Author

C.W.

Date

2005-07-27T20:51:01-06:00
ID

64630

Comment

I'm slowly uploading some of the pictures I took on the trip on the listserv - which is now up and beginning to run a bit. Charles Moore's bicycle will feature prominently in the CBC documentary. We spent a lot of personal time with it. So personal that Thomas almost lost his head taking it off the wall.... I'll post a shot or two of the bike right now on the List. David Ridgen Toronto

Author

David Ridgen

Date

2005-07-28T14:49:48-06:00
ID

64631

Comment

Thanks, David! Photos of the bike would be very special, as well as any photos of the Colorado Springs and Alabama book ends that we weren't along for. That really helps complete the narrative. And, C.W., I did this follow-up as much as anything to get those details in there. I simply didn't have room in the original -- but they will be in the version that is going to run in Colorado Springs next week.

Author

DonnaLadd

Date

2005-07-28T14:55:01-06:00
ID

64632

Comment

David, I don't see a photo album available on the list. Is it perhaps set to moderator only viewing? Donna, I loved the follow-up, and really it was a bit different kind of piece than the other one. What paper is this going to run in in Colorado Springs? I assume you'll post a link in here.

Author

C.W.

Date

2005-07-28T19:52:02-06:00
ID

64633

Comment

I will post the link to that story, C.W., when it's up. Also, Kate is planning to do a photo gallery about journey with Thomas on our site as well. She just needed to see which photos other media were going to need first. I'll post that when it's up as well. I assume everyone has seen her Killen trial gallery? Nice work.

Author

DonnaLadd

Date

2005-07-29T08:26:39-06:00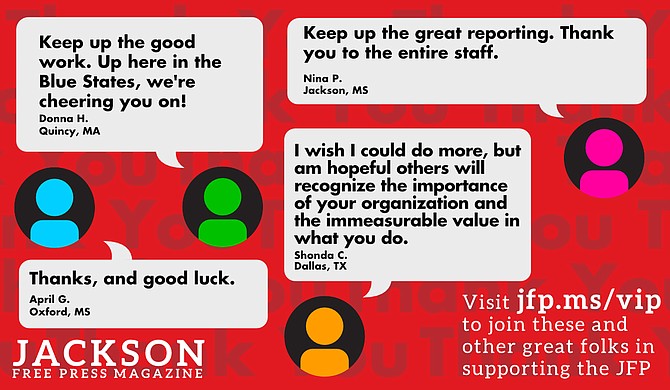 Thanks to all our new JFP VIPs!
COVID-19 has closed down the main sources of the JFP's revenue -- concerts, festivals, fundraisers, restaurants and bars. If everyone reading this article gives $5 or more, we should be able to continue publishing through the crisis. Please pay what you can to keep us reporting and publishing.