Salon's Joe Conason takes on Karl Rove for his latest trick to divide America. Rove ignited a firestorm when he said recently:
"Conservatives saw the savagery of 9/11 and the attacks and prepared for war; liberals saw the savagery of the 9/11 attacks and wanted to prepare indictments and offer therapy and understanding for our attackers," Rove said.
Conason responds that Rove is employing McCarthy-esque tactics to obscure Bush's poor record:
The other night Rove lied about the liberal reaction to the Sept. 11 attacks and again exploited patriotism for narrow partisan advantage in a time of war. He seeks to divert public opinion from the failures of the Bush administration by suppressing dissent, stigmatizing "liberals" and returning to the same old tactics that the Republican far right has used ever since the McCarthy era.
Thoughts?
Previous Comments
ID

87279

Comment

I think it's time to send the kids on both sides of the fence to their corners if they can't behave. I'm not impressed by either sides response to anything ince 9/11, and frankly they can all go rot.

Author

Ironghost

Date

2005-06-27T11:11:45-06:00
ID

87280

Comment

What have these people[our government] been doing in our names?

Author

El Canario

Date

2005-06-27T13:25:43-06:00
ID

87281

Comment

The scary thing: My mom (and her whole age group - 60ish) is totally suckered by this crap. We can't even talk about politics. People in her age group somehow feel secure by the actions of our government. They have lost their ability to question because questioning the status quo scares them.

Author

Steph

Date

2005-06-27T13:35:08-06:00
ID

87282

Comment

Now thatís REEEEEEEEEEEEEEEED MEAT!!!!! Lotís of people can save a weeks worth of groceries now that theyíve had their fill, thatís for sure. [sarcastic caricature] I can hear Rush Limbaugh or Michael Savage suing for copyright infringement now!!!! (it certainly sounds like something they'd say verbatim) Nah, no suits! They'd probably be flattered at it. [/sarcastic caricature]

Author

Philip

Date

2005-06-27T14:41:48-06:00
ID

87283

Comment

Both sides are extremely guilty of making absurd statements and comparisons about each other. I'm fed up with both! Sorry, Gitmo is not comparable to Nazi camps, nor are the liberals saying let the terrorists walk all over us as Rove implied. However, an extreme element of the left is saying that - MoveOn had a statement, at one time right after 911, calling for calm and reason not war after 911. As did some other proponents of the "left." (we could spend hours ping ponging what people said or advocated) However, if you go to their site now you see a really big gap in their press releases from April 2001 to Dec. 2002! What happen to all their comments on the 911 attacks - not even one press release available? Hmmm? On the other hand, an extreme element of the right is trying to take away many of our civil liberties, trying to put "God" into everything, and legislating morals. Those of us in the middle of this storm have little to no shelter from their drama. It sux! I know the "great moderate" is a negative term; but, we need a "great" something to balance out the crap from both sides and lead the country in a patriotic, fair, open-minded way while casting aside the ploys of the "left" and "right." Let them keep looking like buttheads until one day a candidate can capture the true ilk of America and truly be called an Independent!

Author

tortoise

Date

2005-06-27T15:07:38-06:00
ID

87284

Comment

right on, tortoise!!!!

Author

Steph

Date

2005-06-27T15:12:04-06:00
ID

87285

Comment

Unfortunately, that's not all Rove lies about. See: White House Won't Comment on Rove, Leak - http://apnews.myway.com/article/20050712/D8B9IEJ01.html Big news tomorrow and the next and the next.

Author

dustin

Date

2005-07-12T02:15:13-06:00
ID

87286

Comment

"The White House promised if anyone was involved in the Valerie Plame affair, they would no longer be in this administration," What's that I hear? Wow! It's the sound of Karl Rove going down in flames........

Author

El Canario

Date

2005-07-12T08:53:50-06:00
ID

87287

Comment

Nah, the far right has already come up with reasons Rove didn't really break the law, and won't be fired.

Author

Ironghost

Date

2005-07-12T11:27:32-06:00
ID

87288

Comment

No, I think he's going down. They'll stand firm for a while, but if the Media continue to press the issue, President Bush and his people will be ducking behind bushes trying to avoid Rove before it's all said and done. You know, kind of like those local Philadelphia lawyers did during the Killen trial.

Author

El Canario

Date

2005-07-12T11:58:14-06:00
ID

87289

Comment

The expression on Bush's face when asked by reporters rather he would fire Rove.....priceless! :-)

Author

K RHODES

Date

2005-07-12T12:24:11-06:00
ID

87290

Comment

Bush would be absolutely lost without Rove. Back to mumbling behind the microphone.

Author

dustin

Date

2005-07-12T12:25:56-06:00
ID

87291

Comment

Dick Cheney: "Our military is confronting the terrorists, along with our allies, in Iraq and Afghanistan so that innocent civilians will not have to confront terrorist violence in Washington or London or anywhere else in the world." That was Before London's largest terrorist incident. Currently we have a force in Afganistan that's approximately 8% of the size of our Iraqi force. WHY do you think we attacked the wrong country? Rove wants to blur whatever lines he needs to justify the wrong war at the wrong time. There's nothing wrong with going after Saddam...we just can't afford to do it in the dumbest way possible in lieu of attacking those who attacked us. too much cowardace to fight to protect their country 35 years ago and not much different now.

Author

jp!

Date

2005-07-12T12:28:45-06:00
ID

87292

Comment

Q. What is the difference between Iraq and Vietnam ? A. Bush knew how to get out of Vietnam

Author

Steph

Date

2005-07-12T12:35:56-06:00
ID

87293

Comment

Here's some interesting news: http://www.bustbob.com/view.asp?ID=5 Apparently, Rove has leaked before to Novak, back in '92 while working for the Bush Sr. campaign. He was relieved of his duties. The leak was nothing of this magnitude, but that definitely makes the case even more.

Author

dustin

Date

2005-07-12T13:48:51-06:00
ID

87294

Comment

He will resign to save face. They will protect him as long as they can, but when it starts to get warm he's out. The GOP is not going to let Bush and Rove cost them elections in 06 and 08.

Author

El Canario

Date

2005-07-12T15:18:25-06:00
ID

87295

Comment

The GOP shouldn't be counting on too much in '06 anyway.

Author

dustin

Date

2005-07-12T15:54:09-06:00
ID

87296

Comment

El, you're probably right. But, unfortunately, so much damage has already been done by this partisan cad. And, our luck will probably that he and Bush will probably continue to have late-night strategy phone calls about how to make anybody left of James Dobson look like some left-wing nutball. Still, I'm glad he's getting caught. What he done is simply amazing, and shows the hypocrisy of people on the right who want stand up against it, much as we saw on the left for people who looked the other way over Clinton's sexual harassment. I'm on record supporting Clinton's impeachment ... but how much worse is endangering your own country's, and its agents', security? (Not to mention concocting stories to get support for a war that hasn't gone so well?) The moral relativity in all this is breathtaking ... and telling. Anyone with integrity would demand Karl Rove's resignation, if not arrest, immediately.

Author

DonnaLadd

Date

2005-07-12T17:20:10-06:00
ID

87297

Comment

Also, has everyone seen the video of the White House Press Corps going after Scott McClelland for lying to them yesterday? If you haven't, read this transcript of the exchange. This is the first time in a long time that I've been proud of the lamestream media.

Author

DonnaLadd

Date

2005-07-12T17:22:30-06:00
ID

87298

Comment

the morning transcript (i have most of it on my site) was even better! unfortunately they don't film it. there are folks out there that record and transcribe for the sake of others though... ;)

Author

jp!

Date

2005-07-12T20:25:01-06:00
ID

87299

Comment

I read the transcript, and I cannot stop giggling. Sounds like the current administration trained him well in how to dodge answers to direct questions. I thought Ari Fleischer was snippety, but geez! I would hate to ask McClellan what his favorite flavor of ice cream was: What's you favorite flavor? I think I told you before what it was. Well, you said it was vanilla, but I heard you tell someone else it was chocolate. Did you change your mind? Like I said before, I told you what my favorite was. If you changed your mind, you can tell me. It's no big deal. This was already explained to you. Let's discuss this later. But, Scott... I SAID LATER, YOU %[email protected]#&($#!

Author

LatashaWillis

Date

2005-07-12T20:36:47-06:00
ID

87300

Comment

Get this, not only did Rove out a covert CIA operative, he ratted out a member of his own church! Washington Post: Republicans mounted an aggressive and coordinated defense of Karl Rove yesterday, contending that the White House's top political adviser did nothing improper or illegal when he discussed a covert CIA official with a reporter. With a growing number of Democrats calling for Rove's resignation, the Republican National Committee and congressional Republicans sought to discredit Democratic critics and knock down allegations of possible criminal activity. "The angry left is trying to smear" Rove, RNC Chairman Ken Mehlman, a Rove protege, said in an interview. [...] The emerging GOP strategy -- devised by Mehlman and other Rove loyalists outside of the White House -- is to try to undermine those Democrats calling for Rove's ouster, play down Rove's role and wait for President Bush's forthcoming Supreme Court selection to drown out the controversy, according to several high-level Republicans. [...] Mehlman, who said he talked with Rove several times in recent days, instructed GOP legislators, lobbyists and state officials to accuse Democrats of dirty politics and argue Rove was guilty of nothing more than discouraging a reporter from writing an inaccurate story, according to RNC talking points circulated yesterday. "Republicans should stop holding back and go on the offense: fire enough bullets the other way until the Supreme Court overtakes" events, said Rep. Peter T. King (R-N.Y.). Rove has not been asked by senior White House officials whether he did anything illegal or potentially embarrassing to the president and he spent most of the day strategizing on Bush's Supreme Court nomination, aides said. [...] Privately, even Rove's staunchest supporters said the situation could explode if federal prosecutors accuse Rove or any other high-level official of committing a crime. William Kristol, a conservative commentator with close White House ties, said it would be hard to imagine a prosecutor conducting an investigation that has landed one reporter in jail and challenged the constitutional rights of the journalism profession without indicting someone. Special prosecutor Patrick J. Fitzgerald "is the problem for the White House, and we have no idea what he knows," Kristol said. [...] After Wilson went public with his concerns, columnist Robert D. Novak reported that he had been told by two administration officials that the Niger trip had been suggested by Wilson's wife, Plame. It is a federal felony to knowingly identify an active undercover CIA officer, but legal experts said such a crime is very difficult to prove. Whatever the legal considerations in the case, the emerging record shows that the White House was involved in an active effort to discredit Wilson after he went public with his criticism. [...] Rove has maintained he neither knew Plame's name nor leaked it to anyone. In an interview yesterday, Wilson said his wife goes by Mrs. Wilson so it would be clear who Rove was talking about and noted how Rove attends the same church as the Wilson family. Wilson said Rove was part of a "smear campaign" designed to discredit him and others who undercut Bush's justification for war.

Author

DonnaLadd

Date

2005-07-12T20:39:21-06:00
ID

87301

Comment

Remember, one of the biggest problems the White House has going right now is that it is now proved that they lied to the American people via, and probably about, Rove. This stuff is getting more serious by the day. It'll be intriguing to see just how much the American people will take from this administration, being that the collective patience is already wearing thin. Of course, the special prosecutor hopefully will do his job, no matter what. As we always point out, justice isn't about what the majority wants. Or it shouldn't be.

Author

DonnaLadd

Date

2005-07-12T20:43:19-06:00
ID

87302

Comment

Also, re the genuis GOP attacks on people who would question why their administration would out a CIA agent -- I say, bring 'em on. The more they do that this time, the more I believe it will sink their case. We're not their little idiot puppets.

Author

DonnaLadd

Date

2005-07-12T20:45:03-06:00
ID

87303

Comment

"and so begins the final drama , although they offer us concessions, THE INTERNATIONALE unites the human race. " LOVE that . ok, is outing an agent a crime or not? name a name or just a wife, like a wife is not even important.. Whether we Get Rover or not, he will just speak from behind the curtain. Time to focus on the why the little perp did it. ooops. don't we worry when we say things like that? nope. we have to. hurray to everyone here.

Author

sunshine

Date

2005-07-13T00:19:31-06:00
ID

87304

Comment

I really think some of y'all are making much ado about not much. Some facts are being left out in this discussion. Ms. Plame is the person who sent her husband over to Niger on this mission without CIA knowledge, Rove never knew she was an operative (that's why they are CIA), and Matt Coopers emails don't get all excited when he informs his bosses about what he heard. ("Guess what Karl told me...!") As seen here in this Newsweek article: Also, there is this quote: "Nothing in the Cooper e-mail suggests that Rove used Plame's name or knew she was a covert operative. Nonetheless, it is significant that Rove was speaking to Cooper before Novak's column appeared; in other words, before Plame's identity had been published. Fitzgerald has been looking for evidence that Rove spoke to other reporters as well. "Karl Rove has shared with Fitzgerald all the information he has about any potentially relevant contacts he has had with any reporters, including Matt Cooper," Luskin told NEWSWEEK.' Also, it was common knowledge among the lamestream elite who Plame was and what she did for a living. Even Mr. Wilson mentions her on his Bio webpage; then lied in his book about the trip and his wifeís involvement. Also, if Karl granted Matt a waiver to reveal his source thus keeping him out of jail; why is the NYT keeping Judith in jail when she has a waiver too - BUT NOT FROM ROVE! So, who is the NYT trying to protect? Why she would not take the waiver if it was Rove, whether she feels it was granted by coercion, thus she still doesnít want to reveal her source? Why would Rove grant Matt a waiver and not one to Judith? Iím sorry but the big old corporate NYT is trying to protect their source through Judith by piling on Rove with the rest of the lamestream. They are not serving the public interest; only their own corporate interest. Roveís email to Matt was to diffuse the mess Mr. Wilson was making after going to Niger and he was telling him not to get to deep with the Wilson story, the Niger info. Here's Cooper's e-mail to one of his bosses: î Önot only the genesis of the trip is flawed an(d) suspect but so is the report. (Rove) implied strongly, there's still plenty to implicate Iraqi interests in acquiring uranium from NigerÖî.......

Author

tortoise

Date

2005-07-13T09:12:38-06:00
ID

87305

Comment

he tells a reporter under the express agreement that this is secret. he tells the reporter who sent Wilson. he said it was his wife. he said she works for the CIA. he said she works on WMD issues for the CIA. All of this came to Rove via a top secret file belonging to the Sec. of State. yeah. that's a crime. Ask the next Republican you see complaining about this if they'd feel the same were it Clinton in the White House.

Author

jp!

Date

2005-07-13T09:13:41-06:00
ID

87306

Comment

...As much as we donít like many of things they are doing up there and the perception of wrong doings; when did the lamestream media suddenly become so interested in the sanctity of our CIA? Remember Somalia? Rove definitely slipped up and provided the clues to ìoutî Plame to at least Matt; but, is it as damaging as a lot of people want it to be ñ NO! They need to fine better avenues of promoting their message then just attacking every little bit of red meat they get. But, if you are going to pursue a story, donít hide behind the jail bars of your own reporter! NYTís do the right thing! Even the articles sited here point out the Rove doesn't name her directly in his emails. So, this is one that those stories where whoever wants to believe one side can and those who want to believe the other can. It's too ambiguous to directly point a finger at Karl especially with the NYT doing what it is doing. My bet is that it is Judith's source that directly implicated Ms. Plame. But, since Karl is willing to take some heat for asking Matt to reevaluate the story and the players, without directly naming her, then why not use him to protect themselves and score anti-Bush points too! Still won't accomplish much!

Author

tortoise

Date

2005-07-13T09:16:20-06:00
ID

87307

Comment

Ladd: I was thinking "When did the media become the democrats attack dogs? Can't the Dems do the job themselves?" I prefer facts from the lamestream journalists, not opinionated broadcasting.

Author

Ironghost

Date

2005-07-13T09:30:14-06:00
ID

87308

Comment

actually, no. They did know as the whole trip was on behalf of the White House. the trip and the lineage of the orders to go were described in a memo to the sec. of state. releasing that info (any of it) to one w/o clearance is a crime in an of itself. Rove expressly knew she worked for the CIA and particularly on WMD. This all, of course, sidesteps and accepts the fact that it was indeed Rove that was actively trying to discredit their own findings that disagreed with the march to war. Try to find one (on the record) white house statement saying that Wilson was NOT in Africa at the behest of the administration. Also, starting with Novak we've got a history of this person being called an 'operative'. Further, i do not buy the idea that he just didn't know. even if you want to disregard the Sec. of State memo he used that states the fact, just who does Rove think assigns these jobs if not operatives? maybe an over zealous janitor at Langley? Now, the defense seems to fall on this notion that Rove did not in fact know her name. lets disregard the fact they go to the same church (you know, those big churches can make it hard to REALLY get to know everyone). is that enough? If he said "the President of Company X is a CIA operative" but didn't say the person's name and didn't actually recall the name...well, would that still be revealing this agent's role and identity? well, yes. it purposely leads a reporter to a readily knowable fact in order to reveal the final key to a secret. That would be a pretty weak defense in court. What is clear is that Rove was shopping this story around to reporters. As for the Miller connection, it was time that said it would release the info to investegators so it didn't matter what cooper wanted to do. the NYTimes has not done that and Miller has not chosen to do that as well...thus she is in jail. finally, you quote: give us a quote stating as fact all these things detracting the Wilson story and the 'genesis' of the tirp. you miss the fact that it was ROVE that gave that info (it's within the quote itself!) and he was expressly trying to de-value the Wilson findings. FURTHERMORE, the Wilson findings were actually TRUE and were known to be true before and after the Wilson trip. they were ignored, and this has been publicly stated by the administration AND by george tenent. Bottom line? the White House officially announced that Rove had been questioned and was not involved in the outting of this agent. that is demonstrably untrue. he did out her. now, if you want to change directions and say 'well, he outted her, but didn't know her name'. that's fine, but it makes the statements the WH made on the matter false. If you can't see something's wrong here...i don't know what more anyone can say, at least at this point.

Author

jp!

Date

2005-07-13T09:41:24-06:00
ID

87309

Comment

If Rove is guilty, is he open for prosecution under the Patriot Act? Are there stiffer penalties associated with this new law?

Author

Steph

Date

2005-07-13T11:03:53-06:00
ID

87310

Comment

Steph, the patriot act is more about allowing law enforcement new investigative access to the average citizen, not necessarily creating new crimes under which to prosecute.

Author

jp!

Date

2005-07-13T11:39:01-06:00
ID

87311

Comment

So law enforcement could use their new investigative access to probe Rove. Are they going to? Or more importanty, SHOULD they? Opinions?

Author

Steph

Date

2005-07-13T11:51:22-06:00
ID

87312

Comment

Here's an article where Woodward is willing to serve some of Judith's jail time. In it, the story points out that Judith has not revealed "her" source. Again, if her source was Rove why would she (and the NYT) not go ahead and use the waiver and help nail Rove to the wall? Doesn't all add up to me no matter how much Woodward says "she is fighting for all journalists rights?" This would be fine, if it were true. Obviously, Time and Matt don't feel the same way and are trying to use their waiver to either twist the truth of the story or really reveal that Rove is "the" source. All while Judith sits in jail with "her" source still protected and the NYT too! They both would have held strong if they were really upholding a reporterís right to use confidential sources in stories. Is Judith that much of a Rove/Bush fan? The real story is how this will affect "confidential sources?" The American public already has less faith in the news and its reliability then ever before. The Rove issue is something that's been done forever, just as leaks from the Whitehouse about sensitive info. was done by Clinton (especially Clinton), Bush I, Reagan, etc, etc, etc.... Getting Rove over a technicality comparable to "sex" vs. "oral sex" as to whether he actually ìnamedî her is so minute in the grand scheme of things and issues facing the USA. However, the outing of a CIA agent is not a good thing (though Rove will skate, Steph); yet, in this case she wasn't even that "covert" about her role with the CIA among certain circles of Washington elites and media types. Maybe she shouldnít have sent her husband on that trip without Director Tenetís authorization? It appeared to be a fruitless trip anyway and Mr. Wilsonís credibility is weak too; thus why Rove was warning Matt not to rely on the depth of the story about Niger. Iím just sayingÖ.

Author

tortoise

Date

2005-07-13T12:03:45-06:00
ID

87313

Comment

as reported in the post today, Rove and all other upper level administration personel (rove included) signed Dept. of Justice releases. Miller (and the NYTimes) both said that they did not accept this as 'good enough'. this article illuminates: http://www.washingtonpost.com/wp-dyn/content/article/2005/07/12/AR2005071201402.html?referrer=email the characterization of Plame as: "wasn't even that "covert" about her role with the CIA among certain circles of Washington elites and media types." sidesteps the idea that revealing the matter is still illegal. further the fact that someone works for the CIA (I believe the Rove/Cooper emails use the word 'Agency'), that is a far cry from WHAT the person is doing with the CIA. (like, oh, i dunno...working on WMD project in the build up to the war). I've yet to see any official line saying that the trip to Africa was something the Wilson family just decided to do. As far as it being 'fruit-less', well he confirmed that the whole thing didn't happen. this was something the CIA was already skeptical of and had already once removed from a Bush speech prior to the 1/2003 State of the Union address.

Author

jp!

Date

2005-07-13T12:24:07-06:00
ID

87314

Comment

for a further explaination of what happened, you can read this by Larry Johnson. He is a retired CIA officer and classmate of Valerie Plame's when both entered the CIA in the 80s. http://www.tpmcafe.com/story/2005/7/13/04720/9340

Author

jp!

Date

2005-07-13T12:33:10-06:00
ID

87315

Comment

Interesting article jp! Yet, it still leaves a lot open and a lot of "supposing" going on. Also, doesn't directly quote Matt's email, only a paraphase of what Matt infered from what Rove wrote in his emails - which Rove claims do not reveal her identity. There is Grand Jury Testimony that is yet to opened and will actually tell us what is going on. But, right now it is still a typical, "can we get Bush on this" witch hunt that will amount to very little. I guess maybe Carvell should have lied to the Grand Jury in the Clinton scandal instead of Clinton himself? This seems to be type of aim the media is taking at Bush by going through Rove. There is a memo that the Senate Select Committee has that details that Wilson's wife (this is not it) did select him for the trip despite the objections of Tenet and others. As seen in an earlier Washington Post article it mentions that a memo circulated that said Plame recruited her husband. The article supports much of what you are saying also. But, forwards this theory too: "Capitol Hill aides in both parties said Wilson had badly hurt his credibility with his apparently enthusiastic participation in a spread in the January issue of Vanity Fair that includes a glamorous photo of him and his wife outside the White House, a scarf and dark glasses shielding her." Not that his credibility was good before the photoshoot! He later defends it, then says he regrets that someone may recognize her after the photoshoot in Vanity Fair and the "outing" of his wife. It's just too much Hollywood mixed with Washington to be of much interest. Nothing will change if Rove is in or out, it will only be a small notch in the "anti-bush" media crowd that will not effect the 2008 election or oust the current president. I'm not saying there isn't weight to your points (seems that every article can't directly point a finger at Rove, nor can it say he didn't do it), I just think this is such a non-issue if the media is really looking for ways to descredit Bush and Co. And, the Judith thing still doesn't add up even after reading that article. What the Democrats (not the left, liberals, progessives, etc) need to do is focus on building their own message, their own platform for fighting terror, Iraq, education, and social issues facing our future. If they want to sit and nitpick each minor move Bush andCo. make without providing an alternative - that is really an alternative - then it is just a game that they will continue to lose. That's why I'm a "no party" person anymore. Something has to be done to get these people to make better choices on both sides for "our" side to win!

Author

tortoise

Date

2005-07-13T13:23:34-06:00
ID

87316

Comment

while that article doesn't quote the email directly, i have seen the quote and it is clear that Rove knows she works with the agency. my understanding is that under CIA chain of command, she did not 'send him' (see second linked story). rove outted her. whether he stated her name is irrelevent, as is who sent wilson. he knew of her role and told reporters in order to discredit her husband who acted on behalf of the government. if this wasn't true, the administration would have said otherwise. again, no public statement to the contrary. Your last paragraph is true, but that doesn't change the fact that Karl Rove is now ground zero in a criminal investigation that the white house was trying to cover up.

Author

jp!

Date

2005-07-13T13:42:11-06:00
ID

87317

Comment

while that article doesn't quote the email directly, i have seen the quote and it is clear that Rove knows she works with the agency. my understanding is that under CIA chain of command, she did not 'send him' (see second linked story). rove outted her. whether he stated her name is irrelevent, as is who sent wilson. he knew of her role and told reporters in order to discredit her husband who acted on behalf of the government. if this wasn't true, the administration would have said otherwise. again, no public statement to the contrary. Your last paragraph is true, but that doesn't change the fact that Karl Rove is now ground zero in a criminal investigation that the white house was trying to cover up. this isn't about smearing bush...or at least it shouldn't be. its about a crime and a cover up.

Author

jp!

Date

2005-07-13T13:43:36-06:00
ID

87318

Comment

Maybe it is just me; but, I find it hard to trust the excepts of a past CIA operative who is retired and now wants to disclose stuff about the agency. If they are so covert how does he know if she had a "black passport" or not? Do they really have these? How are we supposed to know? Will this person speak up to the media or just leave his story on some slanted blog, a la Mark Lyons on a local note. Again, let's hope this doesn't mess up the use of "confidential sources" and further erode the respect for the media the public has now. I know I'm fighting the minority view on this; but, the journalistic ramifcations and the ambiguity of the whole story makes me want to try and show the other side and question Judith's source and motives - not necessarily defend Rove if he "outed" a CIA agent. Though I think the media is grabbing at slightly thin air on trying to make him the one bad guy.

Author

tortoise

Date

2005-07-13T13:51:00-06:00
ID

87319

Comment

"I prefer facts from the lamestream journalists, not opinionated broadcasting." Iron, in that case I recommend that you stop watching FOX News. Tortoise, Karl Rove is at the highest levels of our government. He has access to classified materials that you and I don't even know exist. He had no business talking to reporters about who is, isn't, may or may not be a clandestine at CIA. His professional duties make it unprofessional to even speculate about such things. The Dems won't have to lift a finger. Rice, Bush, Rove and Cheney are going to deliver the Executive and Legislative back to the Democrats on a silver platter. The populace is beginning to see that this block-headed, belligerent, condescending attitude is getting in the way of our ability to win this war against terrorism.

Author

El Canario

Date

2005-07-13T14:46:58-06:00
ID

87320

Comment

El, and when they have power back the spouse of the the new president can ask for and recieve confidential FBI files for every opposition legistative member in the gov't. Oh, the fun in being in charge! And again, until Judith reveals her source - she didn't get a waiver from Rove - then have fun going after him; but, there is another person involved and the NYT and Judith are willing to hide behind bars to protect whomever it is. Here is the waiver Karl granted Matt. Also, here is another story supporting that Karl is more involved. That should please some of the readers wondering where I'm coming form on this. ;-) El, who are the real Democrats? (Heck, who are the real republicans?) What do they stand for? Are they different from the "left, liberals or progressives?" If so, how? And, how are they going to capture the White House if they never get around to providing a viable message and alternative to the Republican's plans? Truth is I've seen better messages from the likes of the "independent" minds on these blogs then anyone on the Democratic side. They are stuck in a loop of trying to discredit Bush rather then provide a clear alternative and message that inspires voters. Same thing happened with Clinton and he came out pretty clean; but, the Dem's lost power. For some reason it is not working for the Democrats as they try the same thing with Bush.

Author

tortoise

Date

2005-07-13T15:21:18-06:00
ID

87321

Comment

actually, Rove signed a Dept. of Justice waiver. Miller/NY Times said they didn't like it bc everyone 'had' to do it. so what. it's done and signed already.

Author

jp!

Date

2005-07-13T16:07:49-06:00
ID

87322

Comment

So who sent Joe Wilson? here's the exchange: BLITZER: I know you were sent to go on this mission long before the State of the Union Address. When Condoleezza Rice, the president's national security adviser, was on this program a few weeks ago, on July 13th, I asked her about your mission. Listen to this exchange I had with her. (BEGIN VIDEO CLIP) DR. CONDOLEEZZA RICE, NATIONAL SECURITY ADVISER: I didn't know Joe Wilson was going to Niger. And if you look in Director Tenet's statement, it says that counter-proliferation experts, on their own initiative, sent Joe Wilson. So, I don't know... BLITZER: Who sent him? RICE: Well, it was certainly not at a level that had anything to do with the White House. (END VIDEO CLIP) BLITZER: Is that true? WILSON: Well, look, it's absolutely true that neither the vice president nor Dr. Rice nor even George Tenet knew that I was traveling to Niger. What they did, what the office of the vice president did, and, in fact, I believe now from Mr. Libby's statement, it was probably the vice president himself... BLITZER: Scooter Libby is the chief of staff for the vice president. WILSON: Scooter Libby. They asked essentially that we follow up on this report -- that the agency follow up on the report. So it was a question that went to the CIA briefer from the Office of the Vice President. The CIA, at the operational level, made a determination that the best way to answer this serious question was to send somebody out there who knew something about both the uranium business and those Niger officials that were in office at the time these reported documents were executed.

Author

jp!

Date

2005-07-13T18:03:40-06:00
ID

87323

Comment

Most articles on here have mentioned that they have no clue why Judith didn't ask for a personal waiver as did Matt and supposedly the others - except Novak which they have no idea yet what deal he brokered. And as you show: "WILSON:...What they did, what the office of the vice president did, and, in fact, I believe now from Mr. Libby's statement, it was probably the vice president himself... I'll still take Condee over Wilson in the truth department when he "probably" thinks it is the Vice-Prez. Again a lot of supposing going on along with the fact that Wilson is not credible, he has an agenda too and that is getting in the way of his facts too. Just not the story some people want it to be.

Author

tortoise

Date

2005-07-13T18:57:31-06:00
ID

87324

Comment

It's starting to get pretty noisy... John Kerry is circulating a petition to get Rove fired. You can take a look at it here. Here are some of his comments in his email: ....We need you to recruit your friends and neighbors to sign our Fire Rove petition today to show that Americans will not tolerate White House dirty tricks that compromise our national security.... It's time for the President to do what he said he'd do and remove from the White House someone who leaked the identity of a CIA agent and made her dangerous job even more dangerous. And, if he's not willing to do that, George W. Bush should look the American people in the eye and admit that he didn't mean what he said when he promised to fire anyone responsible for the leak.... It's remarkable that the presidential aide who should be packing his bags is instead sitting in White House meetings about stacking the Supreme Court with rigid ideologues. The last thing America needs -- and the last thing we will tolerate -- is Rove-style tactics in the critical decisions our nation is about to make about the shape of the Supreme Court.... Republicans in Washington want us to believe that no one "out there in America" cares about Karl Rove's dangerous actions. Let's prove just how wrong they are. The credibility of the White House and the President are on the line. Urge everyone you know to stand up and express their outrage. Pass along our petition today.

Author

LatashaWillis

Date

2005-07-13T19:06:58-06:00
ID

87325

Comment

I wonder how Bush, Sr. feels about all this. He's a former head of CIA and had this to say in 1999: "Even though I'm a tranquil guy now at this stage of my life, I have nothing but contempt and anger for those who betray the trust by exposing the name of our sources. They are, in my view, the most insidious of traitors." Also, quick news. Joe Wilson will be on the Today Show tomorrow reading a letter George, Sr. wrote to him regarding an article Wilson wrote about the shortcomings of the US and UN during the Gulf War. Bush, Sr. said he agreed with a lot of what Wilson wrote. Wilson was then asked by Bush's National Security Advisor, Brent Scowcroft, to walk up to the White House with the letter, which Wilson did. Apparently a friendly meeting. If the Republicans want to antagonize Wilson, they're going to have a harder time after tomorrow when all THIS comes out. Also, Dean is on the story, too. He's asking for signatures to be delivered to the President demanding him to come clean. Enough with the grinning silence, and the "ongoing investigation" bullcrap. Sign the petition at www.democrats.org/comeclean

Author

dustin

Date

2005-07-14T02:19:59-06:00
ID

87326

Comment

Quick quote from George W. at the senior staff swearing in ceremony in 2001, which Karl Rove attended: "[W]e must remember the high standards that come with high office. This begins with careful adherence to the rules. I expect every member of this administration to stay well within the boundaries that define legal and ethical conduct. This means avoiding even the appearance of problems. This means checking and, if need be, double-checking that the rules have been obeyed. This means never compromising those rules." Somebody wasn't paying attention.

Author

dustin

Date

2005-07-14T03:41:03-06:00
ID

87327

Comment

Abba Anthony said, "A time is coming when men will go mad, and when they see someone who is not mad, they will attack him saying, "You are mad, you are not like us."

Author

PUDDINTANG

Date

2005-07-14T09:47:56-06:00
ID

87328

Comment

"Ask me again and I'll tell you the same" Right on Puddintang!

Author

El Canario

Date

2005-07-15T07:54:51-06:00
More like this story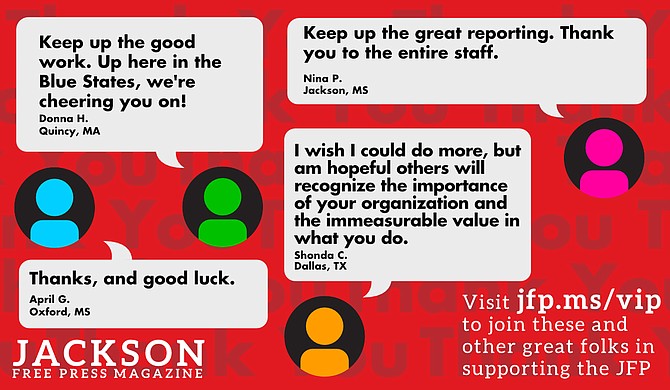 Thanks to all our new JFP VIPs!
COVID-19 has closed down the main sources of the JFP's revenue -- concerts, festivals, fundraisers, restaurants and bars. If everyone reading this article gives $5 or more, we should be able to continue publishing through the crisis. Please pay what you can to keep us reporting and publishing.