The JFP-Collective-Rock 93.9 benefit last night at the Red Room at Hal & Mal's has raised $4,311.50 for disaster relief! Hal & Mal's donated 10 percent of sales for the evening. The checks will be mailed to Oxfam late Friday. The event was a raging success. Thanks to the musicians, volunteers, local businesses, artists and all the Jacksonians, young and older, who turned out to make the event such a success. The music was hot, and the community spirit was even hotter. Most of all, we thank JFP intern Swetha Regunathan who spearheaded the event and designer Jakob Clark who made such amazing music come together on one stage for such an important cause in less than a week. Cheers to them, and to Jackson.
Update: Still Stanley is now confirmed. Also, note the event now begins at 6 p.m., instead of 8 p.m.
Update II: We'd like to welcome Rock 93.9 as a sponsor on the show; they're helping us get the word out on this benefit. Thank them when you see them.
January 4, 2004—The Jackson Free Press is joining members of The Collective and Swetha Regunathan to present an 18-and-up night of music, comedy, spoken word and art to benefit the victims of the Asian earthquake and tsunamis. Popular Jackson bands King Elementary, The Vamps and seven* with eZra Brown, Still Stanley and singer/songwriters Laurel Isbister and Eric Stracener have confirmed for the event and will be joining Living Better Electrically, which is helping organize the event. Satirist Ken Stiggers will perform along with several spoken-word poets.
The line-up for the Jan. 12 benefit at the Red Room:
6 p.m. Laurel Isbister
6:30 p.m. Eric Stracener
7 p.m. seven* featuring eZra (Brown)
7:45 p.m. Spoken Word: Kanika Welch, Poet of Truth
8 p.m. – The Vamps
8:45 p.m. - Ken Stiggers, satirist
9 p.m. – Still Stanley (now confirmed!)
10 p.m. – King Elementary
11 p.m. - Living Better Electrically
Also featuring spoken word poetry and satire by Ken Stiggers.
(Please check back for line-up updates and other details, including prize donors as they are announced.)
The 18-and-older event will be Wednesday, Jan. 12, at the Red Room/Hal & Mal's with a $5 cover minimum. Door prizes donated from local Jackson businesses will be given out at the event; people who donate at least $10 are eligible for the drawings. All collections will be donated to Oxfam for disaster relief.
The event will start at ****6 p.m.,**** and feature a variety of popular Jackson musicians and spoken-word artists and comics. Please watch this space and next week's issue for a full line-up and more details as they are finalized. Please call 362-6121 ext. 1 for details or to donate prizes, food, performances, etc., or write [e-mail missing] This event is spearheaded by Swetha Regunathan of Jackson, a student at New York University and an intern at the Jackson Free Press. Her family is from India.
The Red Room/Hal & Mal's is at 200 S. Commerce Street in downtown Jackson. For directions or other information about the venue, please call (601) 948-0888.
CONTACT:
Casey Parks
(601) 362-6121 ext. 2
[e-mail missing]
Donna Ladd
(601) 362-6121 ext. 5
[e-mail missing]
Previous Comments
ID

86416

Comment

Alright everybody! We have gotten incredible support from our local businesses! So far we have these businesses sponsoring our event by donating gift certificates for door prizes,artword, free cd's, or food for the event: Roosters/Basil LBE William Goodman Twiggy Lemuria Josie's Closet Kat's Wine Cellar Chane's Studio Thanks so much for your support! If anyone has something they would wish to donate for the cause please give the JFP's office a call! Thanks, Jess

Author

Jes

Date

2005-01-06T15:57:44-06:00
ID

86417

Comment

OK, more prizes are coming in: From Jeff Good at Bravo/Broad Street: "BRAVO! and Broad Street would be honored to be able to help with some door prizes! I am mailing you some gift certificates today to use at the benefit... you should have them tomorrow." From Scotta at Butterfly Yoga: "I'd be happy to donate a class package if y'all are interested. Maybe a package of 6 classes? They may be used for Yoga, Meditation, Bellydance, or Aikido." Also: 10 Free Rentals from Video Library A one-hour massage at The Spa at Virginia College A $50 gift certificate to Liz Henry (donated by the JFP) Will keep y'all updated as more prizes surface ... and if you want to donate a prize, a gift certificate, a piece of art, your band's CDs, whatever, please let us know!

Author

DonnaLadd

Date

2005-01-10T12:58:59-06:00
ID

86418

Comment

Donations of original art are pouring in from local artists. Thus, we've decided to do a silent auction on art work to raise even more money. If you're a local artist or photographer who would like to donate work, please e-mail [email][email protected][/email], or drop it by the JFP offices during business hours. (Or arrange with us to bring directly to Hal & Mal's Wednesday, especially if it's bulky or heavy.) Also, Little Tokyo has joined the list of businesses giving gift certificates for door prizes. The the CD pile is huge and growing! We'll post a full list of prizes on Wednesday, so keep an eye out. Thank you all! This is truly turning into a Best of Jackson event!

Author

DonnaLadd

Date

2005-01-10T17:40:26-06:00
ID

86419

Comment

Whew....everyone..this event is going to be HUGE. I just want to thank everyone so much for helping us out and donating art and doorprizes. And the musicians for donating their time for this event. And of course Hal and Mals for being so kind and donating the space. All I have to say is these last few days have been hectic! But if anyone wants to donate a piece of work I am free somewhat tommorow to come and pick it up if need be. Please tell everyone about the silent auction! When I went to pick up Willliam Goodman's piece he was donating I was so thrilled. It's really good....so everyone please come and bid on that and the rest of the amazing art that will be there! Thanks again!

Author

Jes

Date

2005-01-11T01:04:43-06:00
ID

86420

Comment

Hey all, the advance word is great on this thing. It seems everyone will be there. ;-) Jakob is recruiting roadies, though. Our friend Eric Stracener has put together a backline of equipment being loaned by various musicians. We need roadies to help him move some stuff at 4 p.m., then after the show, probably about 12:30 a.m. Call me if you can volunteer to help: 362-6121 ext. 5.

Author

DonnaLadd

Date

2005-01-12T12:00:06-06:00
ID

86421

Comment

The good ole Ledge is a constant source of amusement. We appreciate them running a story about the benefit tonight, but notice the lengths they go to in order to not mention the Free Press. They called both Swetha and Casey here! We were all just reading it online laughing hysterically. Fortunately, we don't care: this isn't about us, it's about raising money for a good cause. http://www.clarionledger.com/apps/pbcs.dll/article?AID=/20050112/FEAT05/501120322/1023 Otherwise, the Planet Weekly wrote a very nice piece about this today. We appreciate it, and all the facts are correct. Also, we found out after we went to press that the Planet has signed onto the George Street benefit Monday night as a sponsor. Please support that event as well. The more money raised, the better! And we've chosen that event as a JFP Showcase event. Swetha and Jessica (Mizell) were interviewed today about it on WLBT's noon show as well.

Author

DonnaLadd

Date

2005-01-12T15:11:35-06:00
ID

86422

Comment

BTW, someone just asked if you have to be present to win prizes. No. We're going to take names and numbers, realizing that people who come early may not stay late.

Author

DonnaLadd

Date

2005-01-12T15:29:27-06:00
ID

86423

Comment

OK, y'all, get offline and come to the benefit! It's going to be sweet. ;-)

Author

DonnaLadd

Date

2005-01-12T17:20:39-06:00
ID

86424

Comment

ok, Ladd, short notice! ha can we contribute other ways? wish I were there. sheesh, just have to move to Jackson I guess.

Author

sunshine

Date

2005-01-12T17:58:53-06:00
ID

86425

Comment

This. Event. Rocked. Thank you all for showing up, donating, volunteering, support, passing the word, giving ó whatever is was that you did to contribute to the success of last night. So far, we've raised just under $4,000 -- and that is going to go up, as Hal & Mal's is donating 10 percent of sales. It was a remarkable night: packed, positive, fun. Truly, truly the Best of Jackson. Love and gratitude to you all. Donna

Author

DonnaLadd

Date

2005-01-13T12:38:20-06:00
ID

86426

Comment

Hey guys, I just wanted to give a big thank-you to everyone involved. This event definitely made my winter break in Jackson a memorable one. In the words of Lynette Hanson, "this place isn't so insulated anymore," and in the words of Kit Williamson, "[with the amount of money raised] it'll be like building 4 houses over there." ~Swetha

Author

Swe

Date

2005-01-13T13:12:05-06:00
ID

86427

Comment

congrats on the event, wish I'd been there. short story: someone told me that Jon Stewart, one of my favorite persons, love his book, actually dissed MS recently, for libraries not accepting his book. did not see that show, wish I had (anyone TIVO it? ) except, the same someone told me, MS librarians confronted the issue and seems like the book will be in libraries near you, ask for it. point is, sorry to take the long way here, MS gets short shrift (have I said this before?) (and what is shrift anyway?) MS is an easy target , and sorry that Stewart chose that. he's human. let's get the word out , Jackson can do.

Author

sunshine

Date

2005-01-13T17:39:33-06:00
ID

86428

Comment

OK, when the last art is picked up and paid for, we should be sending checks to Oxfam in the total of $4,311.50. If anyone would like to add to to our care package, bring your check by the JFP offices (call 362-6121 ext. 5 first). At this point, checks made out to Oxfam are better than cash, because all the cash has been turned into a cashier's check already. Oxfam will send you a receipt, apparently, as well. We will probably have a mailing ceremony late Friday if everyone picks up their art by then, so hurry if you still want to add to the total. ;-D

Author

DonnaLadd

Date

2005-01-13T18:54:05-06:00
ID

86429

Comment

Sunshine, we had considered writing Jon Stewart a letter after another humorous diss of Mississippi recently. Maybe we should do some sort of open letter to non-Mississippians such as Stewart explaining that they are not seeing the entire picture of our state. Thoughts?

Author

DonnaLadd

Date

2005-01-13T18:56:17-06:00
ID

86430

Comment

ladd, so right. ok, left. ha. he is funny..hey it is comedy central. I love the guy. let's educate him! somehow. hmm. hey, have him come to Neshoba Co. for the trial! and yikes, Killen out on bond. watch-time I'd say. Jon Stewart, Mr. Wonderful, read this! send Samantha Bee.. we'll send backdrops for y'all. meanwhile, a little letter ok, mass email maybe! I don't know. I wish I'd seen the segment, just to know the intent. maybe an honest mistake. people are that way, about Mississippi.

Author

sunshine

Date

2005-01-13T19:57:38-06:00
ID

86431

Comment

That C-L article is silly. I can't believe they didn't mention the JFP or PW as sponsors/coordinators even though they mentioned the prizes being offered by JFP in the side bar. Tsk Tsk! At least they covered it. Regardless, when Donna told me the totals raised, I was excited. I think it's awesome that so many Metro residents came and supported the event. Heck, we left 'The Full Monty' early just to make an appearance and came back later in the evening to catch LBE's set and review the art contributions. Fab art, music, and people for a great cause. No wonder we're the most "giving" state. So many people understand a good cause! Kudos to both the JFP and PW for sponsoring such events! Also, thanks to H&Ms for the venue. The Red Room looks like it has a long future ahead of it! And Jaysus, you make a mean, mean, mean gin and tonic! If I would have had another, I'd have been carried away while Goodman's huge canvas acted as a sail for a powerful gust of wind while toting the artwork out of the building.

Author

kaust

Date

2005-01-13T22:40:56-06:00
ID

86432

Comment

The Jon Stewart bit was hilarious. It was about the libraries banning his book. He said something like, "now we could go for the obvious joke - Libraries? In Mississippi? Who knew?" Then he went on to explain how many more offensive things there are in his book besides the naked justices. I think we deserve to be mocked when our libraries - even just a few of them - ban something like his book. It's dumb, and deserves mockery. The truly great part of the show was that John Grisham was the guest, and, I have to say, he redeemed the state pretty well. He gave a good interview.

Author

kate

Date

2005-01-14T08:21:40-06:00
ID

86433

Comment

Knol, it is silly. And it's questionable journalism. In the Planet's case, they signed on after the event was already planned, so there's an excuse there for the CL. But in our case, it was conceived, planned and coordinated by our staff and interns with help from The Collective, so there was no excuse. They are so afraid. Truly amazing. Meantime, though, I hope everyone who can will support George Street's event Monday night. That's press night for us, so most JFP-ers won't be there, but we in spirit. It'd be great for folks to go there after the Crossroads event, or other Dr. King-related related events. Also, remember the Rainbow drumming event on Tuesday night. There's a huge ad in our paper this week (page 7, I believe) with details on that one. Keep on keepin' on.

Author

DonnaLadd

Date

2005-01-14T10:25:10-06:00
ID

86434

Comment

Good to hear the rest of the story on Stewart, Kate. Truth is, and we all know it, Mississippi tends to get back what we send out. If we truly want to stop being mocked, we'll stop deserving mockery. ;-) Of course, they often send it back in spades.

Author

DonnaLadd

Date

2005-01-14T10:26:26-06:00
ID

86435

Comment

The John Stewart thing was funny. They probably wrote the joke for them because grisham was guest. Both bits were really good. But further, he did get calls and faxes about the easy diss....and on the very next day, he said the librarian called, and the book wasn't really band, someone just left it in a box behind the counter, from midnight to 6 a.m. When the library wasn't even open. So ....not so much of a ban per se. It wasn't a big deal to begin with, and he totally made amends anyway.

Author

herman

Date

2005-01-14T12:02:29-06:00
ID

86436

Comment

As someone who was blessed to have photographs in the Silent Auction at the benefit, let me say a humble thank you to those who bid on them. You enabled me to give, so to speak, way beyond what I could have done otherwise. As for the music at the benefit, my goodness, it was so good. I'm proud to say that Jackson is right at the cosmic center of creativity today. Plus, three of my Forest Hill High School buddies were among the performers--Howard Loving with eZra Brown, and Scott Brantley and Dan Joyner of Still Stanley. I got on the phone right away and called their choral music teacher, Libby Walden! And their other librarian, Eve Bell. All of us are thrilled at the men they've become--we knew it all along, guys. Everyone--workers, attendees, artists and performers--outdid themselves. The entire evening did my old heart good.

Author

Lynette Hanson

Date

2005-01-14T13:39:46-06:00
ID

86437

Comment

thanks for the update, HS. Grisham as guest totally fits into the scenario, they are smart. and great to hear there were calls and faxes, big hurray about that. so, is that next day segment on the Daily Show website? His book is still great , ask for it at libraries everywhere. and let's invite him here , or - Samantha!

Author

sunshine

Date

2005-01-14T17:27:34-06:00
ID

86438

Comment

I'm not familar with the website so I dont know, it was the very next day. That would be funny to have him here.

Author

herman

Date

2005-01-14T17:50:32-06:00
ID

86439

Comment

p.s., not sure how the benefit and Stewart issues got linked up in this thread, but sometimes .. it's a good thing! we care about a lot of different stuff, and there's crossover. might make threads messy. problem? don't think so. my next challenge is music. see you there. (Franz Ferdinand. Mana. Bossacucanova. Garden State soundtrack, sorry, ok, it's a soundtrack. ) ( and movies - just one, House of Flying Daggers!. well, maybe In Good Company. watching Garden State just now. ) point - need to keep sensitive to life. that's what I love about JFP.

Author

sunshine

Date

2005-01-14T17:57:40-06:00
ID

86440

Comment

testing

Author

Swe

Date

2005-01-14T22:52:50-06:00
ID

86441

Comment

Hey all, Lee over at George Street wrote and said that their benefit Monday raised $2415 for Oxfam. Way to go, guys! I haven't heard, yet, how much the Rainbow benefit raised last night. But between our benefit and George Street's, we're mailing off almosst $7,000 to Oxfam this week. That's truly wonderful. Every dollar matters. BTW, I have one more envelope going to Oxfam with a late art check if anyone wants to drop a check made out to Oxfam by the JFP offices and get in on this mailing. Just call me if so (362-6121 ext. 5).

Author

DonnaLadd

Date

2005-01-19T10:00:50-06:00
ID

86442

Comment

Great Job!!! You all did your part last night, that's for sure. What are huge things but a huge number of little things. Tens of thousands of similar such efforts worldwide will critically augment the government, corporate, and other aid programs to help the tsunami survivors!

Author

Philip

Date

2005-01-19T12:52:20-06:00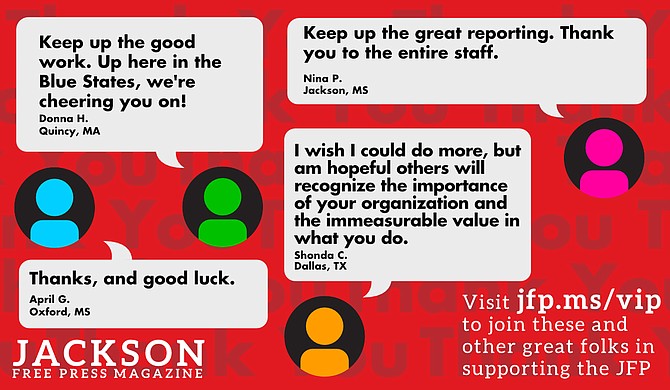 Thanks to all our new JFP VIPs!
COVID-19 has closed down the main sources of the JFP's revenue -- concerts, festivals, fundraisers, restaurants and bars. If everyone reading this article gives $5 or more, we should be able to continue publishing through the crisis. Please pay what you can to keep us reporting and publishing.