I just took a glorious week off. This hasn't happened to me much since we started the Free Press two and a half years ago. We managed to get away for a week in August to the Pacific Northwest—but, truth be known, I stayed on the laptop editing and perhaps even micromanaging a little from across the country as the home team put the paper out.
Admittedly, it was easier this time because we had skipped the week after Christmas; however, the interns extraordinaire were in the office all week working on our new kick-butt Talk section that you've seen by now. And they were amazing: "What are you doing here?" they would ask when I even popped in for a few minutes. "You're supposed to be on holiday," or such. I love them.
I think it was apparent that I needed time off. My usual jolly ole self was getting a little ornery around the edges over the last few weeks; of course, all the holiday cheer wasn't helping. So when our days of bliss approached, we wondered what we should do. Visit family? Go on a long road trip? Go to Key West (which I love during the holidays. Something about Christmas lights in palm trees).
No, I decided what I needed more than anything was to stay home. Stay home and organize my life a bit. But, more than anything, stay home and think about wellness. And balance. And simplicity (yeah, right, in the newspaper business). And resolutions.
I'm kind of a fan of resolutions, to tell the truth. I love the whole buy-a-new-calendar/get-a-new-start thing. We all need these symbolic cleansing times in our lives. We need to take stock. We need to think and plan and figure out how to stop doing bad stuff to ourselves. So that's mostly what I did on my week off. And, oh yes, I slept a lot.
As usual, whenever I need to figure out something or get motivated, I go read books. And I read piles of them last week—and a lot of them were about how to restore some balance to my life. (No politics, this holiday, no sirree.) Perhaps the best one I'm reading is "Awake at Work" (see page 10), which is about bringing mindfulness into the workplace. Of course, I'm a sucker for Sarah Ban Breathnach's "Simple Abundance" book, and I'm inspired by anything Dr. Andrew Weil writes. I also love "Healthy Hedonism" by Janet Bridger—basically because I'm a bit of a hedonist, but I do so want to stay healthy.
All this power reading helped me come up with a list of wellness resolutions for the new year. I learned a long time ago that "Start exercising" and "Eat less" are too general to work; I'm all about doing things in "chunks," as my favorite girl-writer, Sark, refers to the idea of breaking goals into manageable, well, chunks.
So here are my chunks:
1. Do yoga regularly again. I'm a fan of slow, methodical Iyengar, but I recommend any and all kinds of yoga to you. Yoga is simply the only thing that takes away many of my computer-induced aches and pains. I want to go to a studio two to three times a week, and do "Morning Yoga" at home as many mornings as I don't get up too late. (Buy the little book by that name over at Joy Flow Yoga. It's great, and easy.)
2. Meditate right after morning yoga whenever I can get around to it. I believe that meditation is, quite simply, as close to a magic pill for stress and balance as you can get. And nothing can be easier—or harder. Try it, and you'll see what I mean. And, yes, paradox is part of the point. Get yourself a cushion, soften your eyelids and breathe deeply for five minutes. You're meditating. And it gets better from there.
3. Do my morning pages. Actually, this is another form of meditation that is recommended by Julia Cameron's "Artist's Way" series. (Read the books if you haven't.) Basically, you write three long-hand pages every morning. This is magic, too, when I take time to do it.
4. Drink enough (filtered) water. This means 64 ounces (or four beer pint glasses) full a day. This isn't hard, and water is addictive. Thus, I can't imagine why I had slacked. Water is also magic; it even helps your sore muscles.
5. Walk at least four mornings (or evenings as the days get longer) a week for an hour. Todd and I love to do this through Belhaven or Fondren. We just haven't been doing it quite enough.
6. Go to the Y two times a week. This might be manageable for me. I like the treadmill and the weight machines. And the whirlpool, of course. And the people at the Fortification Street Y. They're real.
7. Work toward a five-day work week. The first year of the JFP, I worked seven days a week. A few months back, I started taking Saturdays off. Now, I fully intend to make Sunday a day of rest as soon and as often as possible. To do this, I must be focused during the week, and remember to delegate enough work to my crack team of editors and interns.
8. Have compassion for mean people.
This may sound flip, but it's not. One of the best Zen teachings is to show compassion toward people who try to hurt you, or say mean things about you. This takes major "practice," especially when they lie outright in a hurtful way. But it's so worth it.
9. Eat fewer muffins for breakfast.
10. Find a good dentist and doctor, who understand my belief in holistic, integrative therapies and don't hand me handfuls of pharmaceutical samples. (Ideas, anyone?)
11. Eat more of the good stuff that helps prevent cancer and helps women not have to have that awful hormone-replacement down the road: broccoli, almonds, walnuts, flaxseed, yogurt, cabbage, garlic, dark green, good olive oil and soy, for example.
12. Practice mindfulness every chance I get. That means to be fully in the moment, not constantly thinking about other things or multi-tasking. Read that "Awake at Work" book for more insight.
13. Every night, give thanks for the many blessings I experienced that day.
Previous Comments
ID

141102

Comment

I love this article.

Author

Huh?

Date

2005-06-17T14:04:29-06:00
More like this story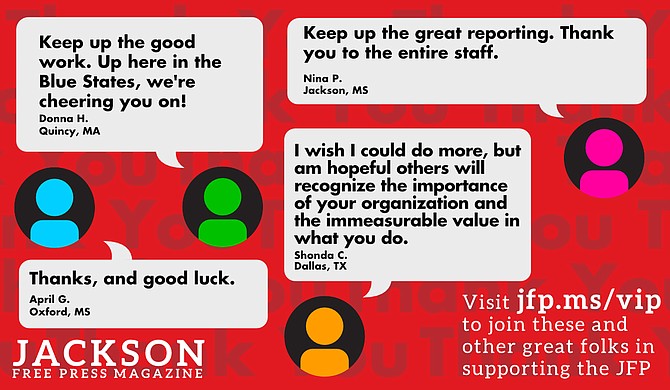 Thanks to all our new JFP VIPs!
COVID-19 has closed down the main sources of the JFP's revenue -- concerts, festivals, fundraisers, restaurants and bars. If everyone reading this article gives $5 or more, we should be able to continue publishing through the crisis. Please pay what you can to keep us reporting and publishing.