ht>Featured Story: Read the story behind Bobbie Johnson's story—that of a woman Frank Melton put in the media spotlight two weeks ago.
by Ayana Taylor
February 23, 2005
Driving down the last strip of Lamar Street, on the way to Bobbie Johnson's house, the smell of death and decay is thick in the air. A gated graveyard seems to hide this portion of the street from the rest of the world, keeping its residents tucked away from public scrutiny. This area is nearly invisible to people walking and driving in the downtown traffic just blocks away.
Here, some Jacksonians are living in the deepest poverty-stricken conditions imaginable. Stray dogs wander through uneven thick blades of grass, moldy trash and old broken furniture, searching for their next meal or a place to keep warm. Without knowing better, one might think these crumbling houses have been abandoned many years ago. However, they are very much occupied as the media learned on Valentine's Day when mayoral candidate Frank Melton decided to pay Ms. Johnson a visit, media in tow.
Outside the 60-year-old single mother's home that day, Melton said she deserved better. "I would move her out this evening. If it were my decision to make, and if I were sitting as mayor right now, I would move Ms. Johnson out." He did not indicate how he would pay for housing for people such as Johnson or if this stance represents a policy or program. In an interview later that day, Melton said was he trying to direct attention away from Mayor Harvey Johnson's campaign announcement schedule at noon that day. "I wanted to bring attention away from Mayor Johnson and on to Ms. Johnson," Melton said then.
During one of several visits I made to Johnson at her home, she told me she did not know Melton was coming and was surprised to see him and all the media suddenly gathered in front of her door at 2 p.m. "When people surprise me with stuff, it makes me angry, but I was not angry with him because I told him that I wanted a house, and Monday he was coming to tell me he would help."
Johnson said she met Melton about 20 years ago. He even got her youngest two children, who still live with her in the crumbling shotgun house, jobs at the YMCA on Farish Street when they were in high school. After years of getting to know Melton, Johnson says she decided to ask him a favor last summer. "By the end of the summer, I told him that I wanted a better house," she said spitting out her tobacco. "He said he would help me. I asked him because I knew him, and I knew that he was always helping people. I just wanted something better." (She said that she had not contacted the city about her housing.)
Melton's help, however, was not immediately on the way. It was months later when Melton showed up at her door unannounced for the Feb. 14 press conference that she learned he might be doing something. Johnson says Melton told her that Habitat for Humanity would be in touch with her. "The Habitat people was out there Monday, and he said that these are the people that I need to talk to. And they will help me get a better house," Johnson said.
Jackson Habitat for Humanity Executive Director Cindy Griffin says no representatives from her office were at the press conference. "I have no knowledge of anyone on my staff being a part of the press conference," Griffin said. "It might have been a volunteer or a Habitat homeowner." Melton did not return calls for this story.
Johnson says that her neighborhood was not always rundown. "I have been here, in this area, for about 35 years. It was a very nice neighborhood when I first lived here," she said. Then around the late '80s into the '90s is when "all hell broke loose," as Johnson put it. "There were drug people and stuff running all around the house. You could not say nothing 'cause you was scared they would do something to you."
She believes Melton is the reason it isn't as bad as it was during the crack years of the late '80s and early '90s. "It is a lot better now. You can thank Frank for that, too. He came and just started patrolling. He just did it on his own. He is just that kind of person," she said.
Johnson identified Robert Denny as her landlord. Denny confirmed that he owns most of the property in the immediate area. He said that the mayoral candidate has not been in touch with him about the conditions of the homes. "Frank Melton never contacted me," he said. "And instead of using Bobbie Johnson as a publicity stunt, Melton needs to move her out. He has got plenty of money; he can move all of them out of there. I will sell him as many of them houses as he wants. Then he can worry about cutting grass and replacing things that will just be stolen or damaged in a month."
Denny said the problem with repairing the houses is that many of the tenants have stopped paying rent altogether, including Johnson. "I can't shut these houses down because these people have nowhere to go," he said. "I can't fix up the house because they don't have the money to pay rent. Then when they do pay rent, with the conditions of these houses, what can you do with $100 a month?" Johnson disputes Denny's claim, though, saying she pays her rent of $100 every month.
Denny said the city has not been much help, either. "I think this is the way that the city wants it. I have been to every city meeting to get help. The only houses that they care about repairing or tearing down is in the entertainment district on Farish." He says his predicament is so bad off that he can barely pay taxes on all of his property.
However, Denny's situation seems at least somewhat better than that of some of his tenants. He lives in a home on East Northside Drive with nice landscaping. His view is not of death and degradation but of budding signs of life like busy traffic and newly built houses in a gated community across the street.
Another oddity is that, though he acknowledges owning the house where Johnson lives on 222 Lamar Court, the land rolls at the hinds County Tax Assessor's office show no evidence that this home exists. A.D. Bourne of the City Zoning Division says that from the looks of it, someone had the property removed from the rolls. A piece of property is marked 0 Lamar Court and is noted as belonging to Denny.
"This property, by looking at the parcel number, had to be subdivided into a duplex at one time," Bourne said. Johnson's home was a duplex years ago, but she says the family moved out and that part of the house is boarded up.
"It could be that the property was torn down, then built again, or it was made into a single dwelling, (but) it was removed from the rolls," Bourne said. City officials indicated that the property might need to be re-appraised.
Denny said he is trying to prevent an increase in homelessness in Jackson by allowing Johnson to continue living in the house. "What would I look like putting an old lady out of the street?" he said. "Then there would be just one more homeless person."
Previous Comments
ID

168675

Comment

His view is not of death and degradation but of budding signs of life like busy traffic and newly built houses in a gated community across the street. That is a false statement. There is no gated community across the street from Denny's house on Northside Drive. Correction time. Great picture of affluence and privilege you tried to paint but a gated community at that location simply does not exist.

Author

TC Stein

Date

2005-02-23T21:47:14-06:00
ID

168676

Comment

If that's true, of course we'll correct it. I'll check with Ayana tomorrow and perhaps drive by the house myself and report back.

Author

ladd

Date

2005-02-23T23:50:40-06:00
ID

168677

Comment

Still no gated communities on that stretch of Northside Drive. No gated communities, in fact, anywhere on Northside east of I55 all the way to the undeveloped Pearl flood plain. But what's a little embellishment between friends if it helps augment a story dogging a supposedly greedy landlord.

Author

TC Stein

Date

2005-03-03T11:52:11-06:00
ID

168678

Comment

Does the apartment complex on Northside Drive with it's encompassing, 7ft black, iron gates count?

Author

kaust

Date

2005-03-03T12:16:52-06:00
ID

168679

Comment

The story specifically notes Robert Denny's house on East Northside is across from a gated community. There is no gated community there, or anywhere else on Northside east of I55. Meaning towards the river. The direction of the sunrise.

Author

TC Stein

Date

2005-03-03T14:33:48-06:00
ID

168680

Comment

Oh... You mean EAST... Where that fiery ball lights the early morning... AHHHHH.... I got it. I guess your name stands for The Compass Stein. ;-) Come to think of it, I can't think of one directly across the street from his home... But there is one behind his house... Actually, there's quite a few in his neighborhood and around him. I'd hardly call it embellisment unless it was an intentional misrepresentation... Moreso, I'd call it a poor sense of direction or one specific but unnecessary point that was under-researched. The fact that there are gated communities and development in that area between Northside and Meadowbrook is no secret at all to anyone (even for those in the inner-city).

Author

kaust

Date

2005-03-03T14:53:55-06:00
ID

168681

Comment

I asked Ayana about this a few days ago, and she described from memory neighborhood(s) around his house with large fences that looked to her to be "gated." I haven't driven by, yet, due to illness and trifling matters like helping Casey chase down Howard Dean and such, but it's still on my radar to do. I have no problem correcting something from "gated" community to "fenced" community -- or saying that she was completely mistaken and there isn't a fence or a gate within 700 miles if that turns out to be the case. But I need to get by there myself first. But, as Knol points out, it isn't exactly a key point to the story; I don't think it'll be hard to argue that the neighborhoods in question are quite different. I'll gather some other descriptors while I'm out there just to be exact in our updated description of the area. However, it is important to note that this story was not designed to make Mr. Denny look bad. We did it because it was the next obvious question for any journalist after Frank Melton drew the press to Ms. Johnson's neighborhood: so, who owns the house? Who has tried to help her already? That kind of thing. Personally, I think the story raise questions about everybody in sight on this issueófrom property owners to the city to Melton to the responsibility of tenants themselves. And I appreciate Mr. Denny's apparent honest and straightforward answers to the question. Regardless of other issues, he makes an interesting point when he says that if he kicks them out, where would they go? That's a question we should all be asking. I don't think this is an issue where the finger only points one direction. This problem is for all of us to tackle together. And we are working on a follow-up to the story. Thank you, T.C., as always, for helping keep us focused on the most vital issues of the day.

Author

ladd

Date

2005-03-03T15:05:58-06:00
ID

168682

Comment

BTW, I finally got out East enough to drive past Mr. Denny's house and investigate TC's concerns. He was right: there is no gated community across the street. However, it was quickly apparently why Ayana said there is--it looks like one. There is a long, high fence along the road with houses (or maybe townhouses?) that look alike behind it. However, if you turn into the subdivision, you see that the fence doesn't go all the way around and isn't gated. So there you go. Also, it is a very nice, middle-class neighborhood--and certainly a contrast to Bobbie Johnson's area, which I've also driven around a lot in the last few days. I'd encourage everyone to go into the neighborhood around Lamar Street (basically go anoter street West from West Street, perhaps from George Street, and go north on Lamar behind the cemetary. Or turn south on Lamar from Fortification. Then drive up and down the streets back there and observe the crumbling houses. Then you'll get a visual sense of what we're talking about here.

Author

ladd

Date

2005-03-10T09:58:36-06:00
More like this story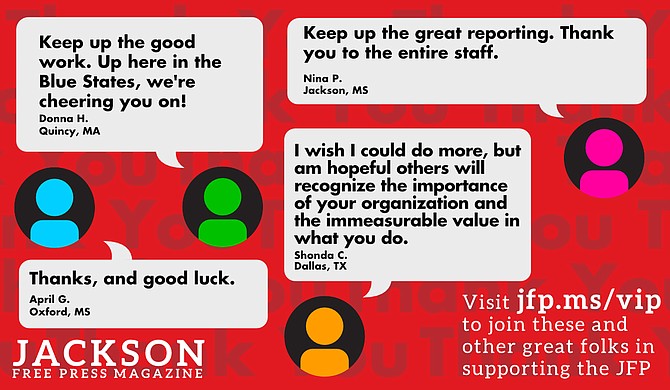 Thanks to all our new JFP VIPs!
COVID-19 has closed down the main sources of the JFP's revenue -- concerts, festivals, fundraisers, restaurants and bars. If everyone reading this article gives $5 or more, we should be able to continue publishing through the crisis. Please pay what you can to keep us reporting and publishing.