ABC News is reporting: "Skepticism about the nation's direction is boosting John Kerry's campaign for president: Fifty-five percent of likely voters say the country is on the wrong track, and their discontent is fueling Kerry to an even race against President Bush. Overall, 49 percent of likely voters now support Kerry, 48 percent Bush, 1 percent Ralph Nader. Given polling tolerances that's essentially a tie, but it is the first time since Aug. 1 that Kerry's held a numerical advantage, however slight, in ABC News polls. A weekend advance did it: Saturday and Sunday were two of Kerry's three best individual days since this daily tracking poll began Oct. 1. Today's results are based on Thursday-Sunday interviews. Discontent is the necessary element in removing an incumbent from office, and Kerry clearly has harnessed much of it: Among likely voters who say the country's on the wrong track, 84 percent support him."
"At the same time, 12 percent of discontented voters are so far sticking with Bush — as are, more naturally, 94 percent of those who say the nation's headed in the right direction. A fundamental question for this election is whether discontent is high enough — and goes strongly enough to the challenger — for the incumbent to lose."
Previous Comments
ID

137209

Comment

Nice. Meaningless, but nice. Bush up by 2.5, on average.

Author

rho

Date

2004-10-26T15:10:06-06:00
ID

137210

Comment

I don't think the polls are useful at all, especially this year, however, this ABC poll is interesting because Kerry's showing in it has been much more conservative (that is, he hasn't done as well) than in a lot of the other polls where he has been doing much better. What that means who knows? But it is hard to argue that the Bush administration isn't flailing a bit. Good to see he suddenly supports civil unions, though. ;-)

Author

DonnaLadd

Date

2004-10-26T16:39:00-06:00
ID

137211

Comment

Salon's roundup today: A new Harris survey written up in The Wall Street Journal (free link) shows John Kerry has taken the lead nationally: He's up 48-47 among likely voters, with Ralph Nader and "other" each receiving 1 percent of the vote. The poll's large sample size gives it a low margin of error -- less than 2 percent. In tracking polls, Zogby calls the race 48-47 for Bush, and Rasmussen finds the president leads 49-47. TIPP gives Bush a 4-point lead, 48-44. State polls look better for Kerry than they did yesterday. The Democratic ticket leads in two of four Florida surveys (Survey USA and ARG), and in a Rasmussen poll, he's tied with Bush. Zogby's the only pollster willing to give Bush the advantage in Florida today, which he does by a 49-45 margin. In Ohio, the results are a very similar 2-2 split. Survey USA and ARG again put Kerry up by 2-3 points, and likewise, Zogby puts him down by 2. Rasmussen's survey also gives Bush the lead, this time by 4. Zogby isn't all bad news for Kerry, though. Zogby polls show Wisconsin swinging back into the Democratic column, 48-46, and suggests that Kerry's standing in Iowa has improved to a 45-45 deadlock. Gallup disagrees, however, calling the race 50-46 among likely voters, despite giving Kerry a 48-47 lead among all voters. Zogby also finds that Kerry leads in Minnesota for the third straight day, up 48-47. Finally, a new Quninnipiac survey refuses to let New Jersey stay in the Democratic column. The poll finds that, in just a week, Bush has closed a 4-point gap in the Garden State to make the race a dead heat, 46-46. A 30 percent plurality of those polled said terrorism was their greatest concern, and even a full quarter of Democrats thought the president would do a better job fighting it. Bush campaigned in New Jersey a little over a week ago, and results like these might bring him back -- and force the Kerry-Edwards team to visit, too.

Author

kate

Date

2004-10-27T11:59:12-06:00
ID

137212

Comment

A little late but I caught this column on Friday... It has some interesting points in it. Do the polls mean anything....wonderful question. Here's another... Is the election even going to mean anything?? http://www.newsday.com/news/columnists/ny-nyhen274020516oct27,0,6524909.column --After citing (in comparison) the accuracy of bank ATM's all over.... "So will someone tell me, please: How come people were waiting for three hours yesterday to get inside the Justice Administration Building in Lawrenceville, Ga., where the early voting had been going on for two days? And how come Republican thugs were lurking around the polling places in Ohio? How come Democratic lawyers were revving pre-election lawsuits in Florida even before the voting began? And how come only half the voters in a national AP poll say they have a high confidence their votes will be counted accurately? Is it really that hard, in 2004, to elect a president of the United States? Apparently it is, and we should all feel the hottest kind of anger about backroom political dealers who have left us here. If the banking system can count my $100, why can't the election system count my vote? Especially after the disgrace of four years ago when the election system sputtered out of control and the U.S. Supreme Court, after 36 days, on a vote of 5 to 4 along strictly partisan lines, selected the current president. Obviously, we've progressed not at all since then." --John Fund, A Wall Street Journal Editor friend of the author's says there is "A one-in-four chance that the basic act of democracy will be null and void. He's not talking one Florida this year - but four or five or 10." "We should be screaming out the windows over this. No one can say that Fund's odds are wrong. I certainly can't. Not after I spoke to a friend in South Florida who told me the touch-screen voting machines they've ordered down there still don't seem to be working right. They're being tinkered with right up to Nov. 2. Not after I checked in on Ohio, where the state Republican Party has challenged the registrations of 35,000 voters. Largely Democratic voters, of course. Just making sure. Not after I read two rulings from the 6th Circuit Court of Appeals in Cincinnati, shooting down efforts by Ohio and Michigan Democrats to force Republican secretaries of state to count ballots cast outside voters' home precincts." "Six in 10 say they don't expect a clear winner by Nov. 3, the day after the election. Nearly half say they fear the results will be challenged in court, no matter who is then on top."

Author

Jen

Date

2004-11-01T09:29:05-06:00
ID

137213

Comment

There's a new Zogby poll, that gives Kerry a 55% to 40% lead over Bush. Because it was a poll conducted entirely on cell phones. Polling firm Zogby International and partner Rock the Vote found Massachusetts Senator John Kerry leading President Bush 55% to 40% among 18-29 year-old likely voters in their first joint Rock the Vote Mobile political poll, conducted exclusively on mobile phones October 27 through 30, 2004. Independent Ralph Nader received 1.6%, while 4% remain undecided in the survey of 6,039 likely voters. The poll is centered on subscribers to the Rock the Vote Mobile (RTVMO) platform, a joint initiative of Rock the Vote and Motorola Inc. (for more information: http://www.rtvmo.com) The poll has margin of error of +/-1.2 percentage points. Bush is gonna lose.

Author

kate

Date

2004-11-01T10:28:26-06:00
ID

137214

Comment

Hey, did I tell you months ago that cell phones were the dirty little secret in this election? OK, gloating isn't becoming. Sorry. ;-) Yeah, I think Bush is in trouble, too, maybe even in Mississippi. My early prediction is that the minority vote is going to send him back to Crawfordóled by the young minority vote. They're on fire, even here. Now, these people won't leave without a big fight if they do lose, so expect a protracted legal battle. But I suspect that all their rhetoric about lawsuit abuse is going to bite them in the butt if they try to steal an election with lawsuits this time. If Kerry is the clear winner, people aren't going to have any patience for a smirking James Baker. Argh.

Author

DonnaLadd

Date

2004-11-01T10:33:42-06:00
ID

137215

Comment

Right, ladd, I didn't forget about your cell phone prediction. In fact, I'm keeping my fingers crossed about it. Gloat all you want! And honey, if MS goes blue, I'll do carwheels with you in the streets.

Author

Jen

Date

2004-11-01T11:06:48-06:00
ID

137216

Comment

I know, we won't know until Tuesday (or beyond) whether cell phones have really mattered. But I can't imagine they won't. The tech generation is giving up land lines, left and right. We're never home to answer them. ;-) Now: blue Mississippi. That would be cause for gloating. I've had people looking at me like I'm crazy for months now as I keep saying that Mississippi could swing. I'm not saying it will, mind you, but I am saying that it could. There are a helluva lot of Kerry signs in trailer parks (and I don't say that disparagingly. I spend a good portion of my childhood in trailer parks and have a certain understanding of poor white Mississippians). And a report from Jackson State: young voters there are ready to rumble. The most important thing is: Get Out the Vote. Call, e-mail, drive people to the polls. Just get them there.

Author

DonnaLadd

Date

2004-11-01T11:25:26-06:00
ID

137217

Comment

The other important thing: Kerry needs to win by a solid enough margin that all the court cases over voter fraud and voter intimidation won't matter in determining the final outcome. He needs to win those big swing states solidly, so there's no doubt of who the victor is. That's the tricky part. If Mississippi goes for Kerry, I don't know what I'll do.

Author

kate

Date

2004-11-01T11:44:03-06:00
ID

137218

Comment

I might start doing tequila shots againóor, hell, start drinking it from the bottle as I used to back in my Village Idiot bartender days. Don't ask. ;-D

Author

DonnaLadd

Date

2004-11-01T11:55:35-06:00
ID

137219

Comment

Hear that! I don't know whether I am gonna drink more if Kerry wins or if he loses! lol It does, though, irritate me a bit more than a little that most just assume MS is going to go RED. I think the last numbers were like 70%-30% for Bush in 2000... BUT mind you, only about 1/2 the population voted. Who do we think that 1/2 of the population is made up of mostly? Let's hope we DO know and yes, let's do everything possible to get them to the polls.

Author

Jen

Date

2004-11-01T12:18:30-06:00
ID

137220

Comment

I know, I hate those assumptions, too. This state has always sold ourselves, and our people, short. It's a self-fulfilling prophecy, and it plays right into the hands of the people who play to our worst instincts. We're all together going to change that, though. The power of positive thinking is simply unstoppable. Just look at the Civil Rights Movement. People stood up to water hoses, and dogs, and double-barrelled shotguns, and racist newspapers, and said Jim Crow had to go. And we can't stand up to a few measly, buttoned-up corporate Republicans? Courage. Faith. Determination. Just click your heels together three times and say: "I believe. I believe. I believe." Call me a dreamer. I don't give a damn. I believe in my state and my people. The southern strategy's days are numbered. Maybe it's last longer than another dayóbut it's going to go.

Author

DonnaLadd

Date

2004-11-01T12:23:59-06:00
ID

137221

Comment

Here's a bit of anecdotal evidence. I just got a call from a white politician in the area, a Republican who in the past has spoken to the Council of Conservative Citizens. He was angry because he got a colorful flyer in the mail Saturday from the "Enough Is Enough" crowd against the Convention Center that he swears is racist. He's bringing it by, but meantime just ponder what that phone call could symbolize: Change. Then say it again: "I believe."

Author

DonnaLadd

Date

2004-11-01T12:29:43-06:00
ID

137222

Comment

BTW, if you haven't seen it already, check out this site. Note that Mississippi is pink and "weak Bush." http://www.electoral-vote.com/index.html Believe.

Author

DonnaLadd

Date

2004-11-01T12:32:33-06:00
ID

137223

Comment

Personally, I'd rather be "Barely Kerry" than "Weak Bush" but it's nice to see the Red is fading and does give one a better, if not a little bitter, sense of hope.

Author

kaust

Date

2004-11-01T12:44:36-06:00
ID

137224

Comment

It does give one a sense of hope for tomorrow. And definately if not the literal, the figurative. I don't know who the Enough is Enough people are but good grief, stop with the signs already! People around here have enough trouble driving! Off this subject but to the subject of "anecdotal change--another little story for ya: A gay male friend of mine was asked in a bar over the weekend by a straight white male to explain about the gay marraige admendment and why it was so important. After doing so, the man expressed that he now comprehended and was surely going to vote against it.

Author

Jen

Date

2004-11-01T12:54:22-06:00
ID

137225

Comment

"After doing so, the man expressed that he now comprehended and was surely going to vote against it." -Jen I think if more information were to be provided out on this issue (much sooner) by the big media, there would be more swing to the votes regarding the amendment. I think the primary idea (in this state) was to keep the discussion to a very small window so no logic could be introduced. Once logic is introduced to the argument of a constitutional amendment, it's hard for anyone to argue for it without sounding like a fanatic that is hell-bent on controlling the lives of others.

Author

kaust

Date

2004-11-01T13:07:14-06:00
ID

137226

Comment

That is correct, Knol. Even those against gay marriage hardly have any argument for this amendment. Notice our politicians--elected officials--didn't bother explaning any of this when telling people all about the amending however.

Author

Jen

Date

2004-11-01T13:14:29-06:00
ID

137227

Comment

We should get this back on the Clarion-Ledger thread -- but Knol makes a good point. I was at a Black Journalists forum on Saturday where people seemed to be drinking the Koolaid that this amendment isn't being explained correctly. Their point seemed to be that people should know that it doesn't change anything in current law, so why not vote for constitutionalizing marriage between a man and a woman? If that's what the people speaking up meant -- and I'm not certain -- it was incredibly naive, but it is what supporters of this are pushing. But wasn't it the point that Eric Clark made in last week's press release? I'll go find it and post it. While we're talking about moving Mississippi forward, by the way, we might need to be back on the subject of the current secretary of state at some point. But there's time for that later.

Author

DonnaLadd

Date

2004-11-01T13:14:41-06:00
ID

137228

Comment

Salon's latest roundup: The latest polls from the key states continue a theme of incoherence. Gallup's numbers suggest Kerry is up in Florida by 4, Ohio by 7, and Minnesota by 8, and now Bush suddenly leads in Pennsylvania by 4, and in Wisconsin by 8. Gallup has him up in Iowa by 2. Equally strange is Quinnipiac's new Florida poll, which puts Bush ahead by 8. That's 8 points better than in Quinnipiac's last poll, which called the race a tie just four days ago, on October 28. Quinnipiac also released new Pennsylvania numbers, showing the race dead even at 47, with 6 percent undecided. Zogby's battleground tracking polls are more friendly to the Dems -- and a little more consistent with recent polls. In Pennsylvania, Kerry is up 50-45. In Wisconsin, Bush is getting trounced by a margin of 51-44, and in Michigan, 52-45. In Minnesota, Kerry leads 49-47, and in Iowa, Kerry is ahead 50-44. Zogby calls the race tied at 49 in New Mexico, while giving Bush solid leads of 4 points in Ohio and 6 in Nevada. Were all of Zogby's numbers to prove accurate on election day, that would mean that the race would come down to -- you guessed it -- Florida. Zogby gives Kerry a slight 48-47 lead in the state. Finally, New Jersey still does not qualify for a battleground state. Eagleton-Rutgers, Quinnipiac and Rasmussen all have released polls in the last 24 hours that put Kerry ahead by 4, 5 and 12 respectively.

Author

kate

Date

2004-11-01T13:42:54-06:00
ID

137229

Comment

OK, am I right to say we all agree (except the pollsters and maybe the media)--ok all of us here agree--to screw the polls.... ???? Screw the polls and the pollsters and let's all join together in a circle, hold hands, and chant "I believe" until it's over. We can throw all of our cell phones in the middle for more power. ;-)

Author

Jen

Date

2004-11-01T14:22:45-06:00
ID

137230

Comment

Yes, scr*ew the polls! (Sorry about our internal censor.) Sing Kumbaya. Hold cyber-hands. And people out to the polls. My copy-editing intern from JSU just walked in wearing her "Vote or Die" shirt, by the way. Take it as a sign. Believe, believe, believe, believe ....

Author

DonnaLadd

Date

2004-11-01T14:27:12-06:00
ID

137231

Comment

I love the polls! Especially if you keep in mind Gallup predicted Bush would win by 13 points in the 2000 election! They're gonna be so wrong, it's going to be fun to come back here and look at all the wrong data. Zogby was on the Daily Show, and he was quite candid about the margin for error they are expecting to see with the final results. He too believes that the major polls (his included) are undercounting the youth and cell phone voters. And, nobody really knows who a "likely" voter is this time around. Likely voters are generally people who voted in the last election. but most are expecting a much higher turn out this time around, so it's best to look at polls that talk about Registered voters, not likely. It was an interesting interview - and who knew that Zogby was a guy, and not just a company! You can learn things in an election year!

Author

kate

Date

2004-11-01T14:38:05-06:00
ID

137232

Comment

And, before I get hammered by someone more knowledgeable than I - the Gallup poll/bush by 13 in 2000 is something I've heard a few times, but I have never gone and verified it myself. So, it may be hogwash. But - most analyses I've seen of polls say they are undercounting democrats, undercounting youth, not counting cell phone users, and expect most undecideds to swing towards Kerry.

Author

kate

Date

2004-11-01T14:42:46-06:00
ID

137233

Comment

I laughed for 15 minutes at an email I got this morning.. and please no one be offended I am an AVID cat lover... It had a picture of this cute little kitten being chased by these evil looking things... and it said... "Remeber, every time you vote Republican, God kills a kitten. ... PLEASE think about the kittens." It was called runliberalrun Just a little non-politically correct humor there for ya... back to business now if we must. ;-)

Author

Jen

Date

2004-11-01T14:43:07-06:00
ID

137234

Comment

But - most analyses I've seen of polls say they are undercounting democrats, undercounting youth, not counting cell phone users, and expect most undecideds to swing towards Kerry. Again, lets hope so, Kate. I've also heard even the most Conservative pundits saying how driven many voters are this time around by hatred. Instead of necessarily voting FOR a candidate, although many like Kerry, many many voters are/will be drawn to the polls simply out of hatred for Bush and his policies and actions. This drive can and hopefully will be stronger than the drive of those simply going to vote "for" there candidate.

Author

Jen

Date

2004-11-01T15:08:30-06:00
ID

137235

Comment

My "Spidey Sense" says Bush gets 54% of the Mississippi vote (plus or minus 1%). That's compared to 57% in 2000

Author

Philip

Date

2004-11-01T20:00:30-06:00
ID

137236

Comment

Hmm... That's a pretty good spidey sense, I think. I'm going to *hope* Kerry takes the state, but if I were betting real money, I'd put my (imaginary) bets on Bush with 53.5% of MS.

Author

kate

Date

2004-11-01T21:13:43-06:00
ID

137237

Comment

I voted! I love voting! Especially when my spidey sense is singing "Bush is gonna lose today!" There are more people, more energetic about this election than I've seen in a long time.

Author

kate

Date

2004-11-02T08:33:36-06:00
ID

137238

Comment

I was not on the roster which means I was forced to do a provisional/affidavit ballot. I received my card at my new address in Fondren which means I should be on the roster; so, I know I am registered at that address. There were 6 other people there (at the time) that had their voter registration cards and had to do the same thing... Is this something to be concerned about?

Author

kaust

Date

2004-11-02T08:44:33-06:00
More like this story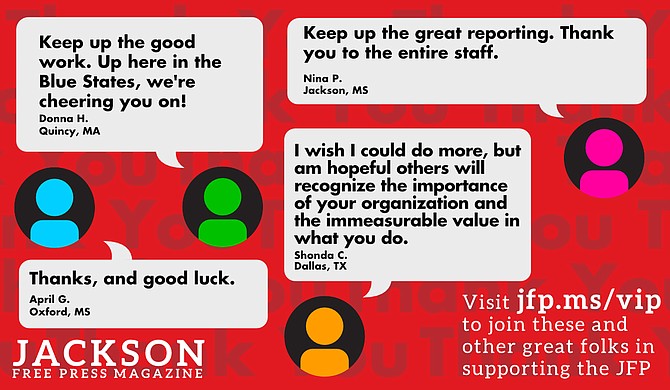 Thanks to all our new JFP VIPs!
COVID-19 has closed down the main sources of the JFP's revenue -- concerts, festivals, fundraisers, restaurants and bars. If everyone reading this article gives $5 or more, we should be able to continue publishing through the crisis. Please pay what you can to keep us reporting and publishing.