AP is reporting: "Undercutting the Bush's administration's rationale for invading Iraq, the final report of the chief U.S. arms inspector concludes that Saddam Hussein did not vigorously pursue a program to develop weapons of mass destruction when international inspectors left Baghdad in 1998, an administration official said Wednesday. In drafts, weapons hunter Charles Duelfer concluded that Saddam's Iraq had no stockpiles of the banned weapons but said he found signs of idle programs that Saddam could have revived once international attention waned. 'It appears that he did not vigorously pursue those programs after the inspectors left, the official said, speaking on condition of anonymity in advance of the report's release. Duelfer, head of the Iraq Survey Group, was providing his findings Wednesday to the Senate Armed Services Committee. His team has compiled a 1,500-page report. Duelfer's predecessor, David Kay, who quit last December, also found no evidence of weapons stockpiles."
Previous Comments
ID

85745

Comment

Once war seemed inevitable after the inspectors left Iraq and up until the UN said they would reconsider being part of the war effort if Saddam used banned weapons, I don't think it proves anything, even if he perfected banned weapons in that period of time. Once you are pretty sure your going to be attacked it seems to me you do anything you can. We can debate on Saddams intentions, hopes and dreams all day. When a leader of a foreign country and that country at large would like to see harm done to America, that isn't reason to go to war with them. I'm sorry. I know war is good business and all, and bombing is "Dennis Miller Fun" and really makes us something to be feared, and we all want the world to fear us above all else right ? Thats the goal right ? Meanwhile technology allows more and more countries to prepare to oppose their fears. What happens when WMD's are as easy to make as coke bottle gasoline grenades ? What happens when Middle Eastern Children learn to split atoms in grade school ? Do we still want everyone in the world to fear us, as we dare them to step up for a spanking ?

Author

herman

Date

2004-10-06T10:33:38-06:00
ID

85746

Comment

RE: ìWe want the world to fear us, right?î --- NO, we want those people in the world who have desires/plans/intent to harm the US/US citizensÖto fear the consequences that will be brought down upon them if they do so act. RE: When a leader of a foreign country and that country at large would like to see harm done to America, that isn't reason to go to war with them --- Agreedósomeone that wishes you harm is not someone who you should strike at merely for wishing you harm. However, someone who wishes you harm and who also has a demonstrated history of, for example, raping, torturing, maiming and/or murdering people and the means for doing it again Öis probably some one you will want to take some preemptive action against---lest you find out the hard way just how much they really wish you harm.

Author

B Chan

Date

2004-10-07T04:02:51-06:00
ID

85747

Comment

NO, we want those people in the world who have desires/plans/intent to harm the US/US citizensÖto fear the consequences that will be brought down upon them if they do so act. I'm curious, B, do you think that's working for us? Also, who is next on your list for pre-emptive attack? And do we and our current "coalition" have the resources to methodically eliminate all the folks who hate the U.S.? A list that is steadily growing, I'm sorry to say. And, how do you propose that we build our forces up to manage this "shock and awe" that will instill cold fear in all these countries of us? Would you be amenable to re-starting the draft? I'm not being sarcastic. I ask you this seriously. I'm curious to hear your answers.

Author

DonnaLadd

Date

2004-10-07T08:27:13-06:00
ID

85748

Comment

Shock and awe. How's this for spin: Cheney: Weapons report justifies Iraq war. Let's see. They have no WMD, the sanctions (albeight corrupted) were working (in that the programs had declined in the years since GW1), and Iraq's main worry was Iran. So, this supports our case for war? I must be dumb, 'cause I just can't follow this logic.

Author

kate

Date

2004-10-07T10:48:19-06:00
ID

85749

Comment

I don't think you're the target market for Cheney's logic, Kate. It's aimed at people who believe that thinking is a sign of communist sympathy.

Author

DonnaLadd

Date

2004-10-07T11:00:54-06:00
ID

85750

Comment

Here's the headline right that Cheney one on my Excite portal: U.S. Report Finds Iraqis Eliminated Illicit Arms in 90's And this is the lead story right now: Two rockets hit a downtown Baghdad hotel housing foreigners and journalists Thursday, and gunfire erupted in the neighborhood across the Tigris River from the U.S. Embassy compound. Security guards at the Palestine hotel said two rockets hit the nearby Sheraton hotel, shattering windows and filling the main lobby of the hotel with smoke and debris. Several shaken Westerners emerged from the hotel, some covering their mouths with cloths, as workers swept up shards from shattered plate-glass doors in the Sheraton lobby. There's your shock and awe.

Author

DonnaLadd

Date

2004-10-07T11:05:52-06:00
ID

85751

Comment

I like the point made on J Pollan's blog... On the eve of war, Bush gave Saddam a deadline to show us his WMD. Cough 'em up, or we invade. He didn't, and THAT was the actual 'trigger' that bush claimed as the reason we went to war. The last chance to avoid it, as he claimed. Now think about this. How could war be avoided if there was nothing to cough up? How could ANYONE on earth prove to bush that war was not necessary? The answer? Who cares. It didn't matter what was done. The decision was made to go to war and nothing as insignificant as 'the facts' would de-rail that decision Link They were going to war with or without the weapons, corrupt sanctions or not, etc... As illustrated by their actions (not reactions). Now, their responses/reactions to this data further highlight their stubborn, self-serving agenda from my perspective... Just keep repeating, "The world is safer without Saddam." Maybe you will get it if you keep repeating -- over and over again... You'll never understand "how hard it is" to be president. "Uhhhh."

Author

kaust

Date

2004-10-07T11:55:01-06:00
ID

85752

Comment

Yeah, the whole Saddam-is-evil argument is such a straw man. I remember back when we ran our war myths piece, and people were trying to say that if you were opposed to this war that you were somehow justifying Saddam. That kind of logic wouldn't get past the No Child Left Behind standards. It's just plan stupid. The point has always been that Saddam is and was bad (even when our country supported him) and that he needed to go. The question has always been how to do that without getting a bunch of American soldiers killed, motivating new terrorists and alienating the whole damned world (uh, except, Poland, uh except that they're gone now, too, oops) so that they won't help us watch our soldiers' backs, not to mention keep the peace, guard national treasures in Iraq and get the friggin' lights workin' and toilets flushin'.

Author

DonnaLadd

Date

2004-10-07T12:20:40-06:00
ID

85753

Comment

Conservative blogger Andrew Sullivan outright makes a statement on top right now: THE UNDERLYING FACT: I have to say I have been enjoying and learning from this campaign in many ways - not least from you, the readers, and from the twists and turns we have seen and will keep seeing. But now and again, it's worth looking at the big picture. The fundamental question in this campaign is the war in Iraq. Was it worth starting? Has it been conducted well? Will it make us safer? My answers to those three questions are, briefly, yes, no, and, it depends. But from a broader perspective, the following facts are simply indisputable. The fundamental rationale for the war - the threat from Saddam's existing stockpiles of weapons of mass destruction - was wrong. Period. In the conduct of the war, it is equally indisputable that the administration simply didn't anticipate the insurgency we now face, and because of that, is struggling to rescue the effort from becoming a dangerous mess. Period. So the question becomes: how can an administration be re-elected after so patently misjudging the two most important aspects of the central issue in front of us? It may end up as simple as that. Maybe, in fact, it should end up as simple as that.

Author

DonnaLadd

Date

2004-10-07T12:22:08-06:00
ID

85754

Comment

1 of 3 RE: I'm curious, B, do you think that's working for us? I suppose that depends. If ìworkingî means that it takes no longer than some arbitrary but limited period of time, may be not. If ìworkingî means that it is bloodless, may be not. If ìworkingî means a guy whose regime historically and routinely rapes, tortures (for example, throwing people feet first into giant rubber calendars that grind them into mulch), maimes and murders people who donít agree with him or otherwise cross his path is: ï not a threat to anyone; ï more likely to just start ìplaying nice with othersî if only given a little more time; and/or ï somehow not at risk of supporting/enabling other people who have professed a commitment to killing innocent (although differently thinking) people, wherever they may be foundÖ then may be not. If ìworkingî means diplomatic efforts should continue for as long as a threat decides to string the diplomatic process along, without actually ever complying with their promises, may be not. On the other handÖ If ìworkingî means it is important to follow through with your promises (including those to deliver dire consequences), regardless of the time it my take, because it effects your credibility (i.e. whether people believe you can/will do what you say you will do), may be so. If ìworkingî means people who will rape, torture, maime and murder their own people are also very likely to have little regard for your/my life/liberty etc. and are likely to carry out or otherwise enable others to carry out efforts to kill innocent people and should thus be removed, then may be so. If ìworkingî means that getting rid of a tyrant/dictator/zealot with a history of killing/having people killed and substantial financial means and the ability to support/encourage non-sensical/extremist Islamic religious zealots to act out against innocent people, then may be so.

Author

B Chan

Date

2004-10-07T13:18:49-06:00
ID

85755

Comment

2 of 3 RE: Also, who is next on your list for pre-emptive attack? I donít have a list. But, I do know (from personal grade school experience) that when a bully rises up, he will keep tweaking you until you prove you mean business and that you wonít be making it easy going for him anymore. I also know that the other bullys are watching how you deal with the problem. Credibility can go a very long way toward how effective your future diplomatic efforts will be with any of the bullys. Effective diplomacy will win the opposition over sooner, rather than later. Fearfully keeping your head down, hoping the bully wonít screw with you, is no way to live. It is not ìpeaceî. Confronting the bully is also rarely easy. RE: And do we and our current "coalition" have the resources to methodically eliminate all the folks who hate the U.S.? With respect to Iraq/Afghanistan, my understanding is that we are undertaking efforts to eliminate those people who have or are undertaking active efforts to harm innocent people (people who generally do not think quite like them). I am unaware of any effort to wipe out people who merely have a level of hatred toward the US/innocent people. Am I mistaken? As for resources, I guess I see it as ìwhat choice do you really have?î We are, regretfully, dealing with the law of the jungle, the same mentality that is widely reported to prevail in prison, essentially---fight or be loved like you have never been loved before. The question is, are people really ready for more ìlovinî? If we donít pursue this, will the nuts and bullys really go away? Will it matter if we ìsave resourcesî? Sorry, but the first time they tried to take down the WTC in 1993 a close family member was in the WTCÖand I was across the river. That was close enough to make me realize this stuff is real and can hit VERY close to home---that the towers actually came down later on 9/11 made me realize they did not just ìgo awayî after 1993.

Author

B Chan

Date

2004-10-07T13:20:10-06:00
ID

85756

Comment

3 of 3 RE: A list that is steadily growing, I'm sorry to say. Really? I suppose that I am misguided by my personal experience that tells me that there are substantially more people from other countries in the south alone ñincluding Jackson--- than there used to be when I was growing up in Jackson. There are many more people from around the world who venture to the US each year to work, study and very often become permanent residents. I donít understand why such people would flock to a place that they so hate. I suppose I am also misguided by my personal experience with the numerous technical/management/business people that I meet and work closely with in my day to day activities who are from countries such as China, India, Taiwan, the Philippines, Pakistan, Iraq, Cypress, Vietnam, Greece, Mexico, S. Korean, Russia (as well as other former Soviet block countries) and even Japan and Germany---who, when talking about their presence in the US rarely fail to mention the word ìopportunityî at least onceóthe opportunity that the US has provided/provides to them and their families (both those in the US with them and those back home). Hate/animosity toward the US has never been apparent to me. Their words are without doubt in stark contrast to the image that I personally see on TV / in the news. Maybe I put too much stock in personal experience. RE: Would you be amenable to re-starting the draft? Personally, I believe that anyone who is forced into doing something, is not going to end up being the kind of person you want to rely on ---particularly when the going gets tough. There is also a part of me that wants to suggest that it is just ìun-Americanî to balk at the notion that as an American, you may need to step up to the plate and serve your country (what, let some one else do all the heavy lifting? Come onÖ). My hope is that if the time comes when head count and ability is needed in the armed forces, Americans will step up to the plate without having to be forced to do soÖthey will recognize and understand the potential consequences of not doing so. I may be hokeyily(sp??) optimisticÖnonetheless, I am. That said, I know that certain bills concerning the draft (Senate bill S89 and House bill HR 163) have been proposed -almost two years ago - by democrats Rangel and Hollings and are still pending. Rangel explained during a TV interview that I saw about a year ago, that his reasoning for proposing this legislation was that the current system of a volunteer army adversely impacts minorities and poor families who do not have the resources to select other options for gaining skills or otherwise earning a living...that a draft will even out the participation by all social/economic groups. Perhaps he has a point.

Author

B Chan

Date

2004-10-07T13:21:05-06:00
ID

85757

Comment

B Chan, I'd agree with some of your arguments more wholeheartedly if Iraq were actually connected with Al Qaeda. But it's not, and did not represent a threat to us. And, in the light of Abu Ghraib and Guantanamo Bay, let's be careful about how we want to 'bring down' regimes that condone torture. As for the Draft issue, I remember reading at the start of the war that something in the neighborhood of 2 congresspeople had family members serving.

Author

kate

Date

2004-10-07T13:53:56-06:00
ID

85758

Comment

Red-Herring Alert Would you be amenable to re-starting the draft?

Author

TC Stein

Date

2004-10-07T14:01:44-06:00
ID

85759

Comment

He had WMD. He admitted he had them in 1995. He smuggled them accross the border to Seria right before, during & right after the last Gulf War. Most of his WMD are in Seria, and some are in Iran.

Author

phsjr1

Date

2004-10-07T14:07:31-06:00
ID

85760

Comment

1995 is not the same as 2003. Iraq didn't attack us. Al Qaeda did. Look at the findings in the report. Iraq wasn't concerned with America. They were concerned with Iran. And, yeah, if we're going to continue an insane war, then I think we should institute a draft. Because I think the people in power need to know what it's like to send their kids to war. From the stats I've seen, the military is made up of people who don't have alot of other options. I'm not fully convinced either way on the issue, but, right now I mostly lean towards the draft. And before we re-hash everything, some of you newcomers might want to go read: http://www.jacksonfreepress.com/comments.php?id=1786_0_3_0_C http://www.jacksonfreepress.com/comments.php?id=2111_0_3_0_C http://www.jacksonfreepress.com/comments.php?id=802_0_9_0_C There's tons (I'll let you provide the exact number, TC) of posts there, that go through all of these issues.

Author

kate

Date

2004-10-07T14:22:05-06:00
ID

85761

Comment

CBSNEWS: U.N. Faces Iraq Bribe Allegations http://www.cbsnews.com/stories/2004/04/21/world/main612996.shtml ABCNEWS: Report: U.N. Program Full of Corruption http://abcnews.go.com/wire/US/ap20041007_789.html U.N. Official Implicated in Iraq Scam http://www.foxnews.com/story/0,2933,134787,00.html

Author

phsjr1

Date

2004-10-07T14:28:10-06:00
ID

85762

Comment

Yup. Saw that. That program was corrupt. Doesn't change the fact that Al Qaeda attacked us, not Iraq. That Iraq did not have WMD in the 21st century.

Author

kate

Date

2004-10-07T14:33:50-06:00
ID

85763

Comment

Saddam himself WAS a WMD.

Author

phsjr1

Date

2004-10-07T15:11:15-06:00
ID

85764

Comment

NEW YORK POST: SUCK-UPS FOR SADDAM'S OIL http://www.nypost.com/news/worldnews/20037.htm

Author

phsjr1

Date

2004-10-07T15:40:19-06:00
ID

85765

Comment

But, just Saddam? Do you look the other way when it comes to Uzbekistan president Islam Karimov, since he's a U.S. ally? Karimov boils political opponents alive, rules as an iron-fisted Stalinist yet is rarely mentioned in the press (never by NewsCorp). Does Karimov qualify as a WMD? If, as you claim, the weapons are in Syria, provide your evidence. And no, NewsMax and the Washington Times do not count as credible sources.

Author

corrosiongone

Date

2004-10-07T15:42:01-06:00
ID

85766

Comment

phsjr1, are you, like Bush, confusing bin Laden with Saddam? 'Cause otherwise, not so much following the logic. Go read all the other threads. Really. We've been round and round on this before.

Author

kate

Date

2004-10-07T15:46:24-06:00
ID

85767

Comment

AP is reporting: President Bush and his vice president conceded Thursday in the clearest terms yet that Saddam Hussein had no weapons of mass destruction, even as they tried to shift the Iraq war debate to a new issue - whether the invasion was justified because Saddam was abusing a U.N. oil-for-food program. Ridiculing the Bush administration's evolving rationale for war, Democratic presidential candidate John Kerry shot back: "You don't make up or find reasons to go to war after the fact." Vice President Dick Cheney brushed aside the central findings of chief U.S. weapons hunter Charles Duelfer - that Saddam not only had no weapons of mass destruction and had not made any since 1991, but he had no means of making any either - while Bush unapologetically defended his decision to invade Iraq. "The Duelfer report showed that Saddam was systematically gaming the system, using the U.N. oil-for-food program to try to influence countries and companies in an effort to undermine sanctions," Bush told reporters as he prepared to fly to campaign events in Wisconsin. "He was doing so with the intent of restarting his weapons program once the world looked away." Duelfer found no formal plan by Saddam to resume WMD production, but surmised that Saddam intended to do so if U.N. sanctions were lifted. Bush seized upon that inference, using the word "intent" three times in reference to Saddam's plans to resume making weapons. Cheney dismissed the significance of Duelfer's central findings, telling a town-hall style meeting of supporters in Miami, "The headlines all say 'no weapons of mass destruction stockpiled in Baghdad.' We already knew that." The vice president said he found other parts of the report "more intriguing," including its finding that Saddam's main goal was the removal of international sanctions. [...] Yet Bush and Cheney acknowledged more definitively than before that Saddam did not have the banned weapons that both men had asserted he did - and cited as the major justification before attacking Iraq in March 2003. Since no evidence of any such weapons has been found since then, Bush has recently left the question open. For example, when asked in June whether he thought such weapons had existed in Iraq, Bush said he would "wait until Charlie (Duelfer) gets back with the final report." In July, Bush said, "We have not found stockpiles of weapons of mass destruction," a sentence construction that kept alive the possibility the weapons might yet be discovered. On Thursday, the president used the clearest language to date nailing the question shut: "Iraq did not have the weapons that our intelligence believed were there," Bush said. His words placed the blame on U.S. intelligence agencies. All this flip-flopping is making me dizzy. Their hubris does astound me.

Author

DonnaLadd

Date

2004-10-07T15:47:47-06:00
ID

85768

Comment

If, as you claim, the weapons are in Syria, provide your evidence. And no, NewsMax and the Washington Times do not count as credible sources. Nor does the New York Sensationalist Post. ;-) And we've been through all this before, phsjr1. At least add something new, and remotely convincing, to the discussion if you're going to drag us all backward. It's a waste of time, otherwise.

Author

DonnaLadd

Date

2004-10-07T15:50:38-06:00
ID

85769

Comment

By the way, I think Bush should send a handwritten personal apology to the family every one of the soldiers who has died in Iraq. It would take a while, eh? You don't wage a pre-emptive war hoping the justification awaits when you get there. That's ludicrous. You don't do that with American lives. And you sure as hell shouldn't be re-elected if you do it with the ability to make all sorts of other similar hopeful decisions without the pressure of re-election for you or your vice president, as Cheney pointed out so presciently in his debate when he pointed out that he wouldn't have to worry about being re-elected. I wonder if people really realized what he was saying.

Author

DonnaLadd

Date

2004-10-07T15:57:38-06:00
ID

85770

Comment

Iran & North Korea are next hopefully.

Author

phsjr1

Date

2004-10-07T16:25:48-06:00
ID

85771

Comment

I was just curious about something. Now that we are making it safe to have free elections over in Iraq, what if those wacky Iraqis decide to re-elect Saddam? I read somewhere that he has a 45% approval rating over there (similar to GW's here), so the idea isn't that far-fetched. Do we declare another war?

Author

Rico

Date

2004-10-07T23:34:44-06:00
ID

85772

Comment

No answer for your claim, phsjr1? Is that how you're used to operating? Change the topic when your veracity is challenged? Come now, show the evidence the weapons are in Syria. Or does their very lack of existence PROVE their existence? Oh, ok. Now I understand how to think.

Author

corrosiongone

Date

2004-10-08T06:44:19-06:00
ID

85773

Comment

Rico, you make a good point about the elections though I think it is a little exaggerated. How do we (USA) guarantee that the internal and external powers, including the US, that made Saddam such an "evil dictator" won't corrupt this new "democracy" and its leaders? How do we know a new Iraqi democracy will actually be any different with another decade of elections? What is being done by our administration (or will be done by Kerry) to guarantee this won't happen again. US occupation won't help... Hell, that's part of the problem with the Middle East. Does anyone know how BushCo and/or the Johns plan to keep Iraq from repeating its historyl? And phsjr1, if we're going to be pre-emptive for the "sake of", let's attack the big Wal-Marts and similar concepts that kill our small-town economies and litter them with empty shells of buildings (one reason I will shop at the one in Madison ;-) )... Let's attack those kids on the streets that feel the need to push drugs on small children or shoot guns in public places at other humans... Let's attack our under-funded system of education. Let's attack OUR PROBLEMS before we start dealing with Iran's "problems" (read: Iraq)... After all the investigations, isn't that what Saddam was? Iran's problem? There are so many more wars we could be waging in our own back yard that would make America a stronger and more secure place against terrorism and many other threats.... Diverting those funds to an ill-waged war to claim "face" for BushCo just doesn't seem to be helping us in the States.

Author

kaust

Date

2004-10-08T07:30:31-06:00
ID

85774

Comment

I just don't see how people can still follow behind this administration after all of it's own flip-flopping and the way it Spins lies as wholehearted truths and Truth as wholehearted lies it is amazing and in our Great State of Mississippi the Republicans and George Bush still gets a favorable Approval Rating and it seems that they really may have our state Locked in ther favor.......knowing the Demographic of Mississippi and also the Economic Situation and disparity amongst races would probably paint a clearer picture of why? I don't have that data on hand at the moment but I have an idea........I don't think America and it's Country of Divided Americans can take on the whole world and another poster made very good points about what are we gonna do when Biological weapons are as easy to make as a Coke Bottle Grenade/Rocket........we had better start taking from lessons from the past from fellows like MLK and start going about more peaceful means of dispersing conflicting views and dealing with other countrys some folks out here better start thinking about there kids and there futures if they really care b/c the world they are about to inherit is not going to be a Peaceful one if we believe we can wage war to obtain peace......none of our wars in this country have led to anything except more wars and excuses for more wars why is that? Why do have war on everything in this country.......why do so many people blindly stand by and take what gov't spews as total fact.....b/c people are unfairily living lives that are disprportionate to one another in this COUNTRY AS IN MISSISSIPPI....most people with the big money live as far away from poorer people as they can and then use them for low paying wages that they can barely get by on and then wonder why crime is so high......wondering why these kids or shooting kids in schools and other realities that we face today The Majority that is in power will not be safe no matter how many guns they think have and whatever means they think they can take to secure themselves people in this country and mississippi had better learn to share the wealth in a fair and proportionate manner before it is too late and we are all gone....... I know I got off topic but the posters in here that STILL FOLLOW BEHIND THIS CURRENT ADMINISTRATION AND IT'S POLICYS IRKS ME........

Author

JAC

Date

2004-10-08T09:55:56-06:00
ID

85775

Comment

JAC, you make a good point about the Bush administration's flip-flopping, as did Edwards in his debate. It is the worst example of flip-flopping -- especially since it's not basing its positions on actual intelligence and research -- usually the opposite. But as Todd points out, Karl Rove's tactic is to attack what they see as strengths in others; thus, a thinking person would look at Kerry and say, "well, a president should be confident and thinking enough to change his mind as the information warrants it." Meantime, Bush is caricaturing himself right now by making up new excuses for the war rather than apologizing to the American people for making a mistake. It would be more believable that he actually *believed* there was WMD if he would do that now. As it is, it just looks like he's trying to cover up lies, and his credibility is tanking, as the polls show. So a good thing to watch for is that people (a) attack your strengths and (b) often attack you for what they know are their own weaknesses to deflect attention from their own shoddiness. The "flip-flopping" thing is a classic example, I believe. What is enabling the ridiculous level of lying and obfuscating right now is the corporate media and their fake objectivity. When a candidate or elected official lies, regardless of party, it should be plastered across the headlines the next day that they lied. (It would be if it was a competitive journalist.) I think a lot of soul-searching is going on in media circles right now about what the abysmal coverage (such as of the "myths" of war, reported largely only by alternative media as the war started, I report with a bit of bittersweetness) is doing to our country and the world. There is a book here in the public library about media coverage during the Hitler days. I'm in no way saying Bush is Hitler -- down, boys -- but the part about how such bad policies got into place due to a lazy and fawning media is very telling and should be a warning about what can happen if the Fox Newses of the country are allowed to drive coverage, regardless of actual fact. Bush partly got into office, as it were, due to the media's lack of explanation of what "compassionate conservatism" actually meant, as defined by the people who thought of the concept. And I assure you, the real meaning is as Orwellian-backward as the Bush adminstration accusing Kerry of being a "flip-flopper."

Author

DonnaLadd

Date

2004-10-08T10:21:20-06:00
ID

85776

Comment

Iran & North Korea are next hopefully. Ph, have you considered where the troops are going to come from for this expanded war on terror? We have a thousand fewer than we used to have, many thousands fewer when you count the severe injuries. The world community is unwilling to help expand our coalition with Bush in office. (You saw that Poland pulled out after Bush childed Kerry for "forgetting" to mention them in the last debate, right?) National Guard and reservists are furious about the backdoor draft that is keeping them in a war with no end that we now know had no legitimate reason for being waged in the first place. It is not part of the war on terror, because there was no connection between Saddam and bin Laden. There was no WMD production there since 1991. The sanctions were working, and indeed were the only things that were. Scott Ritter was right about everything, although he was belittled mightily by this adminstration and its cronies. This war is likely increasing the number of terrorists in the world due to the anger it is spreading. We're not modeling democracy even here at home (did anyone hear Nina Tottenberg's report this a.m. about the Bushies threatening to arrest any potential Kerry supporters at the president's public rallies???) And if all hadn't noticed, it's going to be hard to shock and awe and terrify would-be suicide bombers. They've already to the point that they don't feel like they have anything to lose. They're ready to die for the cause. Thus, as Kerry says, a war on terror has to be more "intelligent" than lying and bullying. And what are we going to do when we run out of troops in Iraq and our "coalition" breaks apart further? Say, "It's been fun; we're out of here." Or, are we going to have to find more troops at home, whether they want to help with an ill-fated war or not? Or, more likely, the troop shortages will be for fights in places that are *actually* threats to the U.S. and our allies, being that we decided it was more urgent to "march to Baghdad," than to actually concentrate on fighting a war on terrorówhich includes a shitload more than loading-for-bear. It has something to do with actually modeling democracy. So, no, TC, it is most certainly not a red herring for draft-age people to be concerned about a draft. I would argue that it is naive for them not to be.

Author

DonnaLadd

Date

2004-10-08T10:32:20-06:00
ID

85777

Comment

Ladd thanks..... I totally understand your points on attacking strengths like the repubs have done with attacking Kerry's Vietnams War Record that was the most low class Political attempt at a Political blow that I have seen in awhile Bush and his chronies should have been the last ones to attack Service Records but they really had no other plataform to run on so they send that out to there Surrogate Spinners whom send it to the waiting Hounds of CNN and FOX ABC ect...and then you hear the same Spoon fed story from both political parties on every station.......it is really sickening and the number of people that are getting disgusted with our news reporting in this country is growing by the day.......I often catch the British Parliament (Tony Blair) and there ways of discussing political issues which is totally different than what we have in the U.S. I have noticed that there Gov't parties are more open in criticizing each other in there public meetings and IMO has a sense of relating to the common issues of the common man of there country, unlike our country where most in power try to maintain a sense of Political Correctness whatever that is........we have too many politicans over here that beat around the Bush and never get to the Heart of the Issue........ Now getting back to Bush and all his Followers and the #1 Reason I have heard given as to the difference between Kerry and he....is "Bush believes what he says and doesn't back down from it".....I'm sorry but the man has portrayed himself as nothing but an idiot to me and is hardly compassionate as his Texas Death Row Record Proves, as many other things about him and if others couldn't see that he was and Idiot or atleast unfit to be LEADER of the #1 Superpower in this World after the 1st debate than they are probably just as much on a ignorant level as I see him to be......just because you stick to what you believe is RIGHT or SAY you believe it to be RIGHT and stick with it does not make you some great leader and it definitely does not make it right as George Bush Continues to prove...yet with all the Failed Policy that has come out of this Administration the last 4 years.... Some people continue to support this man never have I seen soo many people/races collectively work together to get a president out of office this coming election will be Unprecedent...and hopefully it will unpresident George W. Bush..... and this lil Iraq war was led for many different reason none of them are what we told they were being waged for from this administration I think it wages under arrogance and a group of men wanting to Go down in History as Great Men who did Great things and are still trying to Hard to make that legacy come true in America and Iraq, because Saddam wanted to go down as a Great Man in History also and he was just as arrogant as George Bush they both are arrogant men in power and you know what they say about Power and Absolute Power... Continued.......

Author

JAC

Date

2004-10-08T11:56:33-06:00
ID

85778

Comment

what most of us common folks know is that we will probably die nameless but when you are well known you have to be known for Great Things and I think that was the Mindset of George Bush he wanted to make history as a Great Leader by invading Iraq but I only think of it as a small part of the pie in the whole circle of reasons to invade Iraq..... I think it was a whole Skew of reasoning behing invading Iraq none of them necessary Since it was well reported that Saddam had no WMD's even though it was hard to decipher but if you have read anything on the Mindset on Saddam Hussein you would know that he was just afraid for his life as the Iraqi was of him....he had really backed himself in a Corner and wanted out...I read today that he even tried a couple of times to hold talks with the U.S. but that was to no avail........

Author

JAC

Date

2004-10-08T11:56:51-06:00
ID

85779

Comment

Bush's supporters will continue to support him no matter what believing that his stubborn bull headedness is proof positive of strong leadership. This amazes me to no end, that a man who is unfit to run a school district, runs an entire nation. I noticed several post regarding flip flopping, which brings me to my next point. Supposedly one of Bush's strong points is his ability to make decisions strongly based in his faith. Well the people that support him for that need to remove that rafter from his eye so that he can better see how to remove it from Kerry's! Both camps seem to forget that ages old saying that when you point your finger in blame there are three fingers pointing back.

Author

Jsham

Date

2004-10-08T14:43:35-06:00
ID

85780

Comment

On a lighter note, here's a Bush joke: How many Bush officials does it take to change a lightbulb? None. "There's nothing wrong with that light bulb. It has served us honorably. When you say it's burned out, you're giving encouragement to the forces of darkness. Once we install a light bulb, we never, ever change it. Real men don't need artificial light." - from Steve Chapman, via lotsa people. (Stolen from http://www.AndrewSullivan.com)

Author

DonnaLadd

Date

2004-10-08T15:16:12-06:00
ID

85781

Comment

Interesting wrinkle emerging from Duelfer's report: the attack of Iraq *increased* risk of WMD attack: An exhaustive report released last week by Charles Duelfer, the CIA's chief weapons investigator in Iraq, concluded that Saddam Hussein destroyed his stockpiles of chemical and biological weapons in the early 1990s and never tried to rebuild them. But a little-noticed section of the 960-page report warns that the danger of a "devastating" attack with unconventional weapons has grown since the U.S.-led invasion and occupation of Iraq last year. The Bush administration, which went to war primarily to disarm the Baghdad regime of suspected illicit stockpiles, has not previously disclosed that the insurgent groups that have emerged and steadily expanded since Hussein's ouster now are seeking to develop their own crude supplies of such deadly agents as mustard gas, ricin and the nerve gas tabun. Los Angeles Times/San Francisco Chronicle article

Author

DonnaLadd

Date

2004-10-11T09:52:16-06:00
ID

85782

Comment

WMD or not Saddam violated the terms of the cease fire for 12 years. Morality of the war aside I do believe it is legal. I also believe Bush and Kerry both really believed Iraq had WMD. I don't think he intentionally mislead the world on that. I don't like bush and didn't vote for him the first time, but I hate kerry and will vote against him this election. Kerry does not have what it takes to be a Commander and Chief. He is not going to be aggressive enough to handle a war. Honestly I think it wouldn't hurt Bush to be more aggressive. Maybe after the election. Kerry is too worried about getting other countries on board that already state they want nothing to do with this even if he is president. I sincerely believe he will get more people killed in the long run by trying to let diplomacy work where it has already failed. He will follow the same route GEN McClellan made in the civil war. He was too cautious when invading the south. He was afraid to move troops if everything was not going exactly as planned. GEN Lee and GEN Jackson managed to overwhelm his forces with a much smaller force by using interior lines and staying flexible. They were aggressive and if it wasn't for GEN Grant using the same aggressive tactics the south would still be the confederacy.

Author

nothing

Date

2004-10-12T21:37:18-06:00
More like this story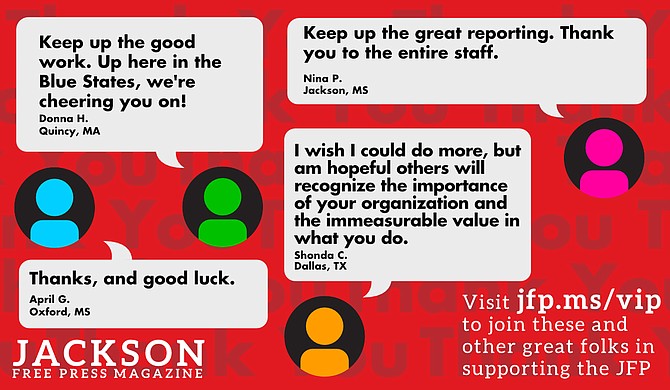 Thanks to all our new JFP VIPs!
COVID-19 has closed down the main sources of the JFP's revenue -- concerts, festivals, fundraisers, restaurants and bars. If everyone reading this article gives $5 or more, we should be able to continue publishing through the crisis. Please pay what you can to keep us reporting and publishing.