CNSNEWS.com is reporting:
"Almost two weeks after Democratic presidential nominee, Sen. John Kerry, threw in the towel in the 2004 race, the Green Party claims that a recount in the crucial state of Ohio is now a "certainty." The Green Party's presidential candidate, David Cobb, stated Monday that the $113,600 filing fee for a statewide recount had been raised in time to meet the state's deadline and that "thanks to the thousands of people who have contributed to this effort, we can say with certainty that there will be a recount in Ohio." ... Although Ohio Secretary of State Ken Blackwell has yet to certify the results of the state's presidential voting, Republican President George W. Bush won 2,796,147 votes on Nov. 2 to Kerry's 2,659,664, a difference of 136,483. Ohio's 20 electoral votes helped Bush accumulate 286 in all, 16 more than he needed for re-election.[...]
Blair Bobier, the media director for the Cobb campaign, alleged Monday that "the Ohio presidential election was marred by numerous press and independent reports of mis-marked and discarded ballots, problems with electronic voting machines and the targeted disenfranchisement of African-American voters."[...]
The electoral votes "are certified on Dec. 7," said Jonathan Turley, a constitutional law professor at George Washington University in Washington, D.C., who is not connected to the official recount bid in Ohio.
Presidential electors (the individuals casting the electoral votes) "actually vote on Dec. 13. But those votes are not opened by Congress until Jan. 6. So there is still time to challenge the results in Ohio, as well as other close states such as New Mexico, Iowa and Nevada," Turley said. "This is not to say that a recount is likely to change the result of the election, but it is not an impossibility."
Keep up with this ongoing recount saga at http://www.dailykos.com .
Previous Comments
ID

137386

Comment

From Salon today: Report: Voting machines may have boosted Bush totals Itís not proof of voter fraud -- at least not yet -- but it seems that somebody has some explaining to do about the election results from Florida. In a report released this morning, researchers at the University of California, Berkeley, say that George W. Bush received 130,000 more votes in Florida in 2004 than he should have received, and that the only real explanation has something to do with electronic voting machines. † Through multiple-regression analysis, the Berkeley researchers examined the increase in Bushís support, on a county-by-county basis, between 2000 and 2004. Their conclusion: A countyís use of electronic voting machines resulted in a "disproportionate increase" in votes for Bush which "cannot be explained away by other factors." † The disparity between the votes Bush received and the votes statistical models said he should have received was largest in those e-voting counties where Al Gore was strongest in 2000: Broward, Palm Beach and Miami-Dade. Michael Hout, the Berkeley sociology professor who presented the researchers' findings today, said that he could not explain why the disparity was so high in counties that favored Gore in 2000, nor could he explain how the electronic voting machines might have over-counted Bush votes. But he said that thereís virtually no possibility -- a one in 1,000 chance that he called "trivial" -- that the voting disparities arose by chance. † "Our approach is like a smoke alarm, and itís beeping," Hout said on a call with reporters this morning. "We're calling on officials in Florida to investigate to see if there's a fire."

Author

DonnaLadd

Date

2004-11-19T11:41:40-06:00
ID

137387

Comment

League of Women Voters on Ohio vioting irregularities: "The League of Women Voters is deeply concerned about voting irregularities in the 2004 election. The appropriate officials must fully investigate these concerns through open and public processes. Election officials should look into problems quickly and thoroughly and fix what proves to be wrong. Transparency and a willingness to look into potential problems will strengthen voter confidence and ultimately improve our electoral system. "It is important to ensure that every properly cast ballot is counted and to make improvements for future elections. Attention must be given to inadequate polling place procedures, problematic voting machines, voter registration system failures, casting and counting of provisional ballots, and absentee voting issues.

Author

DonnaLadd

Date

2004-11-19T11:52:36-06:00
ID

137388

Comment

David Corn's reasoned take: Clear away the rhetoric, and what's mainly left are the odd early exit polls (which did show Kerry's lead in Ohio and Florida declining as Election Day went on and which ended up with the current national Bush-Kerry spread), troubling instances of bad electronic voting, and curious--or possibly curious--trends in Florida. This may be the beginning of a case; it is not a case in itself. Investigative reporter Robert Parry observes, "Theoretically, at least, it is conceivable that sophisticated CIA-style computer hacking--known as 'cyber-warfare'--could have let George W. Bush's campaign transform a three-percentage-point defeat, as measured by exit polls, into an official victory of about the same margin. Whether such a scheme is feasible, however, is another matter, since it would require penetration of hundreds of local computer systems across the country, presumably from a single remote location. The known CIA successes in cyber-war have come from targeting a specific bank account or from shutting down an adversary's computer system, not from altering data simultaneously in a large number of computers." The skeptics--correct or not in their claims of fraud--are right to be concerned in general about the vote-counting system. Representatives John Conyers, Jerrold Nadler and Robert Wexler have asked the Government Accountability Office (formerly the General Accounting Office) to investigate the "voting machines and new technologies used in the 2004 election."Blackboxvoting.org--a group that has long decried electronic voting and now claims that "fraud took place in the 2004 election"--has filed Freedom of Information Act requests to obtain internal computer logs and other documents from 3,000 counties and localities, in an attempt to audit the election. The public does deserve any information that would allow it to evaluate vote-counting. Beyond that, extensive election reform is necessary. Electronic voting ought to produce a paper trail that can be examined. There should be national standards for voting systems and for verifying vote tallies. And vote counters should be nonpartisan public servants, not secretive corporations or party hacks. The system ought to be so solid that no one would have cause even to wonder whether an election has been stolen.

Author

DonnaLadd

Date

2004-11-19T12:05:31-06:00
More like this story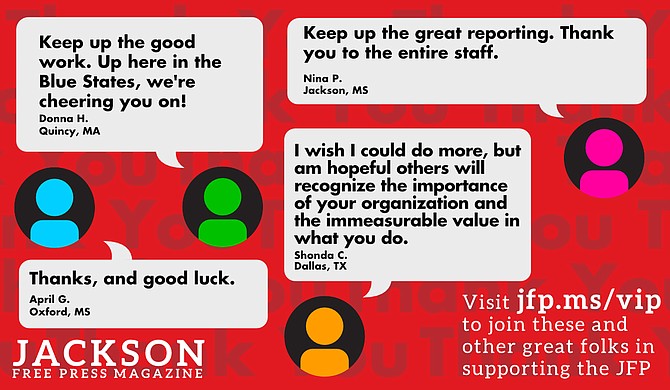 Thanks to all our new JFP VIPs!
COVID-19 has closed down the main sources of the JFP's revenue -- concerts, festivals, fundraisers, restaurants and bars. If everyone reading this article gives $5 or more, we should be able to continue publishing through the crisis. Please pay what you can to keep us reporting and publishing.