I was talking to a young woman the other day who is in the family of a Jackson man who toiled and lobbied and prodded and threatened for many years to try to block school de-segregation and then to encourage white families to pull their children out of the public schools. The young woman told me that she admires my work. She has progressive ideas. She likes the JFP.
Except, she asked, why do we have to always bring up the past? That just hurts people. Why can't we leave it buried?
Certainly, this question divides Mississippians into two camps. One side believes that the best thing to do is leave the past—usually meaning the state's painful race history—back there in the past where we don't have to think about it, feel the shame, be wounded by the memories, apologize. The other side believes that ignored wounds stay open and fester, that we only hurt ourselves and our future if we don't face the past, learn from it, make efforts to heal.
No surprise: I'm in the latter bunch.
That said, I am sympathetic to the young woman's feelings. It is difficult to bear the burden of your older relatives' sins. There are many next- and next-next-generation Mississippians facing this vexing dilemma right now: Do you talk about the past when it either directly implicates or— if he or she is still alive—causes great pain to someone you love?
No one ever said this healing thing was easy. But it is urgent.
I happened to run into this young woman the same day I had seen the horrible photographs on newyorker.com of American soldiers sexually and physically torturing soldiers in Iraq. In fact, just before she came over to me, I was having a stiff drink trying to deal with the images. They show an ability to overlook someone's humanity. How can someone—a potential hero—do those things to other humans? How can women, of all people, submit other humans to such sexual humiliation?
These soldiers clearly have spent many years desensitizing themselves to what sheer hate can do to someone. After all, no matter your ethnicity or beliefs, you can't stack of bunch of naked men in a pyramid and urinate on them if hate isn't filling your veins and permeating your heart. Hate that causes you to do something to them that you would never do to us.
That kind of hate is taught.
Todd and I were traveling when he heard that the prisoner abuse photos were surfacing. "How did they get pictures?" I asked incredulously. "They were passing them around like lynching photos," he answered.
Lynching photos. Those are two words that have entered our personal vernacular of late due to the "Without Sanctuary" exhibit at Jackson State that I've been involved with: the shocking photos and postcards of actual lynchings that humans mailed to each other with pride. It's unimaginable enough to commit atrocities—but then be pleased enough to pass around photos of them?
How do people reach this point? How is it that one day a parent wakes up and hears that her son or daughter sodomized an unarmed prisoner? (Or worse, if the advance word from Iraq is true.) How is it that a favorite son ties a man to a truck bumper and drags him until his head detaches? How is it that someone goes to a photography exhibit and recognizes her uncle or grandfather laughing and pointing at a man hanging from a tree?
Hate is taught.
If you are taught to hate, and don't learn to reject it, you hate what's available. You hate (or fear) folks with different ideas, candidates of other parties, people of other religions, folks with different skin colors. You might smile a lot and be polite, but the hate is there, just waiting to be called upon to justify what is often later called, simply, "evil." Hitler got away with his atrocities for so long because many Germans were taught, from an early age, to hate Jews. White demagogues in the South managed to keep Jim Crow laws in place because white children were taught to hate blacks. Osama bin Laden is powerful because his followers are taught to hate Americans. Many Americans' rights to form strong family ties are truncated because others are taught to hate homosexuals.
Inevitably, after an atrocious act, everyone involved in the perpetrator's life wants to point fingers at others: "We didn't teach him to hate blacks," the parents might say. Or, "My daughter isn't the type of person who would do that; she was following orders." But what is often overlooked is what is taught: that people with different skin colors or religious beliefs are inferior, dangerous, pure evil (while "us" equals "good"). That our children are too good to attend school with their children. That "those" kids are "bad," and there's no need to waste money on them. They don't want to learn anyway.
The cycle of hate begins early.
Right now, like first lady Laura Bush, many people would rather just turn their faces and not look at the photos—either of the naked Iraqi soldiers or the young men (and women) hanging from trees in the photos on the walls at Jackson State. Personally, I hate gory images: I don't watch stupidly violent movies because I don't need those images in my head. But, with both the lynching images months ago and now with the prisoner abuse images, I took a breath and looked at them one by one.
I believe we must shine a bright light on our own past—not to hurt old bigots (who may or not have reformed their ideas). And it doesn't matter whether or not they still have the power to hurt other human beings. Simply, we must learn from the past to ensure that it does not repeat itself.
The truth is: the past does repeat itself. Jackson schools have re-segregated. Too many whites still believe the old stereotypes about blacks perpetuated generations ago to justify the inhumanity of slavery and then Jim Crow. State lawmakers are cutting public education—the best incubator there is for teaching young people not to hate. Arabs and/or Muslims are implicated daily in screeds about their social or religious inferiority that are blatantly racist. And, yes, photos of horrors too horrible to comprehend at are being passed around in Iraq like a six-pack in a frat house.
There is just not a clear line between good and evil. Whether of African Americans, homosexuals, Americans or Jews or Muslims, hate is bred in our societies and passed along generation to generation, and it must be combated generation by generation. Hate must be overcome person by person. By calling out racism. By apologizing for past idiocies, thus setting great examples for younger folks. By supporting the diversity of public schools. By actively promoting tolerance. By making restitution when possible. And by facing our history even if it makes grandpa uncomfortable.
Previous Comments
ID

69309

Comment

Donna, I see your point on facing the ugly past, but when does it end? I live in a diverse city with a large population of Hispanics, Asians, Indians, etc. and for the most part, people get along. Sure there's the occasional turmoil, but it pales in comparison to the constant churn I witness when I go to Jackson to visit my family. By the end of my three-day visits, I'm frustrated by the inability of the town to move on. It's my opinion that this is one of the main reasons that the state continues to be ranked at the bottom of almost every study. At some point, the past has to be left in the past in order to live in the present and to move on to the future. Unfortunately, I'm not convinced this will ever happen in my hometown. Too bad. Tex

Author

Tex

Date

2004-05-12T16:33:32-06:00
ID

69310

Comment

Tex, thanks for your comments. I appreciate such honesty and sincerity. In some ways I agree with you about moving past the past, but I arrive there differently. That is, I believe that Mississippi is on the bottom of so many indicators because we can't move on from our past for the very reason that we haven't faced it squarely, yet. Too often, we don't do what we need to do--from adequate funding of education to preventing crime to prison reform--because we simply do not understand the roots of the problems and how we can remedy them. Take the Confederate flag, for example. Even as other ex-Confederate states have mothballed the flag and declared, one way or another, that it is no longer a symbol of what they stand for, enough people in our state showed up at the polls to vote to keep it (after the cowards in the Legislature sent it to a vote). Thus, many people who would move (or stay) here and help build the state get the message that (a) people don't care enough about the past to even try to understand what that symbol means in recent U.S. history and in the present, or (b) they don't care. That is not good for the state's image or bottom line, not to mention in other ways (although it helps certain people mightily). Then the state collectively gets defensive when someone criticizes the fact that we voted to keep the flag, furthering the notion that we're either too ignorant or too mean to "move on" past symbols of our difficult past. Then, what is the ultimate message? That we're not ready to move on? Certainly, we haven't shown that we are ready to move on as a state, even though many people often say, "why don't we move on"? It's as if they're saying "move on" while winking: we get to keep our racist symbols as symbols of pride, but people who don't like it just need to move on. That's not even logical to me. Add to that the politicians, such as Haley Barbour, who are willing to actually use the pain and confusion over that symbol to court the racist vote, and we have a real mess on our hands that's not going away anytime soon. You can't use racism, and racist symbols, to your advantage one day and then start pretending that race should never be brought up when someone calls you on it. Our politicians need to start taking responsibility for helping to heal these wounds. Here in Jackson specifically, we have more race politics played by people who pretend they don't ever think about race that it would be hilarious if it weren't so sad. So, I agree with you: it does still "churn" a bit here, but it's not because there are people here who want to face the past together. It's because there are too many who don't want to face the history at all in order to get past it and move on. You can't just wish away unresolved issues by saying stupidly, "Only positive Mississippi spoken here." Hasn't worked, yet, and it won't.

Author

DonnaLadd

Date

2004-05-12T16:58:40-06:00
ID

69311

Comment

The good news: Fortunately, though, this seems to be rapidly changing by the day with more and more Mississippians saying they're sick of all the secrecy and apologentsia. That's good for the state's bottom line, for business and for the souls of Mississippians. We might not, yet, vote to mothball that flag, for instance, but I bet we're a bit closer than we were in 2001. We can always hope. Besides, we have bigger fish to fry than the flag -- it's simply a symbol of the underlying issues. Personally, I'd like to see the flag rot off the flagpole out of sheer irrelevance because we've done such a good job in the state of healing wounds. And I think that's up to young people, say, my age (42) and younger to take on. The older folks have had their shot, for better or worse. The rest of us can make this state lead the nation in race relations if we try.

Author

DonnaLadd

Date

2004-05-12T16:58:50-06:00
ID

69312

Comment

I believe that Mississippi is on the bottom of so many indicators because we can't move on from our past for the very reason that we haven't faced it squarely, yet. According to you. We might not, yet, vote to mothball that flag, for instance, but I bet we're a bit closer than we were in 2001. You bet? Here we go again with the same old smoke you've been blowing since you've returned on this flag issue. But what, specifically, have you done to advance the changing of the flag beyond this repeated blather about how there is this repressed tsunami of sentiment to change the flag and the evil ones, like Haley Barbour, only on this planet to shaft Mississippi are about to receive their well deserved rebuke? Have you lobbied the Legislature to change the flag without a statewide vote? Have you lobbied the Legislature to place the matter statewide on the ballot again? Have you retained the services of anyone to lobby the Legislature on this matter on your behalf? Have you begun the process to bring a statewide referendum directly to the voters to change the flag? Have you received the support of even one Legislator to introduce a bill in the recent session to change the flag? When it comes to the flag, you are nothing but talk. Get off the soapbox and show us some action.

Author

RanchHuevos

Date

2004-05-12T18:57:34-06:00
ID

69313

Comment

Donna, Believe me, I'm no Pollyanna, so you won't hear me saying everything can be made right with a positive spin. But I don't see the purpose of dredging up the past on a daily basis. Take the Emmett Till situation. 50 years have passed and there's a real good chance that anyone associated with the crime has long passed through this world. Just because a couple of filmmakers decide to make their historical mark, the "carpetbaggers" descend upon the state to stir the pot. The best that can happen is that the innocent descendants of some of the idiots involved get their lives turned upside down...."the sins of the father" syndrome. It reminds me of when I was bused to Brinkley Junior High in the days of desegregation. One day after football practice my friend and I were surrounded by five older black kids (thanks Mom for being late!). One of them said they were going to beat our ass for what we did to them in the Civil War. My response (being a smart-ass even in a dangerous situation) was that none of us were living back then. Luckily we were saved by one of our black teammates. Many other times throughout the rest of my public school experience, I was threatened (and sometimes had to fight), but I've never forgotten that event. It's still a weapon that's used 30 years later. Maybe that's why the Confederate Flag is such a big deal to some people. Take away the flag and you punish the descendants. Personally, I don't subscribe to that thought process, but I've been away for 25 years. Eventually, most of the "redneck" rubs off of you if you're gone that long. ;-) Tex BTW, did you see this article? http://www.chron.com/cs/CDA/ssistory.mpl/nation/2564098

Author

Tex

Date

2004-05-12T19:04:30-06:00
ID

69314

Comment

Ranch, I'm confused. Are you for or against the Stars and Bars? You seem to have a strong opinion either way, so what have you done to advance the cause? Or is this just a rant against Donna's continuous commentary on social issues that she never takes action on? ;-) Shame on you Donna! Tex

Author

Tex

Date

2004-05-12T19:15:08-06:00
ID

69315

Comment

I know, Tex, I am well known for being an all-talk-no-action kinda gal. ;-) Hey, I have to teach a class now, but I do have some more thoughts on your last posting, so stay close. I'll get back to you. Would love to chat some mo' on this topic. Donna

Author

DonnaLadd

Date

2004-05-12T19:30:55-06:00
More like this story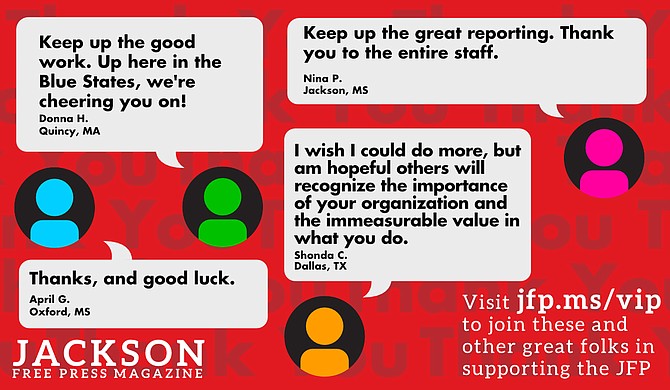 Thanks to all our new JFP VIPs!
COVID-19 has closed down the main sources of the JFP's revenue -- concerts, festivals, fundraisers, restaurants and bars. If everyone reading this article gives $5 or more, we should be able to continue publishing through the crisis. Please pay what you can to keep us reporting and publishing.