Join us for the JFP, et al., screening of "Fahrenheit 911" at 7:40 p.m. Friday at Parkway Place 10 in Flowood, then hold onto your ticket stubb. Head straight into the city on Lakeland to Que Sera Sera (2801 N. State St.) for the after-party at 10 p.m. Your ticket stubb will get you happy-hour prices! At both the theater and Que Sera, we'll be giving away prizes, registering folks to vote (have you moved???), signing up folks for Crossroad Film Society, and much more. It's going to be a blast, and if you want to come have some good debate about the film, bring it on, baby.
Previous Comments
ID

171092

Comment

For those curious, happy hour prices are: -2.50 margaritas -1.00 off mixed drinks -1.00 off house wines -1.50 draft, miller lite, bud lite, and michelob ultra -Buckets of bottled domestic for 10.00. 6 bottles per bucket Ticket stubbs or proof of purchase will be required! Hope to see everyone there!

Author

kaust

Date

2004-07-01T14:53:38-06:00
ID

171093

Comment

Being that it's a restaurant, people under 21 can attend, too, as long as they don't drink -- right, Knol?

Author

ladd

Date

2004-07-01T15:00:26-06:00
ID

171094

Comment

Certainly! It's "business as usual" for Que Sera! ;-)

Author

kaust

Date

2004-07-01T15:09:28-06:00
ID

171095

Comment

I figured. But I wanted younger people to know they're welcome, too.

Author

ladd

Date

2004-07-01T15:29:13-06:00
ID

171096

Comment

I'm glad us middle aged folks were welcome too- what a great place and what a swirling great time I had. I've posted the first review of the film on the F601 site, for what it's worth. Thanks again, everyone!

Author

corrosiongone

Date

2004-07-03T03:25:11-06:00
ID

171097

Comment

Oh, what a night! You're right, Corrosion, it was a wonderful mix of people at Que Sera. And those guys were delightful to us; cheers to them and all the locally owned businesses and organizations that donated prizes: Flashback Video, Video Library, New Vibrations, The Planetarium, Que Sera and, of course, Crossroads Film Society. (Did I leave anyone out, Knol?) Also, a big shout out to Parkway theater for treating us so well; the auditorium was packed for the film and the manager even helped us get extra tickets we had to people who were trying to get in. These folks really support indie film, and we're going to help get the crowd out for them like last night. We also registered a bunch of people to vote, and had several update their addresses because they've moved since they last voted. We heard that Tinseltown sold out as well, but I haven't heard about Northpark, yet. Anyone else? Now, we're going to start working on the next indie film to get here. We're open for suggestions for films that are in the theaters now. Someone last night suggested the Super Size Me (right?) film. Others? Again, thank you all for coming out. We welcome comments, positive or negative, on the film on the blog. If you're willing to attach your real name, we hope to run some of them in the newspaper next week.

Author

ladd

Date

2004-07-03T13:18:42-06:00
ID

171098

Comment

I may be sticking my neck out here, but I sure would like to see "Control Room". And, Peter Mullan's "Young Adam" is stirring up storms. What about the sanitized, bathed and scrubbed ChÈ as played by Gael Garcia Bernal in "The Motorcycle Diaries"?

Author

corrosiongone

Date

2004-07-03T14:07:31-06:00
ID

171099

Comment

Only one you left out was New Vibrations. They gave a great 4th of July gift bag with soaps, citronella candle and a great insect repellant. They were eager to be a part of this and support the effort. Que Sera was an excellent host and venue. Thanks to Chris, CJ and Joe for making the afterparty a success! Those complimentary shots made me a bit of a mess... ;-) I have heard great things about 'Super Size Me' and think it would be easily recognized by many locals. Plus, it does deal with a few topics we know very well as Mississippians: obesity and fast food. The good news is: it's in theaters now and Regal might have the necessary permissions for a special screening or a run for a weekend. They are showing it in their theaters already. I've also heard good things about 'Control Room' as well. These 'indie' or arthouse movies that are showing via Regal (Parkway Place / Northpark): Super Size Me Stateside Monsieur Ibrahim I'm Not Scared Young Adam Spring, Summer, Fall, Winter & Spring A Slipping Down Life Goodbye Lenin Saved Baadass Love Me If You Dare Carandiru Touching The Void The Clearing Strayed Valentin Coffee & Cigarettes The Mother Bon Voyage My Mother Likes Women I would like to see 'Coffee & Cigarettes.' The NY Times gave it an excellent review and the cast, including Bill Murray and Cate Blanchet, looks promising and an like an interesting bunch. Maybe we should take a poll over at Fahrenheit on the next selection. Will notify once I get a little more time and can load the poll.

Author

kaust

Date

2004-07-03T18:12:57-06:00
ID

171100

Comment

You can tell I'm stil dizzy from last night... You did mention New Vibrations above. Anyway... I did notice that 'Super Size Me' ranked 17th in the box office last week. It was only showing in 190 theaters and has grossed $9,512,152. It has been out for 9 weeks. 'Control Room' has grossed $963,088 and is showing in 74 theaters after 7 weeks. Here's a link to the New York Times' Box Office data...

Author

kaust

Date

2004-07-03T19:45:59-06:00
ID

171101

Comment

Being that Mississippi is the most obese state, "Super Size Me" is an excellent choice, for one. I'll ask some questions, and see what Nina thinks as well. I can't wait to sponsor another indie film! Friday night was just a super night--from the packed auditorium to registering all those folks to vote to the great prizes to the free shots at Que Sera (of which, I had just one!). Great energy and effort, all. Let's keep it movin'. For the city to be the real city we want it to be, we just have to step up and make it that way. I've never been one for patience, and an attitude that it's OK to be 50th in the nation, or to let everyone dump on us, or to have to wait months for something on DVS, is so sad and pathetic. You are what you think you are, and Jacksonians must believe this is a city worth fighting for--and amazing things will happen. Oops, they already are. ;-)

Author

ladd

Date

2004-07-04T15:39:04-06:00
More like this story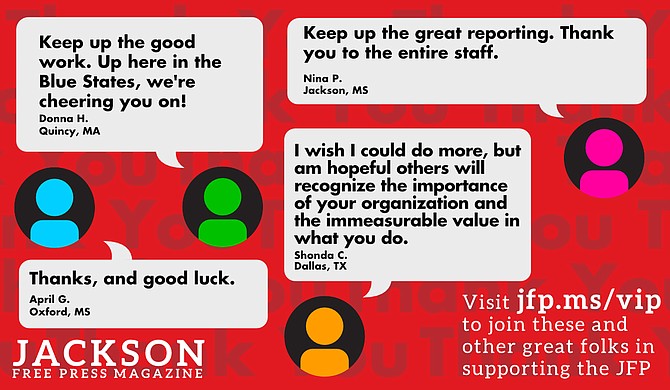 Thanks to all our new JFP VIPs!
COVID-19 has closed down the main sources of the JFP's revenue -- concerts, festivals, fundraisers, restaurants and bars. If everyone reading this article gives $5 or more, we should be able to continue publishing through the crisis. Please pay what you can to keep us reporting and publishing.