This whole lt. gov. abortion dust-up is absurd. Finally, we have two women, one black and one white, running for a major office in the state -- and we're arguing over abortion, and whether one had one or not. First of all, it's none of our business. Second of all, Ms. Tuck never should have played the abortion card first. It has nothing to do with this office. It's a wedge issue, stupid! With all that money, you'd think the candidates could figure out how to talk about issues that they actually would be elected to deal with. It's thoroughly disgusting. Y'all, they're playing Mississippians for fools again. Every time you watch another dumb-ass television commercial or hear another personal attack or another sound bite like "school discipline" without any substance behind it, remember you're being played like a fiddle by the political machine. We've got to put an end to this, or it's just going to get worse.
Previous Comments
ID

136135

Comment

I absolutely agree - lowest in Mississippi politics - at least in the last decade or so...

Author

Fielding

Date

2003-10-03T14:05:46-06:00
ID

136136

Comment

I don't know that I'd say that, Fielding: I think Kirk Fordice chastises Dick Molpus at the Neshoba County Fair (in Molpus' and my home county) for apologizing to the families of Chaney, Goodman and Schwerner when he was secretary of state would qualify as pretty rotten politics. But there's plenty of rotten going around this time, too.

Author

ladd

Date

2003-10-03T14:22:53-06:00
ID

136137

Comment

Politics is winner takes all. You do what it takes to win. If more people love X than don't love X, you love X and tell everyone that your opponent hates X. Pathetic? Yes. Will it get you into office? Probably so. By the way, I think we should lock up serial killers and better fund education. :)

Author

jimjam

Date

2003-10-03T14:36:13-06:00
ID

136138

Comment

I'm with you, JimJam, on locking up serial killers. ;-) But I would challenge all our readers to demand better. Right now, politics here (and nationally) is a big, well-funded joke, where they raise millions of dollars just to buy stupid TV ads filled with sound bites. They won't answer substantive questions, and get nervous if you ask anything they can't answer with a previously thought-out sound bite. I'm starting to think one of the best things we could do is pass a law saying that the candidates can't hire anyone from D.C. or Virginia to tell them how to run their campaigns. Kidding on the law part, but these strategies are part of what's wrong with the political climate. It's not about people, it's about winning no matter what. Affidavits about abortions? It's absolutely digusting, ludicrous and pathetic how deep this sewer seems to run. But I believe with my heart and soul that we can change this system. The world shut down Hitler's kill machine, and the U.S. survived McCarthyism, and we ended slavery, and then Jim Crow: we-the-people *can* make this political system stink less. But not if we don't believe we can. We must, must demand better from the candidates, and demand that they talk about the issues that matter. If we don't, we will never get better choices, and this American dream could slip through our apathetic little fingertips. Amen.

Author

ladd

Date

2003-10-03T14:43:46-06:00
ID

136139

Comment

While I will agree with you that Fordice shouldn't have said that to Molpus, it hardly rises to the level of this current, disgusting mess. Remember that political discourse has a long history of being "low down, rotten and mean." This is quoted courtesy of the CBC: Scandals, to the casual observer of politics, appear to be part of every government. People can be very cynical regarding the actions of elected officials, believing that every scandal is evidence that all politicians are dishonest or inept. Examine the two quotes below and explain the attitude each communicates. ìWhenever a man has cast a longing eye on them [public offices], a rottenness begins in his conductî ó Thomas Jefferson ìPolitics is the art of looking for trouble, finding it, misdiagnosing it, and then misapplying the wrong remedies.î ó Groucho Marx I don't totally agree Jefferson here, but it's hard to find fault with Groucho. heh heh

Author

Fielding

Date

2003-10-03T14:47:25-06:00
ID

136140

Comment

I'm an optimist, though. I truly believe in the power of the people to change the discourse. As for Fordice, he didn't only say something untoward at the fair, you'll recall; he used the apology in the campaign to appeal to the racist tendencies that the state has struggled so long to get past. I thoroughly believe that the discourse in the state now wouldn't have been (quite) so nasty and ugly if it weren't for Fordice's stint in office and his very negative "positive" doublespeak. That said, I am truly disgusted by the turn in the lt. gov's race, but it was probably inevitable. I've been getting the mailings from the Barbour and Tuck camps, and they certainly have been playing dirty tricks since before the primaries to appeal to people's worst instincts and then pretending they're not. Of course, the Dems' Tyner charade was no better. And the tort-reform scare tactics by the GOP. Then there was Musgrove's "10 Commandments" invitation. And on, and on.

Author

ladd

Date

2003-10-03T15:14:38-06:00
ID

136141

Comment

I spent the week in California, and had a wonderful time mocking my friends and co-workers for their recall election, and the attendant horrific political advertising. I can only hope that this repellant, nausea inducing nonsense will not hit the national stage, so I can at least pretend like I have the political high ground for a while.

Author

Kate

Date

2003-10-03T16:04:13-06:00
ID

136142

Comment

Politics has always been a source of underhanded tactics and always will be... I say that not because I like it, but because it's the truth. One thing that gets me is what is considered "scandulous" or "inappropriate" in today's rarified political discourse. I think a brief run through US history will raise a few eyebrows.

Author

Fielding

Date

2003-10-03T16:08:41-06:00
ID

136143

Comment

Fielding, of course underhanded tactics have always been part of politics. But at what point do we evolve a little? Segregation was always part of Mississippi life, but we grew beyond that (at least the legally stratified type). Just because it's "always been that way" is absolutely no reason to accept anything -- that's textbook status quo. And I believe the majority of Americans want to change the system, but they need to come together to demand better and stop electing these idiot candidates. And if we could wrestle the broadcast airwaves away from the mega-media companies so that TV ads don't cost so much, that'd be another step in the right direction. The way it is now only the most pandering candidates to big money can even afford to run. This is broken. By the way, y'all read Todd's cover story this issue about "new progressivism." I think it fits this discussion -- a willingness to accept the traditional machines, whether you're on the left or right, or the belief that people with different beliefs can band together to fix it. That's the camp I'm in.

Author

ladd

Date

2003-10-03T16:20:32-06:00
ID

136144

Comment

I'll have to read the article you refer to - Donna, another reason that "dirty tricks" are used on a persistent basis is - they always work. Well, almost always. People are almost always willing to believe the worst about a politician - is that a chicken and egg question? Yes - better politicians should mean better political discourse, but the lowest common denominator will usually prevail.

Author

Fielding

Date

2003-10-03T16:31:40-06:00
ID

136145

Comment

"And I believe the majority of Americans want to change the system, but they need to come together to demand better and stop electing these idiot candidates." Everybody wants change but are quickly nowhere to be found when it comes time for the heavy lifting. Talk is cheap, it is going to take actual effort. Will probably take one of those once-in-a-generation galvanizing issues to get the average Joes and Janes off their duffs. Until then, more likely than not that it will be dose after mind-numbing dose of the same.

Author

Reader

Date

2003-10-03T16:38:49-06:00
ID

136146

Comment

Heh, what do you expect when you consider what a scientific study involving politicians has shown? Ig Nobel Award winners

Author

Ex

Date

2003-10-03T16:44:10-06:00
ID

136147

Comment

Interesting how you've mentioned Tuck, by name, for error but not her opponent. Tuck may be dumb, but Blackmon was surely dumber. If she hasn't parted ways with the advisor who helped place (shove or jam also works) that foot in her mouth, she should do so in the next 15 minutes because she can't afford any more of this type of counsel: Blackmon crossed the line in the mud Blackmon comment out of bounds (2nd Editorial down)

Author

Reader

Date

2003-10-03T17:11:27-06:00
ID

136148

Comment

Donna's right: with all that money you'd think candidates could figure out how to talk about issues that they actually would be elected to deal with. Instead, candidates and their campaigns pay BIG BUCKS to dig up sleaze about their opponents. Opposition Research is quite a lucrative business, and there are plenty of well-trained (and well known) polical operatives just waiting for their next big gig. This politics of personal destruction game is way overdue for some sunlight. I'm curious: how did Barbara get this information in the first place? Who, specifically, dug up this sleaze? An opposition research firm, perhaps? Wonder who paid them? Whos' got the final report? Perhaps if we dig deeper into how this sick game is really played, and expose some of their tactics, politicians would think twice before slinging mud so freely. Maybe.

Author

Lisa

Date

2003-10-03T17:28:12-06:00
ID

136149

Comment

Don't count on it, Lisa. Dirty tricks and mudslinging have been around since out nation's founding. I'll find some links for you, - if you're interested. I'm not saying you should base your vote on them; but, they're here to stay.

Author

Fielding

Date

2003-10-03T17:34:24-06:00
ID

136150

Comment

Thanks, Fielding. I'd love to see any info you can send my way. You're right, this stuff has been around forever. But many things have changed (please forgive that massive understatement!) Back in the day, you and I couldn't share our opinions and swap information the way we can now. It took just 6 MINUTES for you to respond to my post - 6 MINUTES! In another 6 minutes, maybe I'll have that information you promised. And because we're right-slap-in-the-middle of the Information Age, who knows what we'll dig up? Then, in another 6 MINUTES ... well, you get the idea. Please don't write off these comments as Pollyanna. I've worked in the PR biz for 13 years - part of my job has been to "spin" stuff from the inside - for candidates and corporations alike (hanging head in shame). Here's the way I look at it: Information is a very powerful tool --- And it goes both ways. You are right - we'll never stop politicians and corporations from pulling dirty tricks. But, we can at least start PUSHING BACK!

Author

Lisa

Date

2003-10-03T20:19:27-06:00
ID

136151

Comment

Lisa, I think your point is very good. We now have more tools to talk directly to each other, instead of being filtered and divided by huge media barriers and "gatekeepers," as big media call themselves. People of various political persuasians (note I didn't say "both") have really been expressing dismay with the current negative politicking on this Web site, and Pollyanna-ish as I may be, I believe that is the first step to changing the dynamic. I truly, truly believe that a huge part of our society's communication problem is being divided into two camps all the time, me vs. you, him vs. her, Dems vs. GOP, liberals vs. conservatives, doctors vs. lawyers, and so on. That enables the division to occur, and for politicos to insert wedge issues (tort reform, abortion, guns, etc). If we just start saying "no" to that kind of division, who knows what we can accomplish?

Author

ladd

Date

2003-10-03T20:52:51-06:00
ID

136152

Comment

I never took your posts as too idealistic. I'm coming at it from the political end - having worked in politics professionally for more than a decade and an observer for longer than that. Working within politics - spinning or whatever - is nothing to be ashamed about. Finding a situation where you can make a positive difference (depending of course on what your definition of a positive difference is, of course ;-)) and then letting the status quo prevail would be. Even trying to make a difference and failing is nothing to be ashamed at - politicians all have a bit of Don Quixote in them. Well, good ones do- heh heh. As I am taking care of my children this weekend, I can't blog too much - I'll try to get back with you on Monday.

Author

Fielding

Date

2003-10-04T09:21:03-06:00
ID

136153

Comment

Thanks for your comments, Fielding. So, how 'bout giving us some insider scoop into Mississippi's political underworld? Can you help us sniff out the folks who hide in the shadows behind sleazy issues like this? I can think of a few names, and I bet you can, too ;) We both know that these political operatives are paid enormous amounts of money to do some pretty nasty stuff, and most people have no idea who they are or what they do. What would would happen if the tables were turned, and THEY had to face ongoing and intense public and media scrutiny for a change? I'm following the Novack/White House/Leak/Investigation story like it was a blockbuster action thriller. Makes me long for some real live investigative journalism here at home: "Anatomy of a Leak: Mississippi Style!"

Author

Lisa

Date

2003-10-04T10:20:42-06:00
ID

136154

Comment

Well, I don't think it would be prudent to give up secrets - what will I put in my book? heh heh Political operatives face the music all the time - because they make mistakes - big ones - and not everything they do is "nasty stuff," either. Political campaign operatives (and there is a huge difference) are paid to win. Sometimes they go overboard, but so does the press. What I really want to see is an exposure of illegal campaign activities- whic happen all the time. Sure, I remember hearing stories about so-and-so's kids "writing checks" that were one dollar under the minimum threshold for reporting contributions. I have heasrd tell of massive amouts of money going to organizations that just barely skirt the law - but that's old news. I would rather see a legitimate exposure of an illegal activity than the innuendos and tall tales told in bars. And I truly believe the Novak/Wilson/Plame affair du-jour is a tempest in a teapot and much ado about nothing. We'll see if this doesn't turn around and bite some Dems in the ass...

Author

Fielding

Date

2003-10-04T18:55:10-06:00
ID

136155

Comment

More great press for Barbara Blackmon. No Southern Strategy here. Just a big ol' self-inflicted wound. Seems that Barbara is saying that she's pro-choice, but in her personal life she's anti-abortion. That's fine and maybe she could have sold that position. But not now. This tail is going to wag her dog until we go to the polls. "Blackmon can do better than the sorry stuff she offered this week. Unless she can produce evidence, she owes Tuck an apology for a useless and salacious remark." Dirty politics "Is this really the way women want to campaign against each other? We really thought we had seen all the dirty campaign tricks -- at least the public ones -- until lieutenant governor candidate Barbara Blackmon asked incumbent Amy Tuck last week to sign an affidavit that she'd never had an abortion. What on earth was Blackmon thinking?" Blackmon request backfires politically " Blackmon left an old, closed Kmart in Jackson late last week, refusing to answer reportersí questions at a news conference she had called on the issue of jobs. That sort of behavior, that refusal to engage the public on real issues except under her own terms, is directly related to the job of the lieutenant governor and speaks volumes about the type of candidate Blackmon unfortunately is becoming." Mississippiís 2003 mud fest

Author

Reader

Date

2003-10-06T21:09:21-06:00
ID

136156

Comment

Reader, I agree that it's a mess, and a muddy one. But it does raise some compelling questions--but I'll reserve further comment on them for the print publication. One thing, though, about that Meridian Star editorial: Does it strike anyone other than me as odd that the venerable daily paper from the Queen City (I think they used to call Meridian that, didn't they? Or something like that) thinks that the abortion mud-slinging qualifies as one of the "real issues" facing the state, more important than, say, jobs? Oh, I see, the big "Choose Life" license-plate campaign is at the top of our state's domestic agenda as we lose jobs, poverty rises and the federal government reneges on education promises. Pul-eaze. Methinks the Meridian Star is showing its hand with that bit of hyperbole. You can easily criticize Blackmon for her abortion affidavit, without pretending that abortion rights is the most important *state* issue of the day and that her opinion on the issue matters one bit. Can we say wedge issue -- and one that pulled Ms. Blackmon in hook, line and sinker.

Author

ladd

Date

2003-10-06T21:41:58-06:00
ID

136157

Comment

For Lisa-- Mudslinging in American politics: The Early Years Harper's Weekly General information. Look in the "Mudslinging" section. Parlor Songs Yes, a song. Look in the "Little Mac" section. Alexander Hamilton & Aaron Burr, which is based on the book Founding Brothers. Q. "Ma, Ma, Where's my pa?" A. "Gone to the White House, ha, ha, ha!"

Author

Ex

Date

2003-10-07T00:24:46-06:00
ID

136158

Comment

The tackle has already been made and Sid is just jumping on the pile at this point. "Should female candidates be forced to detail their sexual or medical histories in order to seek office? Is that the kind of "choice" that Sen. Blackmon claims to support? By reaching down in the muck and trying to make abortion the wedge issue in their campaign, Blackmon handed Tuck a solid issue with which to pound her into submission. Blackmon's political stance on abortion is clearly out of step with the majority of Mississippians." Blackmon falls on her sword in Tuck attack "Does it strike anyone other than me as odd that the venerable daily paper from the Queen City (I think they used to call Meridian that, didn't they? Or something like that) thinks that the abortion mud-slinging qualifies as one of the "real issues" facing the state, more important than, say, jobs?" The bigger problem is that 75% -- it may be more -- of the electorate doesn't "think". Sad, but pretty true. That's why I've posted here many times that the change you seek, the changes you repeatedly say are 'coming', the tsunami who think is rolling our way, can't just be talked about in publications such as yours, they have to be acted upon. The Dillions and Camejos and Naders and [fill in the blanks] of the world will never win and make a difference on the state or national scene until all of these 'independent thought' wonks you say are out there start making it actually happen at the local level. They may be there today as you say, but they are doing absolutely jack squat to make a difference at the polls in our local elections. Like I noted in another post, everybody seems to talk a good game but they are nowhere to be found when it comes time for the heavy lifting. Heck, I'll betcha they don't even do the low impact aerobics of writing letters, making phone calls, sending emails or telegrams to their current representatives with whom they probably didn't vote for and don't agree with. When this 'creative class' starts getting their candidates elected to the City Council and Board of Supervisors, to House and Senate seats, heck even to be the City Clerk, then the Meridian Star's and Clarion-Ledger's will start paying attention and focus more on the issues you promote and less on the muck. Sad again, but true.

Author

Reader

Date

2003-10-08T15:06:58-06:00
ID

136159

Comment

Thanks Ex - good links. I think, after this hjas died down a little, that the overall loser is Blackmon. We'll see in November.

Author

Fielding

Date

2003-10-08T15:33:46-06:00
ID

136160

Comment

Thanks Ex - good links. I think, after this has died down a little, that the overall loser is Blackmon. We'll see in November.

Author

Fielding

Date

2003-10-08T15:34:01-06:00
ID

136161

Comment

I'm happy to say that there are real signs that "they" (media, public officials, etc.) are already paying attention to what we're saying and the community we're helping build. The beauty of smaller, yet loud, publications is that we can become "megaphones" as they call us in the biz; that is, not everyone in the state reads us, but the media and elected officials damned sure do. My point being, when people come together to make their voices heard they have to have a forum (newspaper, Web site); the point is to encourage people to create as many forums as possible and to hold larger media accountable. I just came from a Jackson 2000 luncheon, where Eric Stringfellow and I were the speakers about how media cover people of color, and better media coverage was exactly the topic there. It was a very positive gathering, although many people voiced concerns, especially about daily coverage. But it was a forum, and a good one. The more forums (fora?) we have, the better. No, that doesn't mean we'll change the outcome of elections (or candidate choices) immediately, but give us all a little time. And if you don't believe that's possible, the change certainly will never come.

Author

ladd

Date

2003-10-08T16:13:29-06:00
ID

136162

Comment

The talk is great, really, but without people that embrace and espouse your positions filing to run, building teams, going door-to-door and winning elections, you won't see a major sea change. Your megaphone may cause the C-L to look over their shoulder a bit more often but it won't move elections. Heck, the C-L can't even do that no matter how hard Mr. David tries. I definitely believe that change is possible. But not because you just happen to print it or post it or speak at 1000 forums. You don't define what 'a little time' is? You allude to all of these coming attractions because your confident that it will happen -- which is fine -- but never put a stake in the ground and state when exactly it will all come together. Hope springs eternal but it doesn't get a vote to the polls on any election Tuesday.

Author

Reader

Date

2003-10-08T17:22:55-06:00
ID

136163

Comment

Actually, I think the sea change will hit Oct. 19, 2007, exactly at 9:01 p.m. Or five minutes on either side. :-P

Author

ladd

Date

2003-10-08T22:52:27-06:00
ID

136164

Comment

Reader, I do think hope is what gets a vote to the polls. I vote because I'm hopeful. Sometimes more, sometimes less. True, voting was more fun for me in California, when I got to vote for Feinstein and Pelosi. And even Jerry Brown for Mayor of Oakland. For the upcoming MS elections - well, the fun's pretty much been sucked out of this process (thank you stupid attack ads, the Flag non-issue, and the incredibly nauseating abortion attacks), but I'll go vote anyway. I find myself fascinated with the current political process in California because I truly *hope* that the Governator is a political "outsider" who will significantly change the republican party (not alot of hope, but a definite glimmer). At the very least, he's a strong voice for republican moderates - and at this point, anyone who brings the discussion more towards the center is doing us all a favor. I vote because I hope - and the people that I know who don't vote, don't vote because they don't have any hope. They think that it doesn't matter, so why bother. Forums like this are incredibly important, because, wacky as we all are, it reminds us that there are other people out there who care, are paying attention to things, and working for change. The forums here are definitely driving my interest in and knowledge of local, national and world politics. Which, while it may not solve world hunger and bring world peace, is a good place to start.

Author

Kate

Date

2003-10-09T09:43:59-06:00
ID

136165

Comment

why should i vote for barba blackmon The reaon i asked that question is because i have something to do in history and i have to be barbara and tell what i would do for them

Author

lashar jones

Date

2003-10-28T21:29:20-06:00
ID

136166

Comment

Donna, I agree with you definitely regarding the abortion issue crap! TALK ISSUES, LADIES!!!! I'm not being egotistical when I say this, since I think I'd say the same thing if the race were between Blackmon and Tuck and some random 19 year old male in college, but...... ....I think a lot of MS women, regardless of race, would rather vote ME into the office than either of THOSE TWO -- and I'm male, lived only 13 mths in the state, and with a legal residence 400 miles away besides! Other than that, the only thing I'd add to your blog is that Blackmon stuffed it all up too when she challenged Tuck to sign that affadavit. That didn't exactly win her any points with me either.

Author

Philip

Date

2003-10-28T21:58:34-06:00
ID

136167

Comment

I agree with Donna and Philip, but put yourself in either of their shoes: How do you stop the mudslinging once it's stared (regardless of who slung first)? If you're an issues candidate, how do you effectively sideline a midslinger?

Author

Nia

Date

2003-10-28T23:52:40-06:00
ID

136168

Comment

Oops! mUdslinger. A midslinger is something else I think!

Author

Nia

Date

2003-10-28T23:53:10-06:00
ID

136169

Comment

I'll tell you where to start - spend at least 50% of your advertising dollars on positive, issue oriented advertising. Nia, you're tucked away in NYC, and so are spared the incredible onslaught of negative advertising. I have yet to see one positive, issue oriented television ad from any of the gov/lt gov candidates. It's a total train wreck. The closest I've seen was an ad last nigh with Mrs Barbour talking about how proud she is of her husband. Which is annoying, since they are playing the "Barbour's married, Musgrove's divorced" thing to the hilt. Which would be slightly (very slightly) less annoying if it didn't seem like they were still married only because he lives in DC and she lives in Yazoo. Personally, I think the way to end the mudslinging is to spend more time on issues. This ain't rocket science.

Author

Kate

Date

2003-10-29T10:20:12-06:00
ID

136170

Comment

I agree, Kate, but do more voters respond to issues or mudslinging? I think another way to stop the mudslinging is to have some kind of law that subjects campaign ads to the false advertising standard. If you assert stuff about your opponent that isn't true or that is cearly telling only half-truth then you can be sued for liable and false advertising. Voters deserve better. Re Mrs. Barbour, that woman is in DEEP denial. She's not married. She's just got a state-licensed and -sanctioned tax cut.

Author

Nia

Date

2003-10-29T11:13:45-06:00
More like this story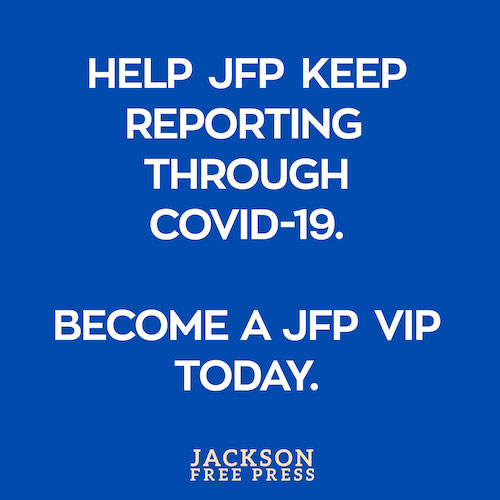 COVID-19 has closed down the main sources of the JFP's revenue -- concerts, festivals, fundraisers, restaurants and bars. If everyone reading this article gives $5 or more, we should be able to continue publishing through the crisis. Please pay what you can to keep us reporting and publishing.