The Clarion-Ledger today mentions Barbour appearance on a racist site, as a JFP reader revealed on our blog (scroll to bottom) last week: "Barbour wears a lapel pin with the U.S. and state flags and he is in a photograph on the Web site of the Council of Conservative Citizens, a neo-Confederate group accused of racist views. Barbour says he doesn't know anything about the council. The picture was taken at a council-sponsored barbecue in July used to raise money for private academy school buses." The Ledger doesn't go into more details about the barbecue; it is at the Black Hawk rally,which was started by the CofCC,the modern-day version of the White Citizens Council. The rally does still raise money for buses for white "seg" academies, even as it draws a variety of candidates, including Democrats and some African-Americans (much as the Neshoba County Fair). Interestingly, also in the photo is Bill Lord, a former campaign manager for Trent Lott, who was head, I believe, the Carroll County chapter of the Council of Conservative Citizens. You will recall that Lott's close involvement with the group caused a national stir (as it should have) a couple years back. Barbour's disavowal of knowledge about the Council is simply ridiculous and patently impossible. Here we go again. (By the way, readers, tell us if they take the photo off the CofCC site, which I'd predict will happen before the day is out. We have a screen shot we can post instead.)
Read about how the Lott story, er, "broke" in the first place.
Previous Comments
ID

136131

Comment

Yeah, I wrote a letter to several papers Saturday, including the Clarion-Ledger. They didn't print it, but did write a story. Here's part of the letter I wrote them, with my comment on what it means about him saying he doesn't know what the CofCC is about (before he even said it): =============== If anyone is not sure what the CofCC is, look directly below the picture at the series of links to various articles. One of these is entitled "In Defense of Racism" and contains a link to Stormfront. Stormfront is an organization of violent white supremacists. A search on the internet can verify this very quickly. Other politicians have gotten in trouble for their association with the C of CC in the past and claimed they didnít know the rally was sponsored by the Council or that they didnít know the Council is a white supremacist organization. It simply doesnít matter. Either they know who the CofCC is and agree with them, or donít care, or they're too stupid or too lazy to figure it out. Would you want anyone like this leading our state? --- I never miss voting, and I vote across party lines. I wonít vote for any politician that I find was at such a racist rally, and I will work for their opponent - Republican, Democrat, Independent or any other. It's time that the people of Mississippi stand up and say "NO" to all of these racist, spineless, dishonest politicians. If the Clarion-Ledger is doing its job, you'll find out what other politicians were at that rally in a public show of approval of this racist organization. Let the public know, it's your job. ===== The Senator's nickname is listed on the Senate roster as Bunky, not Bucky. He's from Leflore County. I'm still trying to find out who the other politicians were. I won't vote for or support any of them, I don't care what color they are. Any black politician who shows up at such an affair - I'll just keep my thoughts to myself, but they might start with dumkopft. I have been told by another person that the picture was actually taken at the Neshoba County Fair (and I see that the CofCC doesn't actually SAY that Barbour was there, it just implies that he was). Doesn't matter, he doesn't deny it, nor does he repudiate the picture. Obviously, he doesn't give a darn.

Author

C.W. Roberson

Date

2003-10-01T22:14:07-06:00
ID

136132

Comment

Would someone please tell the major candidates to tone down their rhetoric! NAFTA has nothing to do with the election. Lobbying experience would actually be good for our state. The issues really are not covered by either candidate. Instead they just argue about garbage. What really sickens me is people eat up the garbage. Lastly, I wish the candidates would stop the ads on TV. They make a football game absolute murder to watch. Thank God for the mute button!

Author

K.Morrison

Date

2003-10-02T15:48:11-06:00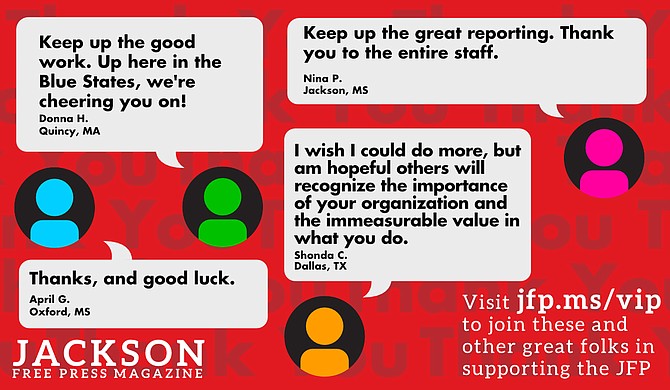 Thanks to all our new JFP VIPs!
COVID-19 has closed down the main sources of the JFP's revenue -- concerts, festivals, fundraisers, restaurants and bars. If everyone reading this article gives $5 or more, we should be able to continue publishing through the crisis. Please pay what you can to keep us reporting and publishing.