Secretary of State Eric Clark just faxed this letter to Attorney General Mike Moore and U.S. Attorneys Jim Greenlee and Dunn Lampton, warning of potential violations of election laws.
Dear Gentlemen:
My office has been made aware of serious voting irregularities which may require your review and investigation.
According to reliable reports, poll watchers throughout the state have been demanding to position themselves in locations within the polling place in defiance of directives from the poll managers. These poll watchers are insisting on standing either behind the poll workers at the sign-in table or actually sitting with the poll workers at the table. Mississippi law clearly provides that poll managers are in charge of the polling place and have the sole authority to assign poll watchers their positions within the polling place. See Miss. Code Ann. 23-15-577 (Rev. 2002). It is apparent that one potential motive for this effort by some poll watchers is to intimidate Mississippians who are attempting to exercise their right to vote.
Furthermore, there are reports that poll watchers are videotaping voters in precincts. We had a specific report that poll watchers are videotaping voters in the predominantly minority precincts of Lowndes County, Mississippi. This is a direct violation of the law and constitutes a per se case of intimidation.
Finally, we have had reports that poll watchers are attempting to enter the polling booth, uninvited by the voter. Such a report came into our office a few moments ago concerning precincts in the City of Canton in Madison, Mississippi. Of course, this too constitutes a violation of law.
Those who violate these laws are subject to arrest and prosecution.
Our office has issued a memorandum to all Circuit Clerks, as well as to the chairmen of the two major parties, to provide counsel concerning this situation, a copy of which is attached for your review. I also request that your offices look into this matter. If you have any questions, please call me at (601) 359-6368.
Sincerely,
Eric Clark
Secretary of State
cc: Chris Herren
Jim Herring
Rickey Cole
Previous Comments
ID

136273

Comment

I would advise voters to pass some serious gas if someone tries to come in the voting booth while they are voting. Ah, the power of the ass! It ensures democracy.

Author

jimjam

Date

2003-11-04T14:58:36-06:00
ID

136274

Comment

Then, again, one could just cold-cock the idiot for trying to take away their right as an American. I'm not typically one for violence, but don't get between me and my right to vote. Grrrr. BTW, if anyone hears about voting problems anywhere around Jackson, call me: 354.5291.

Author

ladd

Date

2003-11-04T15:05:01-06:00
ID

136275

Comment

More links about irregularities: - http://www.wmcstations.com/Global/story.asp?S=1510451 - http://www.sunherald.com/mld/sunherald/7180460.htm

Author

todd

Date

2003-11-04T15:11:18-06:00
ID

136276

Comment

I'm in favor of the coldcock idea! The irreigularities can be reported on after the election is over. But do such violations of the law provide for a revote? I know everyone is busy; we can discuss this later. I was just curious! :-)

Author

Nia

Date

2003-11-04T15:19:38-06:00
ID

136277

Comment

Argh. Can you even imagine being aligned with a candidate or a group that wants to do everything possible to limit the number of voters???? Oops; that happened in 2000, eh? This is gross. If you can't win fair and square, stay the $% out of the race.

Author

ladd

Date

2003-11-04T15:20:31-06:00
ID

136278

Comment

Way to go, Donna, for getting this out so fast! Sometimes just knowing ahead of time that there might be intimidation is enough to prepare a timid soul to go bravely forth. Videotaping? I've seen that used as a form of intimidation at a meeting I attended. No other construction could have been put on it, since the videotaper was on the opposition side and taping the audience, not the speakers. Being rather more than obvious about, smirking all the while. It worked rather well for many. Anyway, Kudos for Clark - I hope this thing went out in time to do something about it (and that all the officials in these areas will help and not hinder). Guys, I haven't deserted, I've just been sick and unable to do more than the absolutely necessary. Missed the blog, though.

Author

C.W.

Date

2003-11-04T16:03:51-06:00
ID

136279

Comment

I hope anyone interfering with someone's right to vote will go straight to f******' jail - excuse my french everyone who is eligible and registered should go vote - even if I disagree with who you vote with or visa-versa - everyone should go vote

Author

Fielding

Date

2003-11-04T16:25:14-06:00
ID

136280

Comment

Hee! Fielding, I read the last bit of your post as "Visa" versa. As in, 'mudslinging campaign advertising - $250,00. Your right to vote - priceless.'

Author

Kate

Date

2003-11-04T16:31:36-06:00
ID

136281

Comment

hopefully this concern rouses a more watchful eye on poll persons, who "jam" those darn "sample ballots" into the "surprising, caught of guard" hands of our seniors, and firmly instruct our seniors to carry this wonderous device inside the polling booth and vote accordingly!!!

Author

rowena

Date

2003-11-04T17:06:59-06:00
ID

136282

Comment

Is this worse than the unauditable voting machines being used in Hinds and other Counties? Why does our Secretary of State allow those machines to be used and complain about poll watchers? Electronic voting machines, as they are currently being implemented, are a much bigger threat to the elections than overzealous poll watchers. http://www.blackboxvoting.com/ http://www.marklyon.org/story/electronic_voting.html

Author

Mark

Date

2003-11-04T17:21:00-06:00
ID

136283

Comment

Mark, I don't think anyone said this was worse or better than potential problems with the voting machines. I'm scared to death of the abuse door that's opened by that. And adding a bit of conspiracy fire, I think the voting machines are manufactured by huge GOP supporters. For those who believe that the GOP machine will do anything to get their votes counted and others kicked out -- ahem, Florida -- this is a very scary proposition. But what's happening today is despicable in a more old-fashioned, brass-balls-intimidation-of-voters kind of way.

Author

ladd

Date

2003-11-04T17:27:34-06:00
ID

136284

Comment

Mississippi has the opportunity to get federal dollars to help w/ upgrading voting machines, but because the State Legislature refuses to have people ID'd at the polling place - money to assist with these upgrades is going elsewhere voter id - why is that such a hard thing to do? heck, it's been a while since I was carded (sigh) but you have to show an ID to get a drink, to cash a check, etc. and Kate - heh heh - I hear ya

Author

Fielding

Date

2003-11-04T17:32:13-06:00
ID

136285

Comment

Rowena, when you see that happen, you need to report it immediately to the Secretary of State or attorney general's office, or call us with specifics. It's amazing that adults who talk about honor and values and all that would stoop to such disgusting tactics. Just because the state has a history of sleazy politicin' doesn't mean we have to put up with it. Please, all, go vote. And can of anyone you haven't checked in with to make sure they're voting? Call 'em or e-mail 'em.

Author

ladd

Date

2003-11-04T17:32:57-06:00
ID

136286

Comment

while Mississippi has a history of irregular politics, we ain't nothin compared to our neighboring state, Louisiana one of my favorite quotes from a politician is from John Breaux "My vote cannot be bought - but it can be rented..."

Author

Fielding

Date

2003-11-04T17:35:07-06:00
ID

136287

Comment

Fielding, people shouldn't be ID-ed at the polls; you know as well as I do that that's a ploy to decrease voters by you-know-what-party. What: the party in power will only give federal money to make sure we're not being cheated if we agree to do something that will help that party limit voting? Come on. And your comment about the drink and the check shows an incredible lack of understanding about why people in this state might fear such measures. Not everyone comes from your background. When's the last time your parents were asked how many bubbles in a bar of soap? Or, where intimidated out of the polls? With all due respect, join us in the real world.

Author

ladd

Date

2003-11-04T17:36:40-06:00
ID

136288

Comment

why do they bury the dead above ground in louisiana? so they're closer to the polls. sorry couldn't resist. the hoops you have to jump through for absentee ballot (two separate documents notarized and mailed in) aren't exactly encouraging. it becomes a de facto poll tax as well as time- deterrent

Author

louisa

Date

2003-11-04T17:45:21-06:00
ID

136289

Comment

Ladd, Perhaps you can enlighten me. What is the big deal with showing ID at the polls? I have to have ID to get a job and many other things, why not prove I am who I say I am when I go to vote?

Author

Mark

Date

2003-11-04T17:54:48-06:00
ID

136290

Comment

indeed, with every respect, Donna - I am a part of and in the real world I will gladly grant you that I was afforded a wonderful upbringing in Jackson - not a lot of money, but we rarely went hungry and the drink and check cashing examples aren't perfect, but they are real world examples of the silliness (in my mind) of not having to show an ID in order to vote if there are still people who are asking about how many bubbles there are in a bar of soap (and you and I both know there are not) - OR keeping anyone at all from legitimately voting -- well, as I said above, they should go right to jail, do not collect 200 dollars, etc. voting is a right - but it is also a responsibility I welcome everyone to register and vote - I know sometimes the vote tallies will go against my preferred candidate and sometimes they won't - but that doesn't lessen the importance of proper voting rights and responsibilities I have heard horror stories from election commissions - in fact, I almost had the job of Election Commissioner for SC - but "living in the real world" includes realizing that things have changed in Mississippi - for the better - in fact, we can do better than we have thus far... (sorry, had to throw that in - but it fit)

Author

Fielding

Date

2003-11-04T18:05:42-06:00
ID

136291

Comment

if showing an ID in order to cast a ballot is such an imposition, why is it the law in so many other states?

Author

Fielding

Date

2003-11-04T18:07:47-06:00
ID

136292

Comment

Donna, Fielding clearly is unaware of the history of such tactics. Lord knows I'm not defending Fielding, but I honestly don't hink he knows how it has been used, particularly nastily by MS, to keep black people out of voting booths. Mark fits into that basket as well, it seems.

Author

Nia

Date

2003-11-04T18:14:50-06:00
ID

136293

Comment

Uhh, Fielding/Mark, did you not read the papers at all during the Florida debacle that some people call an election? Thousands of eligible black and latino voters were kept away from the polls with just such stupidity.

Author

Nia

Date

2003-11-04T18:16:28-06:00
ID

136294

Comment

I know the outlines of those tactics, but not all the details - and I refer you to my above post regarding my stance on the issue of not allowing people to vote I gotta drive to Jackson - so no blogging 'til Friday for me (maybe Thursday - we'll see how busy I get...)

Author

Fielding

Date

2003-11-04T18:25:35-06:00
ID

136295

Comment

More news on the elections. It seems there are problems in some of the precincts with the voting machines and such. http://www.clarionledger.com/news/0311/04/mvproblems.html

Author

Kate

Date

2003-11-04T18:46:31-06:00
ID

136296

Comment

More links about irregularities. Will these people stop at nothing?! One hour and 14 minutes until the polls close. Get on out there; call your friends and family just to make sure they voted. I just voted, and I loved it. But Todd's voting machine did crash, for the record, and a Republican poll-watcher helped re-boot it as I eyed him suspiciously . He was sitting right next to the poll workers as well. This is the Belhaven Fire Station precinct, right across from Millsaps. Here are more links about problems: AP reports primary election intimidation http://www.sunherald.com/mld/sunherald/news/politics/7181720.htm Candidate's name missing from ballot http://www.clarionledger.com/news/0311/04/mvmissing.html Machines down; voters turned back in Belhaven http://www.clarionledger.com/news/0311/04/mvproblems.html Voting heavy around state http://www.clarionledger.com/news/0311/04/mvturnout.html Sheriff's deputies asked to monitor polls http://www.sunherald.com/mld/sunherald/7180460.htm Close call expected tonight http://www.thejacksonchannel.com/news/2606418/detail.html

Author

ladd

Date

2003-11-04T19:48:28-06:00
ID

136297

Comment

Two things: 1.) Fielding, the whole we-lose-the-funding-with-ID thing was a red herring -- the ID was attached to a *Mississippi* bill that included compliance with HAVA (the Help America Vote Act). The Federal requirements did not include any sort of voter ID beyond signature. A C-L piece back then parses things: http://www.clarionledger.com/news/0303/29/m02.html Here's the MS GOP pretending that we wouldn't get HAVA funds http://www.clarionledger.com/news/0303/29/m02.html Here's the SOS PDF showing that, in fact, the voter ID requirement is (1) only for Federal elections and (2) only requires ID at the time of registration, not at the polls: www.sos.state.ms.us/elections/HAVA/hava_faq.pdf My understanding from the SOS office is that we do have the funding and they're going ahead with machines and so on. I think the notion is that any barrier to voting -- including a poll worker looking you up and down and asking "can I see some ID" is intimidating. It may not feel like it to many of us in the middle class and so on, but people sometimes feel stressed and under scrutiny when voting. (Witness these poll worker complaints.) So, while I'm not 100% against requiring someone to bring some form of ID to the polls, the argument is that the process of asking for it (and perhaps having it turned down, for whatever reason) is potential intimidation and may be unconstitutional. 2.) My voting computer crashed at the precinct. It's called "WinVote" predictably enough. The precinct folks were clueless until the "technical" guy got back. Needless to say, these machines leave me less than fully confident that things have improved all that dramatically.

Author

todd

Date

2003-11-04T21:02:51-06:00
ID

136298

Comment

Back to the voter ID issue ... Fielding, if you're that up on your home state, then, you will know that there are many poor people in the state who don't have driver's licenses -- and this state has the worst history of voter intimidation in the country. Lest it's too easy to forget, there are people here, Fielding, who are going to the polls today who had to answer that "bubble" question 40 years ago. They have a right to go to the polls today, as do their kids and grandkids, without a single barrier to entry. You clearly don't have a concept of just how strong this intimidation of non-white voters is and still can be, and not only in Mississippi. It was swept under the media rug after the 2000 elections, but the voter intimidation there was massive in black districts by Republican operatives. This is simply true. If you want to get to the point where your argument that voter ID makes any sense at all, then you need to start talking to your Republican friends and tell them to start running for office on their merits so that they can actually win if the majority of citizens vote, and advise them to stop shipping in Republican operatives to intimidate black voters in the South. If they don't think they can get enough votes without these nasty tactics, then maybe they need to rethink their issues. Now, once that intimidation stops, come on back and talk to me and other opponents of ANY barrier to entry at the polls, and you might get a different answer. But not today.

Author

ladd

Date

2003-11-04T21:03:00-06:00
ID

136299

Comment

Lord, the polls just closed. Guess there's nothing else that can be done. Gulp. I just wrote a Millsaps student in e-mail that the real work starts now. No matter what happens tonight, we all must come together to re-order the political power in the state. And we can. It is time for all progressive thinkers in the state, of all races, to come together to fight for education, individual and constitutional rights, actual free enterprise, tolerance, creative thought and answers to the problems that have kept Mississippi on the bottom. This is a remarkable place, with remarkable people, and we can do it. We must hold our elected officials feet to the fire, and create a climate where young, dynamic people want to stay and want to run for office. We must challenge shallow media coverage, and tell them (and elected officials) to stop treating us like idiots. We deserve better. Now, about that margarita ... Cheers, friends.

Author

ladd

Date

2003-11-04T21:10:14-06:00
ID

136300

Comment

The ID thing Donna and Fielding both have good points. Like Donna said, it's hard to forget that many voters (primarily black) who were intimidated in the past are still alive today. On the other hand, Fielding's very claims show how far we've come along. In La. I've always had to show ID's at my voting booths (all were machine voting, except manually punched absentee ballots). As corrupt as my home-town parish's governement was, at least I can say voter intimidation was not a factor (probably because home parish was the "blackest" in the state, and hence even a still majority-white courthouse gang realizes it would be a futile task to intimidate. I really don't know). So I'm at a loss as to what to do. Voter ID and marking off the voter clearly keeps the same person from voting twice (i.e. ballot box stuffing). On the other hand, we have the ID'ing older people who were intimidated decades ago. Maybe a thumbprint voter ID method would work, although a power outage could potentially erase all evidence of the voter showing up, or the data getting deleted (keep in mind that eliminating electronic data is MUCH easier to do than hiding an elimination of data recorded on paper - in paper's case, there are usually still traces, such as the rough damaged spot that's being erased, the lower quality of print of a photo copy, etc.) This is a battle of the heart and mind. Some things are just beyond technology's ability to stop

Author

Philip

Date

2003-11-04T22:14:49-06:00
ID

136301

Comment

Donna-- Didn't the Mississippi bill that passed one house of the Legislature only list a driver's license as one of 14 different kinds of ID that could be used--including electric bills from your place of residence? I think it followed the rules for documents parents are required to produce when registering their children for school to prove residency. There's a nasty history in this state of African-American children being kept out of the schools of their choice--but I don't hear any fussing about parents having to present these documents in order to prove where they live to enroll children in school. How is this situation different?

Author

Becky

Date

2003-11-04T22:19:12-06:00
ID

136302

Comment

BTW, Fielding's remarks about corrupt La voting system is true, especially in New Orleans. From what I hear some candidates on the N.O. ballot pay top dollar to political action groups in order to get these groups endorsement (or at least they did 12 to 15 yrs ago. I don't know about now). Diogenes can fill us in on this aspect better, since he's from this area. This is what I heard, though. The legislature and other aspects of state government are the worst though. Money can indeed by friends in high places in La, even more so than in Miss. It's slowly getting better, since the Feds finally nailed a former governor and his close friends - and the gov is now in a fed pen in Ft Worth. Still, the atmosphere of corruption remains rampant across the river than in Miss. At least you can be thankful for that much. But let's all strive to have a model state government, regardless of where you reside.

Author

Philip

Date

2003-11-04T22:23:41-06:00
ID

136303

Comment

Nobody said it was a different situation. But it's quite different. Voting rights aren't determined by zip code or by property taxes. Schools are. Personally, I think that system should be done away with as well. It's an excuse to keep money and resources in some public schools and away from others.

Author

Nia

Date

2003-11-04T22:28:09-06:00
ID

136304

Comment

Just a couple quick comments before I run to political shindigs. Becky, my point is, there is no need to show any type of ID at the polls. From what I know, the massive voter fraud isn't coming from the folks we're talking about here -- it's a red herring (did someone say that already?). (And follow Todd's links above to see how the GOP was fibbing about the link between voter ID and voter machines; apparently, Fielding bought it (not to p ick on him), but he's smart, and be believed it. The truth is, the people who would be most affected by intimidation attempts (including voter ID, any type) are the very ones that the GOP doesn't want voting. We all know this, even if people don't want to say it out loud. And requiring IDs from the ones who might be scared off is the least of our voting fraud/intimidation problems. We need no barrier to entry to voting, especially in Mississippi. As for twisting the very different voucher issue into this argument, I will be more than happy to engage you on he so-called "choice" issue on another thread and at a different time; it's one of my favo-right topics. Your analogy does not work here, though. I'd buy Fielding's argument first, and I do, BTW, know we've come a long way. No one says we haven't (*again*). The truth is, though, we're not there, yet -- and through no fault of the people who are being intimidated. It's the intimidators who are holding back progress here, and the ability to let go of these safeguards to keep very basic things from happening by political scoundrels. We saw it in Florida in 2000, and apparently we saw it today in Mississippi. Again, when all that shit stops and stays stopped for a while, I'll talk about things like voter ID; but, for now, I ain't buyin' it. We clearly aren't ready for it.

Author

ladd

Date

2003-11-04T22:40:21-06:00
ID

136305

Comment

I wasn't trying to inject a voucher argument into anything. I was pointing out another area of public life where identifying documents were required that had the same evil history vis-a-vis African-Americans and how they were treated--and how no one ever fusses about it. And Nia--yes. The system was devised to keep students (and the money that follows them) in some public schools and away from others. The idea was to keep tax dollars spent on schools in one district for students who lived in that district. Do I agree with it? Not necessarily.

Author

BEcky

Date

2003-11-04T23:06:10-06:00
ID

136306

Comment

Becky, I just don't see your connection. I'm sorry.

Author

ladd

Date

2003-11-05T02:51:48-06:00
ID

136307

Comment

Also, Becky I do apologize if I mis-read your post and assumed you were talking about "school choice"; that word "choice" has become such a code word that it's easy to assume you're trying to have a voucher discussion. But I still don't see the parallel you're trying to draw -- there's a huge difference betwen having to show where you live for school-enrollment purposes and at an election polling place. It just strikes me as comparing apples and oranges, but perhaps you can show otherwise.

Author

ladd

Date

2003-11-05T02:57:24-06:00
ID

136308

Comment

I say we hold onto all the investigatory activity as evidence for the recall... :) Only 100 more days!

Author

Poet

Date

2003-11-05T13:19:24-06:00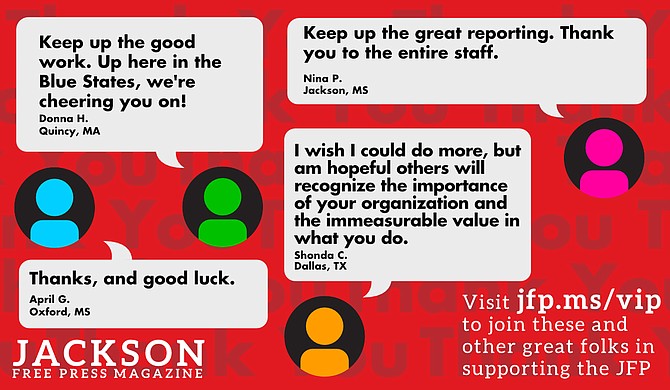 Thanks to all our new JFP VIPs!
COVID-19 has closed down the main sources of the JFP's revenue -- concerts, festivals, fundraisers, restaurants and bars. If everyone reading this article gives $5 or more, we should be able to continue publishing through the crisis. Please pay what you can to keep us reporting and publishing.