The following letters were sent by Democrat Party Chairman Rickey Cole and Republican Chairman Jim Herring to Secretary of State Eric Clark in response to Secretary Clark's memorandum to Circuit Clerks and Election Commissioners regarding voter intimidation.
The Honorable Eric Clark
Secretary of State
FAX: 359-1499
Dear Eric,
We have received a copy of your memorandum to circuit clerks and election commissioners concerning the conduct of today's election. I have also received a copy of a letter to you from Jim Herring, Chairman of the Mississippi Republican Party. We concur with your memorandum and the need to ensure that the election is fairly administered and that voters are not intimidated. We also believe that your Important Information for Voters, notice posted at each polling place, has played an important role in this election.
However, I regret that my Republican counterpart does not appear to share our commitment to a fair election process. In Mr. Herring's letter to you, he attempts to "split hairs" over what the law provides (Miss. Code §23 ˆ 15- 577). This section provides that candidate and party representatives are to be provided a "suitable" place to observe the election process. It does not permit a poll watcher to interfere with the voting process or with voters. The Republican Party appears to think otherwise. The Democratic Party stands fully behind your memorandum and the law of Mississippi.
Similarly, the Republican Party believes that it can intimidate voters by videotaping them as they exercise their rights to vote. Nothing could be further from the truth. The Republican Party's sanctioning of videotaping violates federal law, e.g., The Voting Rights Act, 42 U.S.C. of 1973i (b) and state law as an attempt to intimidate voters (e.g., § 97-13-37 and 39).
Finally in his letter, Mr. Herring charges that state and federally funded vehicles are being used to carry voters to the polls. We call upon Mr. Herring to immediately identify these vehicles and their drivers, and to provide your office with any pictures associated with his claim. Neither the Governor nor the party sanctions such activity.
Mr. Herring's letter illuminates the clear difference between the two parties. We in the Democratic Party seek full and fair elections.
We appreciate your commitment to promoting a fair election.
Sincerely yours,
Rickey L. Cole
------
From Chairman Jim Herring, GOP:
RE: Pollwatcher Behavior
Dear Mr. Secretary:
Leslie Scott and Reese Partridge of your staff were kind enough to furnish the general counsel of the Mississippi Republican Party with a copy of the memorandum you sent this morning to the circuit clerks and election commissioners. The Republican Party has serious concerns regarding the implications of your choice of language.
You are correct that Miss. Code Ann. 23-15-577 does not explicitly "grant pollwaterchers the right to stand at or behind the pollworker's table. " What it does grant a pollwatcher is the right to a position from which he will "be able to carefully inspect the manner in which the election is held." The very next sentence authorizes each pollwatcher "to challenge the qualifications of any person offering to vote." Accordingly, each pollwatcher must be in a position to be able to verify that "any person offering to vote" is actually listed on the voting roll. Thus, while a pollwatcher is not necessarily entitled to a place at the table or behind the table, he is entitled to come to the table to inspect the books with a regard to every single "person offering to vote."
We certainly agree, as your letter indicates, that no pollwatcher is entitled to "interfere, obstruct access, disturb the election, or intimidate voters." However, the determination of a person's qualifications is not a disruption of the election process; it is part of the election process. Accordingly, we have advised Republican pollwatchers that, if they are not permitted to verify that a "person offering to vote" is on the rolls, they may challenge that voter on the basis "[t]hat he is not a registered voter in the precinct." Miss. Code Ann. 23-15-571(3)(a). Of course, that challenge can be easily resolved by permitting the pollwatchers to verify that the person's name appears in the poll book. If the managers refuse to allow such verification, then the challenged ballot should be segregated as required by Miss. Code Ann. 23-25-579.
We are also concerned that your comments regarding the use of cameras misinterpret the letter of June 14, 1994, from the United States Department of Justice. That letter does not state, as you say, that "videotaping is a violation of federal law," but that "the actions of white people in videotaping black voters at or near the polls could constitute a violation of Section 11(b) of the Voting Rights Act, 42 U.S.C. 1973(i)(b). As you know, 11(b) is a general prohibition against intimidation; it does not define specific acts as constituting intimidation. Use of a camera is illegal only if the person using the camera intends to intimidate; otherwise, television stations could not film candidates casting their ballots, as they customarily do for news broadcasts. You should advise election officials that federal law inhibits the use of cameras only where there is a demonstrable intent to intimidate.
I know of only once incident involving cameras that has occurred today. The Republican Party has been advised that, in some counties, vehicles belonging to the state and to federally funded agencies have been carrying voters to the polls. Obviously, you will agree that such use would constitute improper diversion of taxpayer funds. We have advised Republican pollwatchers that the voters inside those vehicles are entitled to vote, but that photographs may be taken of the vehicles themselves to permit the proper enforcement of state and federal law after the election. Such preservation of evidence cannot possibly be considered intimidation in violation of 11(b).
Certainly, the proper application of the law will vary depending on the particular physical circumstances of each polling place. I believe that people of good will can reach an accommodation whereby pollwatchers can do their jobs and pollworkers can do their jobs. However, the Republican Party regrets that some of the language in your letter may inhibit the process, rather than furthering it.
We believe you should promptly issue a memorandum clarifying the rights of pollwatchers.
Thank you for your attention to this matter.
Sincerely,
James H. Herring
cc: Dunn Lampton
Jim M. Greenlee
Mike Moore
Rickey Cole
Circuit Clerks
County Election Commission Chairmen
Media
Previous Comments
ID

136336

Comment

damn. damn. wow.

Author

louisa

Date

2003-11-04T20:43:17-06:00
ID

136337

Comment

The more things change ...

Author

ladd

Date

2003-11-04T20:44:45-06:00
More like this story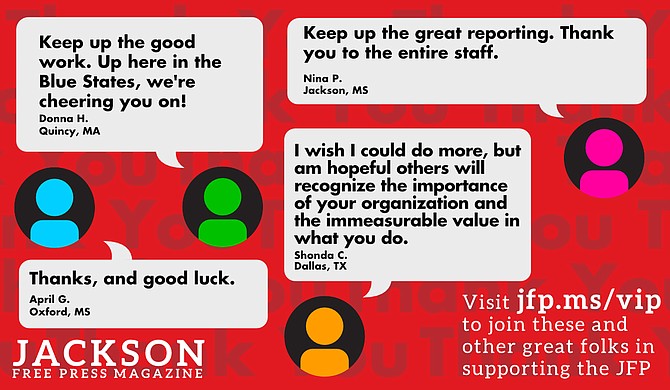 Thanks to all our new JFP VIPs!
COVID-19 has closed down the main sources of the JFP's revenue -- concerts, festivals, fundraisers, restaurants and bars. If everyone reading this article gives $5 or more, we should be able to continue publishing through the crisis. Please pay what you can to keep us reporting and publishing.