To determine our candidate choices, the JFP editorial board looked at the record, watched the campaign (focusing on issues, not rhetoric) and talked to many of the candidates whom our readers will vote for on Nov. 4. We also talked to many Jacksonians about the issues that matter to them. To the best of our ability, we have tried to match the candidates to the concerns of our readers. To that end, we offer you the following slate of endorsements, with several highlighted with explanations.
Governor – Ronnie Musgrove
This wasn't an easy decision, and we regret to say that this choice is as much about who we don't want in office as whom we do. Musgrove does not offer much to the progressive and forward thinker in Mississippi: He has been quick to support policies that we do not believe are healthy for Mississippians, including the School Safety Act and tort reforms that have not balanced business needs with the rights of citizens. He has told us, however, that he will calll for Legislative hearings next session to determine whether insurance reforms are needed in Mississippi. We urge that he follow through on this pledge.
On the other hand, we believe that Republican opponent Haley Barbour will be, quite frankly, an indentured servant to industry and the multi-million-dollar corporations that have funded his lobbying concern in Washington. The U.S. Chamber of Commerce, for one, has funneled what may well be millions of dollars into his campaign to ensure that they remain at the head of the table and, thus, be served up with even more "civil justice reforms" that help immunize their industries and create more dangers for everyday Mississippians. This is not acceptable. Mississippi must not be so easily bought and paid for by big industry—our prosperous future requires an intelligent balance between tort reform and business regulation.
Of course, the biggest difference between Musgrove and Barbour comes down to the single most important issue in the state: public education. In short, Musgrove supports it, and Barbour supports the national Republican view that public education must be shrunk by means of excessive "accountability" requirements that the states cannot afford to meet. He has said not one word about getting his "good friend" President Bush to fully fund the federal mandates of both "No Child Left Behind" and the "Individuals with Disabilities Education Act." These underfunded federal mandates will strap our economy even further in the future, likely helping to justify future rollbacks in the state education dollars that Musgrove helped restore. In addition, Barbour's cryptic call for more "classroom discipline" is a likely code phrase for expanding the ability to more easily remove children from the classroom—without furnishing them adequate alternative schooling—an unacceptable expansion of "zero tolerance" discipline that does nothing to make schools safer. We also worry that Barbour, an architect on the national Republican agenda, will lead a charge for expanded "school choice" in Mississippi, which will further take tax dollars out of the public schools. We will not vote for a candidate who is willing to use coded racist phrases and associations to appeal to voters' worst prejudices. This is an insult to us all.
Our endorsement comes with a qualification: We want to caution Gov. Musgrove that Mississippians care about the U.S. Constitution, and we will be viligant about guarding against violations of the rights we hold dear. That means that he must not, again, attempt to place symbols of his religious beliefs to be displayed on the property of the State Capitol and in other government buildings that are not assigned to him personally. We remind him that the way to ensure that we all enjoy our freedom to worship is by ensuring that no religion is established by our state government—which, needless to say, includes its governor.
We want to send a special thank-you to Sherman Lee Dillon for injecting a sense of dignity into this race, and for standing up for issues that need to be talked about. We don't believe it's his time, but we salute him.
Lt. Governor – Barbara Blackmon
We grew to appreciate Barbara Blackmon throughout her campaign, with the exception of one major blooper—it was wrong to call for her opponent to sign an affidavit saying they she had not had an abortion. We do not believe this violation of a woman's medical privacy should be encouraged in a political forum.
We were, however, equally disenchanted with Lt. Gov. Tuck's injection of race politics by running furled in the rebel flag. We believe this is an insult to Mississippi voters, of all races, and encourage voters to send a strong message that such race-pandering must stop.
In addition, Blackmon has a record in the Legislature of standing on the correct side of most issues and taking progressive stands that may prove unpopular but that are good for the state. She has fought for the working poor, dispossessed, young and people of color. She supports small businesses and has detailed plans for responsible stewardship and growth of Mississippi jobs and economy that make sense. We believe Barbara Blackmon will improve the stature of the state both to its residents and outside its borders—the precise opposite of what we predict for her opponent. We also believe that Tuck will block any attempts at balancing "tort reforms" with common-sense insurance reforms, while Blackmon has said that she will support reasonable reforms on both sides. Balance is vital in this complicated debate.
State Treasurer – Gary Anderson
Gary Anderson is so qualified for state treasurer that we cannot imagine that his opponent Tate Reeves, who often comes across immature and whiny, would even have a shot at winning the office. Alas, this race could be decided along more traditional Mississippi lines, and we believe that is tragic. Voters should choose the most qualified man to handle the state's money: Gary Anderson.
Attorney General – Jim Hood
Jim Hood doesn't knock our socks off, but we do find him much more qualified than his opponent Scott Newton. We're also disturbed by Newton's apparent willingness to play loose with the facts in his attempt to discredit the more qualified Hood, even blatantly distorting the Democrat's record. What, would no one notice? Newton should be sent into time-out for a while to re-consider how to run a respectful campaign. Hood didn't exactly end on a positive note, either, but we note that he didn't start the mud-slinging.
District Attorney, Hinds County – Faye Peterson
Despite a sustained media campaign against incumbent mid-term appointee Peterson, this was not a difficult decision for us. We can see that this is not an easy job, and we aren't convinced it should be handed to her opponent, Wilson Carroll, who has never tried a criminal case. Having carefully considered her opponent's accusations, we feel confident that she is doing a commendable job under difficult circumstances that include intense city politics and limited resources. Her office is not perfect, and we will keep a close eye on what transpires in upcoming months and years and hold Peterson to task. Carroll, and as much as we believe he is a nice man with some good ideas, did nothing to convince us that he brings much more than the ability to perhaps get along with one judge who does not like Peterson.
We're told that Carroll is progressive in his heart; we hope that he will continue to meet folks and mix things up in the community, try again for an office for which he is better qualified—and bring less baggage next time.
JFP SLATE: THE CHEAT SHEET
Want to vote for (or against) the JFP slate of endorsements? Here they are, all in one handy spot.
Print out the following and slip it into the poll booth with you. (OK, it's not much of a booth anymore, but stay with us.)
State Offices
Governor – Ronnie Musgrove (D)
Lt. Governor – Barbara Blackmon (D)
Treasurer – Gary Anderson (D)
Attorney General – Jim Hood (D)
Commissioner of Ag. and Commerce – Max Phillips (R)
State Auditor – Phil Bryant (R)
Public Service Commissioner – Nielson Cochran (R)
Transportation Commissioner – Dick Hall (R)
Commissioner of Insurance – George Dale (D)
Secretary of State – Eric Clark (D)
County and Local Offices
District Attorney, Hinds County – Faye Peterson (D)
Chancery Clerk – Eddie Jean Carr (D)
Circuit Clerk – Barbara Dunn (D)
Constable- District 1 – Jerry Moore (D)
Coroner – Sharon Grisham-Stewart (D)
County Attorney – Malcolm Harrison (D)
Justice Court Judge – District 1 – Nicki Martinson Boland (D)
Supervisor-District 5 – George Smith (D)
Tax Assessor – Mike Barnes (D)
Tax Collector – Bill Burrow (R)
Legislature
State Representative-District 56 – Paige Eaves Gill (D)
State Representative-District 68 – Credell Calhoun (D)
State Representative District 71 – John Reeves (R)
State Representative-District 73 -–Jay Loftin (D)
State Representative-District 76 – Greg Holloway (D)
State Senator-District 29 – Dewayne Thomas (D)
State Senator-District 36 – Lynn Posey (D)
Previous Comments
ID

136216

Comment

Yay! A new paper! Yay! A voter's guide! I love voter's guides, even when I disagree with them. Because they make voting easier for us all, which should get more people to the polls, which is the whole point.

Author

Kate

Date

2003-10-30T16:41:25-06:00
ID

136217

Comment

Musgrove - I go with him too. Still, I think you all are shorting him a bit. I may be wrong, but didn't he start Advantage Mississippi? That struck me as a good plan. The computer in every classroom program seems to be coming along fine, at least from this far away. Tort Reform? I may be in the minority, and not exactly enraptured by big business, but it seems that some of the suits were outrageous (Jefferson Co. suits). He's committed to improving education and promoting economic development. Beyond Nissan, has he produced many high paying jobs? I don't know. But I think he is sending a more positive image of the state to the outside world overall (for those who care to actually learn about MS rather than nyah-nyah stereotypically about it). Blackmon - I'm split here. On one hand, there was that suit she was involved in, which makes me question how clean she really is. On the other hand, she is pro-small business and has a detailed plan for bringing business to the state (she has an MBA too, if I remeber, unlike Tuck) Anderson - This was an absolute no brainer for me. Anderson all the way!!!! I can't see Reeves' commercials here in TX, so I can't say one way or another. Even if he wouldn't come off to me as spoiled and whiney, Anderson FAR out-experiences him, and has better qualifications besides.

Author

Philip

Date

2003-10-31T10:01:19-06:00
ID

136218

Comment

78% of the selections are Democrats. An endorsement for Musgrove despite raving to the high heavens after the Commandments debacle that he wouldn't get the JFP nod. No third party selections at all. Not a one. Some of the GOP selections are throw aways like Transportation and Public Service Commissioner. So much for all of the crowing about virtue. You pick Musgrove as the lesser of two evils. It doesn't matter anyway since the number of actual voters in your readership is so small in the grand scheme. Clip the selections and take them to the polls to remind you of who the lecturetorial liberals, er, progressives are voting for this year.

Author

ROFLMAO

Date

2003-10-31T11:25:38-06:00
ID

136219

Comment

You're right, ROFLMAO, we did endorse Musgrove even after his 10 Commandments debacle. That should tell you how bad we think not voting for Musgrove, and thus giving the Barbour/U.S. Chamber ticket a clearer path to the mansion, would be for the state. Barbour has made an absolute fool of this state, playing the old race card in recent weeks. And he is playing Mississippians for fools on behalf of his big, big industry supporters. And that was a major factor in our deciding to endorse Musgrove despite our problems with him. Although it may well happen, the state cannot afford Mr. Barbour at the helm -- or many of the Republicans that the U.S. Chamber is endorsing to do their bidding. They are the ones skewing our numbers in favor of Democrats that might not necessarily appear as the end-all progressive candidates, not us. The current GOP is making its own decisions; we are simply reacting to them. There are only two third-party candidates worth even considering in this election from what I've seen: Sherman Lee Dillon and Lee Dilworth, both of whom I personally admire greatly, and encourage them to keep fighting the good fight. (We couldn't get another single third-party candidate to return our calls or e-mails.) But despite admiring those two men, the last presidential election has taught many people that throwing away a vote on a third-party candidate can be very, very, very costly both in actual dollars, world support and in civil liberties. However, the JFP is not a fan of the two-party system and is trying to motivate more people to get involved; we hope to do our part in the future to change the dynamic, even if as you imply we only have three or four readers out there somewhere. We'll happily take your challenge to work diligently to change the options for the future. Stay tuned. ;-D

Author

ladd

Date

2003-10-31T11:54:53-06:00
ID

136220

Comment

No problem: mainly because we liked his detailed answers on his JFP voter questionnaire. We don't dislike Mr. Spell, but we were more impressed with Mr. Phillips. If Mr. Phillips wins, of course, we need to hold him accountable for the statements he made. For instance; "Although cotton, corn, soybeans, rice, vegetables and peanuts have been the staple crops in Mississippi for a long time, many other alternative crops including organically grown fruits and vegetables can be profitable. A variety of factors contribute to the success or failure of any product; including weather conditions, management decisions and consumer demand. Our rich soil and temperate climate are conducive to a successful harvest of any of the aforementioned row crops." Max Phillip's answers: http://www.jacksonfreepress.com/politics/candidate_detail.php?id=1402_0_15_0_C Lester Spell's answers: http://www.jacksonfreepress.com/politics/candidate_detail.php?id=1793_0_15_0_C

Author

ladd

Date

2003-10-31T12:38:48-06:00
ID

136221

Comment

I haven't seen the Blackmon plan to bring jobs to MS. Can you post a site that has it? What is the "correct" side and what do you mean by the term "progressive." I really think the endorsement of Blackmon is full of platitudes. What really does she bring to the table? I might add here, that I in no way support Tuck. I find that woman to be quite scary! She reminds me of the elem. school principal from the second grade! Nonetheless, I don't support Tuck because she's just another GOP ideologue. I still want to know what makes Blackmon worthy of votes. She hasn't really done anything. What do you means she fights for the dispossesed, working poor and people of color? Are you all sure you didn't endorse her just because of her race? Or did you give her the nod because she's running against Tuck?

Author

Diogenes

Date

2003-10-31T13:38:13-06:00
ID

136222

Comment

Dio, no, we did not endorse Blackmon just because's she black, but thanks for asking. I'd say that's a misinformed accusation if you happen to pay attention to the race of people that the JFP is willing to question and criticize. I happen to think it would be amazing if Mississippi finally elected another statewide black elected official -- but certainly not just anybody. (I can think of a whole list I wouldn't vote for off the top of my head.) Fortunately, Blackmon has a voting record, as does Tuck. So we don't have to make misinformed decisions if we don't want to. I have to run to an appointment so can't go deeper right now, but you can download Blackmon's jobs plans at: http://www.voteblackmon.com/job_plan.htm You can also real some of her statements about fiscal responsibility, econ. dev., etc. at: http://www.voteblackmon.com/presscenter.html Tuck's Issues statements are: http://www.amytuck.com/Issues.htm

Author

ladd

Date

2003-10-31T14:43:50-06:00
ID

136223

Comment

To me, "progressive" means moving forward, not backward. A belief in free enterprise, the power of local and small business over corporation, a belief in free speech (even unpopular speech that makes you uncomfortable), a willingness to question any/all dogma and parties, a belief in spirituality and humanity, a belief in compassion and the individual and community, and a hopeful view of the future and in the power of a bunch of individual people to come together to make the world a better place, no matter what corporations and the folks in people (of whatever party) happen to think about it. Must run out now.

Author

ladd

Date

2003-10-31T14:47:31-06:00
ID

136224

Comment

meant: ... folks in POWER (not people) ...

Author

ladd

Date

2003-10-31T14:48:16-06:00
ID

136225

Comment

"...throwing away a vote on a third-party candidate can be very, very, very costly..." - Donna Ladd Neither Democrats or Republicans represent my views at all. Their PRIMARY concern is their political career and getting re-elected, not the people. The day I vote against my views will be the day I stop voting. I don't consider that throwing away my vote.

Author

Shock n Awe

Date

2003-11-02T14:54:45-06:00
ID

136226

Comment

"the last presidential election has taught many people that throwing away a vote on a third-party candidate can be very, very, very costly" Actually, if you remember 4 years ago, neither Musgrove nor Parker got the 50 percent plus one needed to win the election and the House elected Musgrove. So, the four candidates running against Barbour (Dillon, Musgrove, Cripps, and O'Hara) should be able to get over 50 percent combined. That will mean Barbour doesn't get the 50 percent plus one, and the House will elect Musgrove again. That makes a vote for Dillon NOT a wasted vote. I don't think any vote is a wasted vote if you vote for who you believe is the best candidate. I gotta say, I'm disappointed the the JFP endorsed Musgrove. BTW... check out this article: http://www.gomemphis.com/mca/opinion_columnists/article/0,1426,MCA_539_2386212,00.html

Author

Tre'

Date

2003-11-03T14:00:01-06:00
ID

136227

Comment

Tre wrote: "So, the four candidates running against Barbour (Dillon, Musgrove, Cripps, and O'Hara) should be able to get over 50 percent combined. That will mean Barbour doesn't get the 50 percent plus one, and the House will elect Musgrove again." That is an excellent point, Tre, and one that bears mentioning. A vote for Dillon is a vote against Barbour in that sense, and that should make some folks breathe easier. I will say, though, that the JFP edit board decided to send a stronger message than simply trying to send the race into the House: that is, a majority of the people of Mississippi should vote in a loud way (a) for adequate funding of education and (b) against Barbour's race/flag-pandering. I don't think the third parties sending the race into the House sends the same message or the same mandate, although I am thrilled as punch that the Greens and their admirable ideas are represented in Mississippi. Musgrove really made me angry with the 10 Commandments trick, as everyone who reads the JFP regularly knows. But Barbour made me even angrier with his nasty campaign to pull latent racism into this campaign -- and I find that so much more disgusting that Musgrove's unfortunate choice of the word "poisoning," which is a fighting word even if it happens to be true. This third-party question (and whether to go that route instead of voting for the "lesser evil") is a difficult one, and I certainly understand every point that Dillon supporters make. But, as I argued passionately against voting for Nader in the last election (which, as you point out, had worse consequences than voting for Dillon may have here), I don't believe the way to break the two-party system is simply cast a protest vote on Election Day. The hard work starts the day after Election Day when everyone starts losing interest. It's day-to-day discussion and engaging people in issues that they don't want to talkl about. It's risking pissing people off, which I must say I make a career of. I admire everything Sherman Lee, Landon and the Greens have done this year, and we will keep helping them get their message out, even as we deal with the immediate problems on our plate. And as the JFP reporting resources grow, you will see us take on more and more issues that don't fit into the two-party paradigm. I've said before and I'll see it again: We are just as willing to criticize the Democrats (or the Greens) as we are the Republicans. Whatever happens tomorrow, we all have hard work to do -- but we have the foundation in Mississippi to do it. I predict within four years, this state is going to surprise this country with what basic human power can do.

Author

ladd

Date

2003-11-03T14:30:17-06:00
ID

136228

Comment

One more vote against your disappointing snub of Sherman Lee Dillon. If true progressives would get behind candidates like Mr. Dillon, our voices would be heard loud and clear, not lost in a sea of status quo; either way, Musgrove or Barbour, we get biz as usual. Bad choice. I voted for Nader in '00, and I heard the flack about "taking votes away from Gore." Guess what? I was voting against Gore, too! It will always be unrealistic to vote for a 3rd-party candidate until we take those candidates seriously. I choose to be unrealistic rather than be a whore for Republicrats.

Author

Jeff

Date

2003-11-04T01:42:36-06:00
ID

136229

Comment

I feel your pain, Jeff, and I understand your logic. But there is a lot at stake in this election -- it's called public education, and whether Mississippians or corporations are going to control the state. I don't like the choices any better than you do; but I do believe the time to change that really starts TOMORROW. As for Dillon (or Nader), I'm not enough of a protest voter to cast my vote for someone who I actually don't believe wants to govern day in and day out and scrap with the Legislature and make deals on education and so on. As I've said, I admire both those men greatly, and certainly the issues that they raise. In the case of Nader, though, he helped give the White House to an extremely corporate-conservative administration that is rolling back right after right, and giving corporations break after break. (Lord help us if he keeps the White House and gets to make judicial appointments post-2004.) This is going to take a long time to repair even if Bush is turned out of the White House next year, which he very well may be, especially if they can't figure out how to get Iraq under control and our soldiers keep dying. I believe in changing the system, too, but not merely by putting up a spoiler candidate. What I'd really like to see, if anyone cares, are some independent candidates run for lesser offices such as City Council, state Legislature and even Congress -- and really want the office and the hassles that it brings. They must be willing to go for the gold, and really speak to a diverse electorate (not just ride through the Medgar Evers parade in a fancy SUV) -- and third-party candidates don't have anything to lose. If this can happen in a meaningful way, then we can change the dialogue out there, and bring "straight talk" back where it needs to be: front and center. They need to be energetic, loud and boisterous. They need to be able to excite young people, and use popular culture to their advantage. As I always say: I believe we can hold several thoughts at once. The way that plays out for me right now is: try to keep Barbour and his corporations out of the governor's mansion, preserve adequate education funding, take the so-called "civil justice" debate back from the U.S. Chamber with actual facts and reporting (because it's SO much bigger than lawsuits and insurance premiums and trial attorneys), keep any efforts at vouchers at arm's distance, and so on. At the same time, start actively seeking candidates who are willing to really run grass-roots, in-your-face campaigns that will, I promise, turn out voters who never thought of voting before. That's what we need to start doing tomorrow. Ready?

Author

ladd

Date

2003-11-04T11:55:55-06:00
ID

136230

Comment

Donna, for me you've hit a key point - someone who wants to govern day in and day out. I'd love to vote for a green party candidate sometime, and feel like they had a chance at winning. I was personally somewhat disappointed by Dillon's campaign - or lack thereof. I didn't see him on street corners, I didn't seem him writing letters to the editor, or editorials, or getting himself noticed for anything other than showing up at the debates (and yes, he should have been invited). I know the campaign did not have much money, but I think he could have run a more visible campaign, even with few resources. The whole campaign, from my limited and skewed perspective, seemed half hearted, and more of a protest than anything else. I never got the feeling that he was in it to really win. And yes, some of it is the fault of local media, for not covering the full campaign better. I also agree with Donna, that I'd like to see more alternative candidates running in local elections. Let's pick some races/issues that we can win - then go for the bigger stuff.

Author

Kate

Date

2003-11-04T13:39:14-06:00
ID

136231

Comment

On the media note, Kate, did you see the C-L editorial today complaining about the campaigns? I'll be talking about this more later, but just when/where does the mainstream media admit its own culpability in these negative campaigns? The C-L wrote: "It is a product of voter apathy that such tactics are used, in order to galvanize anger or resentment toward an opponent rather than build support based on well-thought-out positions, policies and issues. So, to "blame the victim," so to speak, the public invites such tactics to some degree. It's easier to run a TV ad saying, for example, Barbour is 'against Mississippi jobs' for supporting the North American Free Trade Agreement or say Musgrove "lost jobs" under his watch than to explain the intricacies of national economics, global trade and how free markets work. Or even explain how they differ in their approaches for new jobs." The media's "horse race" approach to covering campaigns feeds (if not creates) this problem. How often did reporters engage the candidates on real issues? Try to get beyond the sound bites? I watched it happen: Reporters barely ask anything of substance; Musgrove, for instance, gets really excited when anyone in the media actually seems to know enough about education to ask detailed questions. He can geek out over education -- and its important aspects. On the other hand, the spokesman for another Republican candidate told me that no other journalist had asked him substantive questions about issues, to explain the sound bites, during the campaign. What's vital here is to understand that if the media won't report the substance, then the candidates aren't going to engage in it. This isn't to let them off the hook; it's to say that we all play a role here, and I certainly think the media is at the top of the blame list, right alongside the candidates.

Author

ladd

Date

2003-11-04T13:50:36-06:00
ID

136232

Comment

I didn't read the CL editorial (they're so rarely worth the time), but now I have and all I can say is GAAAA! I'm sorry, but voters do *not* invite negative advertising by politicians and it is not *easier* to create a negative ad than a positive one. Did they ever stop to think that the negative ads could be what cause apathy, rather than the reverse? And that crappy reporting by papers like the CL only makes the situation worse? I don't want to vote because I'm angry. I want to vote becaue I'm hopeful, that I see a chance to build some good. Not because I'm pissed and want to tear something down. I'll be happy when this election is over.

Author

Kate

Date

2003-11-04T14:49:50-06:00
ID

136233

Comment

Kate, you're right, the papers don't have time or energy or whatever to do real issues reporting -- (drum roll!) -- but the C-L has the space and resources to run goofy minute-by-minute reports of what Barbour and Musgrove are doing today. Barbour hit his snooze button. Barbour got up. Barbour got a cup of coffee. I think they they are trying to do a "blog" that doesn't offend anyone . Someone should tell them that a "blog" bull of boring junk is just that: a bunch of boring junk. http://www.clarionledger.com/news/0311/04/barbour.html Issues, ladies and gentlemen, issues.

Author

ladd

Date

2003-11-04T15:13:49-06:00
ID

136234

Comment

Just found this in an article from the CL on expected voter turnout (Secratary of State Clark expects 44%): "I've had a number of people tell me that they're disgusted with the campaigns that have been run this year and they just don't intend to participate," Clark said. "I'm concerned that that will be something of a drag on turnout." http://www.clarionledger.com/news/0311/04/ma01.html Which highlights how stupid the CL editorial claiming that negative ads are going to get people out to vote is.

Author

Kate

Date

2003-11-04T18:53:31-06:00
More like this story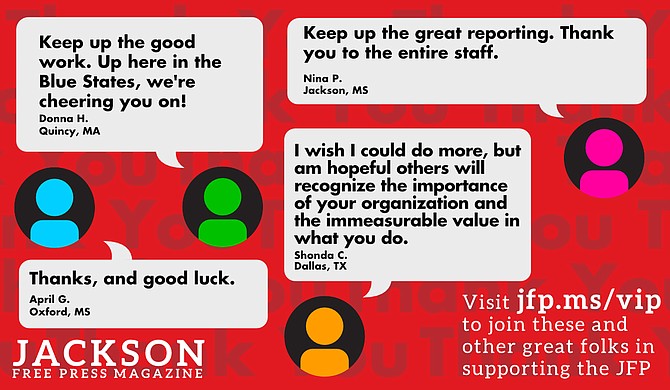 Thanks to all our new JFP VIPs!
COVID-19 has closed down the main sources of the JFP's revenue -- concerts, festivals, fundraisers, restaurants and bars. If everyone reading this article gives $5 or more, we should be able to continue publishing through the crisis. Please pay what you can to keep us reporting and publishing.