I've never understood folks who listen to only one type of music. That's kind of like eating McDonald's for every meal; how can one live that way? I could have gone down that road, though. I grew up hearing nothing but country music in Neshoba County. It was the '60s for heaven's sake, and not a single Motown tune. Or Dylan. Or the Beatles. Basically no music that was remotely diverse or revolutionary. I knew Dolly Parton and Porter Wagoner and Merle Haggard and Charlie Pride (OK, a bit of diversity) intimately, however. I'd sing their songs (horribly) at the top of my lungs in the back seat of my stepdad's Olds 98 on our car trips.
Every now and then, I'd run across a station when we were in Jackson that sounded funkier, but the music was called by disparaging names where I was from, and the signal didn't reach to Neshoba anyway. I knew one R&B song, "Drift Away," which to this day is my favorite song ever.
I did have one exception to my lack of protest music exposure. After my mom married my stepdad, he had to go to Vietnam. She bought the "Peter, Paul and Mary: 10 Years Together" album just so she could play "Leaving on a Jet Plane" over and over and over again and cry. Soon I'd throw the vinyl on my record player so I could listen to "Puff, the Magic Dragon" over and over and over again. Through the years, I would gradually get to know every song on the album. It was my first exposure to "Blowin' in the Wind."
In high school, I started hearing more rock 'n' roll, mainly in the pick-up trucks everybody would cruise around the Sonic in, with 8-tracks of Atlanta Rhythm Section, the Alan Parsons Project and The Eagles lodged in the dashboard. We loved Journey and Boston and Styx. Somewhere along the way, I started listening to Alice Cooper, because it made me feel really weird and different, which was extremely important to me then. At my high-school banquet—we'd stopped having proms after integration—the theme was Led Zeppelin's "Stairway to Heaven." Thinking back, I realize just how left out the black students must have felt.
At State, I had my first exposure to funky, butt-wiggling music. We'd never had anywhere to go dance back in Neshoba County—which every teenager needs, by the way—and I was scared to death of making a fool of myself. The first man I ever really loved was from Jackson and loved to drive to Columbus to The Club and dance all night long to the Sugar Hill Gang. Thinking back, I realize he'd probably learned something from his friends at Callaway High School; then, it just embarrassed me a bit. I started going out and dancing to pop dance stuff like the Gap Band and Devo with my gay buddy, but I still didn't get music.
It wasn't until after I graduated from State and went north to Washington, D.C., that I figured out what I'd missed all those years. After eschewing law school to become a bartender—it made sense at the time and, frankly, still does—I accidentally became a deejay. I was working at a bar-restaurant in downtown D.C., and the deejay taught me to start and stop records so he could have slow nights off. I dove into a huge trunk of records—from the 1940s through the 1980s—and my re-education began. I was about to become a music fanatic.
I fell in love with all I had missed. Sinatra and Tony Bennett. The Four Tops and Smoky Robinson. Ella and Billie. The Beatles and The Clash. Glenn Miller and Benny Goodman. The Who (especially "My Generation") and Luther Vandross and Barry White. Shannon and Madonna. I must admit to never loving to hear Bob Dylan's music, but I sure did learn to appreciate it.
Over nearly 10 years, to support my growing writing habit, I would become quite the accomplished disc jockey. Turns out, I could make people dance. I shed my inhibitions and learned to mix music. I ended up spinning records in five states, and learned to swing dance, and to appreciate rap music for the folk music that it is.
Not everyone dug rap, though. In the first half of my deejay career (mid-80s), as I moved further north, I often had to maneuver a cultural divide. It amazed me how much racism came out in the DJ booth. Both club managers and customers would come up to me and say, "Why are you playing that n***er music?" And that was above the Mason-Dixon.
Playing music helped teach me that the racism that I despised in my home state was, indeed, evident everywhere, even if it wasn't (thankfully) codified by law everywhere as it had been for so long back home. Thus, I participated in a cultural revolution, of sorts, as rap and hip-hop and house started crossing over. I watched as younger white people started requesting more black music. It was an unexpected lesson, but valuable. And I would learn as I studied the history of rock 'n' roll, jazz, blues and roots music in the U.S. that music has probably been the single most powerful unifier, and blender, of cultures in this country. Our musical types are all fusions of music of different backgrounds. When the bigots used to worry about "race" music causing race-"mixing," well, the old coots were absolutely right. Thank God.
I spent a lot of last week talking to a rapper from Jackson (see page 16) who wants to use his music to effect change. And I met many of his fans, some unpredictable. Kacey Burgess, a 29-year-old white single mother told me about David Banner's rhymes, of which she knows every word: "He talks about how racism is alive here in the police force and the politics of our city. His lyrics are not geared to a younger audience but to an audience that can relate to his passion for his music and to his escape from Mississippi to Atlanta to better his career."
This week, I plan to soak up Jubilee! Jam, a music festival that seems distinctly designed to celebrate the music we Southerners should be most proud of—roots and bluegrass, rap, blues, jazz, soul, folk, New Orleans brass—all music forms that our people, all of them, helped invent. I can't even comprehend someone trying to say there is nothing for them at Jubilee! Jam when it seems to be the ultimate celebration of the music-mixing that made us who we are.
I can sympathize, though, with people who have not yet discovered the power and passion of music, and its ability to bring us together. I just hope they get as lucky as I did and figure out that you can't truly love music if you only listen to one type. That you can love Merle and Snoop without shame. An excellent place to learn this lesson is in the bright lights of downtown Jackson, starting May 16. I'll be there for Cassandra and Banner and the Waifs (with their Dylan and Billy Bragg influence) and Vasti and Eddie and Dorothy and Dylan and Raphael and to hear The Vernons sing "Down to the River to Pray." I'll be there for the music. All of it.
Donna Ladd is the editor of the Jackson Free Press. This version corrects the print version. The silly editor rather inexplicably identified a favorite Who classic as "My Revolution" rather than "My Generation." She's ashamed, but suspects it might be Freudian.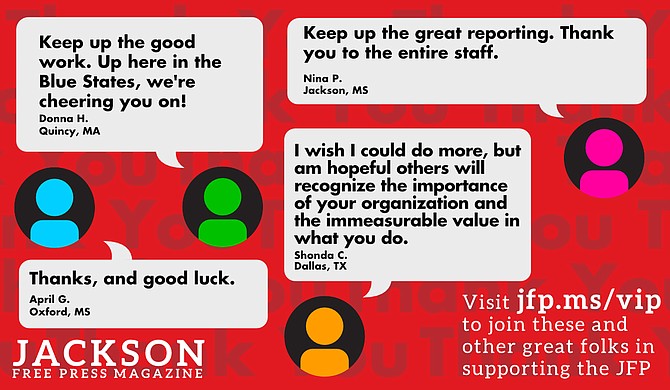 Thanks to all our new JFP VIPs!
COVID-19 has closed down the main sources of the JFP's revenue -- concerts, festivals, fundraisers, restaurants and bars. If everyone reading this article gives $5 or more, we should be able to continue publishing through the crisis. Please pay what you can to keep us reporting and publishing.