A bullet from the back of a bush took Medgar Evers' blood.A hand set the spark
Two eyes took the aim
Behind a man's brain
But he can't be blamed
He's only a pawn in their game.
—" Only A Pawn in their Game,"
Bob Dylan, 1963
It was raining the morning of May 17. I was in my office, worrying about what the Jubilee! JAM organizers must be going through. It's hard to make this festival pay off in good weather, not to mention in times of thunderstorms and crime hysteria. I knew the rain, coming on the JAM's big day—Cassandra Wilson, Bob Dylan and Gerald Levert were scheduled that evening—would be playing hell with the moods of the organizers.
The phone rang me out of my trance. Caller ID said it was Charles Evers, a man who, despite some political differences, has become my friend and partner in attempting to bridge racial gaps. I do his radio show, and this magazine is co-sponsoring the homecoming celebration this year, in honor of his martyred brother. He wrote an opinion piece about the Iraq war for us. "Hi, Mr. Evers."
He got to the point. "Donna, do you think you could help me meet Bob Dylan today? I want to thank him for that song he wrote for Medgar when he was killed."
Gulp. I had no clout that could help Mr. Evers meet Mr. Dylan. I also knew how media-paranoid Dylan is, and that his people had told JAM honcho Malcolm White that he would meet absolutely no one at the JAM so don't bother to ask.
But I also knew what "that song" was, and what it meant when Dylan, seemingly blinking back tears, had sung it at the 1963 March on Washington, two-and-a-half months after a bigot had executed Medgar Evers in Jackson in front of his children: "Daddy! Daddy! Please get up, Daddy!"
I shocked myself by saying, "Sure, Mr. Evers, I'll see what I can do. I bet Dylan would love to meet you." I hung up, promising to call his cell phone with updates.
Throughout the day, as the weather improved and worsened again, my quest didn't go so well. Malcolm—who understood the gravity of the request—promised to ask Dylan's manager, but reiterated the singer's demand not to meet anyone. At 6:30, a half hour before the Dylan show, I checked in again, and Malcolm told me the prospect was bleak. Dylan's manager said he might pass by Mr. Evers and shake his hand if he happened to be standing right there. No media, though. I said this wasn't about me; I'd stay a mile away if I had to; this was about Mr. Evers and Mr. Dylan.
I called Mr. Evers, and talked him into coming to the JAM, even without a guarantee that he'd meet the singer. "I have a pass for you; come watch the show with me, and then we'll see what we can do," I told him, and he said OK. I had a sinking feeling, though, that I might be raising his hopes for nothing—except a good show, of course. I met him in the JRA parking garage, and we walked to the VIP stage, with Mr. Evers stopping to shake black and white hands along the way. I remarked that he might be the biggest celebrity there that night. He laughed and slapped my arm. "No way."
The show was excellent, although truth be known the sound was better down in the mud where we watched the encore. I was a little disappointed, although not surprised, that Dylan didn't seize the opportunity to sing "Only a Pawn in their Game." Looking out at the mostly white crowd, gathered on the AmSouth lawn near where the old segregated Woolworth got its 15 minutes of fame in the 1960s, I told Mr. Evers, "I wish people like Mr. Dylan could understand the progress we're making around here these days." Mr. Evers nodded his head. We both knew that Jackson could handle hearing that song if Dylan could handle doing it for us.
Before the show ended, I checked with JAM organizer Holly Lange about where Mr. Evers should stand to get his shot to thank Mr. Dylan. She shook her head: "I'm sorry. It's just not going to happen. We tried, but they've cleared everyone out of backstage. He won't be able to get back there."
I went back and told Mr. Evers. He shrugged, saying that he'd enjoyed the show anyhow. I asked him to come back to our tent afterward to have his picture taken. He graciously said OK.
Mr. Evers was holding court at the tent, looking like he was running for office again as he waved and shook hands, when Holly appeared in the crowd. "Come. Now." she commanded, breathless from running. I pulled Mr. Evers away from a conversation mid-sentence, and she grabbed his other arm. "Mr. Evers, I'm sorry to do this to you, but we've got to hurry," she said, yanking him through the crowd, me attached to his other arm.
When they let us through the fence, the scene suddenly became quiet and reverent with everyone seemingly scared to blink. I stopped next to Malcolm and Holly. Then Bob Dylan appeared wearing his white cowboy hat. He warmly grasped Mr. Evers' hand and held it for a good five minutes while they talked eye-to-eye, heart-to-heart, man-to-man. They both nodded a lot and seemed emotional. I didn't try to get closer. This was between two giants of the Civil Rights Movement, and the man they—we—had lost to hatred. I blinked back tears.
Suddenly, Mr. Evers turned around and took my arm, pulling me forward. Mr. Dylan slowly turned his gaze to my face and reached for my hand. I shook it, just looking into his eyes, as Mr. Evers told him who I was, that I had a newspaper and that we're trying to bridge racial gaps and do good things in Jackson. My heart was in my toes. "I'm honored to meet you" is all I said.
Then Mr. Evers and I turned and walked away, with him hugging me with boyish delight. He thanked me profusely.
I'm the one who is thankful. To Malcolm and Holly and Dylan's people. And to Mr. Evers for letting me be part of his—and, by extension, Medgar's—special moment.
Another good reason to call Jackson home.
Previous Comments
ID

68377

Comment

I just got all choked up. Amazing story. Keep it up!

Author

JLosset

Date

2003-05-29T15:01:46-06:00
ID

68378

Comment

I have read a lot of stories on the JFP's website and a lot of comments, but this is the first time I have been so enormously inspired to write my own comment. I have never cried this much over a JFP story. I didn't even know that Dylan had written a song about that night. I just wish that I had known such a beautiful moment was taking place as I was walking to my car after hearing Dylan at Jubilee Jam that night. Helping break racial divides here is such an important thing to me and I cry just thinking about it. Reading stories like this give me hope.

Author

Becca

Date

2003-06-03T01:14:32-06:00
ID

68379

Comment

Becca and J, I agree. This story did have a magical and tear-jerking quality to it. I was there at Jam working the Rock The Vote and JFP tents and can tell you, Mrs. D was too excited! It was awesome to meet Evers and to see Donna going in every direction to make the meeting between him and Dylan a reality.

Author

Knol Aust

Date

2003-06-03T07:10:40-06:00
ID

68380

Comment

Thank you all. Those two men are amazing, and it was a breathtaking experience for me, and for Jackson, I believe. If you want to read more about the Evers family, see this history posted by one of my State profs for his students: http://www2.msstate.edu/~kauai/classes/southern/evers.html

Author

ladd

Date

2003-06-03T14:17:23-06:00
ID

68381

Comment

What a wonderful, emotional story and moment. I am so much better for having read about it from San Jose, Cal. God Bless all. Sometimes good wins out. Tom

Author

Tom O'Hara

Date

2003-06-12T02:16:56-06:00
ID

68382

Comment

Excellent story

Author

Charles Hunstiger

Date

2003-06-12T08:11:53-06:00
ID

68383

Comment

It almost seems like a movie when I think back to the turbulent days. Becoming aware of the racism and the struggle to overcome it. Reading and seeing firsthand the events of the day. The shock and horror of man's inhumanity to man. I'm sad to say, they we have not yet advanced enough, We still need to overcome.

Author

tarantula

Date

2003-06-12T12:06:08-06:00
ID

68384

Comment

Donna, your fine feature reminds us all of how we were forty years ago and how the promise of this country still holds itself out. May we stuggle together for rights for all. Long may Dylan sing. Peace, JP

Author

JP

Date

2003-06-12T14:47:36-06:00
ID

68385

Comment

Eric Stringfellow has a nice column about Medgar Evers today. (Remember, today is the 40th anniversary of his death.) http://www.clarionledger.com/news/0306/12/meric.html

Author

ladd

Date

2003-06-12T17:10:31-06:00
More like this story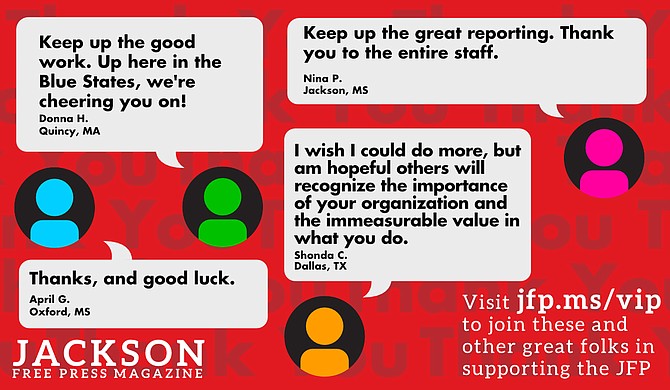 Thanks to all our new JFP VIPs!
COVID-19 has closed down the main sources of the JFP's revenue -- concerts, festivals, fundraisers, restaurants and bars. If everyone reading this article gives $5 or more, we should be able to continue publishing through the crisis. Please pay what you can to keep us reporting and publishing.