Not too long after I met Jill Conner Browne, I was bouncing around Downtown alongside a huge rolling crown. I was wearing a sequined green padded number that flattened my boobs to my stomach, or so it felt, and caught on my black fishnets when I tried to go to the bathroom. As a Sweet Potato Queen "wannabe" in last year's St. Paddy's Parade, I have never looked worse in my life—and I have videotape to prove it.
So when I got the invitation to the wedding of the Boss Queen and her "spud stud" Kyle Jennings—a handsome, muscular Aryan type who curses as easily as the queen herself and can show off her pink-and-green rhinestone tiara without a hint of irony—I thought, "Well, this wedding oughta be something to behold." I was envisioning huge masses of electric-pink taffeta, mammoth red bouffants and a Best Drag Queen standing guard over it all. Maybe Browne would even make "the promise"—the real one; read the book—then and there. I could not miss this New Year's Eve event.
Of course, we almost did. Typically, JoAnne, Todd and I darted in the door of Wells United Methodist Church on Bailey Avenue at 10:59 a.m., moments before the processional began, and grabbed a pew toward the back (as everyone turned and gawked at JoAnne's bright-red feathery church hat). Personally, I'd chosen to be more understated, wearing my usual all-black wedding outfit—no symbolism intended—with only tasteful fishnets (the St. Paddy's ones) paying homage to Her Highness. As I glanced around, I realized that most of the other folks were dressed for, well, church. The gaudy Queens would really stand out, I thought to myself.
Then the processional music began, and there they were. First, Bailey—Browne's teenage daughter, "BoBeep" in the books—walked up the aisle dressed in simple black silk pants and an ivory lacy, long-sleeve top. Right behind her appeared Jill, dressed in a simple ivory wedding dress from Neiman Marcus, no veil, with her brown hair pulled up in her typical, elegant high ponytail. Carrying a small bouquet, she was surrounded by all the Queens, themselves in black silk pants, latté-hued silk jacard tops—all outfits by Queen Donna Kennedy's Hamilton-Kennedy Designs and gifts of the bride—with simple hair and little makeup. Head wannabe George Ewing was wearing a tux. I smiled: The Queen had surprised us again.
The ceremony was simple and lovely. Vocalist Lelon Thompson sang Gershwin's "The Lord's Prayer" and "All I Ask," from "Phantom of the Opera." After the Queens and George gave her away, Jill's long-time minister, the Rev. Keith Tonkel, performed a traditional Methodist ceremony ("as traditional as Wells gets," Jill said later), complete with communion and several prayers. (I couldn't help but think the Rev. Tonkel might be sticking in a couple extra prayers to benefit certain folks in the audience.) He made only a passing reference to the spud of the hour, in his first prayer when he told the Lord that the rain outside helped all things grow, "including sweet potatoes." The crowd snickered, but kept their heads bowed. The vows were simple, and Browne's voice was barely audible as she repeated them and said, "I do." I even cried, and I don't cry at weddings. Jill then handed Kyle a cow figurine because he had "bought the cow." To Todd's delight, the organist Paul Vanderberry and pianist Barney McCann played "Suddenly Seymour" from "The Little Shop of Horrors" for the couple's joyous exit.
Afterward, the show moved to Bruno's Eclectic Restaurant on Lakeland Drive, where Kathleen and Luis Bruno served a delightful spread from beef and chicken satays and prosciutto-wrapped shrimp to a quesadilla bar and veggie sushi. Obbies Cakes did the bride's cake and the chocolate groom's cake—with a sweet potato bride and groom with chocolate toolbox ("because Kyle likes to fix things"). Martha Foose designed the Sweet Potato Queen souvenir cookies.
At the reception, the action kicked in, and the church ties loosened up a bit. Then, the Queens and the groom and George disappeared. The Queen-maids returned wearing God-awful floozy belle dresses of varying hues. Boss Queen was wearing the wedding dress of a 17-year-old, identical to the dress in "Big Fat Greek Wedding," with all scratchy lace and eyelet and pearls and petticoats, a bow on the butt and a 12-foot-tall veil made by George (see page 1). She bought it off-the-rack for $99, and wore it with tennis shoes and a man-sized bouquet that lit up and could double as a lethal weapon. Underneath their dresses, the Queens all wore bloomers with "Get Real" and the SPQ logo on the rump, which they displayed on request.
Truth be known, though, the men outdid them. George emerged wearing an actual leisure suit that belonged to his father and an Elvis pompadour wig that was a gift from the bride. And the groom was the best, adorned in a brocade jacket with velvet lapels and their friend Skip Nessel's pajama pants, which had been specially tailored with a tux stripe along the legs. White plastic shoes and a mustard-colored fake boutonnière the size of a bath sponge completed his ensemble. Kyle proceeded to suck the garter off Jill's leg … but I'll leave the rest to your imagination.
As the champagne started running out, the lot of them started crowding into a cake-and-champagne-filled bus to road-trip to Fairhope, Ala. (where the bride and groom met), for Part III of the Queen betrothal, promising more outfit changes and bubbly. As we slipped toward our car to go home and take a nap, I heard a young woman 20 years Jill's junior say, "I'd go, but I just can't keep up."
Amen, sister.
More like this story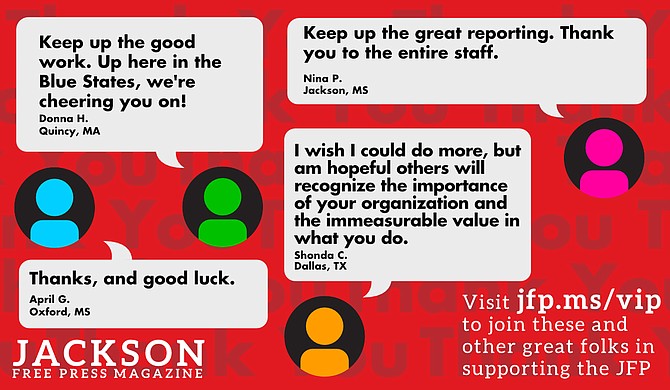 Thanks to all our new JFP VIPs!
COVID-19 has closed down the main sources of the JFP's revenue -- concerts, festivals, fundraisers, restaurants and bars. If everyone reading this article gives $5 or more, we should be able to continue publishing through the crisis. Please pay what you can to keep us reporting and publishing.