Everyone who cares about human dignity and justice should see "Lalee's Kin: The Legacy of Cotton," which debuted on HBO Sept. 18. I first saw it during the Crossroads Film Festival in Jackson last spring in a mixed-race audience, most of whom stayed to hear a lengthy and emotional discussion about African-American poverty in the Delta.
(See Comments for how you can help.)
Undoubtedly, all of us fell in love with Lalee Wallace, a West Tallahatchie County grandmother raising three grandkids, sometimes more, on one of the country's poorest pieces of soil. Lalee and her kids live in a Delta county where many people are trapped in a vicious cycle that started with 19th-century slavery, continued through 20th-century Jim Crow and sharecropping, and now festers as politicians try to close "failing" schools without giving them enough tools to succeed. It's an economically depressed area that cannot afford to pay teachers decently and struggles to attract decent industry to improve the tax base because the schools are so bad. This is a place where illiterate parents and grandparents struggle to buy pencils and notebooks for their children.
"Don't nobody know," Lalee says in the film. "All of us slaved until a few years ago. When you lived on a white man's place you couldn't do what you wanted to do." She lives in a roach-infested trailer provided by the government and raises the children on a $494-a-month disability check. She gets clean water from a hose outside the county jailhouse, and the kids bathe in big paint buckets before going to school. She makes extra money two months a year cooking and delivering plate lunches to the cotton gin. "I always have wanted to be a chef cook, but didn't have nobody to teach me," Lalee says.
The film documents the efforts of West Tallahatchie School District Superintendent Reggie Barnes to raise test scores and get his district off academic probation. (He now heads the Cleveland School District.) Barnes — who attended the Crossroads screening with Lalee and her grandkids — is the type of man who should be governor one day but probably won't be because he's too plain-spoken. Barnes, who is black, blamed the state agencies and the Legislature for fighting "turf wars" and for spending too much money on prisons, instead of helping young people achieve something beyond what civil-rights hero Bob Moses calls a "sharecropper education." Barnes says too many Delta children simply are not getting an "equal and just education," as required by state law. The system, he says, seems "designed for us to fail." Consider that poor schools must either improve in order to get more resources under President Bush's new "Leave No Child Behind" education plan or be closed, and Barnes' argument becomes even more compelling.
The film elucidates the cycle of despair of kids who play in abandoned cars and pretend that they're calling their fathers in Parchman. "Give me Lalee's grandchild at age 3, and I can stop that vicious cycle," Barnes said at Crossroads. A white audience member asked Barnes what we can all do to help. "Hell, all you've got to do is cross the railroad tracks," Barnes said, adding that "people on both sides of the tracks must learn to communicate."
In the audience were a handful of African-American state legislators, there because Ward Emling of the Mississippi Film Office sent copies of the film to the Capitol, as well as to the governor's office. "I wish I could send a copy to everybody in Mississippi," Emling said.
Donna Ladd is editor-in-chief of the Jackson Free Press.
Free Press Fact:
Teach for America is a program designed for recent college graduates to give back to their communities by pledging to teach rural and urban children for two years after graduation. The program brings many teachers to the Mississippi Delta. For more info, see http://www.teachforamerica.org
Previous Comments
ID

84205

Comment

Hi, My wife and I saw Lalee's Kin on HBO and we were greatly moved by her and her situation. Do you know if there is any way to contact Lalee or help her financially in any way? What has become of her and Granny? Any info you could provide would be wonderful. Thank you. Sincerely, Dave Schwartz Amber Sundown-Schwartz

Author

ladd

Date

2002-10-01T18:52:41-06:00
ID

84206

Comment

Note to readers: The e-mails posted above came directly to me after "Lalee's Kin" debuted on Sept. 18. Last April, after witnessing the incredible exchange after the documentary's screening at Crossroads (and seeing no media coverage about it), I wrote about the film and Reggie Barnes' comments on my personal Web log. When the film aired on HBO this month, readers around the country found my comments after searching for "Lalee's Kin." They want to know how they can help. If you have suggestions, please post them below or get in touch with me directly. Otherwise, keep watching this space. We are investigating the best way for our readers to help Lalee and other families living in similar poverty in the Delta, and plan to set up a way that our readers can donate. We certainly appreciate such requests coming from readers in Jackson, the state and from around the country. It doesn't get much more grass roots than this. Thank you. More soon. Donna

Author

ladd

Date

2002-10-01T19:03:38-06:00
ID

84207

Comment

I was a cinematographer on the film. I was in the Delta working and stopped by to see her on September 10th. She was out, but I spoke to one of her daughters. She's fine. They have the water turned on, and Redman is doing good in school, I was told. I plan to go back soon and check on her. I'll try to get her mailing address when I'm there.

Author

Jim Dollarhide

Date

2002-10-01T19:30:53-06:00
ID

84208

Comment

Thanks, Jim! It's a relief to hear she's doing better. I actually have a mailing address for Lalee that she gave me after the Crossroads screening, but I don't want to just post it online. Don't want her to get any weird mail. But we will get back to y'all shortly on how to help her and others. Also all, we have a companion story about Jim and his impressive work on the film that will be up shortly. So, everyone watch for that story as well. We are very proud of "Lalee's Kin" and Jim's role in it. Donna

Author

ladd

Date

2002-10-01T19:39:12-06:00
ID

84209

Comment

One thing I forgot to mention is that Reggie Barnes left the West Tallahatchie School District and is now the Superintendent of the Clarksdale Public School District. I was sort of let down about this. He waged such a heroic fight for what he believed was right. But Ward Emling said so much when he commented about all the recent media attention about getting the internet in every school in Mississippi -- these kids donít need the internet, they need pencils and paper! Ah well, donít get me going about it . . .

Author

Jim Dollarhide

Date

2002-10-01T19:57:12-06:00
ID

84210

Comment

Jim, Did Reggie Barnes leave for Cleveland or Clarksdale? If it's Clarksdale, we need to correct our story. I hear you on the pencils and paper.

Author

ladd

Date

2002-10-01T20:08:00-06:00
ID

84211

Comment

Hey all. I spoke to the filmmakers recently and they have received email after email from folks across the nation wanting to help Lalee and her family as well as the area they live in. I believe there is some sort of fund set up. I'll find the details in the next day or so and post it. I gave them a copy of the Jackson Free Press. They were thrilled to get the coverage in the local press and wanted me to pass their gratitude to all involved. Thanks!!

Author

Nina Parikh

Date

2002-10-06T10:56:18-06:00
ID

84212

Comment

Nina, Definitely post info about the fund if/when you get it. Thanks much.

Author

ladd

Date

2002-10-06T16:58:24-06:00
ID

84213

Comment

I too was moved by Lalee's Kin. Please post information on how we can help. As a native Mississippian and someone who has traveled around the country and beyond, I have seen poverty in the most desolate places; it is unimaginable unless you have seen its affects. Our Mississippi delta needs us. What can we do?

Author

Emily Myers

Date

2002-10-08T15:57:57-06:00
ID

84214

Comment

The movie LaLee's Kin opened my eyes to the conditions in Mississippi. I am very interested in helping out the children. I'm not rich, so I was wondering what can I do to help? I was also wondering how the Boys and their sister are doing? Did their sister ever go back and get into college? Thank You, Deborah

Author

Deborah Estill

Date

2002-10-11T17:13:43-06:00
ID

84215

Comment

One of our friends in Mississippi, Nina Parikh, asked us to post more information about the film. The film will be re-broadcast on HBO Signature East Oct. 19 at 8AM, Oct. 29 at 4:55AM, and on HBO2 East on Nov. 23 at 6AM. We do not know when the video will become available. LaLee now has running water in her trailer (thanks to local community action agency, Mid-State Opportunities). Granny is in 9th grade and lives with her mother in Mississippi so she can take care of her brothers. Her brother Main also lives there and has finally made it to 3rd grade. Redman still lives with LaLee and can now read - he's also in 3rd grade. Reggie Barnes continues his fight, now as superintendent of another school district. He's still very much involved with the West Tallahatchie school district and has been helping donations and volunteers get to them. We do not think it appropriate to give out direct contact information for the Wallace family, but we can tell you how to help LaLee's family, their community and local schools. You can donate funds to the community action agency who serves LaLee's area; Mid-State Opportunities. Last year they helped LaLee get running water in her trailer. Mid-State is a 501(c)3 non-profit corporation. Contributions to the agency are tax deductible and will be placed into a general fund for client services. MID-STATE OPPORTUNITY, INC PO BOX 270, CHARLESTON, MS 38921 Phone: (662) 647-2463 / E-Mail: [email][email protected][/email] / contact: Mitzi Woods If you want to contact Reggie Barnes, he can help arrange to get supplies or donations to the West Tallahatchie Schools. Email: [email][email protected][/email] If you would like to write to LaLee, please send your letter to Laura Lee Wallace, c/o Susan Froemke, Maysles Films, 250 W. 54th St, New York, NY 10019. There is something you can do that is crucial to eradicating poverty in this nation. Write your congressmen and senators, and our President. Our government has the ultimate power to eliminate poverty. To find out about current legislation that affects children living beneath the poverty line in our country, go to: www.childrensdefense.org The CDF tells how to contact Congress and the White House: http://capwiz.com/cdf/home/ No matter what else you do, please get involved politically.

Author

Xan Parker

Date

2002-10-16T13:12:18-06:00
ID

84216

Comment

Thanks, Nina and Xan. This is exactly the info our readers need to be able to help. Also, I'd suggest that Mississippi readers contact our state legislators as Reggie Barnes suggested when he spoke at the Crossroads Film Fest last spring. And remember that the Mississippi Film Commission sent copies of "Lalee's Kin" to the state House and Senate and governor's office, so they've seen it, or should have seen it. You can always ask your elected officials to share their copy. Donna

Author

ladd

Date

2002-10-16T13:34:18-06:00
ID

84217

Comment

It's good to know that others were moved to action by the powerful documentary. God bless you! But what can we do to address the cause of the probelm? The root of the problem has to be addressed or the cycle will continue...

Author

Wanda Mosley

Date

2002-10-16T20:09:51-06:00
ID

84218

Comment

I'm with you, Wanda. We should be talking about the root. What do you suggest? Anyone else? Let's keep talking. Donna

Author

ladd

Date

2002-10-17T00:09:46-06:00
ID

84219

Comment

Thank you for posting information on how to help. I am a small busines owner in Northern Virginia and I am so impressed by the family's determination and faith that I am compelled to get involved. I have contacted Reggie Barnes directly to offer assistance. I am hopeful he responds with a list of needs. I will let you know what he says. Thank you for posting the contact information on this page. Ken

Author

Ken Arthur

Date

2002-10-19T11:40:05-06:00
ID

84220

Comment

Thank you, Ken, for paying attention to a problem so far from where you live. I truly believe the U.S. can only as strong as its weakest links -- and one of those is right here in the Mississippi Delta where the legacy of slavery and sharecropping endures in the form of poverty and hopelessness. It's wonderful to see people around the country doing exactly what Reggie Barnes suggested that we all do. Donna

Author

ladd

Date

2002-10-19T14:01:36-06:00
ID

84221

Comment

I want to help Granny. She seems to have something special about her. What can we do to get he the help she needs. She does not need to babysit all the time. She needs to live somewhere she can prosper. Is it fair her mother makes her take care of all the kids?

Author

Kay

Date

2002-10-20T13:25:58-06:00
ID

84222

Comment

Donna, I contacted Mr. Barnes via email and have been dealing with an associate who has provided a rather large list of needs for the school system - from Kleenex to disposable cameras. In addition, the list contains clothing requirements for the kids and adults in the documentary. Mr. Barnes, although Superintendent of the Cleveland School District, is accepting all donations on behalf of the Tallahatchie School System.

Author

Ken Arthur

Date

2002-10-23T16:17:49-06:00
ID

84223

Comment

I too was very moved by Lalee and her plight to keep her afloat and am so pleased to have found this website. I can't do much, but I will try to donate funds to the Mid State organization so that Lalee and others like her can receive a helping hand. Keep us posted.

Author

Susan

Date

2002-12-07T00:09:44-06:00
ID

84224

Comment

Donna,thankyou so much for this site my wife and i just saw the program on HBO and were very moved by what we had seen. we don't have much money but immediately wanted to gather pencils, paper etc. to help anyway we could because we were so concerned about the welfare of this family I searched and found your site we are very grateful to you and the others like Ken Arthur who are trying to help this family and community. God bless you

Author

Chris smith

Date

2002-12-07T01:08:38-06:00
ID

84225

Comment

I saw the movie last night and was very moved. It will haunt me for a long time to come. I feel the overwhelming need to help Lalee in any way possible and thankfully many other people are doing the same. If anyone knows how granny is doing please let us all know. I hope that she goes to college sometime. Perhaps a group effort could be made to get her a computer. Maybe she could create a homepage updating the world on how her family is doing and if they have any specific needs. Lord know that enough people want to help and Granny seems to be the person with the most potential and dreams for the future. Any news would be greatly appreciated and let me know the best way to help Lalee's family. Thank you. Richard

Author

Richard Prelesnik

Date

2002-12-07T23:47:34-06:00
ID

84226

Comment

Dear Mr. Barnes, My name is Martin Carl Jarvis. I am a pastor in Dayton, Ohio. This weekend I had the opportunity to view "Lalee's Kin". I'm sure, like many others, I was deeply touched. Right away I wanted to forsake all and go to Mississippi and do something! But then reality set in. For the past thirteen years I have been ministering and mentoring for our County Juvenile Detention Facility. Coupled with pastoral and parental responsibilities, well you know. The situation can be helped more with finances than simply another person. Anyway, about 2 years ago I stumbled across a very unique funding program that is probably just perfect to raise more than enough money for that cause, and many others. I got an impression (other than the obvious) from viewing the film, that there must be many financially and educationally better off folks living outside the community focused on. And that there is always enough money in close proximity to most "situations" that could rectify the problem. I created a webpage created just for you, in an attempt to reflect exactly how we can bring alot of dollars where every you see fit. It is just one page. Please thoughtfully look it over. We can completely eliminate whatever financial issues you have in those impoverished areas. Then it would be up to you to do what is necessary with the finances to succeed. http://libertycenter.org///DeltaHelp.html Sincerely, Martin Carl Jarivs, Pastor http://libertycenter.org///mcjbio.html 937-264-1674 ext. 3 office 937-369-6581 cell

Author

Martin Carl Jarvis

Date

2002-12-09T01:00:52-06:00
ID

84227

Comment

Donna, I saw the program and I was deeply touched. I really want to know how to help the family and other people especially children who need help. I'm here Mississippi.

Author

Shoko McGee

Date

2002-12-12T02:43:19-06:00
ID

84228

Comment

My mother and I were deeply moved by this movie. As fellow Mississippians, we are determined to help in some way. We are not rich, but we can send pencils ,paper, glue and other basic school supplies. If the school district could supply its school supply list and perhaps a wish list from the teachers, that would be great. It is just unfathomable to think that in this day and age, children in my state don't have these essentials. God bless you for this site. Please keep us updated. Lisa

Author

Lisa

Date

2002-12-15T20:41:35-06:00
ID

84229

Comment

Hi, HBO aired Lalee's Kin mid February 2003. I just found this site today. I was deeply touched by the film. I have searched the Internet quite extensively and have not been able to find a direct address to Laura Lee. I have emailed Howard Hollins hoping that he could pin point an address for me. I've found a couple P.O. boxes & an intersection of streets to send items to. The problem is...some carriers do not deliver to P.O. boxes. Mr. Hollins has not returned my email. My children are saving a portion of their allowance for gifts. Our Brownie leader is interested in organizing a 'community service' project.

Author

Linda

Date

2003-03-12T13:05:29-06:00
ID

84230

Comment

I keep emailing mid state in regards to Lalee we sent a donation and as it sounds so many others did, Besides the water what else did they help her with? Im in Buffalo and its hard to get information, I have also tried mayslie films and received no response either

Author

Michele

Date

2003-05-30T12:13:40-06:00
ID

84231

Comment

Michele, I haven't heard an update on Lalee and her family in a while. However, when I met her last year, she seemed to be doing pretty well--her case has gotten a lot of attention as you can see, so that probably has meant a lot of private assistance. The bigger concern, at this point, is probably over Delta families who haven't gotten the national attention that Lalee has. If anyone reading this knows an update on Lalee's situation, please let Michele know.

Author

ladd

Date

2003-05-30T12:40:22-06:00
ID

84232

Comment

our group is grassroots but we have a friend in Jonesboro arkansas this summer we wanted to visit lalee & bring her some items I know its in Webb but how do we reach her to ask if its ok?

Author

michele

Date

2003-05-31T12:29:18-06:00
ID

84233

Comment

Michele, It's wonderful to hear that this film has driven you to take such action. My suggestion is that you call Mid-State at the phone number listed above to ask about Lalee and her family; otherwise, you might try to e-mail Reggie Barnes to inquire about how to reach her now and how the best way to help her now would be. She has probably gotten a lot of requests like this by now, so there is a need to protect her privacy as well I'd guess. So just go through the proper channels, and I'm sure they can help you. And all of you, please note film director Susan Maysles' suggestion above that we all get involved politically to ensure that poverty is eradicated in places like the Delta. A good place to start, as she says, is to find out what legislation is pending that will hurt/harm children. A good place to start is at http://www.childrensdefense.org Best to you all! Donna

Author

ladd

Date

2003-05-31T15:57:05-06:00
ID

84234

Comment

Diane; thank you for your help, I emailed the CDF for information, I have emailed Mid state so many times you wouldnt believe it! They never answer, I have emailed mayslie films alot too,they are not looking to good to me either after lalee won them awards and who knows how much money And Jim dollarhide was the only one who responded and he wasnt too friendly, We want to help people in the delta, We are willing to lend a helping hand if anyone would like to email me please do, I want to thank you Diane for being such a help!

Author

Michele

Date

2003-05-31T18:59:13-06:00
ID

84235

Comment

Michele, I suggested *calling*; not everyone checks or responds to e-mail regularly. The number for Mid-State is printed above; if I were you I would call and ask for Mitzi, whose name is printed there. As I tell writers, you can never rely on e-mail; sometimes nothing works like the old telephone. Good luck, Donna (not Diane, but that's a common mistake )

Author

ladd

Date

2003-05-31T19:16:58-06:00
ID

84236

Comment

Hi Donna, I emailed Reggie Barnes who graciously emailed me back the same day! He told me Lalee is doing ok, And Granny lives in Memphis, I have called Mitzi Woods who has never called me back,Mr Barnes told me Country music star Steve Azar wants to do a benefit concert for Lalee & others, Is that wonderful!I am still keeping plans to come there this summer myself to do what I can, And I hope to hear from you soon,

Author

Michele

Date

2003-06-06T19:11:18-06:00
ID

84237

Comment

i am so glad to see that people want to halp Lalee out with the kids and caring for her family. I would like to donate money to help also, I saw an address above and I will be writing soon.

Author

shayla

Date

2005-08-11T17:02:58-06:00
ID

84238

Comment

I see that HBO must be re-running this story! We wrote this piece three years ago. Be sure to check the links and make calls to any numbers above before calling. We haven't updated this in a while! But thanks for caring so much. This was an amazing film.

Author

DonnaLadd

Date

2005-08-11T17:04:29-06:00
ID

84239

Comment

Yes, I loved it ! I wish I could have seen the whole movie. I think I missed a whole lot. I hope it comes on again soon.

Author

shayla

Date

2005-08-11T17:49:51-06:00
ID

84240

Comment

Very late to the cause, but I just saw this film last night on some HBO feed. I really want to contribute! I am not rich either, but will send 1000 pencils, and 500 notebooks to the school if someone gives me the address. This documenbtry broke my heart, and I just want to do what I can. My GF and future wife is a special education teacher and I do understand the struggles. Someone please contact me with an address [email][email protected][/email]

Author

Jersey

Date

2007-04-21T02:31:51-06:00
ID

138224

Comment

Does anyone know anything recently about LaLee?

Author

Rayne0806

Date

2008-09-25T14:28:53-06:00
ID

138226

Comment

I don't. Sorry.

Author

DonnaLadd

Date

2008-09-25T14:32:35-06:00
ID

148359

Comment

She passed away in November 2008. Here is a link to the filmmaker's website. http://www.mayslesfilms.com/companypages/films/films/laleeskin.htm

Author

jekib

Date

2009-06-02T12:12:06-06:00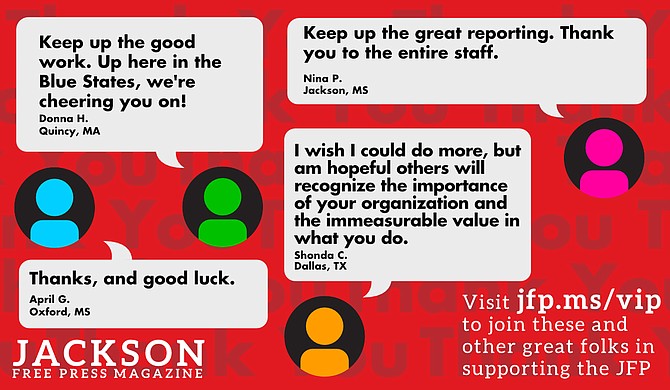 Thanks to all our new JFP VIPs!
COVID-19 has closed down the main sources of the JFP's revenue -- concerts, festivals, fundraisers, restaurants and bars. If everyone reading this article gives $5 or more, we should be able to continue publishing through the crisis. Please pay what you can to keep us reporting and publishing.