They said they'd give me 15 minutes. I took 23. In that minuscule amount of time—enough time for sound bites, but not as much substance as I'd like—I tried to pack in as much meat as possible about issues that matter in the state of Mississippi. I really wanted to focus on the No. 1 issue facing the state of Mississippi, the big kahuna that, as GOP opponent Mitch Tyner wisely pointed out at the Neshoba County Fair a week later, will pretty much solve all the other problems if we can get it right. In my interview with Musgrove, and at appearances I trailed him to over the next week to make up for the 23 minutes, I was impressed with the fact that he likes to talk education—even though he's not asked that many questions about it.
Even though he lacks a bit of speaking eloquence overall, and he offers too many platitudes for my taste (but fewer than challenger Haley Barbour), Musgrove becomes a policy wonk when he talks about education. And I like that. The eyes of way too many lawmakers, as well as everyday citizens, glaze over the second you bring up education mandates, funding, testing or whatever the vital education issue of the moment. Musgrove, though, genuinely seem to enjoy talking about education policy and what he see as his role in ensuring that public schools are adequately funded and supported.
He should be able to. Musgrove has focused much of his gubernatorial efforts, and has staked his Democratic reputation, on education in Mississippi. He first helped to usher in testing that, with any luck, will leave the schools standing and keep the federal government happy at the same time. And last session, he pushed the legislature to fully fund the state's education obligation.
We talked early on a Friday morning—at least for me. Apparently, he's at work by 5 a.m., his people tell me.
JFP: I assume you're happy with your moves in the last legislative session to adequately fund education in Mississippi? Going forward, what is the next specific thing on your education agenda for the next four years?
MUSGROVE: I challenged the Legislature to make education a priority by making education first. The Legislature responded, and funded education with 62 percent of our state budget. We must have accountability and ensure that all children have an opportunity for quality education. We have done that over the last three years by improving our accountability system. We're now ranked in the top 12 in the nation for accountability and testing; that's from 50th. Our test scores on the Mississippi Curriculum Test increased in every subject area and every grade level. When I became governor, 122 schools were cited as needing improvement by the U.S. Department of Education; by 2002, we had reduced that number to 11; that a 90-percent improvement. As we look to the future, in order for us to attract good jobs, we must put education first because it is the cornerstone to building good communities with good jobs. I believe the focus needs to be early childhood education and after-school programs to keep our young people in learning environments where they can excel.
JFP: Are you happy with President Bush's No Child Left Behind act? What is the state's biggest challenge under the education law? Are you concerned about unfunded federal education mandates?
MUSGROVE: Mississippi was the first state in the South to have our accountability plan approved under No Child Left Behind. We were the sixth state in the nation to have our plan approved. I was one of the two governors designated to work with Congress on No Child Left Behind. I believe it follows our lead of improving our schools. Washington has unfortunately followed the trend in special education of not fully funding mandates to the states. For instance, [the Individuals with Disabilities Education Act] provided that states would pick up 60 percent [of special-education costs], and the federal government would pick up 40 percent. Since 1976, the figure has never been higher than 15 percent on the part of the federal government. Recently Congress provided some fiscal relief to cover some of the unfunded mandates by Congress, but not all of them. The unfunded mandates have more long-term problems than short-term. As you develop your plan of action for health care and education and other areas, improvements for one-to-three years and three-to-five years, it adds up when there are several years where you don't get the necessary funds to meet Washington's mandates. Then that makes us work harder at the state level. We're excited about improvements that have been made, though; and we believe test scores show a great indication of Mississippi being on the right track.
JFP: What can the state do specifically to help lower drop-out rates in Mississippi public schools?
MUSGROVE: A child has a capacity for learning by age 4 and 80 percent (capacity for learning) by age 8. That's why early-childhood development coupled with reading at grade level by grade 3 are two of the most important things in a child's educational success. That's why the Barksdale Reading Institute partnership in Mississippi, and now our partnership on early-childhood development (with Barksdale), are crucial. That will help children be better performers in middle school, junior high, high school. Most drop out because they are not performing well in school. As we lay a better foundation for our children in lower grades, we increase their opportunity for success and to move toward graduation.
JFP: Some Jackson officials complain that the state's gun laws allow too many young people easy access to guns, and reports say that guns from Mississippi are being used for many crimes in cities like Chicago. What more should the state do to stop the flow of guns? Should gun laws be strengthened to allow police to more easily take guns from non-felons?
MUSGROVE: As an avid sportsman, I believe a person ought to have the right to exercise his or her Second Amendment privileges. We need more safety education of our young people—that's the way to make sure that we teach our young people about guns and the benefit and the dangers. Secondly, though, as we give our young people a better opportunity in schools and more hope of a better job opportunity upon completion, then we reduce a child's reason and desire to drop out of school and get into trouble. Our strongest investment has to be in prevention through education.
JFP: Going into your next term, state bills will be looming to pay for education and other state needs. How specifically do you intend to pay those bills. Would you support any type of tax increase? If not, please name specific cuts you will suggest as early as January.
MUSGROVE: I do not support any tax increase of any kind. I have been very specific over the last three years; I have introduced a budget each year; been specific about priorities of education, job creation, health care and safety. We must continue to focus on those priorities, and the budget has to reflect realistic economic conditions. My budgets have done that, and have shown a conservative rate of growth given the national recession. I will continue to do that and work with the state Legislature to cut the fat out of state government, and focus on one economy with better jobs. I believe the national economy is starting to turn around.
JFP: But where will any shortfalls be made up?
MUSGROVE: My last budget cut administrative fat by 13.9 percent, set out through every agency, resulting in millions of dollars of saving. The Legislature did not pass the proposal; my proposals have been very specific and are there on the table. At the same time, it focused 62 percent of our budget on education; and it also provides for childhood summer start through kindergarten and more after-school programs. It increased after-school programs to over 200.
JFP: This week, Congress is considering a bill to overhaul Head Start. If successful, will that effort help or hurt poor people in Mississippi?
MUSGROVE: Right now, the debate in Congress is unclear; they are still working through the bill. Headstart has provided a tremendous help and can continue to provide a good foundation as we work together. I have always advocated a close relationship with Headstart to make sure that what they're doing aligns with making sure our children are prepared. [President Bush is pushing for Congress to give control of the Head Start program to the states. Congress voted last week for an eight-state pilot program to try out handing over administration to the states.]
JFP: Do you have any regrets about the outcome of last year's tort reform session?
MUSGROVE: I am the first governor in the history of the state to call a special session to deal with medical malpractice and tort reform for general business. I worked with the medical association, business people and others to come up with a plan for ensuring that we would continue to provide health care for our people. I proposed a five-point plan along with a compensation fund; the Legislature passed substantially all the plan. During the regular session, we passed the compensation fund. We accomplished a great deal by stabilizing economic damage and providing safety to physicians in large lawsuits. We were able to propose a screening committee for lawsuits, amd reduce frivolous lawsuits. I believe that's where our focus has to continue.
JFP: Would you support any reforms of the insurance industry, such as in California, to help balance out the gains made by industry, especially if insurance costs aren't dropping as a result of the reforms already passed?
MUSGROVE: We are working with some experts in the insurance industry, some actuarials, the commissioner of insurance. I would ask the Legislature to hold hearings to determine the overall status of insurance providers given the state of the stock market and the fact that we passed substantial tort reform and still had medical malpractice providers leave the state. I believe you will see me deal with and propose hearings concerning this area.
Previous Comments
ID

77165

Comment

You call those tough questions. Can ya' lob em' any easier? How about cornering him on why the state won't do more for Jackson? As a resident in Jackson what does he think of Kenneth Stokes? What does he have to offer besides Nissan and computers in the classroom for his next term if elected? For his supposed hard work on Tort Reform... what does he think of having a trial lawyer as the "true" person in control of state policy as Lt. Governor? Could this undo some of his hard work? Or the hard work of the business leaders and MEC who really called for reform? Come on Donna, I know you can be tougher. Or can you? When are you going to sit down with Haley and Amy, et al.? Maybe then you will show your toughness?

Author

John L

Date

2003-08-20T11:30:54-06:00
ID

77166

Comment

Actually, you're right, John. It was a very frustrating interview. It was very tightly controlled, with them only giving me 15 minutes, which isn't enough time to have a discussion about anything. (They even had the cajones to ask me to send over a list of questions ahead of time (!?), which of course journalists cannot ethically do before an interview ... ever.) And I did it by phone, which they wanted, instead of in person where I could have looked him in the eye and gotten better answers, probably. I do think some of the questions were pretty "tough"--especially compared to what is typically asked during the "horse race" -- but politicians tend to just ignore what you're really asking and answer in sound bites. I think the best part is some of what Musgrove said was about education--he loosens up more there, but reporters seldom ask those questions--but even there I didn't have time to come back with more specific questions. (And they purposefully go too long to eat up the time.) I don't think your "trial lawyer" question wouldn't have been very tough or compelling, but I do think it was interesting that he said that he would call for hearings to explore why insurance rates are still high and doctors are still leaving the state after the reforms he helped get passed. Watching to see if the reforms will have the effects promised -- and watching what happened in other states like California -- should be high on the agenda of everyone involved in the tort reform dust-up. Also, we asked much tougher and more specific questions in the voter questionnaire, but so far both Musgrove and Barbour have not answered them. I suspect they don't want anything used against them. Politics are so tightly controlled these days that's no wonder that we get some poor choices of candidates. I have already requested an interview with Barbour, which they say is forthcoming. We'll see. Honestly, I expect them to try to control that interview in the same way, but I'll sure try to break through with something. I haven't requested Tuck, yet, but I plan to as well.

Author

ladd

Date

2003-08-20T13:51:39-06:00
ID

77167

Comment

Thanks for the update. And I realized after the fact that the Jackson questions wouldn't have been pertinent at the time of your interview. But, as a supporter of Jackson, I think it is important that we find out what they feel the city needs to do and what they can do to help. Look forward to further interviews.

Author

John L

Date

2003-08-20T15:41:51-06:00
ID

77168

Comment

Completely agreed. The governor's people did say I could do lots of 15-minute interviews -- ;-D -- so I plan to choose topics to focus on each time in the future. That's part of the reason I went so strongly about education in this one. In a way, I wish I'd focused exclusively on education, because there are definitely more difficult questions to be asked. And I thought his Head Start answer was a particular softball. Feel free to suggest specific questions about Jackson for Musgrove and other officials.

Author

ladd

Date

2003-08-20T15:52:37-06:00
More like this story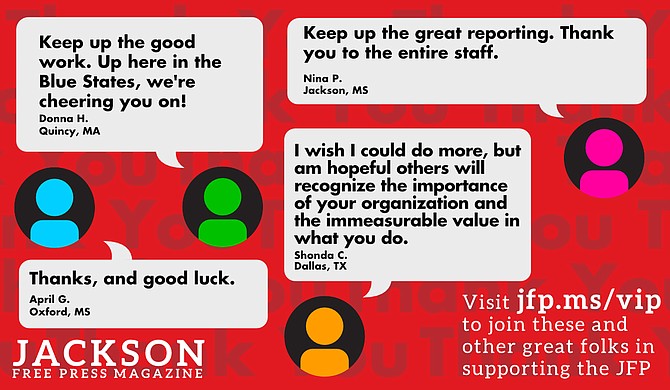 Thanks to all our new JFP VIPs!
COVID-19 has closed down the main sources of the JFP's revenue -- concerts, festivals, fundraisers, restaurants and bars. If everyone reading this article gives $5 or more, we should be able to continue publishing through the crisis. Please pay what you can to keep us reporting and publishing.