December 19, 2011
| 2 comments
By Todd Stauffer
The Ledger gives one last smooch to Governor Barbour, "political genius."

May 31, 2013
| 7 comments
By Donna Ladd
OK, Snark King, it's your turn.
I've had it in the back of my head to blog about a really offensive post by The Clarion-Ledger's city reporter Brian Eason for weeks now, but it had fallen to the side in the need to report actual news. But while cleaning up my desk today, I started noticing a pattern—first from a clipping of another snarky thing he wrote calling a whole city office stupid, and then I saw a blog post belittling an enterprise story by our staff this week, but without actually saying what was in it or linking to it. So here's my Friday afternoon round-up of what I've been noticing about Mr. Eason's snark, which I assume is meant to be humor, except none of it is funny.
No. 1. Don't dare compare crime to terrorism, dumb little council candidate. After 20-year-old minister Corinthian Sanders decided to get involved enough to run for City Council, he made the mistake of saying that the "terrorism" of crime was one of his top priorities (as if he's the first to ever say that here). Sanders told the Jackson Free Press: "Let's talk about getting our lawbreakers, criminals—I call them terrorists….(If) you can't go anywhere without killing someone or robbing someone or terrorizing someone, that's terror, (and) you're a terrorist; you're a domestic terrorist." The mention of the word terrorism tickled Eason's funny bone. He snarked:
"To my knowledge, no major terrorist attacks have occurred or been planned on our streets, and the Jackson Police Department reported no terrorist incidents in 2012, according to its published crime stats. But maybe that's what the terrorists want us to think.

"Lest anyone think Sanders is trying to politicize the Boston Marathon bombing, rest assured, his commitment to fighting terrorism on the streets of Jackson predated the explosions at the marathon.

"But while Sanders listed counter-terrorism as his No. 2 priority, right behind "protect, improve and increase affordable housing," none of his competitors — or, indeed, any other candidates in the entire metro area — mentioned local terrorism as a problem worthy of their consideration.
Eason's blog post shows he later clarified what Sanders meant, and quoted Sanders' above words from the JFP in an addendum to the snark-post, but that nasty horse was out of Eason's barn by then. That's what you get for running for office in Jackson, Corinthian. The ire of a native Dallasonian. And I really don't know what all his references to monkey videos on your Facebook page were about, and don't care.
No. 2. In a post called "Common sense? Not at clerk's office," Eason showed the entire staff of the Jackson city clerk's office not to mess with him, no sir. He was irked that he couldn't get election results from the clerk's office at 11 a.m. the day after the primary. They didn't have certified results available, yet, and gave him a bit of a runaround. OK, it's fair to ...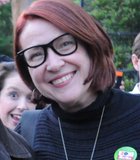 Editor's Note
The state flag tells the world that Mississippi hasn't changed.
1 Vote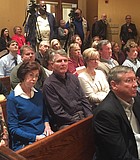 City & County
Carl Menist, a resident of the Woodland Hills neighborhood in Jackson, showed up to a Nov. 14 city-council public hearing to speak out against a plan to gate his community. ...