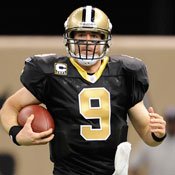 Stories this photo appears in:
The New Orleans Saints rallied from a 10-0 first-quarter deficit to beat the Indianapolis Colts 31-17 in Super Bowl XLIV. Bless you, boys. And now New Orleans is throwing the ...
Business
What better way to spend Super Bowl Sunday than with an abundance of beer, bar food and emotionally charged football fanatics?
Sports
With the weekend behind us, the championship picture is clear in both the AFC and NFC.
In the NFC, the second-seed Minnesota Vikings -- having heartily knocked the Dallas Cowboys out of their collective saddles to end the Boys' late-season win streak -- are headed to ...
Jackblog
The Cowboys played like they were on a mission...and "dem Saints" played a little like they they had fewer than 11 men on the field at any given moment.
Sports
The New Orleans Saints surprised the New England Patriots (and a fair bit of the sports media) with a healthy drubbing in the New Orleans Superdome in front of a ...
Sports
The Saints started the day in Tampa Bay by going three-and-out, punting, and then watching the Buccaneers march down the field against their depleted secondary and score seven points. What ...
Sports
The Saints are good enough to beat every team on their schedule. So why are they keeping these games so close?
Jackblog
The New Orleans Saints (5-0) scored on their first drive and never looked back in an offensive effort that gained over 500 yards, with seven different Saints making it into ...
Sports
Drew Brees was the NFL's best quarterback in 2008, throwing for 5,069 yards, just 15 yards short of Dan Marino's single-season record. It was all wasted because the New Orleans ...