The Cowboys played like they were on a mission...and "dem Saints" played a little like they they had fewer than 11 men on the field at any given moment.
Keys to the game for Dallas were tons of pressure on Brees from his left side (thanks to a quickly-healed Demarcus Ware) and turnover-free football by the Cowboys' offense. The Saints, hampered at key positions, fell to a team well coached to exploit their weaknesses.
With tight-end Jeremy Shockey sidelines with turf toe, the Saints lacked commitment to the run, which they never established, and set up in a number of single tight-end formations that didn't seem to help much with pass protection. Early in the game the Saints fielded fullback Marcus Mailei, who they signed off the Philadelphia Eagle's practice squad on December 9, 2009. He offered little help against Ware and company during the Saints first two series.
When Reggie Bush pulled his hamstring after a 16-yard reception on a crossing pattern (and with some daylight in front of him) in the second quarter, it was quickly clear that the Saints were thinning out a bit on weapons. Unconvincing on play-action, unable to fool the Cowboys with the tight end screen, and without the dynamic Bush in the backfield, the Saints were left with three- and four-receiver sets that didn't start clicking until they went into the no-huddle in the fourth quarter.
After the Saints cut the Cowboys' lead from 24-3 down to 24-17, the Cowboys marched back down the field as the two-minute warning approached; after holding Dallas to a fourth down, the Saints appeared to have their "voodoo moment" when Cowboys' kicker Nick Folk (make that former Cowboys' kicker) saw his 24-yard kick careen off the goal post, thereby failing to make it a two-score game.
In the Superdome, one thing was clear. It was "miracle time" for the New Orleans Saints.
But this time, mighty Casey struck out. With six seconds left to play and only a "hail mary" left as an option, Brees was sacked by Ware, fumbled and the Cowboys recovered the ball.
Aside from the dashed hopes of a perfect season -- which the Indianapolis Colts and QB Peyton Manning are still pursuing at 14-0 in the AFC -- it became clear by the end of the weekend that the game ultimately had no effect on the playoff picture after the Minnesota Vikings lost their Sunday night game to the Carolina Panthers. Sitting atop the NFC at 13-1, the Saints need one more win (or one loss by Minnesota) to secure home field advantage throughout the playoffs.
Meanwhile, it's time to lick some wounds and get people healthy. The Saints are known for their weapons on offense, but they need to get some of them back and at 100%, including Bush (who, after leaving the game in the second quarter was later doing high kicks and wind sprints on the sidelines, suggesting that he might have been staying loose ... and perhaps even trying to convince Saints coach Sean Peyton that he was ready to go back into the game).
More disconcerting is the desperate need for "D" going into the playoffs; it was clear from watching in the Superdome on Saturday that the Saints need solid linebacking to hold the run in check and they need better d-backs in order to free up Darren Sharper to key on the quarterback and jump routes looking for turnovers.
Miles Austin was on fire on Saturday for Dallas, their running game was picking up big yards on first down and Romo was efficient in the pocket. Kudos to the Cowboys, who are definitely playing up as the season wears on this year -- the rest of their season will be very interesting to watch.
Previous Comments
ID

154424

Comment

Good luck, Todd, on killing the Saints winning streak. It'll be interesting to see if D stays with you after this? Most women wouldn't! Indeed, I blame you, ITodd. Your duality, double-mindness or inability to choose and hold steadfast to one team without capitulating hexed the Saints and caused them to lose. It's all your fault, and I'm telling your homeboy, Brees, who played a terrible 2 or 3 quarters, without a clue of what was happening to him. As Ms. Walt always says to me when my team loses, "everybody can't win all the time." The Packers knows this first-hand after what we did to them. Next year when healthy, we're whooping everybody.

Author

Walt

Date

2009-12-21T18:29:20-06:00
ID

154425

Comment

As I attempted to say earlier, I'm going to Indianapolis to pretend to be a Colts fan in hopes of destroying their season and dream of winning another Super Bowl in 2010.

Author

Walt

Date

2009-12-21T18:39:18-06:00
ID

154429

Comment

Actually, the funniest moment of the game for me was when Donna turned to me and said, "Did you just yell 'hurt Tony Romo'? I don't think you should tell them to hurt him." To which I replied, sheepishly, "Well, I only meant a little bit."

Author

Todd Stauffer

Date

2009-12-21T19:10:49-06:00
ID

154448

Comment

i have to say that i was both very sad and extremely proud of how New Orleans played. the team walked onto the field and forgot their was a football game taking place. but when it came down to the come down i love how they scratched and clawed their way down to the final minute( sans missed Dallas FG sealer). i suspect New Orleans will see Dallas again in the second round of the playoffs. this time i have to believe the real Saints (Bush and Shockey included) will show. #whodat

Author

dpsmith

Date

2009-12-22T14:46:27-06:00
ID

154463

Comment

All I can say is that I told you so!!!! I did. I told you. And if Dallas doesn't win another game this year (which we will) - MISSION IS ACCOMPLISHED. We shall go down in history as the team who ended the Saints winning streak. That's enough for me. But, as a fan of the Cowboys, I must say, the energy and urgency displayed in this game, should be displayed every time they touch the field - and it simply isn't. Let's see if we can have that same intensity with Washington. If so....oh well, y'all better look out then.

Author

Queen601

Date

2009-12-23T14:25:29-06:00
ID

154464

Comment

Considering the fact that Dallas and New Orleans may meet again in the playoffs, I'll keep my powder dry. The Cowboys who showed up on Sunday were a very high-energy, high-efficiency team and it was impressive to watch.

Author

Todd Stauffer

Date

2009-12-23T14:28:29-06:00
ID

154465

Comment

Agreed. If they do meet in the play offs....make sure to tell me where you'll be so I won't be far. Maybe I'll even have a watch party at the house. :-) I am sure it was funny to watch you privately ordering a hit out on Romo. LOL

Author

Queen601

Date

2009-12-23T15:19:23-06:00
ID

154470

Comment

Queen, you and I know the cowboys ain't all that! It's ain't too late to go with the black and gold - the Saints or the Steelers. Your husband likes black and gold.

Author

Walt

Date

2009-12-23T18:31:24-06:00
ID

154472

Comment

Anybody else get the feeling that "they" let Walt out of whatever room he stays in at Whitfield for about an hour...late in the day...kinda like clockwork. Just me?

Author

Todd Stauffer

Date

2009-12-23T19:03:25-06:00
ID

154474

Comment

Todd- I have thought the same thing too.

Author

BubbaT

Date

2009-12-23T23:41:02-06:00
ID

154486

Comment

The Saints lose another one in a game they shouldn't have lost. They lost to Tampa Bay 20-17 in OT after the Saints jumped out to a 17-0 lead. Believe it or not, the Saints game was shown in Memphis. I didn't think Who Dat nation went that far north.

Author

golden eagle

Date

2009-12-28T09:16:48-06:00
ID

154487

Comment

Yup, very disappointing game from the Saints. Should have been won on the final kick in regulation, but it also shouldn't have been that close. The Saints are proving to have little-to-no defense right now, which is very disconcerting for the playoffs. And while the offense has been carrying the D through some of those close games like the Redskins and Falcons, the truth is that the D has been in trouble for at least a month, since they were on fire against the Patriots. It was nice to see Ellis in there early on the D line, although I'm not sure he played the whole game. We need to get healthy on D and then we need a little more inspired play on offense. The commentators (my favorite Fox crew with Moose and Goose) noted late in the game that the energy seemed to leave the Saints bench in the middle of the second quarter. I don't know if that was because they simply didn't have enough to play for, or because Pierre Thomas was hurt in the game (not sure how serious yet) -- you can literally imagine an injury calculus going on with the Saints right now, where each player knocked out gets them a little more worried. I know it does me. The best news...all those games they've already won. It means after Carolina (where key players might sit out of Minnesota loses tonight) on 1/2/10, they'll play their divisional playoff game on 1/16 or 1/17, which will give them two full weeks to heal... and scheme. And judging from yesterdays late games, I don't know why people are saying Eagles are the team. I'd much rather play the Eagles right now than the Cowboys based on their performance last night. (But I'll take the Cowboys, particularly if it means payback. ;-)

Author

Todd Stauffer

Date

2009-12-28T09:33:35-06:00
ID

154488

Comment

Walt, you're right my husband does like Black and Gold; but I'm sure that he loves me because I don't necessarily like everything he likes. As a matter of fact, black and gold never really did anything for me. I can do gold and purple (GO LAKERS!!! and others!!!). But black and gold - never really been my cup of tea. :-) I happen to think the Cowboys are the best team in the league. We have some kinks to work through, but we shall return to the superbowl where we will dominate once more. Maybe not this year, but we managed to knock the Saints back down to size, now didn't we!!!! They haven't been able to get back right yet. maybe next year will be a better year for black and gold.

Author

Queen601

Date

2009-12-28T11:36:33-06:00
ID

154501

Comment

Itodd and Bubba, I'm not a Whitfield patient. I'm an inmate at Unit 32 of the MDOC. I'm serving life without possibility of parole. I get out 1 hour most weekdays and since I'm a model inmate I get to use a computer for a few hours a week. Before I was locked up I enjoyed a regular and prosperous life. I'm sorry that I killed some people, but they had it coming! As far as the Saints, what's going on with them? When I dissed them repeatedly they won. When I stopped they started losing. Similarly, when I bragged on the Steelers they started losing, but now that I'm quiet, they're winning again. Consequently, for the sake of both teams, I'll resume criticizing the Saints and continue silence as it regards the Steelers. I don't blame the American Indians for being angry, complaining or suing Washington for using Redskins as a team name. The Indians have never been that impotent. I mean they made the Cowboys look like a good team. I didn't think anyone could accomplish that feat. Hopefully those losses will serve as a wake-up call to the Saints. So glad to see the Colts finally lose, although I regret Peyton not having a chance to pull off a victory from the jaws of defeat. He wanted to and I admire that. Glad to know, Queen, that Kamikaze isn't getting too soft.

Author

Walt

Date

2009-12-28T18:28:56-06:00
ID

154540

Comment

One other note I forgot to put up earlier, in case you missed it (like I did...had to get the score off my phone last night) -- Brett Favre and the Vikings were handed their fourth loss last night, giving the Saints the #1 seed in the NFC, meaning they've clinched home field advantage for the playoffs. Which also means the game against 7-and-8 Carolina next Sunday is completely meaningless for anything other than stats and bragging rights -- its only potential gravity would come the fact that the game gives the Saints the opportunity to grab a win before the playoffs happen. The obvious question -- can they get that win with Mark Brunell at the helm? Because I have a feeling Drew won't play much, if at all. Next stop: Sunday, January 17, 3:30pm. In the Superdome, on FOX. Heal, gentlemen. (You too, Shockey.) Heal!

Author

Todd Stauffer

Date

2009-12-29T19:48:50-06:00
ID

154779

Comment

Cowboys still doing it, Walt. Just saying...

Author

Queen601

Date

2010-01-06T09:55:37-06:00
ID

154847

Comment

I can't wait 'til the Eagles beat the Cowboys this weekend. They made me sick last week.

Author

Walt

Date

2010-01-06T17:58:16-06:00
ID

154848

Comment

I don't like either team, now that Vick is at Philadelphia.

Author

DonnaLadd

Date

2010-01-06T17:59:53-06:00
ID

154854

Comment

Speaking of sports, Gilbert Arenas was suspended today because he and another player were gambling in the locker room and pulled guns on each other, so they say. Hell, I thought it was safe in the locker rooms of professional teams. Arenas is such a great player. Why try to be Nino Brown too? If the Cowboys win this weekend I will be rendered sick. I want the Eagles to win a Super Bowl with McNabb so he will be assured a place in the Hall of Fame and make Rusty Limpbaugh sicker than he already is. I wouldn't want to see nothing happen to Limpbaugh or Dick Cheney, you know ????????? They're such nice pillars of the community. Their daddy, Satan, is so proud of them.

Author

Walt

Date

2010-01-06T18:26:18-06:00
ID

154934

Comment

So......Walt......you sick, huh? WacNabb is gone fishing and he took Vick with him. You know, if they had used any amount of coaching sense they would have let Vick have more playing time because MacNabb clearly has seen his best of times. GO COWBOYS!!!! AGAIN and AGAIN and AGAIN!!!!!!!!!!

Author

Queen601

Date

2010-01-11T11:43:10-06:00
More like this story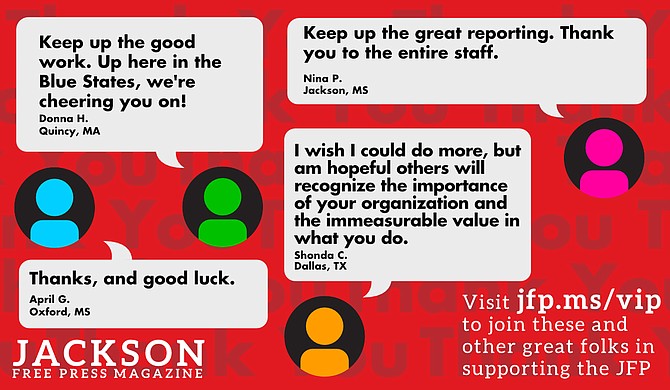 Thanks to all our new JFP VIPs!
COVID-19 has closed down the main sources of the JFP's revenue -- concerts, festivals, fundraisers, restaurants and bars. If everyone reading this article gives $5 or more, we should be able to continue publishing through the crisis. Please pay what you can to keep us reporting and publishing.