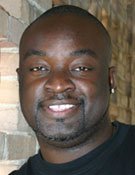 Stories this photo appears in:
Last Tuesday was a historic event, one that many of my elders never thought they would see in their lifetimes. An African American became president of the United States. We ...
It's a new year, folks! A new year brings new experiences and wisdom, but also new challenges.
I hate moving! If I had to make a list of my least desirable things to do, moving would be just above being held hostage in a Cambodian prison camp ...
I often hear the term "metro Jackson" bandied about, more so in recent years. We have a "Metro"center Mall. We even had a "Metro" Jackson Chamber of Commerce (now called ...
This election brought the best ... and worst this country has to offer.
Today is my birthday. For the first time in many years, I'm excited. Not because of my "here and now" but because of the anticipation of my future.
This presidential election has introduced America to a lot of new and interesting concepts. Never has a race captivated the minds of voters so much that it seeps into popular ...
This column is dedicated to two people. Their names and occupations aren't necessary here. Let's just say they know who they are, whether they actually read this column or not.
Politics
I recently received an intriguing e-mail. It raised some interesting points about this year's presidential election, and I thought I'd share.
Politics
Some of you may know that in a former life I was a journalist. Yes, your friendly neighborhood mad-rapper turned concerned-citizen was once an aspiring cub reporter trying to put ...
Politics
This column is dedicated to the whiners. Loyal readers, I suggest you copy and paste this column into an e-mail message to all the naysayers, cynics and haters of Jackson.
I apologize. My first intentions were to sum up my experiences in Africa. I know some of you were eager to hear more. But there's something more important at play ...
Greetings from across the Atlantic to all of you. Of course I would have loved to check in with you guys sooner, but Internet access is not nearly as available ...
I make no secret of my love for professional wrestling. It's a well-known fact among family and friends that I am not to be bothered while wrestling is on.