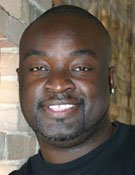 Today is my birthday. For the first time in many years, I'm excited. Not because of my "here and now" but because of the anticipation of my future. Some people say that once you pass age 30, every birthday is significant for some reason or other. For me, as an African American male, it may be because society doesn't expect me to make it far past 25. I guess that makes me one of the lucky ones. Or could it be that I simply got something a lot of my peers didn't get? I got the chance to grow up at my own pace. I didn't have to make "grown-up" decisions before I was properly equipped to make them. I got the opportunity to make mistakes.
In high school, I was convinced that my parents were dead set on making me a laughingstock. Chores, homework, curfews; I hated being told what to do and when to do it. My parents had a strict set of rules coupled with high expectations. They knew nothing of cars for 16-year-olds or "fresh gear." I couldn't wait until I was off to college. I'd show 'em! So I buckled down, made good grades, aced the ACT and got a scholarship. Next stop: campus living and "freedom."
I got what I wished for ... sort of. Sure I could come and go as I pleased. I could eat when and what I wanted. I could stay out as late as I wanted and get up when I pleased … in theory. I learned quickly, however, that socializing came with a price. That kind of freedom came with greater responsibility. I learned the hard way when I almost lost my scholarship my first semester. College was no better than sharing a room with my younger brother at home. So again, I got focused, took summer classes to get ahead and got out of school on schedule in four years. Finally! Enough of this class and exam stuff. I couldn't wait to get into the "real world." I'd be an adult.
What I found, however, was that there was a method to my parents' madness. It's a battle-tested mantra that I pass on to kids that I speak to or mentor: Being a grown up sucks!
I didn't realize how good I had it: free room and board, clothes, health care, cable TV. I was on fast forward and for what? Bills? Car notes? Mortgages? Creaking bones? Potbellies? The fact of the matter is kids today are being forced to grow up too fast, and in a sense, we're letting them.
A faster-paced world with advanced technology forces our kids to make decisions they aren't prepared for. Too many kids must provide for families before they're old enough to drive. Too many kids raise younger siblings, acting as a mom or dad, even when they were not fortunate enough to have one or the other. In some instances, they live too fast and die too young.
On this anniversary of my birth, I'm thankful that my parents kept me on that short leash. I'm thankful they taught me that life is a marathon, not a sprint. They prevented me from trying to live life too fast. Now I know what they meant when they said, "You're not an adult just because you turn 21." Hell; it has taken me more than 30 years to "grow up." And still I revel in the fact that I will probably always be a kid at heart.
I've learned patience. I've learned never-say-die. I've learned that you never stop learning. It's a mindset that I can pass on to my kids. For the first time in a few birthdays, I'm not broke or confused about my path in life. I'm happy, and I'm anxious to embark on this new phase of my life—a new career and new challenges. Sometimes that takes time. And sometimes it takes longer than 25 to get it. I want more black men to get that chance, too.
And that's the truth ... sho-nuff.
Previous Comments
ID

139557

Comment

Happy birthday, dog, or should I say old dog? My grandson Caleb used to ask us regularly at 6 years old when is he going to be able to do awhtever he wants to without everyone else telling him what to do. And I watch my nearly 3 year old grandson saying no to us all the time upon being told to do something. They make me laugh with their actions because I remember wanting to be twelve again and at home playing marbles and waiting for dinner when I became 27 years old. Responsibilities of handling adult bills and situations were overwhelming for a minute after finally finishing all school and trying to get set up for life. The good news is that things get so much better. Once you shake off the haters, unnecessary distractions and focus you're headed to home plate. But they say old age eventually steps in and says slow your role homefront, you ain't what you used to be. So far, I'm mellow like the color yellow and loving life and grandfathering.

Author

Walt

Date

2008-10-22T17:22:29-06:00
ID

139731

Comment

It is great to hear that time and experience have become excellent tutors in your development as person. Let us pray that others in our generation are developing a mindset to uplift Mississippi -- economically, spiritually, mentally and intectually -- to a level that allows Mississippi to demonstrate to the rest of America its untold human treasures, young men and women just like you. TA II

Author

TA II

Date

2008-10-26T13:22:09-06:00
More stories by this author
Support our reporting -- Become a JFP VIP.
The news business has changed dramatically in the past two years, and we need your help more than ever to keep bringing you important stories about Jackson and the Metro. Become a JFP VIP with an annual membership or you can Sign up as a monthly supporter. Thanks for anything you can do to empower our journalism!