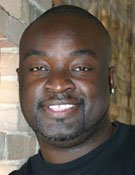 This column is dedicated to two people. Their names and occupations aren't necessary here. Let's just say they know who they are, whether they actually read this column or not. These two people actually helped me last week. They confirmed a life lesson even though it was not their intention. They taught me that life will forever be filled with challenges. It's those inevitable obstacles that will always test our mettle, no matter how old you get, no matter how much education you pursue, no matter how talented you think you may be. Someone, somewhere, is going to doubt you. It's simply the nature of human beings. We are supposedly the intelligent species, and others often have to prove things to us before we believe with certainty.
Everything in my life has been a challenge. Outside of schoolwork, which came easily for me, I've had to fight for all I've gained. I've either had to prove my worth or make great sacrifices to get a fair shake. I haven't lived the storybook life of a hip-hop artist. My background doesn't mirror those of some of my colleagues. I was reared in a two-parent home, with well-educated, hard-working parents. They instilled a work ethic in me that guided me to a degree—a cum laude degree, by the way. I became a rapper because I "wanted" to, not because I "had" to. That choice was followed by 10 years of experience as a musician and businessman running my own successful label. I've managed up to 10 employees at a time and promoted concerts and venues that have seated tens of thousands of rabid music fans. The problem is that as a "rapper," I carry a stigma.
Even as I'm making the transformation from simply rapper, to writer, to activist, to even now "developer"(that still stuns me), I see people who don't wish to make that transition with me. It's the reason why I'm writing for the JFP even to this day. It's the reason why I've gotten myself so personally involved in reviving Farish Street. It's the reason why I've started dabbling in rock music. I will never cater to your impressions of me.
That's why I was so offended, embarrassed even, when these two people inferred that I was "not capable" of doing a job that an experienced, respected businessman had faith in me to do. It opened my eyes. Because I made my career in this state as a hip-hop artist, I will forever be proving to others that I am more than that. I will forever sit in meetings with politicians, city officials, and real estate moguls and have them look at me with the "why the hell is this guy here?" stare. Regardless of my experience, folks will continue to doubt me. Honestly, those two have motivated me to face this challenge head on as I've done them all. I will make them eat their words.
And that's the truth ... sho-nuff.
Previous Comments
ID

138177

Comment

Naysayers and None believers...we all have them! Just as I've recently been advised by some very well known and accomplished people, you have to overlook those who stand in the way of progression, be it personal progression or other. Stay focused! Whenever you think of shaking off your dedication, think of these two people to remind you of your purpose and keep on moving. The city is proud of your efforts. But I totally understand when it feels like you're doing all you can to improve the city for US ALL and then to have someone totally try and downplay your expertise or experience....it really sux! It hurts as a matter of fact. But surely by now you've learned how to shake the haters off; so be like Nike and JUST DO IT! Loved the column!

Author

Queen601

Date

2008-09-25T09:21:06-06:00
ID

138357

Comment

Kamikaze, here's the truth: You are capable of whatever you decide to do. And, anyone's inference otherwise isn't worth your time. However, sometimes the people in our lives who give us the most grief motivate us the most to succeed because we simply refuse to give them their desire of seeing us fail. I suspect these two folks will serve you the same way. Regardless, your talents are evident; your enthusiasm is remarkable; your wisdom is deep; all you have to do is keep on keeping on. "And that's the truth. . .sho-nuff." borrowing a phrase from someone I admire, appreciate and read regularly.

Author

J.T.

Date

2008-09-28T21:35:51-06:00
ID

138358

Comment

Kaze, you are a very talented and passionate young man. Our city is lucky to have someone with your skill sets and devotion to making this a better place to live and work, for all of us. My dad always told me that if people weren't complaining about me, then i probably wasn't doing enough! So quit worrying about a few insignificant naysayers. You make me proud for your conviction, your talents and your vision, which is far beyond your years. I know that it hurts when someone from left field hits you up side the head, without good reason. Just stay the course and don't be distracted. Don't forget that: "A successful person is one who can lay a firm foundation with the bricks that others throw at him or her." — David Brinkley. The people that know what's really going on in this city respect you, appreciate your skills and realize that you are making a difference in Jackson now. I, of course, expect even more of you and expect you to continue to grow as a leader, a peacemaker and an incredibly successful businessman in this city, because you are doing the right things and for the right reasons. I understand that from my personal observations and experience. So, keep the faith and stay the course, my good friend. Thanks for what you do for this city and particularly for the lives of those less fortunate than you. David "Pops" Watkins CEO, Watkins Development LLC Member, King Edward Revitalization Company LLC

Author

Pops

Date

2008-09-28T22:10:13-06:00
ID

138359

Comment

Thank you all for the kind words. Really. It is indeed exciting to find new passions and challenges. 10 yrs ago folks told couple of college kids that they werent good enough to get a major record deal. Seems like a lot of folks around here are good at telling Jacksonians what they ''can't'' do! We're pushing a positive Jackson. We await your apologies and resignations naysayers!:-) ...If nothing else I want to be an example to my colleagues that music is but a steppingstone to bigger things..Ive been given a great opportunity and I would be remiss to not pass those blessings down. You can be and do anything you wish. Those who fear you or dont understand you will always doubt you. They will assume the worst..But we ALL know what assuming will do. lol

Author

Kamikaze

Date

2008-09-28T22:50:07-06:00
ID

138361

Comment

That's very cool. I had the opportunity to meet you at left field sports grill one afternoon not too long ago. You and Baby Phred were meeting with some musicians I know for Storage 24. I was the bass player with Chuck Floyd... NOT the guy Phred played with before. Chuck and I used to play together in 2 Ton Meatplow. Anyway, I had held some preconceived notions about you (as far as being "just a rapper") and I gotta tell you I was impressed with the way you handled yourself and the meeting. And I understand how difficult that can be when you are dealing with a group of artists. I had to take a phone call about halfway through and didn't get a chance to tell you what a pleasure it was to meet you and listen you speak about your vision for the local music scene, so I'm taking the opportunity now. I wish you good luck in all the ventures you pursue. But with the amount of drive and passion you have for what you want to accomplish I don't really think you will need much.

Author

WMartin

Date

2008-09-29T04:38:18-06:00
ID

138362

Comment

Much obliged MW..I guess in the grand scheme everyone enters new situations and relationships with a bit of trepidation. Im guilty of having preconceived notions myself. I get so frustrated with a lot of my colleagues because they taint the water for those of us who strive for more. ..................... Rap is what I DO...not what I AM..folks dont know that my first experience buying an album was getting KISS's Love Gun and Destroyer..they were my favorite band. Or that I have the Peter Frampton Live Album..or that I was one of the youngest editors ever in this state when I worked at the Jxn Advocate..But guess what..they dont ASK either. To them rapper means, youre a thug, youre not to bright, and ALL you can do is rap. My genre is not even looked at as a viable profession even though Ive made a living doing it. You get poo pooed a LOT lol.

Author

Kamikaze

Date

2008-09-29T08:03:32-06:00
ID

138485

Comment

Good article Kaze. Although I am not a rapper, I have been suppressed due to my age and, even more so, my "baby face." It is hard to break through the barrier when there is so much against you, but you just have to ignore that and put it away. I know that I look young, and it's hard for older individuals to grant me opportunities to speak or propose new ideas to other representatives, because they may not take me seriously, but I know that I bring my personality and creativity to the table. I'm grateful for my young looks, as it will mean that I can get more done in my later years even when I am near death, but I plan on retaining my youthfulness and progressiveness that has made me who I am today. Keep on keeping on, and I hope to make some things happen along side you in the near future.

Author

chip

Date

2008-10-01T11:07:45-06:00
ID

138488

Comment

Chip, I often experienced the same thing, I was carded until I was 35. It's a blessing and a curse. It is not so bad though when you are 40 and pass for 30 as when you are 30 and they wonder if your parents know if you're out that late :-). When you look younger, sometimes older people (or older looking people) think you are not competent. Kaze, prove them wrong. I enjoyed you all's performance Saturday. peace

Author

FreeClif

Date

2008-10-01T11:51:59-06:00
More stories by this author
Support our reporting -- Become a JFP VIP.
The news business has changed dramatically in the past two years, and we need your help more than ever to keep bringing you important stories about Jackson and the Metro. Become a JFP VIP with an annual membership or you can Sign up as a monthly supporter. Thanks for anything you can do to empower our journalism!