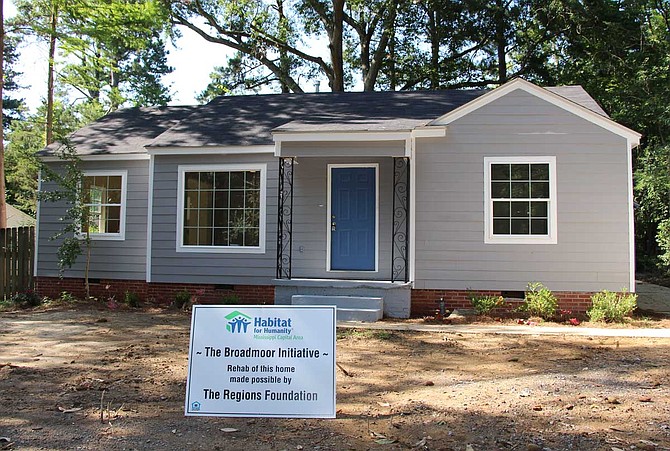 Habitat for Humanity Mississippi Capital Area will announce the launch of a five-year initiative to revitalize the historic Broadmoor neighborhood in north Jackson during a ceremony on Avalon Street at noon on Thursday, June 27. Jackson Mayor Chokwe Antar Lumumba and the owners of the first two houses Habitat worked on in the neighborhood will attend the dedication ceremony alongside representatives of the McRae and the Regions foundations, which sponsored the houses.
Merrill McKewen, executive director of Habitat for Humanity Mississippi Capital Area and leader of the revitalization effort, lived in Broadmoor for 18 years between 1982 and 2000. The first homes in the neighborhood went up in the 1950s as housing for returning veterans after World War II, a release from Habitat says. Their children, the "Baby Boomer" generation, lived in the neighborhood through the 1990s, but the deaths of original homeowners and the housing market crash of 2008 contributed to the neighborhood's decline.
McKewen told the Jackson Free Press that Habitat started work on the first two houses in the revitalization effort on Jan. 15, 2019.
"The plan is to take these so-called 'post-war boxes,' most of which are still structurally sound, and gut the interiors down to the studs before building them back up into affordable housing for the working poor," McKewen says. "We're installing new wiring, appliances, plumbing and anything else we need to build a new house from the inside out and maintain the integrity of the neighborhood.
McKewen says Habitat is working on these revitalization efforts as part of the City of Jackson's Blight Elimination Project. As part of the initiative, Habitat will demolish any houses the organization deems unfixable in order to rid the neighborhood of derelict buildings.
The Broadmoor revitalization will impact 100 houses in the neighborhood over the next five years, whether the organization rebuilds or demolishes them, McKewen told the Jackson Free Press. She says Habitat plans to begin working on the next set of houses for the project by July 17, 2019.
Additionally, Habitat will be building one new house with Blue Cross & Blue Shield of Mississippi and will begin on Sept. 7, 2019. Through the HOME grant, the City of Jackson will assist Habitat in rehabbing five more houses over the summer, McKewen says.
Habitat will sell all of the revitalized homes in the Broadmoor neighborhood based on a 30-year, zero-interest mortgage for each owner, the release says.
"Homeowners have a strong, vested interest in the area," McKewen says. "Broadmoor has many amenities and isn't in a food desert, so it's a wonderful place to raise a family."
For more information about the Broadmoor revitalization, or to become a volunteer or homeowner, call 601-353-6060 or visit habitatmca.org.
Not Just a Burger Opens at the Outlets
Pearl native Karen Hill held a grand opening and ribbon-cutting ceremony for her new restaurant, Not Just a Burger, inside the Outlets of Mississippi (200 Bass Pro Drive, Pearl) on April 16.
Not Just a Burger is a soul-food restaurant that offers everything from burgers and blue-plate specials to shrimp baskets, catfish, fried chicken, turkey or ham croissants, po'boys and more. Hill told the Jackson Free Press that she prepares everything from the burger patties to the batter for shrimp and catfish by hand from her own personal recipes, and makes it a personal policy to never serve leftovers.
The burger menu includes selections such as the "Klassic," which comes with mayonnaise, mustard, lettuce, tomatoes, pickles and onions. The "Sautee Burger" includes caramelized onions and mushrooms topped with pepper jack cheese. There is also the "Hog-Tied Burger," which comes with bacon alongside the Klassic condiments, and a selection of vegan-friendly veggie burgers. Hill says her prized recipe, however, is the namesake "Not Just a Burger," which comes with sauteed onions and mushrooms, pepper jack cheese, lettuce and tomatoes, and is topped with Hill's own secret-recipe gravy.
Not Just a Burger also has sides such as macaroni and cheese, french fries, baked beans, green salad, coleslaw and fried okra, and homemade desserts such as pecan or sweet-potato pie, banana pudding, cookie sundaes and chocolate, strawberry, red velvet, lemon or caramel cakes. Hill says the restaurant also has a pending license to serve margaritas.
Hill has lived in Pearl for 15 years and formerly operated a soul-food restaurant called Four Peas in a Pot, which closed in 2015.
"I've been cooking since I was 7 years old, and everything I know I learned from my late mother and grandmother," Hill says. "My grandmother, Pearlie Johnson, used to own a restaurant called Joe's Cafe out in Langford, and everybody loved her and thought she was the best cook who ever walked the earth. My mother, Betty Jean Wooten, used to run a sort of unofficial catering service out of her home in Langford."
Hill and her husband, Christopher Hill, have been married for 15 years and have three children, Yakina Hobson, Vensula Pack and Christopher Hill Jr., and four grandchildren.
Not Just a Burger is open Monday through Saturday from 10 a.m. to 8 p.m. and Sunday from noon to 5 p.m. For more information, call 601-398-3480 or visit outletsofms.com.
Mississippi Writers Trail Marker Unveiling at Margaret Walker Center
On Monday, July 8, the Mississippi Arts Commission will unveil the third marker for the Mississippi Writers Trail at the Margaret Walker Center on the Jackson State University campus. The unveiling will coincide with the center's annual Jubilee Picnic, which celebrates the late Margaret Walker Alexander's birthday. While Walker's actual birthday is July 7, the center is holding the event a day later due to the date falling on a Sunday, Director Robert Luckett told the Jackson Free Press.
The Mississippi Arts Commission launched the Mississippi Writers Trail, which pays tribute to the state's most famous and influential writers, during the Mississippi Book Festival on Aug. 18, 2018. During the event, MAC unveiled prototype markers honoring authors Eudora Welty and Jesmyn Ward. The Welty marker went on display at its permanent location at the Eudora Welty House in Jackson on Sept. 10, 2018. MAC has yet to decide a permanent location for the Ward marker as of this writing.
Walker was born on July 7, 1915, in Birmingham, Ala. She published her most famous poem, "For My People," in Poetry magazine in 1937. In 1942, she published her first volume of poems, which was also titled "For My People" and included the namesake work. She moved to Jackson in 1949 and began teaching at Jackson State University, which was then called Jackson College. She published her second book and only novel, "Jubilee," which serves as the namesake for the Jubilee Picnic, in 1966.
In 1968, she founded the Institute for the Study of History, Life and Culture of Black People, which later became the Margaret Walker Center. The center serves as both a museum and an archive of African American culture in Mississippi and beyond, Luckett told the Jackson Free Press.
"It's an honor to have this marker going up on our campus in front of the center Walker founded 51 years ago," Luckett says. "It's a perfect way to honor her legacy and lift her up higher into the national consciousness."
The unveiling ceremony for the Writers Trail marker will begin at 11:30 a.m. in Ayer Hall on the JSU campus. The Jubilee Picnic begins after the ceremony and will include a cake-cutting in Walker's honor and barbecue for lunch. The event is free and open to the public. For more information, call 601-979-3935 or visit jsums.edu/margaretwalkercenter.
Support our reporting -- Become a JFP VIP.
The news business has changed dramatically in the past two years, and we need your help more than ever to keep bringing you important stories about Jackson and the Metro. Become a JFP VIP with an annual membership or you can Sign up as a monthly supporter. Thanks for anything you can do to empower our journalism!